As a documentary living up to its title in nearly every way imaginable, Netflix's 'Untold: Hall of Shame' can only be described as equal parts baffling, investigative, intriguing, and provocative. That's because it incorporates not just archival audio-video footage but also exclusive interviews to really shine a light upon the sports doping scandal that shook the nation in the mid-2000s. Amongst those to feature here is actually the daughter of Victor Conte, the man whose name is synonymous with it all, Veronica Schuhmacher — so now, let's simply find out more about her, shall we?
Who is Veronica Schuhmacher?
Born near the San Francisco Peninsula in California to Audrey Stein Conte and Victor Conte Jr. as the youngest of three loving daughters, Veronica honestly had a rather interesting childhood. We say this because she seemingly managed to have a positive relationship with her parents despite the instability between them, all the while being surrounded by professional athletes at every turn. After all, by the time she was a toddler, her father had left his music touring days behind in favor of running a nutrition-supplement company called Bay Area Laboratory Co-Operative (BALCO).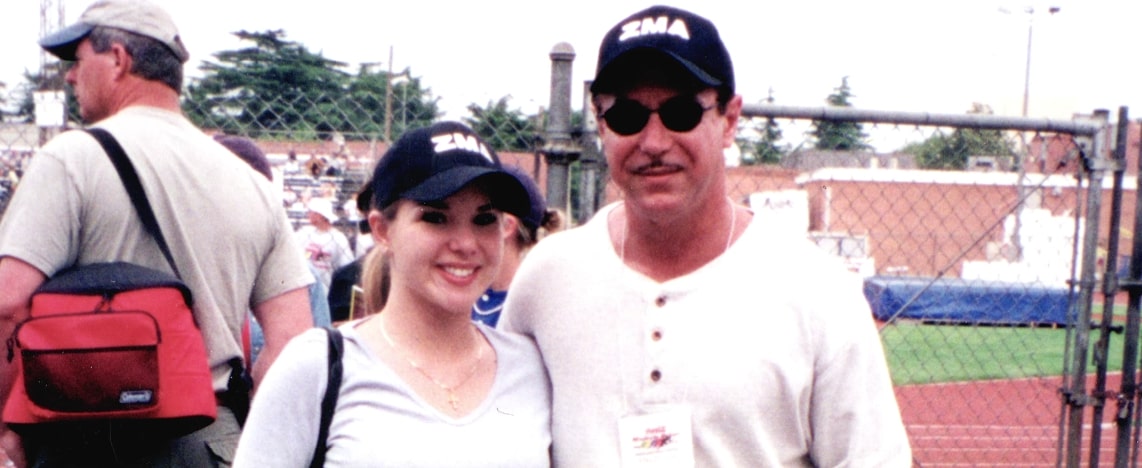 "It's my youngest memory; there were always athletes around, and oftentimes, the people we were going to support were making big achievements, and so it was exciting," Veronica elucidated in the original production. "I would say in my teenage years was when I really knew, 'Okay, this is– my dad's involved in the dark side.' He was just open and honest with me about what was going on." In other words, this San Mateo native has almost always known her father provided undetectable anabolic steroids to some of the biggest sporting stars and was essentially the mastermind behind Tim Montgomery's efforts to break the Track World Record in the early 2000s.
Therefore, when everything began crumbling down in 2004 with an IRS raid as well as 42 federal counts (later dropped to only two), Veronica stood right by her father to show the world her support. Then, she ensured he received her handwritten letter alongside pictures of their family the day his six-month federal sentence commenced in early 2005 to make him see his actions had consequences for every single one of them on at least an emotional level, yet he still had his girls. "I think success is addictive, praise and credit are addictive, but I don't defend what my dad did," she expressed in the film. "I think it's clear he crossed some ethical lines, and I wish he didn't."
Where is Veronica Schuhmacher Now?
Coming to Veronica's current standing, from what we can tell through her social media platforms, she's still close to Victor yet is primarily focusing on her own growing family these days. The truth is this Liberty University graduate is a happily married mother of four, the eldest of which Abigail Ekhardt is a rising singer/songwriter at the moment – her debut album 'Timeline' is streaming now.
Veronica's other kids, whom she shares with her husband Roy (married in 2014), are Ella Schuhmacher, Violet Schuhmacher, and Zachary Marc Schuhmacher, with the latter being the youngest as well as the only son (born on August 20, 2018). As for her professional experiences, the self-proclaimed business development enthusiast presently proudly holds the titles of Co-Owner, Finance Director, as well as Secretary at Fit for Life Solutions in El Dorado Hills, California. We should mention Veronica previously used to work alongside her father at SNAC System as the Director of Operations from 2006 til 2016.
Read More: Jeff Novitzky: Where is the Ex-FDA and IRS Agent Now?