Unencumbered by the boundaries of nationalities and the limitations of dialect, '90 Days Fiancé: Before the 90 Days' chronicles the journey of individuals who strive to make things work with their international paramour. As couples try to overcome issues with immigration and map their road to ever after, several challenges follow. The TLC reality television show follows the journey that several couples undertake to expel doubt and uncertainty. Violet and Riley are one of the couples who have enthraled audiences in season 6. Fans have been curious to know more about the duo since their appearance on the show. So, if you're wondering the same, then look no further because we've got all the answers right here!
Violet and Riley's 90 Days Fiancé: Before the 90 Days Journey
After a streak of unsuccessful relationships that had led Riley to doubt the sanctity of love, the Pennsylvania native found another chance when he met Violet on a dating app. Much like Riley, the Ho Chi Minh City resident also had her share of ups and downs. After spending nearly two decades with her husband and having two children, Violet had felt emotionally unfulfilled. Having divorced her ex-husband, the 43-year-old woman also hoped to develop a deep connection with someone who wouldn't constrain her emotionally. While Violet and Riley had immediately hit it off online, things didn't unravel the way they expected once the military veteran landed in Vietnam.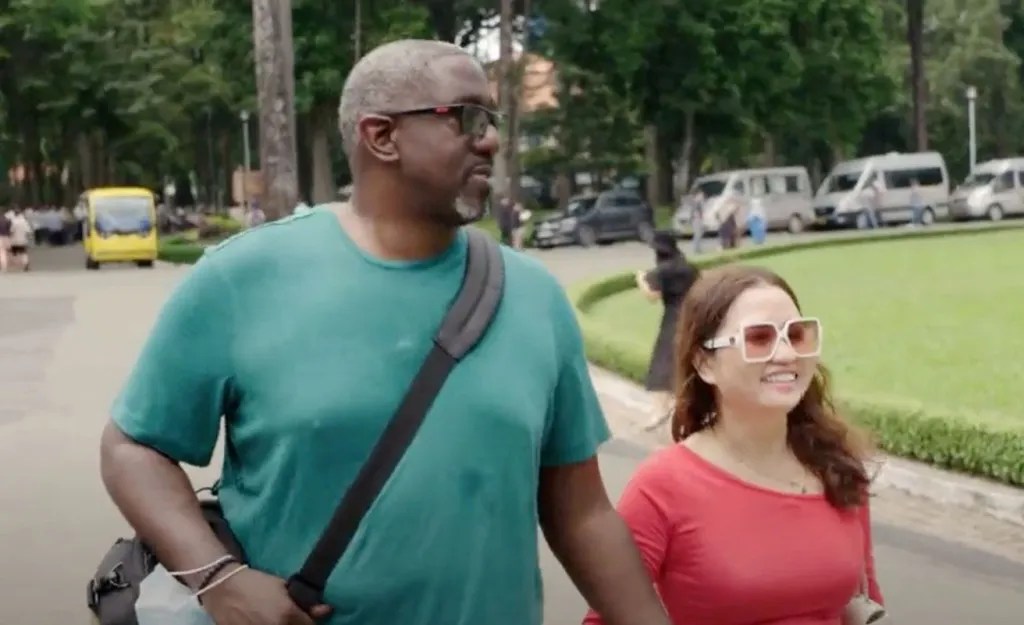 Albeit their deep connection, Riley still shared his streak of doubts that exponentiated when his friend Tiffanie questioned Violet about the different aspects of her life. Eventually, the pattern of doubt and interrogative tone made Violet reminiscent of her previous relationship. Not only did she feel caged by Tiffanie's question, but she also ended up getting reminded of her ex-mother-in-law, who would push Violet to give birth to a baby boy. As ghosts of her past manifested in the form of Tiffanie's line of questioning, Violet felt more betrayed when Riley, like her ex-husband, failed to step in and be supportive. The matter became more convoluted when Violet revealed that she was pregnant with Riley's baby.
While Violet had hoped to start a family with her beau, the 48-year-old felt something opposite. Not only did Riley have trouble believing that Violet's baby was his, but he also felt that she was using the pregnancy to entrap him. In the 'Tell-All' episode of the series, Violet confessed that she ended up miscarrying the foetus. Marred by emotions and hurt, the duo felt quite distant. While they agreed that they look forward to working things out in the future, they did not give a definitive answer as to where they stood romantically.
Are Violet and Riley Still Together?
While their whirlwind cross-continental romance had enthraled many, it seems that the couple failed to work out the issues between them. After the cameras stopped rolling, Violet and Riley have remained decidedly quiet about their relationship status. So, as far as we can tell, the couple is no longer together. Moreover, the absence of pictures and lack of public evocation of their love on social media also leads us to believe that Violet and Riley have called it quits. Despite their parting, it is apparent that the duo continues to make strides in their individual paths. Since his appearance on the show, Riley has been enjoying his time with his friends and close ones.
The reality star recently took a trip to New York City and explored the metropolitan with his castmate David. Besides working as a YouTuber and business owner, he also owns an entertainment company in the Big Apple. His short film '5: Thirty-One' has even been featured at the San Diego Film Festival. Besides this, the art enthusiast is an avid collector and uses his social media to showcase his ever-evolving collection of prints and abstract art. He is also a supporter of local artists and Jazz musicians. Based in Stroudsburg, Pennsylvania, the television personality is enjoying his time accruing new experiences and making fond memories with his loved ones.
Riley has also amassed a significant following on Instagram and continues to share the latest updates of his life with fans worldwide. As for Violet, the Vietnamese national has since kept a low profile and maintained a life outside media scrutiny. While the television personality has decided to keep her life under wraps, it is apparent that she is using her time apart from relationships to focus on the upbringing of her two children. So, even though romance isn't on the card for D Jus Riley and Violet, we continue to hope that the two continue to grow individually!
Read More: Christian and Cleo: The 90 Days Fiancé Couple Are Happily Together