Created by Jonathan Tropper from the writings of Bruce Lee, Max's (formerly Cinemax) 'Warrior' is a sleek action-packed period drama series set at the height of Tong Wars in the late 1870s in San Francisco. The plot predominantly revolves around Ah Sahm (Andrew Koji), a character Lee originally created for himself, as he arrives in America looking for his older sister and becomes embroiled in the Tong Wars. In the course of the series, Ah Sahm emerges as a fighter for his people, which often directly contradicts his work as a gangster.
In season 3 episode 6, titled 'A Soft Heart Won't Do You no Favors,' Hop Wet enters into a tentative deal with Long Zii to produce counterfeit notes in the latter's territory, but the Hop Wei leadership doesn't trust the people who have been their bitter rivals until recently, so they search for alternative deals. Meanwhile, Richard Lee (Tom Weston-Jones) is sent back to his home to face the judgment of his family, and Wang Chao (Hoon Lee) is sent along with him. Back in San Francisco, Douglas Strickland (Adam Rayner) introduces Dylan Leary (Dean Jagger) to the rich and powerful of the city. Here is everything you might want to know about the ending of 'Warrior' season 3 episode 6. SPOILERS AHEAD.
Warrior Season 3 Episode 6 Recap
The episode begins with a meeting between Hop Wei and Long Zii at an ice factory, which Mai Ling has chosen as the base for the joint counterfeit money operation. Clever as always, she notices her brother's closeness with Yan Mi (Chelsea Muirhead) and sows the seeds of discord in Young Jun's mind against her brother in that regard.
Later, Ah Sahm discovers Young Jun having drinks with his father and begins to realize that the older man might once more become part of the tong. He is understandably uncomfortable being in the vicinity of a man against who he previously co-led a coup. It turns out that Father Jun (Perry Yung) has some ideas about what they should do with their product. He has German acquaintances sitting atop a silver mine outside the town and believes the tong can make a deal with them. Ah Sahm reluctantly accompanies Father Jun and Young Jun while Hong (Chen Tang) runs things in Chinatown.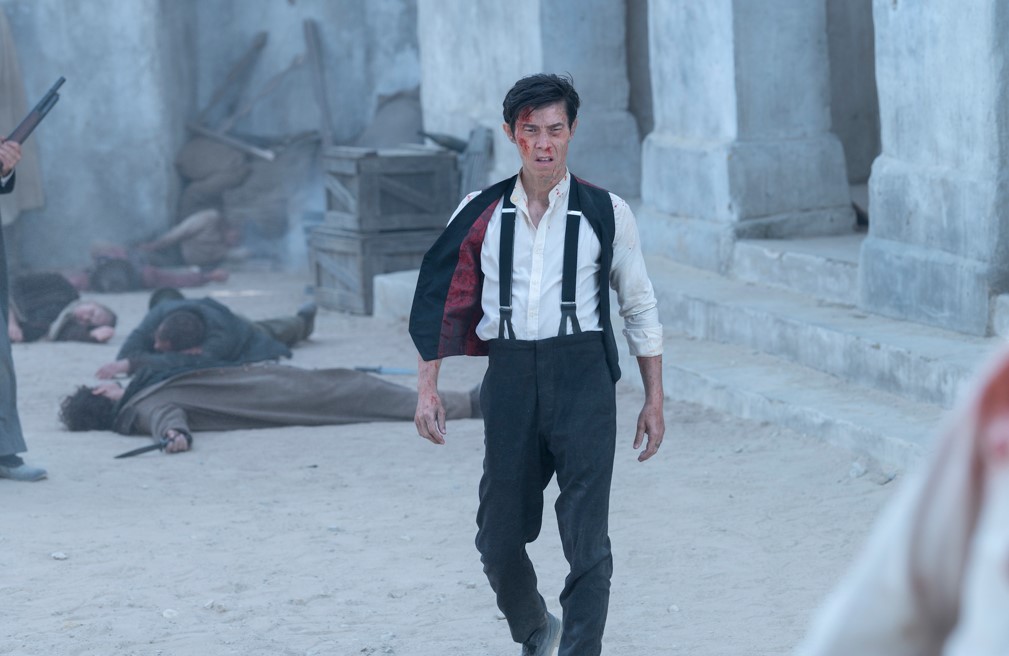 On the train to Georgia, Lee wakes up with a start and finds himself chained to the sides of a compartment. Chao is there, also chained. Realizing their circumstances, Lee resigns himself to his fate. Once he arrives in Georgia, he is reunited with his cousins and aunt, who put the $500 bounty on him. Before he became a police officer in San Francisco, he killed his cousins after they murdered the black woman he fell in love with. His family has been looking for him since then.
Lee and Chao are greeted by the former's cousins, who take their prisoners to their mother. Time hasn't diluted her desire for revenge. She declares that she will hang Lee from the very tree under which she buried her sons and implies that she will turn Chao into an enslaved person. However, Chao manages to escape, and as the others pursue him, Lee speaks to his youngest cousin, telling him that he is better than what he has become. But the other man points out that his current circumstances are the direct results of Lee's actions. Eventually, Chao returns, and he and Lee kill their tormentors, including that youngest cousin. For better or worse, it seems Lee is finally free of familial burden. He no longer has to look over his shoulders for bounty hunters.
Warrior Season 3 Episode 6 Ending: Will Father Jun Die?
The meeting with the Germans, the Krüger brothers, initially goes well, even though Ah Sahm is visibly agitated by the fact the brothers are exploiting the Chinese laborers. They even make a deal, agreeing to supply counterfeit money in exchange for silver in a four-to-one ratio. Lukas Krüger, the leader of the operation, invites Father Jun, Young Jun, and Ah Sahm to stay for the night. However, Ah Sahm and Young Jun catch the younger Krüger brother beating up a Chinese boy, accusing him of stealing. Lukas arrives and diffuses the situation.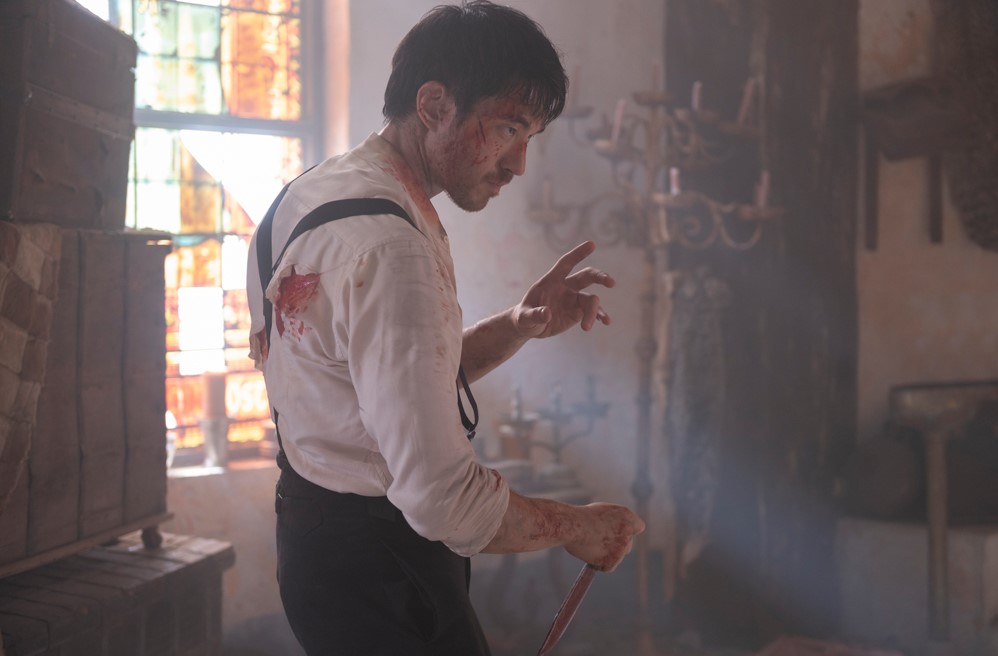 As the Hop Wei leaders leave the following morning, they see the boy's dead body has been put on display with the word "thief" written on it. Enraged, Ah Sahm rushes toward the Germans, prompting his companions to follow him reluctantly. They kill the entire group with the help of the slain boy's mother. Ah Sahm kills Lukas but soon discovers that Father Jun has been shot.
We will learn more about his fate in the upcoming episode. The locals, free of their German tormentors, will likely help the Hop Wei. If Father Jun dies, it will create an unbreachable divide between Ah Sahm and Young Jun, as the latter will undoubtedly blame the former for what happened. And if Father Jun Survives, the incident is bound to impact the relationship between the two men even then.
Who Does Strickland Want to Support in the Upcoming Mayoral Election?
In San Francisco, Strickland demonstrates to Leary the importance of networking among the rich and powerful at the engagement party for the daughter of Franklin Thayer before approaching the mayoral candidate himself. When Thayer states that he can't talk policy with them on the day of his daughter's engagement, Strickland lets him know he is aware of certain secrets that he can use to ruin his daughter's life. Despite having this much leverage on the man, Strickland tells Leary that he doesn't want Thayer to be the next Mayor of San Francisco, deeming him too honest. This leaves only Buckley, who perfectly fits what Strickland wants in a mayor.
Read More: Warrior Season 3 Episode 5 Recap and Ending, Explained