Netflix's 'Sex Education' follows the lives of the teenagers in Moordale as they explore their gender and sexual identities. The show delves into their complex lives as they navigate adulthood while dealing with other issues close to their heart. Due to this, Moordale Secondary earns the reputation of being the "sex school," and while this is great for teenagers, it doesn't bode well for the school.
In the third season, a new headmistress is brought on board to turn the tide of the school. Hope Haddon's job is to reform Moordale Secondary and its students and make them fall in line with what's expected of them. Most specifically, the people in charge don't want the students to have any discussions about all the sex stuff anymore. Played by Jemima Kirke, Hope takes on a colossal responsibility but doesn't succeed at it. If you are wondering what happens to her and why she is not in the fourth and final season of the show, here's what you need to know about her. SPOILERS AHEAD
What Happened to Headmaster Hope Haddon?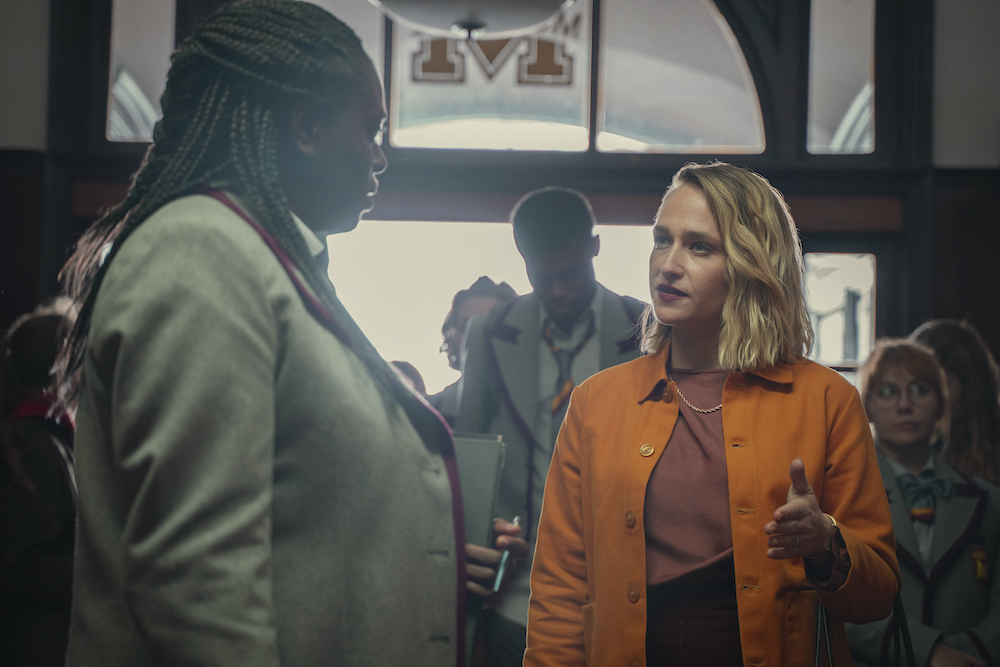 When Hope Haddon introduces herself as the new headmistress of Moordale Secondary, she does it with a charm that makes the students think she is cool. Soon, however, she starts implementing all sorts of rules that feel outdated and push a lot of students into a box that they don't want to be in. Hope thought she could control the students by punishing them and enforcing more and more rules on them, but it only made them more eager to break the rules and revolt against her.
In the last bid to save the school, Hope comes up with a plan to please the investors by hosting Open Night, hoping to rewrite the school's image in the media. She prepared an elaborate presentation to do so, but she didn't realize that the students had secretly been working on their own idea of open night. They make another presentation, in which everyone talks about different sexual issues dressed as genitals and other stuff that is unacceptable to the investors.
Despite Hope's attempts to stop the presentation, things don't work in her favor, and all her efforts go in vain as the students embrace the tag of "sex school" and encourage other schools to be more open about such conversations as well. In between this, it is also revealed that Hope locked Cal in a classroom to protect her plan, which is the final nail in her coffin. Following the uproar, the investors pulled the school's funding, and it is closed.
Hope loses her job and has to look for other employment opportunities. The last we see of her is in the hospital, where she is preparing for another round of IVF even though she knows it will not be a success. She has a heart-to-heart with Otis, who encourages her to do what she thinks is best for her and not look down upon herself.
Did Jemima Kirke Leave Sex Education?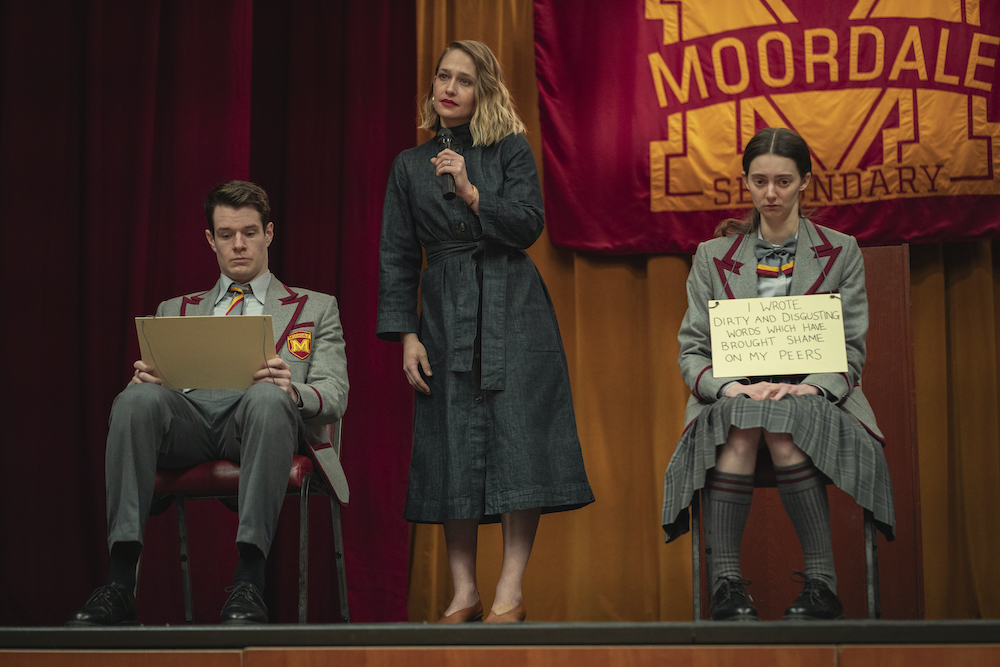 Hope Haddon was brought to Moordale Secondary to make it acceptable for its investors to keep giving their money to the school and keep it running. When she fails at the task, the school is shut down, and she is forced to look for employment opportunities elsewhere. The focus of the story turns to Cavendish College. Because Hope goes there, we don't see her again.
While Hope might have been the villain of the third season, Kirke, known for her work in 'Conversations with Friends' and 'City on Fire,' sees her with a more sympathetic eye. "I think she has a lot of pressure on her to reform the school. And I think that she definitely defines herself by her successes and achievements. That's the sort of feminist that she is, which is frankly a very old-fashioned gender feminist, but she puts a lot of pressure on herself to be this successful, essentially businesswoman in the academic world. She is, it's falling between her fingers," Kirke said.
In portraying Hope, the actress found some qualities she shared with her, like "the neurosis, the need to control and keep things in order and be clear and concise," and was glad to take a character much different from what she'd played before. Kirke also called 'Sex Education' "really important for teenagers and for their own sense of sexual liberation and their understanding of sexuality." While she enjoyed working on the show, her character's arc ended with the third season, and didn't reprise her role in its final installment.
Read More: Why Is Simone Ashley Not in Sex Education Season 4? What Happened to Anwar and Olivia?