HBO's 'The Idol' is a drama series about the dark realities of the music industry and follows Jocelyn, a young pop star trying to reinvigorate her career following a personal tragedy with the help of her assistant, Leia. In the process, she begins a tumultuous relationship with Tedros, a self-help guru and modern-day cult leader. Leia watches Jocelyn's life change because of Tedros. In turn, Leia is also impacted by Tedros' control over Jocelyn's life. Hence, viewers must be wondering how Leia's story ends in 'The Idol. SPOILERS AHEAD!
Leia Leaves Team Jocelyn
Leia is introduced in the first episode of 'The Idol' with actress Rachel Sennott ('Shiva Baby') playing the role. She is the assistant of Jocelyn, a famous pop star trying to reinvigorate her career. Leia works with Jocelyn and helps manage her schedule. However, they share a friendly relationship, and Leia acts as one of Jocelyn's closest confidants. Leia accompanies Jocelyn to the club, where the latter meets Tedros for the first time. However, when Jocelyn starts a relationship with Tedros, Leia sees her importance within Jocelyn's inner circle diminish. Tedros frequently bosses her around, and Leia finds it difficult to have Jocelyn's favor while Tedros takes over nearly every aspect of the pop star's life.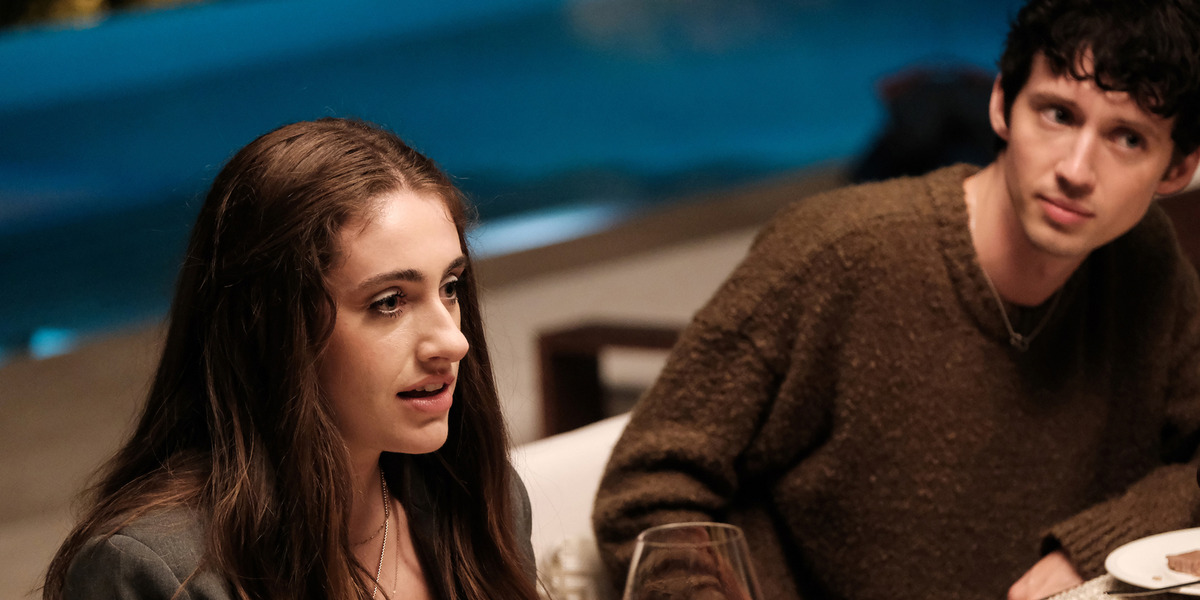 Meanwhile, Leia is attracted to Izaak, one of Tedros' followers. However, Leia remains concerned with Tedros' influence and tries convincing Jocelyn to avoid the cult leader. After Jocelyn ignores her concerns, Leia informs Jocelyn's managers, Chaim and Destiny, about Tedros' shady activities at the house. Eventually, Tedros learns that Leia and Xander knew about the abuse Jocelyn faced at her mother's hands. However, Leia did nothing to intervene, leading Tedros to use this information to undermine Leia constantly. In the season 1 finale, Leia learns about the rape allegations against Jocelyn's ex-boyfriend, Rob Turner.
The allegations against Rob are fabricated by Xander, who clicked provocating photos of Sophie with the famous actor. Xander used the photos to win over Tedros' trust. Later. Sophie accused Rob of raping her and used the pictures as evidence, removing Rob from Jocelyn's life and destroying his career. Leia becomes aware of the same in the finale but cannot stop the news from coming out. She also fails to convince Xander and Jocelyn to defend Rob. Ultimately, Leia becomes disenfranchised by the morally corrupt behavior of Jocelyn and her friends. As a result, Leia seemingly quits her job.
The closing moments of the final see Leia leaving a note for Jocelyn before leaving the mansion. She is also absent from Jocelyn's tour. Thus, it is implied that Leia has quit her job as Jocelyn's assistant. The ending hints that Leia is unable to continue the job as her morality is questioned when she fails to raise her voice against the injustice done to Rob. Moreover, Leia realizes that she has completely lost Jocelyn's faith as a result of Tedros constantly undermining her. Thus, Leia decides to quit her job and leave the toxic environment that is building around Jocelyn. Whether Leia's decision will impact Jocelyn and if she returns remain compelling plot points the series can explore in a prospective second installment.