'Bake Squad' is a captivating series wherein four experienced bakers face off against each other in every episode to build four delicious desserts to see whose would be selected to be a part of someone's special day. With no prize money involved, the only thing the winners earn for their effort is a license to brag, experience, and connections, which is why they agreed to be a part of this production in the first place. After all, they're all pretty accomplished already, especially Ashley Holt. So now, if you're curious to know more about her, we've got you covered.
Who is Ashley Holt?
Ashley Holt first made a name for herself in the entertainment industry as a model in the mid-2000s — shortly after she relocated to New York from Georgia after graduating from Loganville High School. In her stint, she not only worked with prominent names like Marc Jacobs, but she also appeared in fashion magazines such as Vogue, Allure, Harper's Bazaar, Elle, and many more. Ultimately, though, around 2008, Ashley quit. "I was like…why am I doing this to myself?" she said. "I'm not happy. I'm starving myself. And now I'm getting yelled at for getting a tattoo."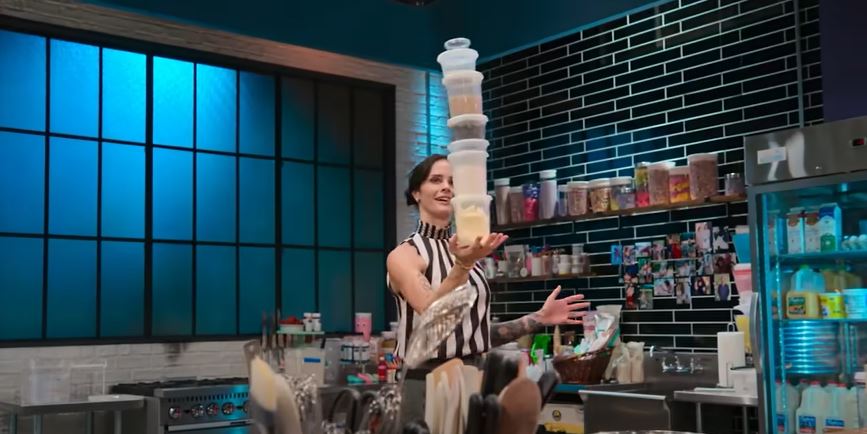 Hence, despite not having baked her very first cake until the age of 19, the former model soon found herself attending culinary and pastry classes at Sullivan College, Louisville. From there, through hard work, Ashley scaled the ranks and landed a spot on TLC's 'Cake Boss: The Next Great Baker' in 2012-13. She won, snagged a $100,000 grand prize and an apprenticeship at Buddy Valastro's New Jersey bakery, and then featured on 'Cake Boss' (2013-14). She's also been on 'Chopped,' 'Dessert Games,' and 'Cake Fest.' Ashley's title of cake queen is not an overstatement.
Where is Ashley Holt Now?
Ashley Holt opened Sugar Monster Sweets, a bakery and sweets studio in Brooklyn, New York, with her fairly won prize money from TLC. Since then, she has also worked as a culinary producer and food stylist, both on and off camera. Some of her employers/partners have been, Ruffled Blog, High Noon Entertainment, Storyville Entertainment Inc., FYI, Nickelodeon, Martha Stewart Living Omnimedia, NBC Universal, and several more. As per her LinkedIn, the Emmy-Awarded food stylist is now a freelancer and culinary producer for 'Magnolia Table with Joanna Gaines.'
Having given birth to a beautiful baby girl in mid-2018, whenever she's not dedicating herself to work, Ashley can be seen spending quality time with her daughter as she tries to be the best mother possible. We assume that her situation as a single parent isn't easy in any way. But her social media platforms make it seem like she has managed to balance her personal and professional life well. Ashley does open up about her struggles every now and again, yet her girl, Chloe, makes it all worth it. Thus, now, they go on new adventures and experience the world together.
Read More: Where is Christophe Rull Now?