Place plays a huge role in the appeal of every sitcom. While shows like 'Friends' and 'How I Met Your Mother' locate their characters and plot in a real setting, series like 'Letterkenny' and 'Schitt's Creek' depict a fictional place that almost starts to feel like a fictional universe.
'Schitt's Creek' is a Canadian sitcom that revolves around a formerly super-rich family who lose their fortune and are forced to move to a village. Jonny Rose, a video store magnate has to give up all his possessions due to unlawful activities by his business manager and has to take his family to the village, Schitt's Creek which he had purchased as a gag gift.
The Rose family comprises of Johnny, his wife, his twenty-something daughter and son. All four of them are depicted to be snobbishly elitist and the show derives its humor from their attempts at adjusting to a rural lifestyle.
Schitt's Creek Filming Locations:
Over the course of the show's six seasons, the eponymous village and its quirky residents depicted in 'Schitt's Creek' have become extremely popular with the show's fans. Like most popular sitcoms, 'Schitt's Creek' successfully makes viewers feel a sense of familiarity and comfort with its relatively unchanging setting.
Many of you might be wondering where the actual place depicted as Schitt's Creek is located. Is it even a real place? Continue reading to find out:
Goodwood, Ontario
'Schitt's Creek' is filmed in a tiny village in Ontario: Goodwood, which is home to about 600 people. Apparently, the village has received a major tourism boost after the show started filming here. Most of the show's exterior shots are filmed here as the village doubles for the fictional Schitt's Creek.
Goodwood is the place where the actual buildings depicted as Café Tropical, Bob's Garage and Rose Apothecary are located. In fact, all three of them are situated at the same intersection near the Concession Road and Highway 47.
zoom in 🇨🇦 pic.twitter.com/T0ncD5cdW3

— Schitt's Creek (@SchittsCreek) July 1, 2019
Café Tropical and Bob's Garage are actually private residences while Rose Apothecary is actually a branch of the yarn store franchise, Romni Wools.
Moreover, the character, Roland Schitt's and Moira's house is an actual place of residence located in the village of Goodwood on 4130 Concession 3 Road. But the most fitting fact is that the actual place of filming for Schitt's Creek's town hall is the real townhall of Goodwood.
https://www.instagram.com/p/ByiuWybgkXL/?utm_source=ig_embed
Other Filming Locations
However, the interior shots of the show post the third season were filmed at Pinewood Toronto Studios. Before that, the interior filming was carried out at Dufferin Gate Studios which is also situated in Toronto.
The Rosebud Motel is a fictional motel that serves to be one of the show's principal locations as it is the place of residence of the Rose family. The actual place where scenes sets in the Rosebud Motel are filmed at is a private property located on 308385, Hockley Road in Orangeville, Ontario.
On the other hand, it is interesting to note that the place shown as the former estate of the Rose family is a former estate located on 50 Beverly Park Way in Beverly Hills, California. The place belonged to Lisa Vanderpump but was unfortunately destroyed in a fire.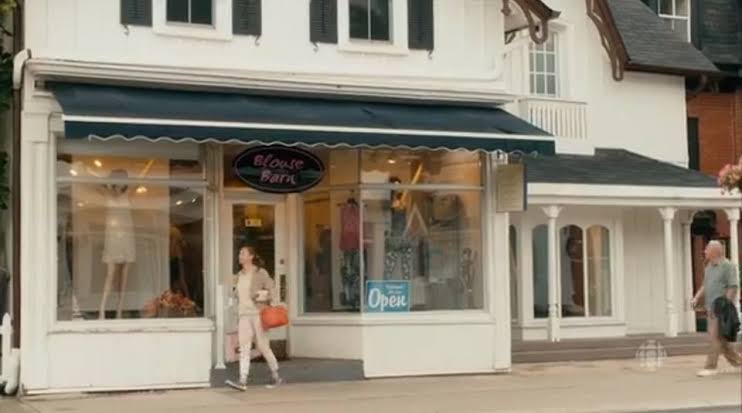 Moving on, the Blouse Barn which is shown as David's first place of work is a pottery studio called Crock A Doodle at 159 Main Street in the charming town of Unionville.
Furthermore, Schitt's Creek's veterinary clinic where a recurring character, Ted works is a real veterinary hospital called Thicketwood Veterinary Hospital on 6342 Main Street in Whitechurch-Stouffville, Ontario.
Lastly, the spa shown in the eight episode of the fourth season of the sitcom is actually the Monte Carlo Inn at 705, Applewood Crescent, Vaughn, Ontario.