Netflix is not only the best streaming platform in the world but also a production house which is always ready to come out with relevant content at every opportunity possible. And the best part about Netflix is that besides their usual fare, they are constantly focusing on Foreign content/ This draws users from all over the world towards Netflix and helps them spread their influence as widely as possible.
The Norwegian drama series 'Home For Christmas' is an addition to their repertoire, which, besides capturing the interest of European audiences, will also show non-Europeans the ways in which Christmas is celebrated in a country like Norway. The beautiful country of Norway has many interesting sites which have not been well-represented in mainstream media, but here is a chance for things to change. The small European towns in countries like Norway are some of the most beautiful places on earth, so while watching 'Home For Christmas', be sure to be bedazzled by the beauty that is Roros.
The story of 'Home For Christmas' is centered around a woman called Johanne who is around thirty years of age. Her friends and family are worried that she is getting old and might not find any romantic partner if she does not earnestly start looking for someone right away. This constant nagging makes Johanne interested in having a romantic relationship and she vows to get a boyfriend for herself by Christmas. But the problem is that Christmas is only 24 days away.
With shows like 'Home For Christmas', Netflix is trying to entice viewers who love watching holiday-themed shows that are traditionally made by Hallmark and Lifetime Channel. Per-Olav Sørensen, one of the co-directors of Netflix's 'Quicksand', is also the director of 'Home Christmas'. He shared his enthusiasm about the show, saying, "With this extremely talented group of actors and writers, we are very much looking forward to create a drama-comedy set to Christmas. Hopefully, it will give the audience a feel-good experience, something to laugh at, and hopefully something to think about. It is also a thrill to work with Netflix once more shortly after finishing Quicksand",
Home For Christmas Filming Locations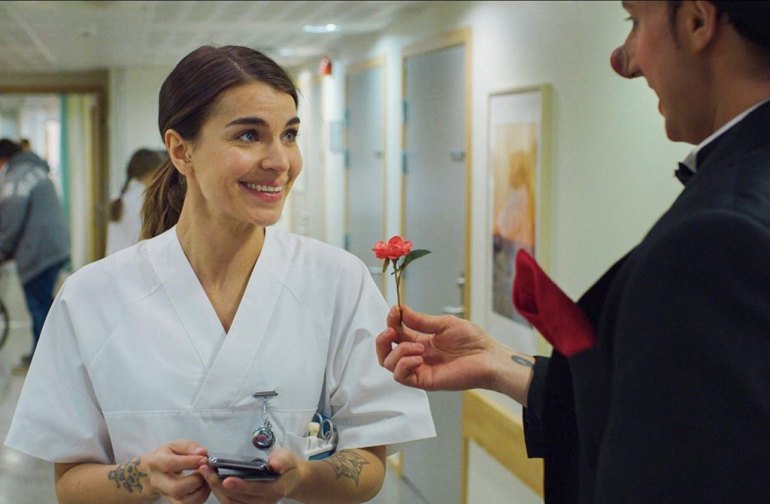 As mentioned earlier, 'Home For Christmas' is a Norwegian series, and the show has been entirely shot in Norway. The beautiful town of Roros is where most of the story is set, As per reports, filming of the series commenced on March 23rd, 2019 and was wrapped up by November 15, 2019.
Roros, Norway
Roros is a rather small place in Norway and is mainly a copper mining town. With a tiny population of around 5000 people, Roros is an ideal spot for shooting such a major production like 'Home For Christmas'. It was important for the crew to film during March-November because in the winter months Roros turns out to be quite a happening tourist destination. The winter sport of skiing happens to be one of the major attractions of the town. As Johanne is going out with several guys looking for an ideal partner, she also finds herself skiing with one of her dates.
Another major attraction of Roros is its beautiful architecture since most of the buildings in the town belong to the medieval ages and people still live in them. This is the reason this entire town has been declared a UNESCO World Heritage site. Be sure that you are going to see a lot of such structures as Johanne goes about the town during the course of the show. Christmas itself is a huge occasion in this town because of the tourists who arrive here during this period. In all the exterior locations that you get to see throughout the series, you can witness how painstakingly the showmakers have recreated the Roros' Christmas decorations throughout the town.
Besides the exteriors, there are also some interior shooting locations, but the makers have not yet specified where these parts have been shot. Johanne is involved in a medical profession, and a hospital is one of the most frequently used indoor locations in the show.
We can promise you that this series is one of the most visually stunning Netflix original productions to ever hit your screens. If you are someone who is interested to know how Christmas is celebrated in other countries far away from your own homes, 'Home For Christmas' is here to bring you the story of a place where Christmas celebrations are itself a major tourist attraction. With a heart-touching story and lovable characters, 'Home For Christmas' is the show that fill your heart with warmth.
Read More: Best Christmas Shows on Netflix