Developed by Eric Heisserer ('Arrival'), 'Netflix's 'Shadow and Bone' is based on the 'Grisha' fantasy universe created by Israeli-American author Leigh Bardugo. Kaz Brekker (Freddy Carter) is an important character in the series, who, interestingly, is one of the protagonists of the 'Six of Crows' duology and not the main 'Shadow and Bone' trilogy. Kaz is the leader of a small but highly efficient gang known as The Crows and runs the popular Crow club in the city of Ketterdam, the capital of Kerch. Kaz is almost always seen with his hands covered in black gloves. Here is the reason behind it. SPOILERS AHEAD.
Why Does Kaz Always Have Black Gloves on?
Among the characters in 'Shadow and Bone,' Kaz has this sense of mystery that even the Darkling lacks. It's established quite early in the series that Kaz came from a humble background and fought his way up to reach the place he is in now. Along with the gloves, we almost always see him with his distinctive cane. In various interviews, Bardugo has mentioned how remarkable it was for her to see the cane for the first time on the set.
The second season of 'Shadow and Bone' offers a detailed explanation of why Kaz always wears black gloves, and it more or less aligns with what is written in the books. When the Crows return to Ketterdam, they discover they are now criminals wanted for murder, and Pekka Rollins owns the Crow club. In episode 2, as Kaz watches his fellow gang leader from a distance, he travels back to the past in his mind to the time when he first met Rollins. This was years ago, when he was still known as Kaz Rietveld, and his older brother Jordie was alive. Their late father left them a farm. With the hopes of becoming rich quickly, Jordie, naive as he was, sold the farm, gave the proceeds to a man named Jakob Hertzoon, and asked him to invest the money in jurda crop.
However, their dream of wealth soon became a nightmare when they discovered Hertzoon and his "family" were gone and realized they had been conned out of their money. Hertzoon was the alias Rollins was using at the time. And that's why Kaz blames Rollins for what happened afterward.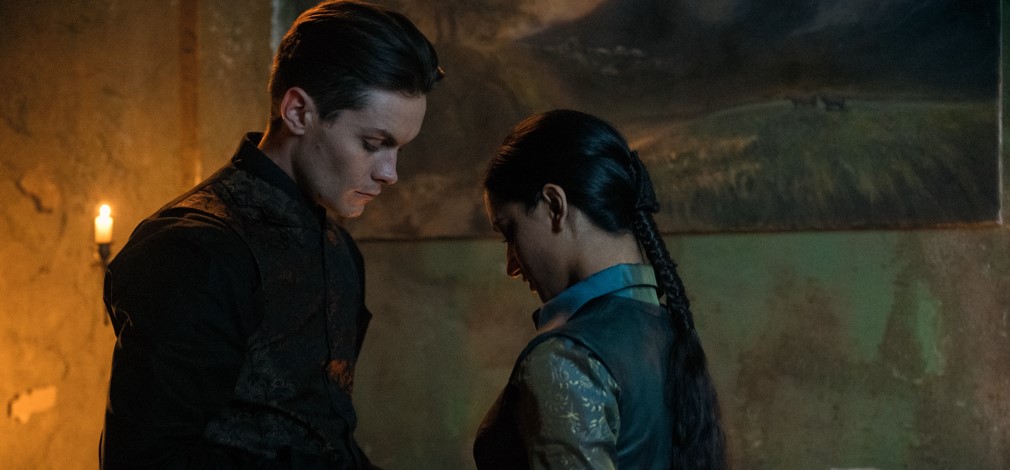 After Jordie and Kaz lost everything, the boys ended up in the streets, and the situation progressively worsened for them. The show's timeline differs from that of the books, as the characters have aged up. So, despite a seven-year distance between Jordie's death and the current events in 'Six of Crows,' it's decidedly longer in the show. A deadly outbreak of Firepox (a highly contagious fictional disease) known as Queen's Lady Plague happens, killing hundreds of people in Ketterdam, including Jordie. Kaz also contracted the disease but survived.
However, as Kaz's symptoms manifested, he was believed to be dead, and his body was placed among a pile of corpses. When Kaz woke up, he found himself surrounded by those corpses and floating away from the city on a raft. His brother's body was there as well. This experience gave him what people in our world might describe as haphephobia or an intense fear of being touched. And that's why Kaz almost always wears specially made black gloves with small slits in the fingers, giving him enough mobility to pick locks and handle cards.
Toward the end of season 2, Kaz finally tells Inej he wants her to stay with him. But Inej grabs his gloved hand and asks whether they will ever be intimate. As Kaz doesn't answer, it becomes apparent that he isn't yet ready. Before leaving, Inej tells Kaz that she will have all of him or none of him. As we know from the books, Kaz does eventually overcome his issues.
Read More: What Happens to David? Is He Dead or Alive in Shadow and Bone?