The ninth episode of CBS' thriller series 'NCIS' season 20 follows the death of a college student, who is closely connected to NCIS Senior Field Agent Timothy McGee's wife Delilah Fielding. To unravel the mystery behind the death of the young man, the NCIS team seeks the input of Delilah, marking the return of Margo Harshman, whose previous appearance is in the seventh episode of the nineteenth season of the show. While Delilah and her husband McGee team up and find crucial evidence concerning the murder, the new viewers of the renowned show must be wondering how the former gets wheelchair-bound. Well, let us share everything you need to know about the same! SPOILERS AHEAD.
Why is Delilah in a Wheelchair?
Delilah ends up in a wheelchair after getting severely injured due to a bomb explosion. A Department of Defense employee, Delilah is one of the nationally renowned experts in the field of counter-terrorism. In the eleventh season of the show, she is slated to be honored at a gala event. Meanwhile, NCIS sets out to find the murderer of a petty officer, who gets killed by a drone strike. Their investigation leads to Benham Parsa, an infamous terrorist. Leroy Jethro Gibbs and others realize that the murder of the officer is just a preparatory mission for Parsa, who is planning an explosion at the gala event.
Although Gibbs and his officers try their best to stop Parsa, the terrorist manages to escape and succeeds in activating the bomb. The explosion happens, killing around six and injuring over twenty people. In the thirteenth episode of season 11, McGee meets an injured Delilah at a hospital. Due to the explosion, a piece of shrapnel gets lodged in her spine. Even though she undergoes surgery, the injury to the spine paralyzes her both legs, leaving her wheelchair-bound. Still, Delilah continues to provide significant contributions to DoD's fight against terrorism. She eventually marries McGee as well.
Is Margo Harshman Physically Disabled?
Margo Harshman, who plays Delilah, is known for her performances as Tawny Dean in 'Even Stevens' and Alex Jensen in 'The Big Bang Theory.' Unlike her character, Harshman isn't a person with a physical disability. Delilah's disability is a fictional characteristic added to Harshman's character and it is not directly connected to the actress in any way. In fact, one of the former executive producers of the show Gary Glasberg revealed that Delilah's arc is inspired by the lives of the Boston Marathon bombings, a domestic terrorist attack that happened during the 2013 Boston Marathon, which reportedly killed 3 and injured around 264 people.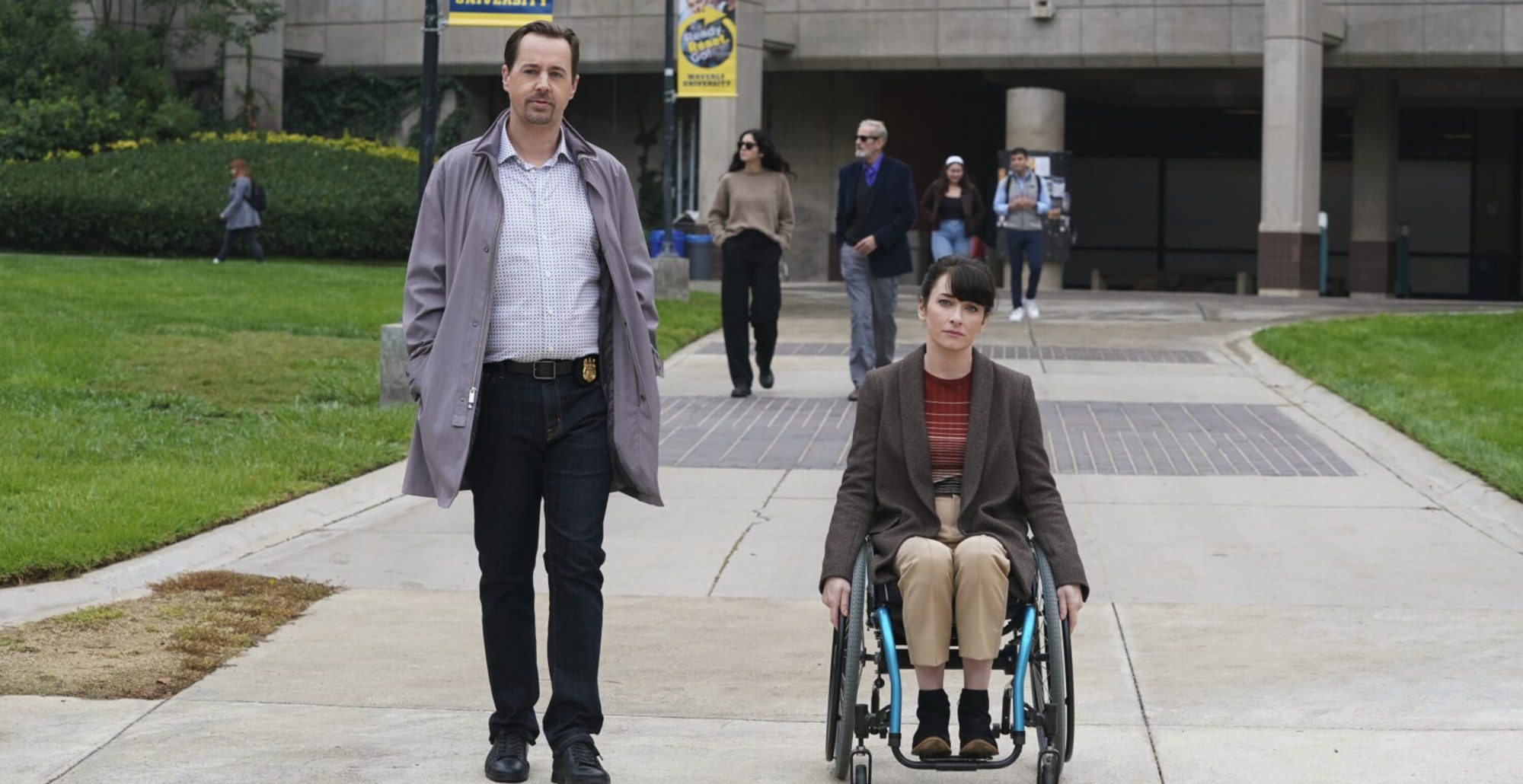 "I remember seeing a piece on I think it was the Today show about a bunch of women who had really managed to start to pull their lives back together again [after the Boston Marathon bombing]," Glasberg told the press at the Television Critics Association press tour in 2014. "I wanted to try to capture some of that on our show. So the intent was — and is — to show someone who comes from a government background involved in something tragic like this and manages to persevere," he added. Thus, the disability of Harshman's character is a later addition.
Harshman's Delilah is a representative of several individuals who fought numerous challenges, irrespective of their disabilities, to lead a successful career. Within the 'NCIS' franchise, Daryl Mitchell is one among them. The actor got into a motorcycle accident in 2001, which left him disabled. Mitchell plays NCIS Computer Specialist Patton Plame in 'NCIS: New Orleans,' appearing in 143 episodes over seven seasons.
Read More: Why Did Pauley Perrette Leave NCIS? Will Abby Sciuto Return to NCIS?