Netflix's 'That '90s Show' is the story of Leia and her friends, who spend a summer together in Point Place. The show is a spin-off of 'That '70s Show', with a lot of overlapping characters from the original series. Leia is the daughter of Eric and Donna and has a romantic entanglement with Jay, the son of Michael and Jackie. This opens the door for the return of all these characters, as well as of the people related to them. Eric's parents, Kitty and Red Forman return as series regulars, and so does Donna's father, Bob, though in a recurring role. Donna's mother, however, is not accounted for. If you are wondering what happened to Midge Pinciotti and why she is not in 'That '90s Show', then here's what you need to know.
Why is Midge Pinciotti Not in That '90s Show?
Midge Pinciotti is the mother of Donna and was a series regular on 'That '70s Show' for the first three seasons. Presented as a housewife who was not considered very bright, she was a close friend to Kitty Forman, which made a regular presence in the show. However, the relationship between her and Bob started to deteriorate as Midge got fed up with her role as a housewife. This led their marriage to crumble over time. They tried to mend fences and even got to the point of renewing their vows.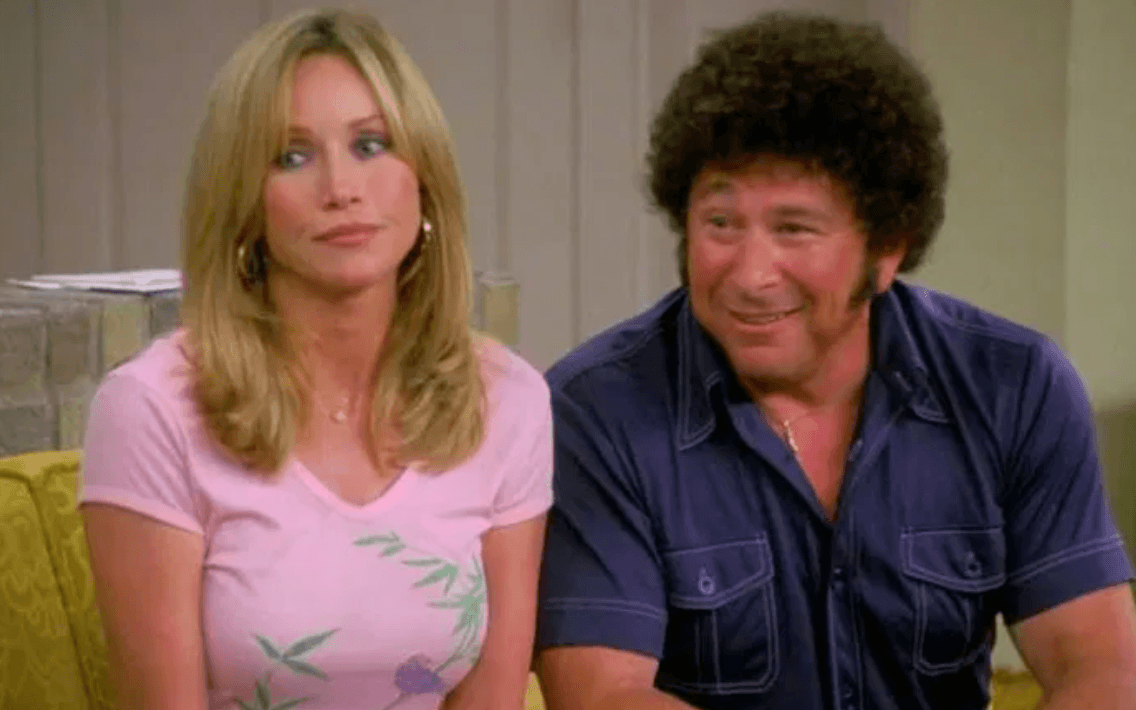 Things didn't turn out so well for them and by the end of Season 3, Midge called off the entire thing. She left for California, expressing an intention to work on Broadway. After this, Midge didn't appear in the show for a couple of seasons, and later, it was revealed that she and Bob had divorced each other. In the fifth season, Midge was referred to when it was revealed that Donna was going to live with her in California. However, she didn't actually show up in the series until the sixth season, though she didn't stick around for long and didn't appear in the show again.
The reason behind Midge's sudden departure and her erratic presence throughout the show was actress Tanya Roberts' personal struggles. At the time, her husband, Barry Roberts, had been battling encephalitis, and she left the show to take care of him. He passed away in 2006 at the age of 60. By now, Roberts had retired from acting. She never returned to 'That 70s Show'. However, fans hoped that she might show up again if the story continued. It could have been a prospect, but Roberts died before the spin-off series 'That '90s Show' could take off.
The Netflix series doesn't reference Midge, even when Bob shows up. This could be the indication that he and Midge never managed to patch things up again and have moved on with their lives. Bob was last seen dating Jackie's mother, Pam, but they eventually broke up. The show could recast Midge if they really wanted to bring back her character, but this probably wouldn't be a good idea. There is a possibility that the show will eventually address what happened to Midge after she left Point Place for good, whether she got to have that Broadway career, giving the fans a sense of closure.
How did Tanya Roberts Die?
Tanya Roberts died on January 4, 2021, at Cedars Sinai Medical Centre in Los Angeles, California. She was 65 years old. Her passing was confirmed by her longtime partner, Lance O'Brien, who revealed that she had been hospitalized for a urinary tract infection. It spread to her kidneys, gallbladder, liver, and bloodstream, causing her death. This confirmation shocked the fans, especially because only two days ago, the news of her death had been reported by major news media, and was later debunked. According to to Find A Grave, Roberts was cremated and her ashes were scattered along a hiking trail close to the place she used to live in Laurel Canyon.
Read More: Why is Danny Masterson Not in That 90s Show?