The tone of a sitcom set in familiar locations, taped in front of a live audience with a laughter track was certainly quite a popular television style. 'Will & Grace' is one sitcom that employs the familiarly comfortable style to deliver a charmingly hilarious and heart-warming comedy series that has been loved by a large number of fans for more than two decades.
Moreover, the show also features a leading character representing the LGBTQ community and for a series that came around in 1998, that was quite revolutionary. It follows a homosexual lawyer named Will and his best friend, Grace who is an interior designer.
The plot of the series begins after Will lets Grace stay in his house temporarily when her marriage falls apart. However, Grace gradually starts to live with him permanently. The show features the characters as they go about their casual and serious relationships while their other friends also make recurring appearances.
The show was initially critiqued for its stereotypical portrayal of homosexuality. However, later on, it started to be appreciated for normalizing homosexuality as Will's sexual orientation is incorporated as a given in the premise rather than being a driving narrative force.
Where is Will & Grace Filmed?
Many of you might be wondering where 'Will & Grace' is filmed. The show's familiar locations have become increasingly popular with its viewers and fans. That is one of the hallmarks of a successful sitcom: of making viewers recognize and connect with the persistently appearing locations of the show.
Universal Studios Hollywood, Los Angeles, California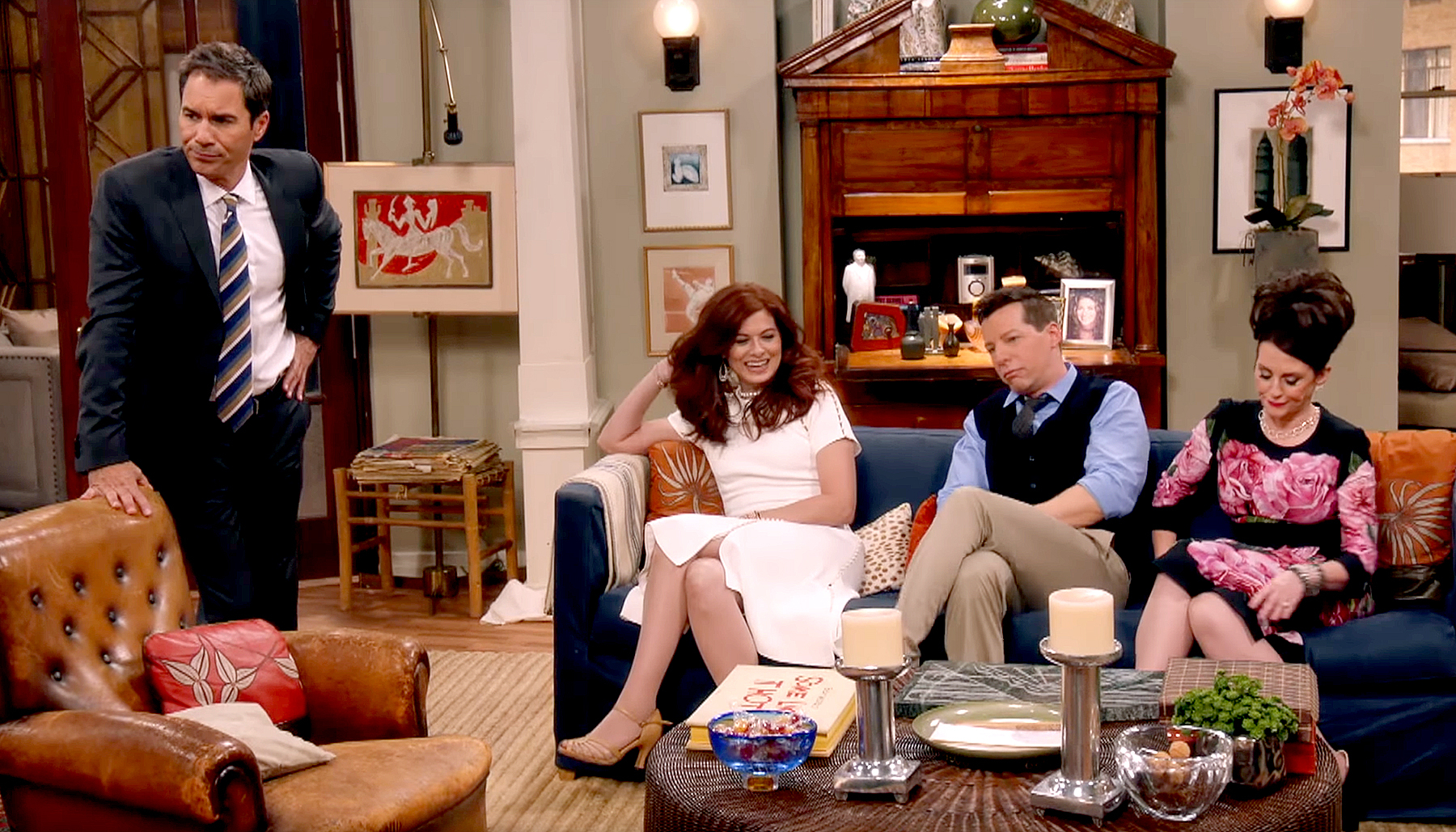 That's right: 'Will & Grace' is indeed one of the few remaining sitcoms that is taped in front of a live audience. The recording takes place in Universal Studios Hollywood, Los Angeles, California on Stage 22. Viewers can pre-book tickets to be able to watch their beloved stars actually film the upcoming episodes.
The stage is divided into three sets. One of them is the most frequent location on the show: Will and Grace's apartment. To its left is the set for Will's office which appears frequently on the show as well. Another section of the stage is reserved for temporary sets to film multiple interior locations.
The actors generally shoot multiple takes of the same scene with different jokes written for a single scene. The funniest recordings are utilized for the television episode then. Filming in front of a live audience can be challenging as actors are often forced to film the scene multiple times due to instances like the audience laughing too loudly and/or for too long.
Have a look at the following tweet that portrays the cast of 'Will & Grace' entertaining the audience at the end of filming a season.
It's a wrap on filming this season of #WillAndGrace! 💃🕺 pic.twitter.com/151EQFNuiU

— Will & Grace (@WillAndGrace) December 19, 2018
New York City, USA
Other than the scenes filmed at Universal Studios Hollywood, most of the show's exterior, establishing shots are filmed in New York City in the United States. Have a look at this tweet which highlights the interesting fact:
Did you know that 2 exterior filming locations for TV show @WillAndGrace are #NYCLandmarks? Will, played by @EricMcCormack, lives in the Riverside-West End Historic District, and Grace, played by @DebraMessing, whose birthday is today (Happy B-Day), works in the Puck Building. pic.twitter.com/7DyM1aQPlC

— Landmarks Commission (@nyclandmarks) August 15, 2018
The exterior shots of Will & Grace's apartment building for instance, actually depict the building on 155 Riverside Drive at 88th Street in NYC. Riverside Drive is an iconic thoroughfare in Manhattan that has appeared in several movies and television series like 'Mad Men',' 'White Collar' and 'The Marvelous Ms. Maisel'
Other than that, the workplace of Grace is called Grace Adler Designs and is depicted to be located in the historic Puck building. The establishing shots of Grace's workplace are actually of the Puck building which is located on 295, Layfette Street in Manhattan, New York. The building also appears on 'Seinfeld' and 'When Harry met Sally.'
Moreover, the exterior shots of the character, Karen's house actually depict a building located on Park Avenue & 73rd Street in New York.