'Suzume' revolves around Suzume Iwato, a high school girl who runs into a mysterious man searching for abandoned doors in the ruins of long-forgotten places. Unknown to Suzume, these doors are entrances to a different realm whose inhabitant is the cause of many disasters in Japan and would escape yet again if the doors are left unlocked.
Written and directed by Makoto Shinkai, who is known for his heartwrenching and visually stunning movies, 'Suzume' mixes fantasy with real-life incidents to create an impactful narrative. If you liked the film's premise, then we have a few recommendations that you are bound to enjoy! You can watch most of these anime similar to 'Suzume' on Netflix, Hulu, Amazon Prime, Funimation, or Crunchyroll.
8. Tokyo Magnitude 8.0 (2009)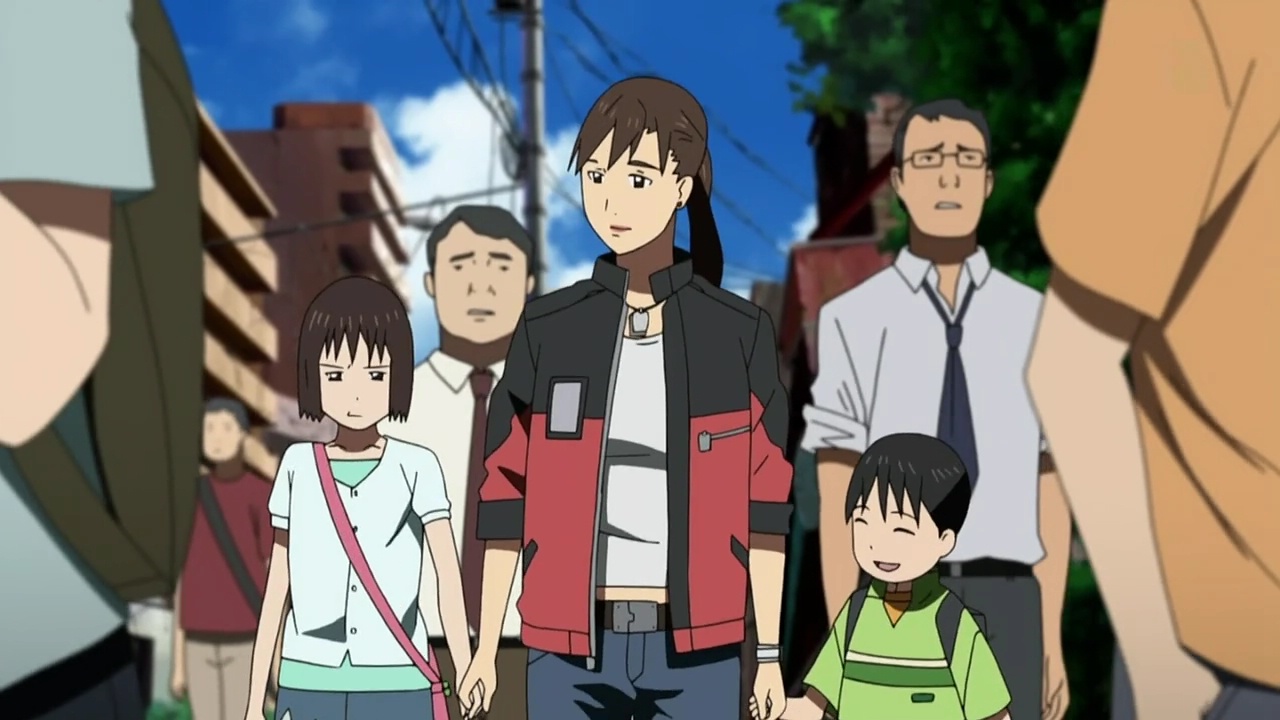 Produced by Bones in collaboration with Kinema Citrus, 'Tokyo Magnitude 8.0' tells the story of Mirai Onozawa, who is caught up in an earthquake of magnitude 8.0 with her younger brother, Yuuki, in the Kanto region. In the disaster's aftermath, the two children are taken in by Mari Kusakabe, a motorcyclist and single mother who decides to help the siblings reunite with their families.
The anime is based on the prediction that Japan will be hit by an earthquake of magnitude 7.0 on the Richter scale, and tries to accurately depict what would happen during an 8.0 magnitude earthquake, as well as the response of the various emergency response services in the country. Much like 'Suzume,' 'Tokyo Magnitude 8.0' also depicts the devastating effect an earthquake has on the lives of the people and how often it is the children who face the worst of it, sometimes not even realizing the extent to which their lives have changed until much later in the future.
7. Natsunagu! (2020)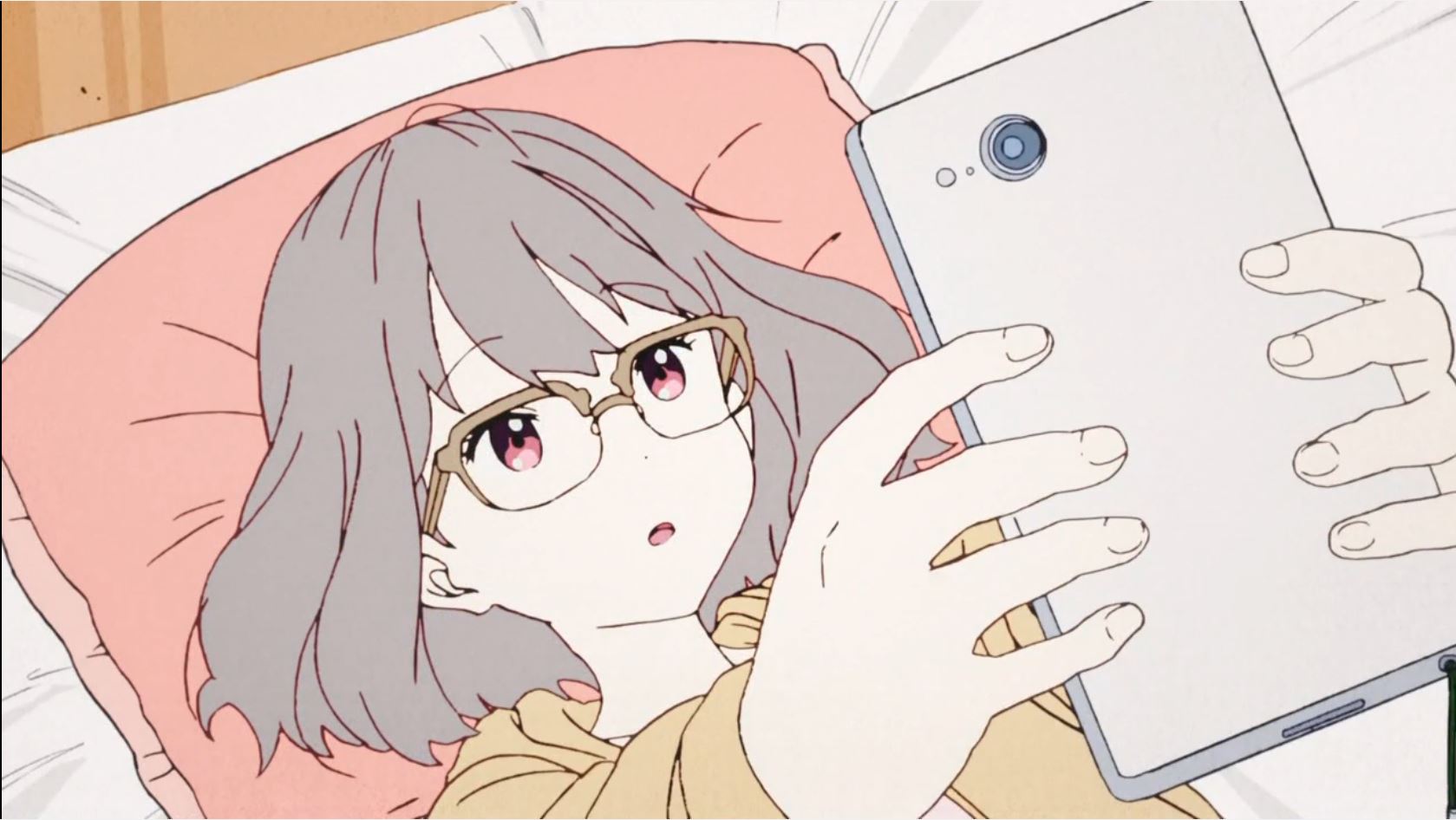 Created by IMAGICA studios, 'Natsunagu!' follows the journey of Natsuna Keyaki from her home in Tokyo to the Kumamoto Prefecture. Kumamoto was struck by an earthquake, due to which Natsuna lost touch with her online friend, Itsuki. On her quest to locate her friend, Natsuna comes across several people who help her along the way, thus forming a bond of understanding and kindness in the face of a natural disaster.
Much like 'Suzume,' 'Natsunagu!' features a devastating real-life earthquake as the impetus for the story. In fact, the anime was commissioned by the Kumamoto Prefectural Government to promote the recovery effort undertaken in the wake of the 2016 Kumamoto earthquakes. Both Suzume and Natsuna travel across Japan to look for answers as well, effectively turning the two productions into a road movie/show.
6. Japan Sinks: 2020 (2020)
'Japan Sinks: 2020' chronicles the life of the Mutou family as they try to survive in a near-apocalyptic environment when Japan is hit by a massive earthquake, causing the island nation to sink into the ocean slowly but surely. Created by Science SARU studios, both 'Japan Sinks: 2020' and 'Suzume' depict the importance of family and the difficulty of coping with loss in the wake of a natural disaster.
5. Children Who Chase Lost Voices (2011)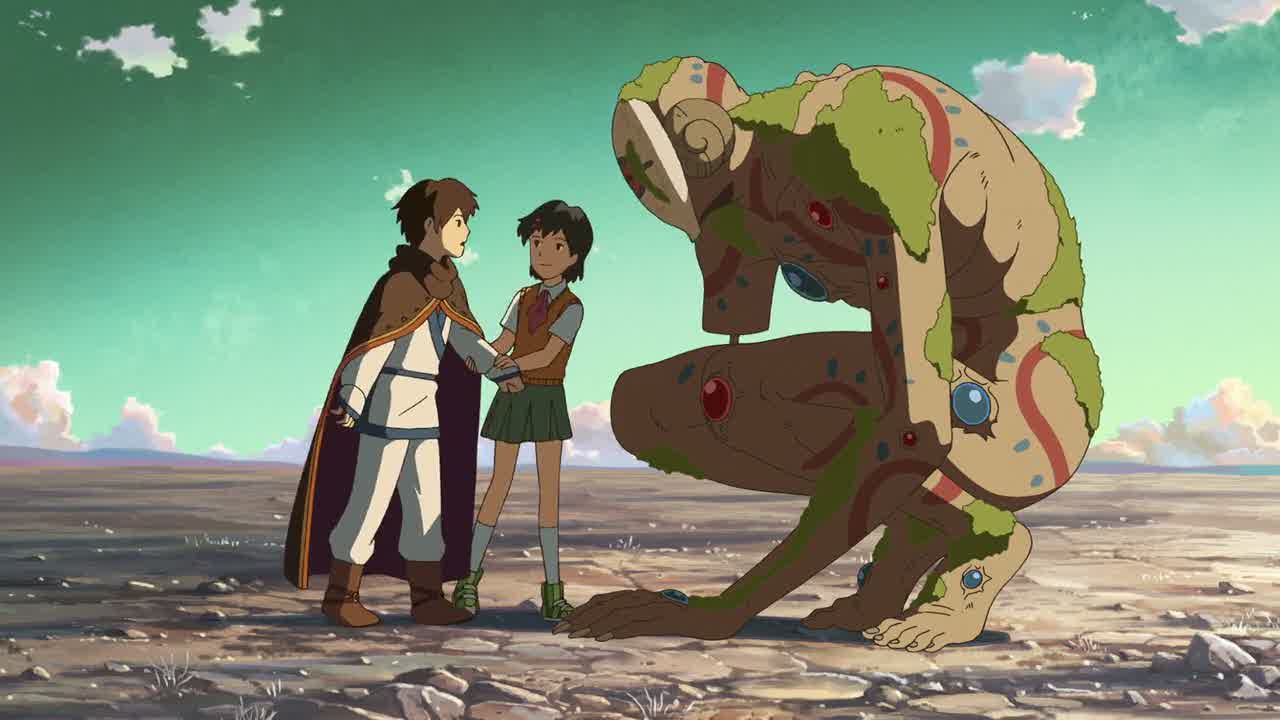 Another gem from the mind of Makoto Shinkai, 'Children Who Chase Lost Voices' tells the story of Asuna Watase, an exceptional but lonely girl whose only solace is to listen to her crystal radio that her father left behind before his sudden disappearance. This monotony in her life is broken when a strange boy named Shun enters her life along with a strange melody on Asuna's crystal radio and takes her on a journey to a mysterious land. 'Children Who Chase Lost Voices' is centered around a gateway that leads to the afterlife, with themes like the loss of a loved one and what it means to move on after such a loss, much like 'Suzume.'
4. Weathering With You (2019)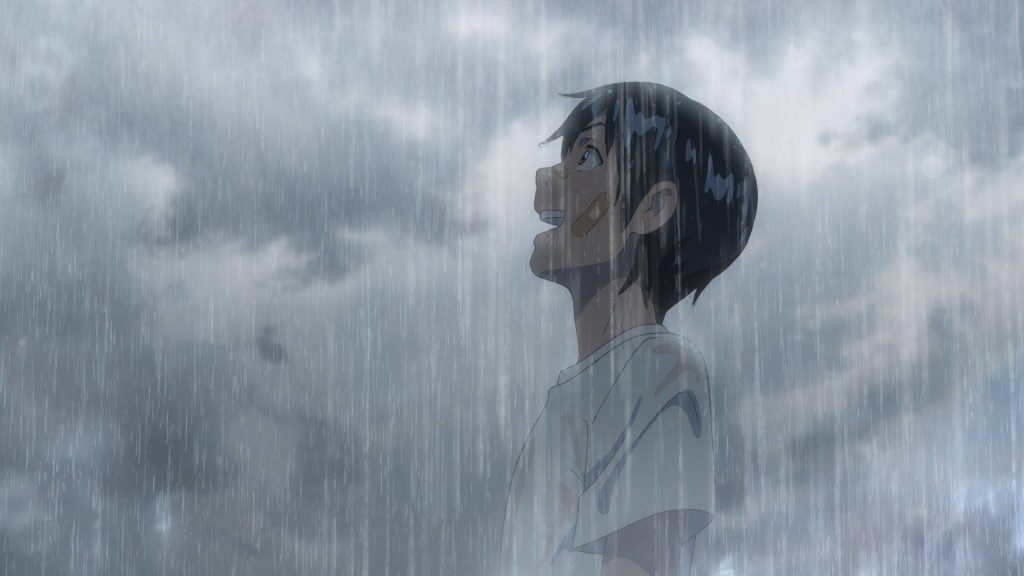 Directed by Makoto Shinkai, 'Weathering With You' revolves around Hina Amano, a young girl with the peculiar power to call the sun. Accompanying her is Hodaka Morishima, who is trying to save Hina from being captured by shady men. With Tokyo being under a constant cloud cover and buffeted by strong winds and rain every day, Hina's powers seem to be the only solution to this strange weather. Similar to 'Suzume,' 'Weathering With You' is also centered around a young girl with mysterious powers that are the key to saving Japan from an oncoming disaster.
3. Bubble (2022)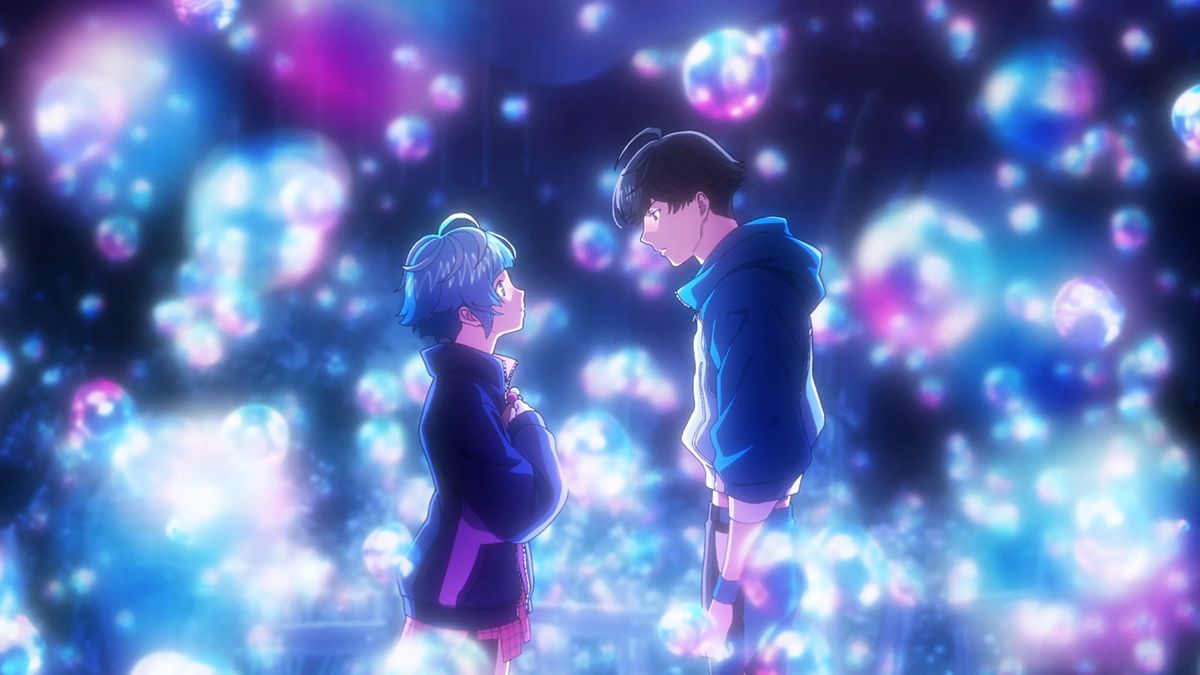 Created by Wit Studio and directed by Tetsuro Araki, 'Bubble' takes place in a post-apocalyptic Tokyo, which is now no more than a pile of rubble and derelict buildings swimming in a mysterious sea that bends gravity itself. Though declared uninhabitable, children orphaned in the mysterious phenomenon that turned Tokyo into a flooded landscape use the buildings left over to battle each other for resources through dangerous parkour races.
One such boy is Hibiki, who finds a strange girl while investigating Tokyo Tower and could be the key to figuring out the cause and solution to the strange disaster that claimed Tokyo. Both 'Suzume' and 'Bubble' feature a character that is made from an inanimate object and their powers are symbolic in nature, as well as the key to lock a supernatural calamity in place.
2. Your Name. (2016)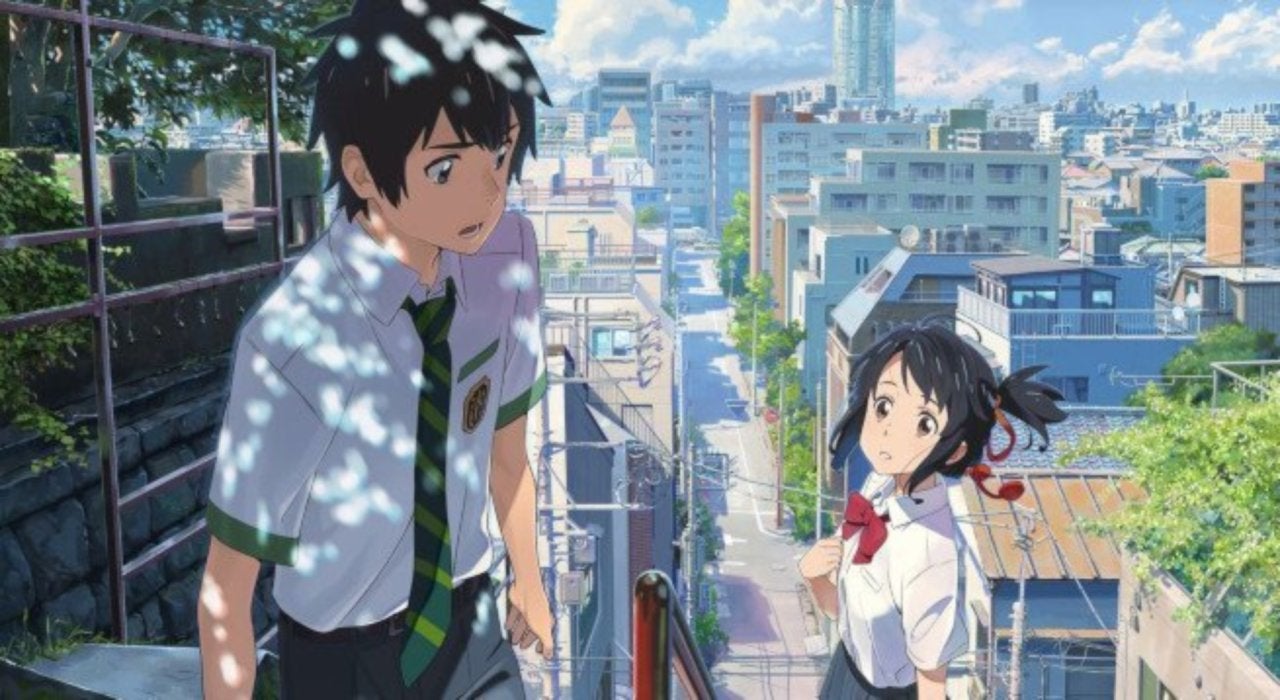 'Your Name.' follows the life of Mitsuha Miyamizu and Taki Tachibana, as they continuously switch bodies with each other when they fall asleep through an inexplicable phenomenon. Though they might not know the reason for their strange circumstances, both Mitsuha and Taki help each other bring some positive change to each other's lives. However, they soon find out that they are switching places with each other not only over space but time as well, and it is up to them to figure out why before something truly disastrous happens.
Another film on the list that has been directed by Makoto Shinkai, 'Your Name.' connects Mitsuha and Taki through time and lets them change the future ever so slightly, which will remind fans of 'Suzuha' of Suzuha's own connection with her past self inside the other world and how she changes her own circumstances through it.
1. Grave of the Fireflies (1988)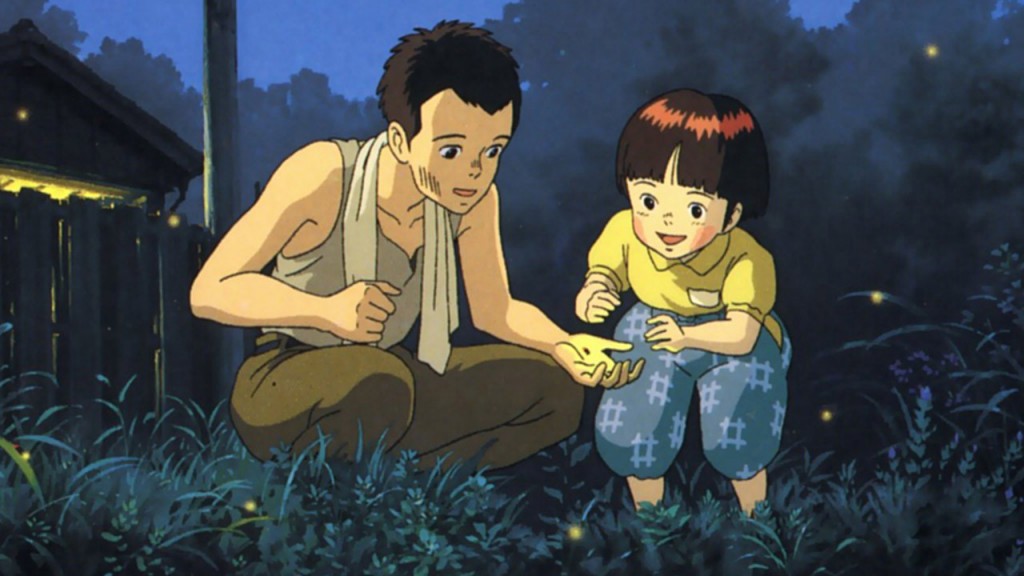 Produced by Studio Ghibli and directed by Isao Takahata, 'Grave of the Fireflies' follows Seita and his sister Setsuko as they make their way across a land ravaged by nuclear fallout after the American bombing of Japan at the end of World War II. Without food or water, the brother-sister duo only have each other to rely on as a hellish landscape looms in front of them.
Though 'Grave of the Fireflies' does not center around a natural disaster, it is no less impactful. Setsuko and Seita's slow trudge across a broken land will remind viewers of a young Suzume walking through the rubble of her childhood hometown in the aftermath of the Tohoku earthquake and tsunami. Both films also feature a real-life disaster as the backdrop of the story.
Read More: Best Sad Anime of All Time