It's astounding to bear witness to the impact that the films of Studio Ghibli have on the world today. Pretty much all of their endeavors are hand-drawn two-dimensional animation pieces, which makes their presence in modern culture all the more praiseworthy. The reason, I think, the films of this animation giant have stood the test of time is simply because of their universal themes, unique visual styles, memorable characters, and fascinating stories. Their greatest pictures have been able to transport us to surreal fantasy worlds filled with magic and beauty, and all props for this go to the immensely creative and imaginative minds of the people heading the company. There's a little something for everyone in each and every movie they've made, and this could very well explain their undeniable worldwide reach.
The films of Studio Ghibli will be remembered for long, and I think its great that we exist in a time wherein we can both see and appreciate their best. Here is the list of top Studio Ghibli movies of ever made, ranked. You can watch some of these best Studio Ghibli movies on Netflix, Hulu, or Amazon Prime. We have tried to select the greatest from the Studio Ghibli movies collection.
1. Howl's Moving Castle (2004)
'Howl's Moving Castle' will always remain my favorite work of Hayao Miyazaki. It is a colorful picture filled with life and energy from start to finish, with characters so memorable and relatable that I'd find it hard to not get attached to any of them. The story is Miyazaki at his most imaginative, and the world he was created for his characters is one that you can only make up in the realm of cinema. I may even go as far as to call the film an epic, because of just how massive it is. Though at its heart a film about friendship, pride, and love, there's so much going on at any given point that by the end, it becomes something more. As far as I'm concerned, the film works like a dream, because its nature is one that is both surreal and fantastical, sweeping you by your feet. The English dubbing goes a little off nearing the third act, which sort of dents the overall experience, but with its original audio track, the film is pure magic projected on screen.
Read More: Best Anime Sex Scenes
2. The Red Turtle (2016)
'The Red Turtle' is not a Japanese film. Directed by Michael Dulok de Wit, this is a mostly French production with the Ghibli stamp posted over it as a result of overseas collaboration. In line for the Best Animated Feature Oscar last year, I was only more than excited to check this one out. The experience of watching it, I can only sum up as poetic, meditative, poignant, and overall, calming. It's the story of a man's life after he washes up on shore a mysterious island inhabited by crabs and a couple other creatures. A massive red turtle comes by, and thus ignites the prominent part of the tale, a beautifully animated, astoundingly colored, and brilliantly realized portrayal of mundanity and loneliness. Being a very touching piece of film, 'The Red Turtle' is one of the greatest cinematic experiences of all time.
Read More: Anime Like Blue Exorcist
3. Spirited Away (2001)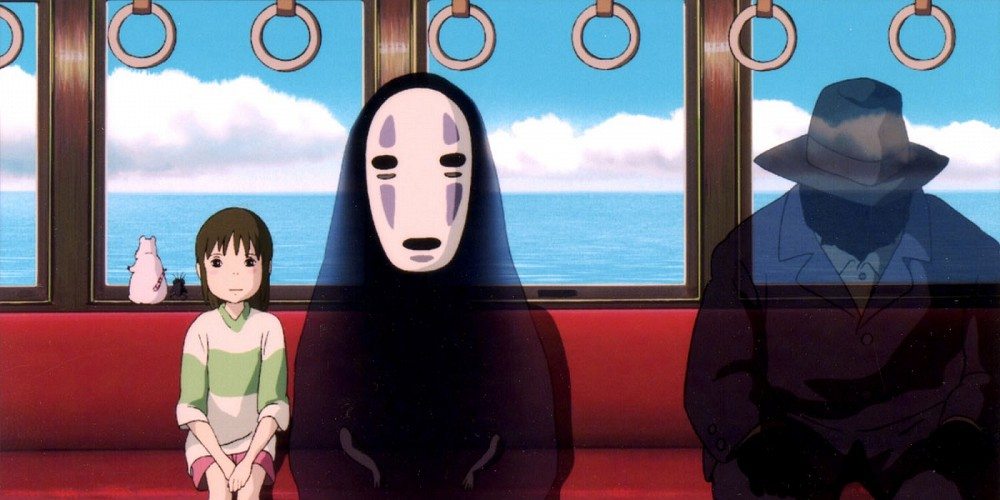 Often called the greatest animated film of all time, 'Spirited Away' is a feature that excels in both character writing and development. Featuring some of the most memorable characters in all of cinema, Miyazaki's best known endeavor is alluring, to say the least. Featuring a creative story executed with the astute perfection that the director has become recognized for, the film presents a world filled with as much ugliness as there is beauty. Having to do with a girl who wanders away from her parents and lands upon a bathhouse subject to fantasy, the film follows her many adventures within the monstrous building. There are moments of comedy in there, along with moments of fear, magic, and beauty. The subtlety in its realization is probably the best thing about this masterpiece of cinema, which remains even more popular today than it was at the time of its release.
Read More: Best Anime of All Time
4. Grave of the Fireflies (1988)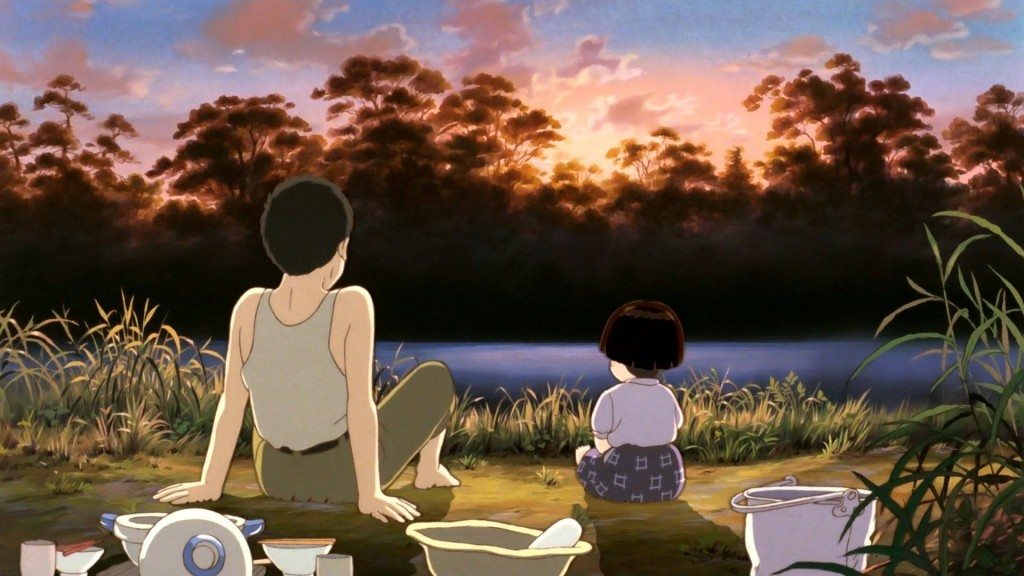 I'm not one to cry at the end of movies, but 'Grave of the Fireflies' really got to me. Maybe its the way the filmmakers approached its dark subject – with innocence, hope, and ultimately, misery. Telling the story of a brother and sister, orphaned and stranded as a result of war, it details upon their lives as they seek shelter, food, and happiness. The way their degrading situation has been shown on film is absolutely astounding. The characters are miserable, but even then, they try to find something worth laughing about in their surroundings. Labelled by famed critic Roger Ebert as a "Great Movie", 'Grave of the Fireflies' is a war-film about dejected and sorrowful people looking to take comfort in the fact that it hasn't gotten worse yet. The first time I saw this film, I was left feeling incredibly emotional, as few films have made me feel before or since.
Read More: Best Anime Shows of All Time
5. Whisper of the Heart (1995)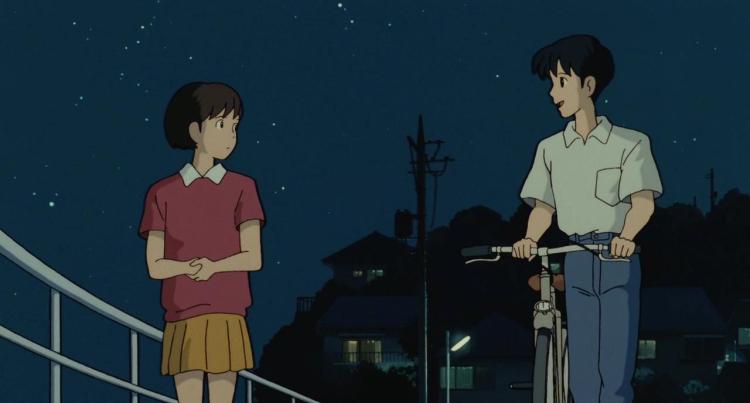 Yoshifumi Kondo only ever directed a single film in his entire life, and while watching it, I was left wondering what other mesmerizing works of art he would've helmed had he not sadly passed in 1998. 'Whisper of the Heart' is first and foremost a coming-of-age drama, shedding the limelight on a touching love story between a girl who happens to be an avid reader and a boy who gets his hold on the books she checks out of the library before she does. Together, their path of romance takes them on a journey of self-discovery and appreciation. The narrative is quite simple, and it presents us with a moving tale. I'm pleasantly surprised at how this pictures steers clear of possible cliches and repetitive dialogue that is otherwise abundant in teen dramas of this sort. This is a Ghibli film that not many people have seen, and I think it is definitely a must-watch for any lover of cinema (that's all of you).
Read More: Upcoming Anime Movies
6. My Neighbor Totoro (1988)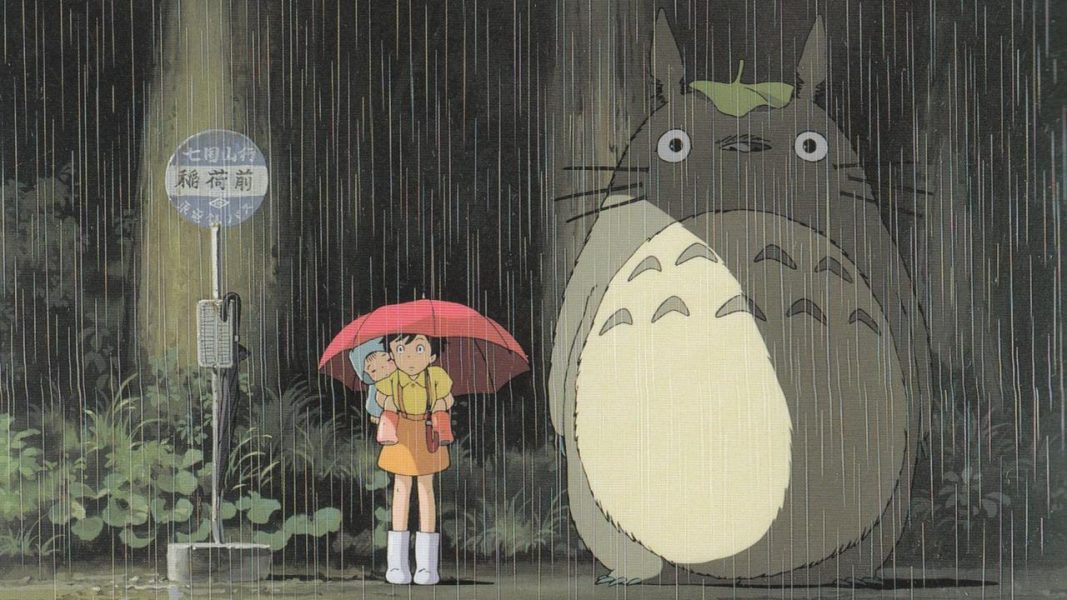 'My Neighbor Totoro' is one of the most heartwarming and charming pictures ever released under the Studio Ghibli banner. Its plot is very simple to follow, and director Hayao Miyazaki's creative genius only adds to the experience. It is by all means a children's film, as the visuals and characterization are given more prominence to than the story surrounding it all. The film takes its viewers on a whimsical journey, and it's a given that you'll leave the picture with a smile on your face. Though it is made for children, I'm sure adults can enjoy it just as well. Miyazaki's focus on the film's artistic elements elevate its enjoyment to a universal level, I believe. I saw this picture when I was younger, and I keep coming back to it whenever I need a reason to smile. 'My Neighbor Totoro' is a fantastical trip that you surely don't want to miss.
Read More: Saddest Anime of All Time
7. Princess Mononoke (1997)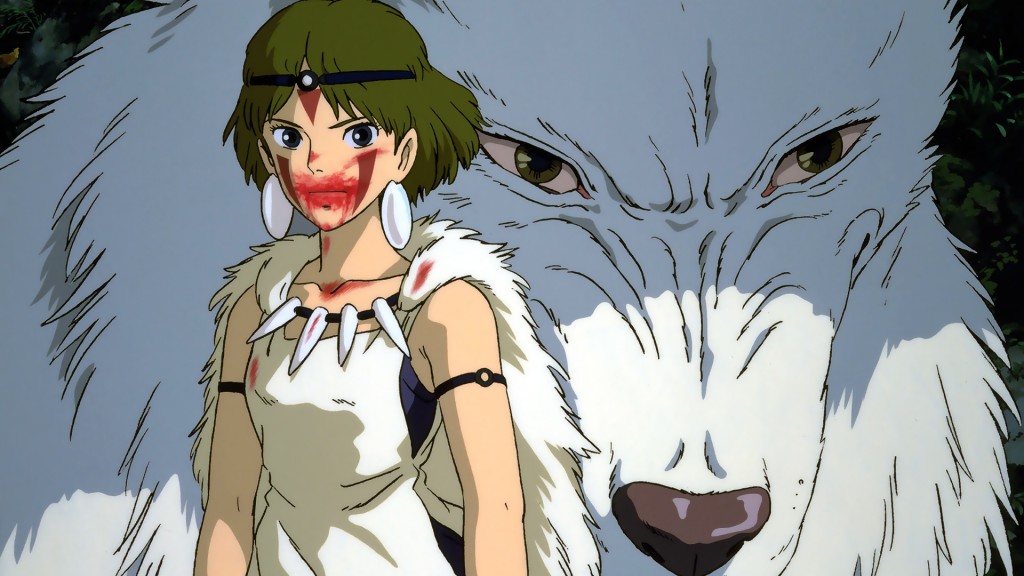 'Princess Mononoke' is another one of Ghibli's fine adventure-dramas that might as well be referred to as an epic. Following a more serious route than many of Miyazaki's other films, it focuses on the events preceding the happening of a colossal war between a mining colony and the Gods of the forest. Following some of the most fascinating (and mysterious) characters in the Ghibli universe, the story they're put into is as involving as it is entertaining. Additionally, 'Mononoke' is one of the few animated films from the late '90s to fully utilize cel animation and wonderfully capture its essence on the screen. The final product here is absolutely gorgeous, and one of the studio's best looking films ever. This picture presents us with a unique experience from Miyazakis side: one that is exhilarating, troubling, and awe-inspiring. I do think that the final act drags on for a while though.
Read More: Cutest Anime Boys
8. The Tale of the Princess Kaguya (2013)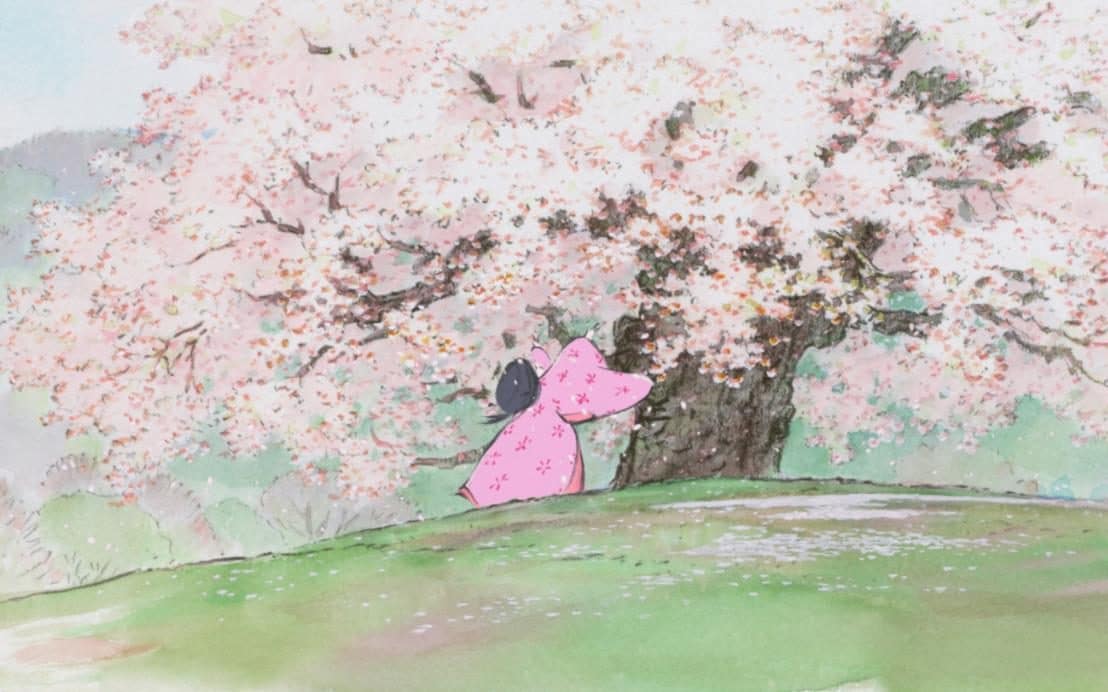 This is the only Ghibli film – and one of the very few pictures ever made – wherein the animation itself takes on the role of a character. Isao Takahata is, in my opinion, the second greatest director to ever work in the acclaimed studio, and this is one of his absolute best. Based on a Japanese folktale from the 10th century, the film follows a girl who is found by an old peasant in bamboo stock, following which she begins to grow at a rapid rate. As she grows, the animation style changes long with her. The images are inspired by watercolor paintings, making this film look distinctive and unique in the Studio Ghibli lineup. The picture is a comedy-drama, and its message is simple but strong. I do feel parts of it are poorly paced, and the story as a whole isn't anything of major interest, but the artistic risks involved are alone worth praising.
Read More: Sexiest Anime Girls
9. Kiki's Delivery Service (1989)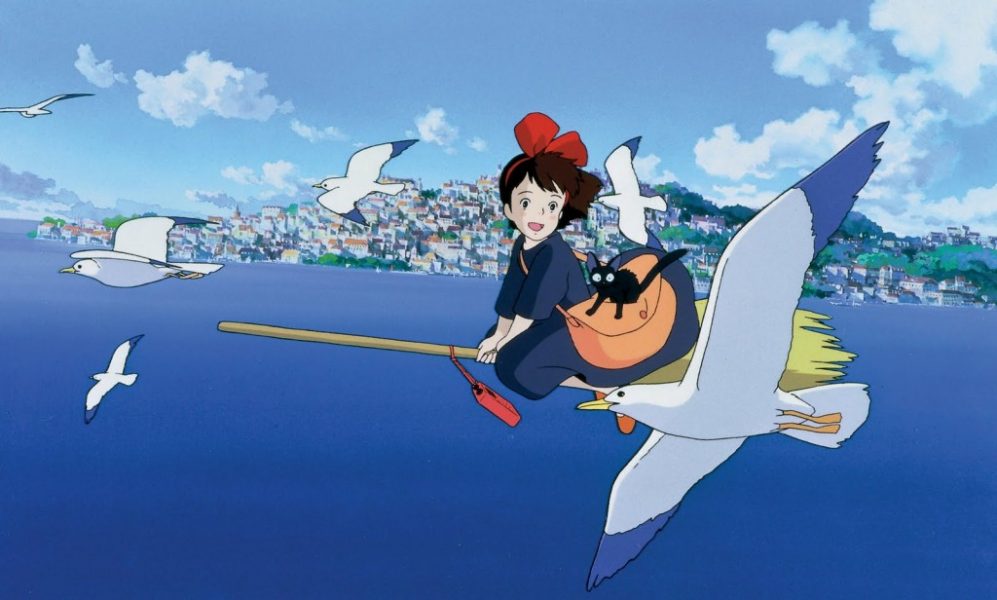 'Kiki's Delivery Service' is just plain adorable. It has got to be one of the most relaxing experiences with a movie I've ever seen. It's a stunning film and it doesn't try to go overboard with its events. Nothing is ever too dramatic or too serious. That's not to say there isn't any inciting incident or happenings that channel the direction of the film, but it's more along a light-hearted manner that the events are handled. Having to do with a young witch named Kiki and her adventures in the city among real, normal people, the movie grows with every character she meets. What I find beautiful in this picture is the way she reacts to her problems. It's realized very well by Miyazaki the way youngsters handle their emotions when challenged by stimuli. The picture is really funny, beautifully animated with breathtaking greens and blues, and it makes you feel warm the same way a cozy blanket would. It's hard not to love this one.
Read More: Best Harem Anime
10. Pom Poko (1994)
This is one of the stranger films released under the Ghibli banner, and that's really saying something. There really isn't a protagonist per se here, and the intention is clear – it is to send a message. While that isn't the typical Ghibli mantra (focusing more on the trip rather than the story seems to be their usual go-to) it is done rather well here under the wing of Isao Takahata. The film follows a couple of raccoon-dogs that possess the ability to shape shift, as they try to protect the forest they reside in from being torn down so as to be utilized by humans for urban development. It is very funny, but it is also heart-touching, and gives off messages relating to the importance of wildlife and forest preservation, friendship, and co-existing with peace and harmony. There's no denying that it slips at certain points in the runtime, but otherwise this is an excellent children's film, and one I'm willing to see a second time.
Read More: Anime Like Toradora
11. Only Yesterday (1991)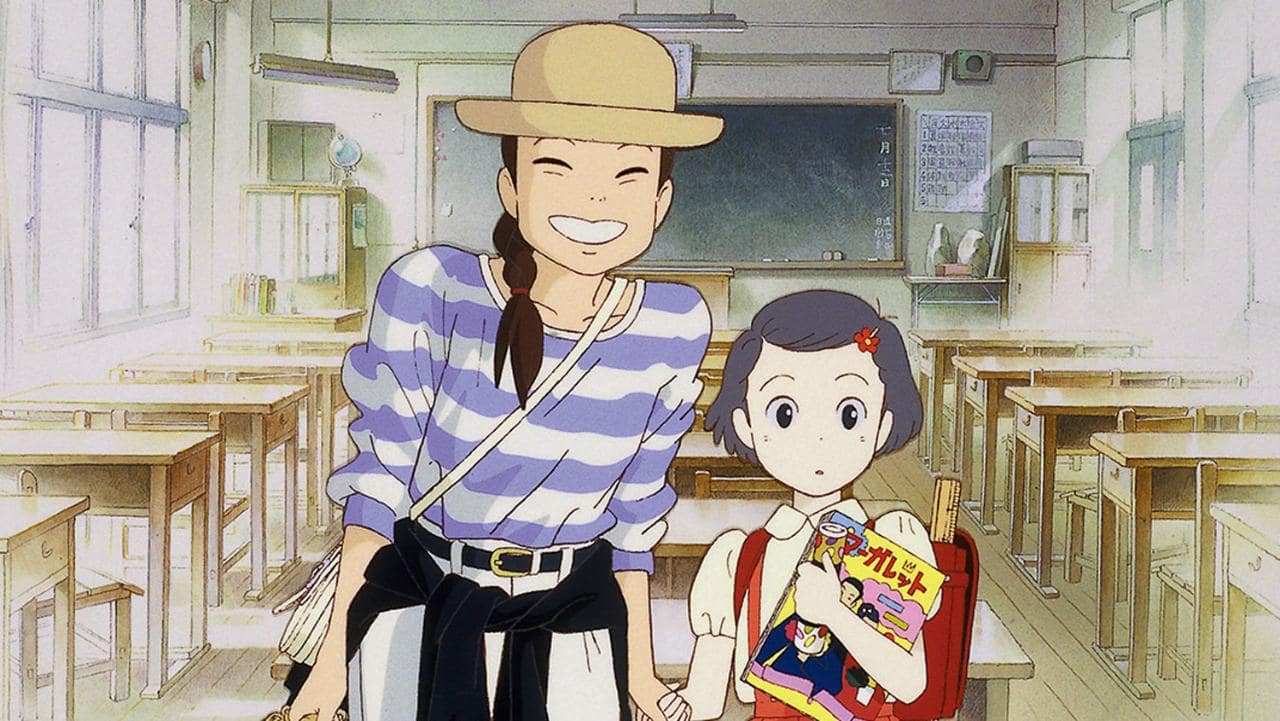 How many of you are fresh out of a tough chapter and waiting for the rest of life to happen? You imagine it to be filled with hope, ambition, success, and overall, happiness. 'Only Yesterday' follows the beautiful tale of a twenty-something caught in a difficult spot. She feels as though she is in the middle of the road in a life that had a memorable childhood (taking place in the 1960s) and will possibly have a great future. As of now, it is as mundane as can be, and she is unsure of what to do. Takahata's 1991 film is a pure drama, and it is the focusing on tiny details that make up a person and the nature surrounding them that ultimately lead to this film's overall greatness. It is a splendid piece, one that makes you think hard about life and where we're all headed. Is it important to look forward to what is to come or live in the now? Wonderfully animated with a striking message about the prominence of just about every life in existence, the movie will stay close to your heart, possibly forever.
Read More: Anime Like No Game No Life
12. Porco Rosso (1992)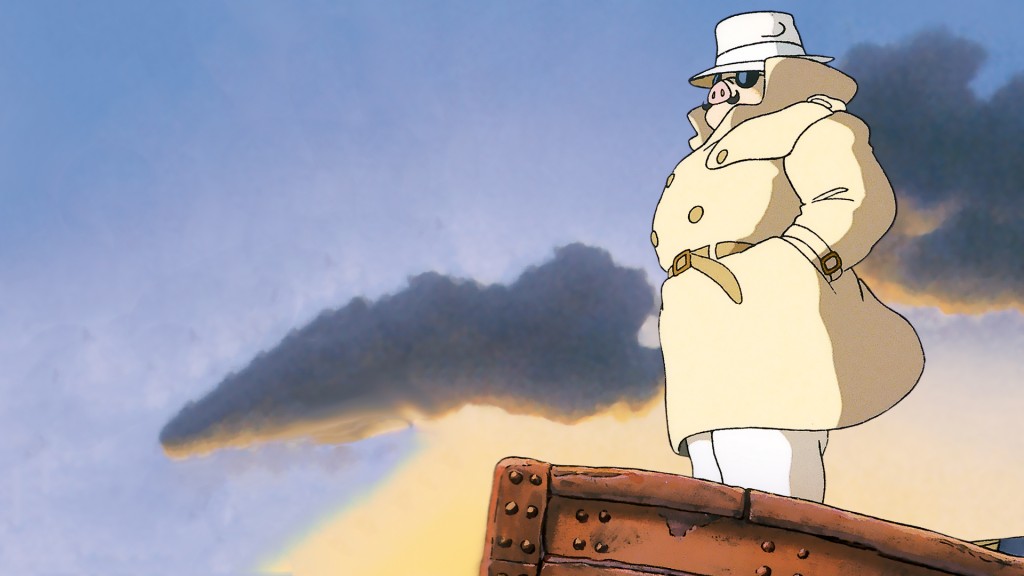 This is an underrated Miyazaki classic that I believe more people should see. Without a doubt one of the best animated films ever released by the studio, 'Porco Rosso' follows an inventive war story, wherein a fighter-pilot named Porco (who just so happens to look like an anthropomorphic pig) deals with the hardships that come along with the Second World War, while traveling across exquisitely crafted backgrounds. It is able to incorporate both comedic as well as dramatic elements into its story so well that it feels like a natural blend. I've seen 'Porco Rosso' two times now, and I think I'll only keep liking it more with every additional viewing. Unlike the vast majority of Studio Ghibli films, this one has a story that I find adults will have a better time with than kids. It is the sort of picture that makes you feel all warm and good inside, and it definitely is an unforgettable experience.
Read More: Best Adult Anime of All Time