'Hatfields & McCoys' is a docudrama miniseries created by Ted Mann and Bill Kerby for the History Channel. It chronicles the famous feud between the Hatfields and the McCoys of the West Virginia-Kentucky area that started long back at the time of the Civil War. Featuring Kevin Costner as William Anderson "Devil Anse" Hatfield and Bill Paxton as Randolph "Randall" McCoy, the 2012 series presents itself as a Western, which only adds to the appeal of the story. If you liked the show's premise, then we have a few recommendations that you are sure to enjoy watching. You can watch most of these shows similar to 'Hatfields & McCoy' on Netflix, Amazon Prime, or Hulu.
8. 1883 (2021-2022)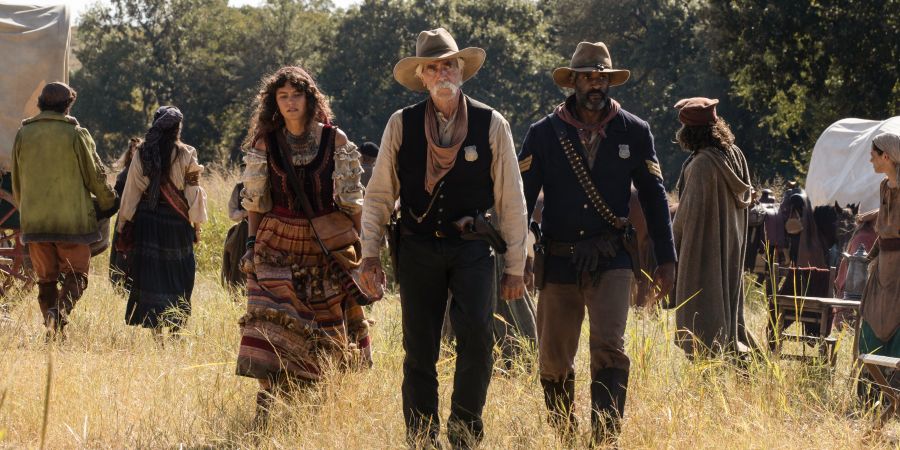 '1883' is a direct prequel to 'Yellowstone,' and revolves around James Dutton (Tim McGraw) and Margaret Dutton (Faith Hill) as they make their way to Montana with their entire family to settle down and make a better future for themselves.
Created by Taylor Sheridan, '1883' is centered around a large family and their struggles following the Civil War in the West, much the same as 'Hatfields & McCoys.'
7. Into the West (2005)
Produced by Steven Spielberg and DreamWorks, 'Into the West' tells the tale of American expansion as people migrated and settled down in the frontier in the 1820s. The miniseries is told mostly from the perspective of Jacob Wheeler (Matthew Settle) and Loved By the Buffalo (Joseph M. Marshall III), as their respective families, one white and one Native American, become intertwined together as the story progresses. Much like 'Hatfields & McCoys,' 'Into the West' chronicles the life of two families while much larger events in American history take place around them.
6. Godless (2017)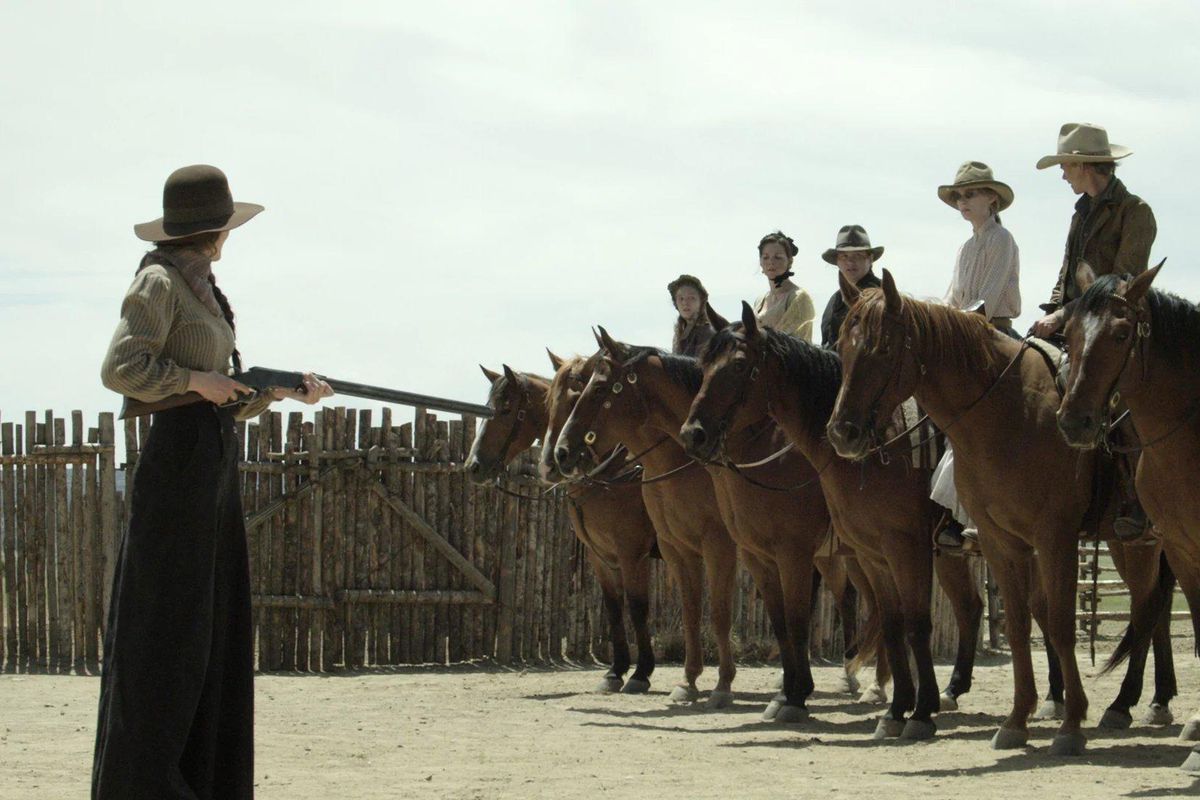 'Godless' centers around a mining town called La Belle, which is governed by women. The residents of the town band together to fight against Frank Griffin (Jeff Daniels) and his gang, who are after a former gang member by the name of Roy Goode (Jack O'Connell), who betrayed them and is now hiding in La Belle with Alice Fletcher (Michelle Dockery), a widow. The Scott Frank creation showcases La Belle's struggle against the much more well-equipped Frank Griffin gang and is similar to the Mccoys' fight against the wealthier Hatfields in 'Hatfields & McCoys.'
5. The English (2022)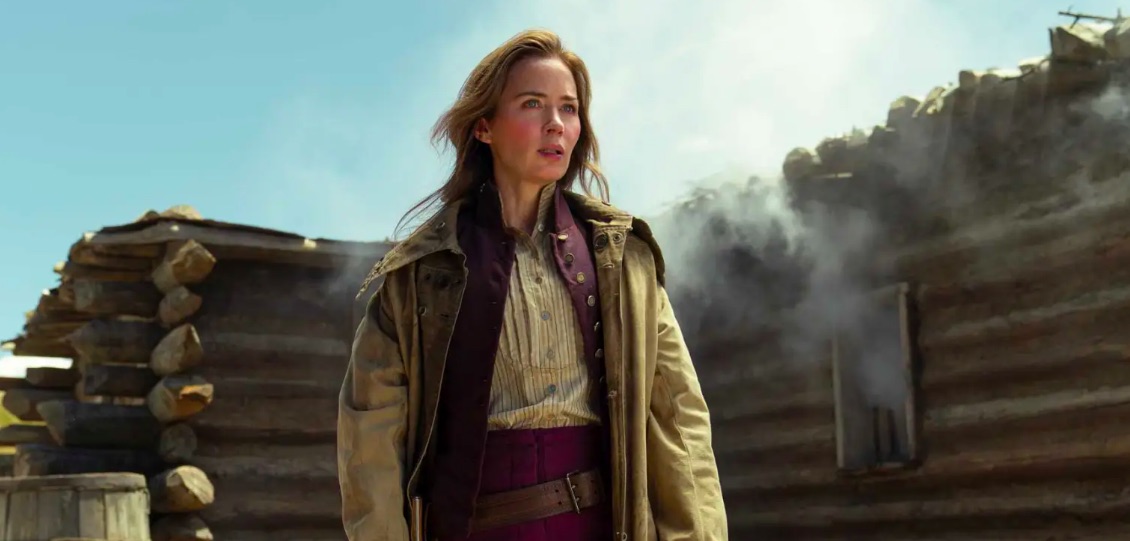 'The English' tells the story of Lady Cornelia Locke (Emily Blunt) and her journey across the American West with Eli Whipp (Chaske Spencer), a member of the Pawnee Nation and former Cavalry Scout in the Union Army. Each of them is on this journey for different reasons and with different experiences and backgrounds, but they form a bond with each other regardless. Created by Hugo Blick, the similarities to 'Hatfields & McCoys' shine out in 'The English' in the fact that it is ultimately a tale of revenge and that the American Civil War is in the backdrop and influences the overall narrative.
4. That Dirty Black Bag (2022)
'That Dirty Black Bag' narrates the conflict between Arthur McCoy (Dominic Cooper), an incorruptible sheriff with a dark and bloody past of his own, and Red Bill (Douglas Booth), a reprehensible bounty hunter who likes to decapitate and shove his victims heads into a black bag. As the story progresses, they are both forced to confront their pasts along with each other. Created by Mauro Aragoni, Silvia Ebreul and Marcello Izzo, the series and 'Hatfields & McCoys' both share a lead character named McCoy, both coincidentally fighting against a formidable opponent.
3. The Magnificent Seven (1998-2000)
Inspired by the eponymous 1960 film, 'The Magnificent Seven' revolves around seven men of vastly different backgrounds — an infamous gunslinger, a former bounty hunter, a silver-tongued con artist, an eastern amateur, a womanizing gunman, a freed slave turned doctor, and a former preacher seeking penance for his blood-soaked past — as they band together to protect the residents of Seminole Village from former Confederate soldiers who went rogue after the Civil War.
Created by Pen Densham and John Watson, both 'The Magnificent Seven' and 'Hatfields & McCoys' have characters with a complicated family history, which acts as fuel for their motivations and machinations.
2. Why Didn't They Ask Evans? (2022)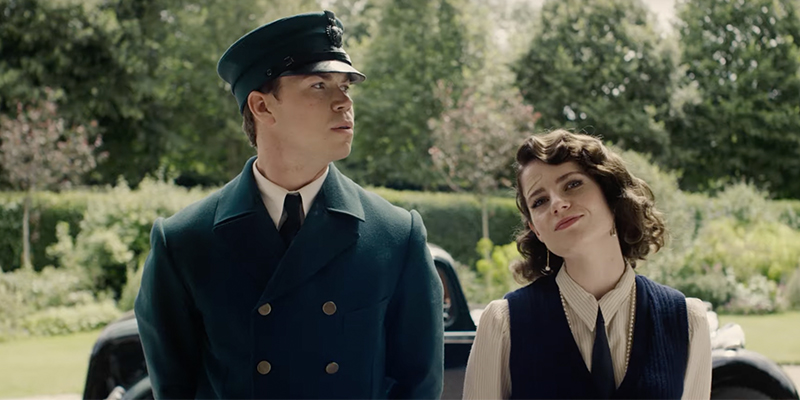 'Why Didn't They Ask Evans?' follows Bobby Jones (Will Poulter) and his socialite friend Lady Frances "Frankie" Derwent (Lucy Boynton) as they go about trying to solve the mystery of a man's death — whom Jones found taking his final breath while playing golf.
Based on the eponymous book by Agatha Christie, the mystery thriller miniseries was created by Hugh Laurie. Though not a Western or even set in the United States, 'Why Didn't They Ask Evans?' and 'Hatfields & McCoys' both have their respective stories that start with an unexplained murder where the culprit is unknown, which leads to speculations and conflict.
1. Deadwood (2004-2006)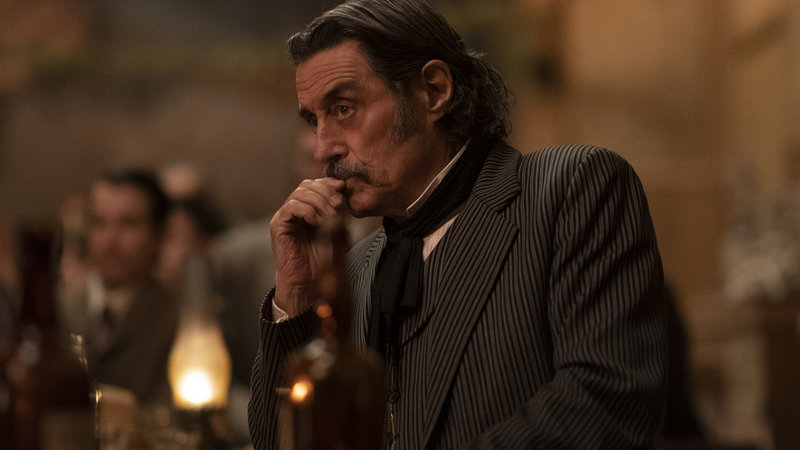 'Deadwood' chronicles the development of Deadwood in South Dakota as it grows from a camp to a fully functioning town. This development is seen through the eyes of Seth Bullock (Timothy Olyphant) and Al Swearengen (Ian McShane) while they strive to establish their own businesses in the town.
Created by David Milch, 'Deadwood' incorporates historical facts with fictional details to tell the actual story of Deadwood's development into a town. The characters of both Seth Bullock and Al Swearengen were real Deadwood residents as well. It's this historical accuracy that makes 'Deadwood' similar to 'Hatfields & McCoys,' as it shows a small part of American history through an intriguing storyline.
Read More: Best Western Shows on Netflix