When Margaret "Maggie" Branstette and her son Paul Murdaugh were found brutally shot to death on June 7, 2021, it shocked not just their community but also the entire nation to its very core. That's because, as carefully delved into in Netflix's 'Murdaugh Murders: A Southern Scandal' their husband/father Richard Alexander "Alex" Murdaugh was soon deemed responsible for the same. Yet for now, if you simply wish to learn more about his mother, Elizabeth "Libby" Jones Alexander Murdaugh — the woman he tried to present as his alibi — we've got the necessary details for you.
Who is Libby Murdaugh?
Reportedly born in Columbia, South Carolina, back in the early 1940s, Libby has definitely always been a force to be reckoned with considering her steady standing in society even before marriage. The truth is she'd tied the knot with soon-to-be circuit solicitor Randolph "Randy" Murdaugh III on June 3, 1961, at the time of which she already held a Bachelor's degree from Columbia College. In fact, records suggest she was one of 10 outstanding students in her 1961 graduating class and had even been named the Who's Who Among Students at American Universities & Colleges.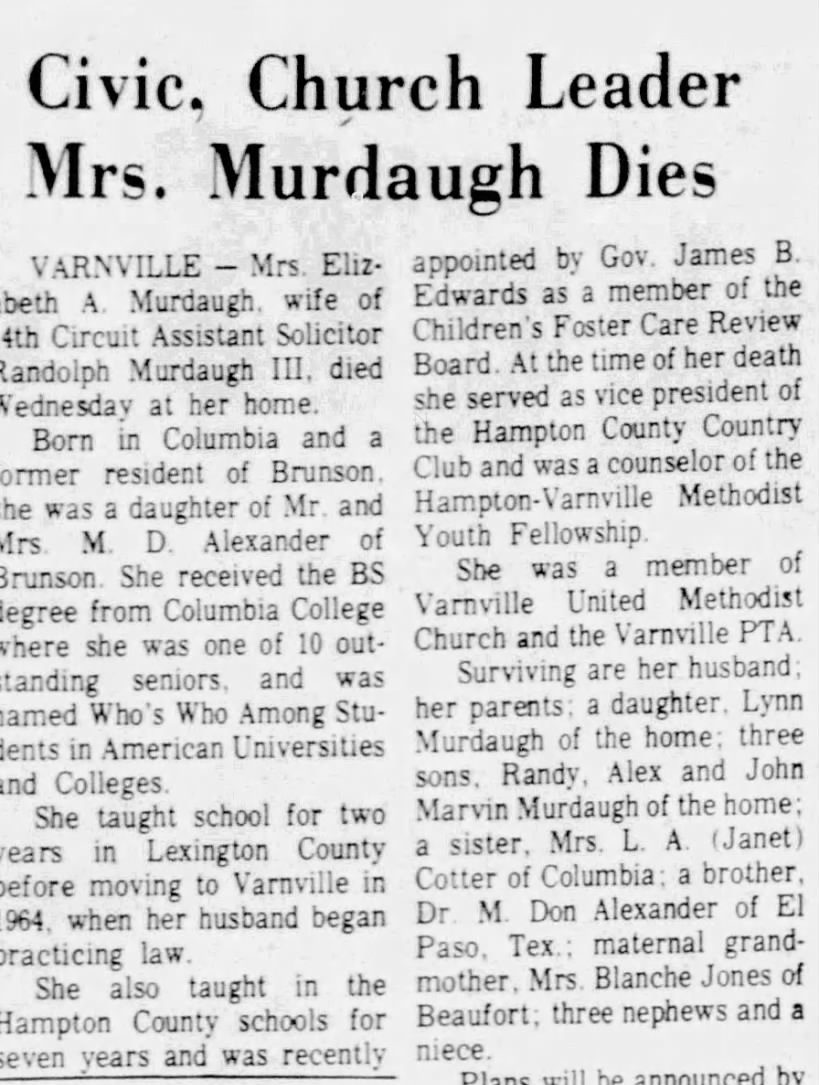 It was then that Libby evolved into a school teacher, spending two years in Lexington County while Randolph completed his studies before ultimately relocating to Varnville to help establish his career. Though instead of subsequently giving up her own independence to care for their family, she continued to serve in Hampton County schools and took up a few other community endeavors too. As per reports, this devoted wife as well as mother was once a Church Leader, Children's Foster Care Review Board Member, Youth Program Counselor, and local country club's Vice President.
But then came Libby's obituary in The Hampton Guardian in 1976, indicating the proud mother of four had died inside the home she shared with her loved ones, just for it not at all to be true. She was actually alive and well — according to the docuseries, it turns out her husband had orchestrated this whole situation as a threat of sorts upon learning she was thinking of divorce. Nevertheless, it's imperative to note this claim has never been verified, meaning it not only remains a mere allegation to this day, but it's also unclear who really submitted the morbid obituary.
Where is Libby Murdaugh Now?
From what we can tell, although records indicate Libby is still alive and residing near her family in South Carolina's Lowcountry, she's not entirely well — the 80-something-year-old has dementia. Therefore, she has been under the supervision of healthcare professionals since at least the fall of 2019, which is what inadvertently led to Alex's alibi for the evening of June 7, 2021, falling apart. He'd reportedly implied to law enforcement officials he'd visited his mother on the fateful evening for roughly 30-40 minutes, yet her caretaker soon came forward to assert it was merely 20. This shattered his timeline, giving way to suspicion and eventually his conviction.
Read More: Blanca Turrubiate-Simpson: Where is the Former Murdaugh Housekeeper Now?