Created by Darren Star, 'And Just Like That…' serves as a fourth entry in the 'Sex and the City' franchise, taking place 11 years after the events of the 2010 film 'Sex and the City 2.' Samantha Jones (Kim Cattrall) is noticeably missing, but the other three are very much part of the narrative, and they are joined by several new members of the cast. In season 2 episode 4, Carrie Bradshaw (Sarah Jessica Parker) encounters her old boss and mentor, Enid Frick (Candice Bergen), and follows Seema's (Sarita Choudhury) advice to pursue a transactional relationship. Lisa (Nicole Ari Parker) and Herbert (Chris Jackson) host a dinner for their wedding anniversary, and that turns into a big hodgepodge of blunders. Miranda Hobbes (Cynthia Nixon) welcomes Che (Sara Ramirez) back to New York and discovers that their husband has returned with them. Here is everything you might want to know about the ending of 'And Just Like That…' season 2 episode 4. SPOILERS AHEAD.
And Just Like That… Season 2 Episode 4 Recap
The episode begins with Carrie having breakfast with her former podcast partner Jackie Nee. She spots Enid, who is trying her best to avoid her. But realizing that this encounter is unavoidable, she approaches Carrie. It turns out that Enid remains as tactless as ever, making her conversation with Carrie, who is polite to a fault, awkward and hilarious. Carrie had asked Enid to provide a blurb for her book, but she didn't. As Enid invites her to the launch party for her online magazine, Vivante (French for alive), Carrie presumes that Enid wants her to write for the magazine, which agitates her a bit as she doesn't think she falls in the age bracket of the other woman.
With their children gone, Charlotte York Goldenblatt (Kristin Davis) and Harry (Evan Handler) decide to celebrate it by having sex, but the latter experiences a dry ejaculation, making him and his wife worry. Charlotte, Miranda, Carrie, and Anthony Marentino (Mario Cantone) later have a prolonged conversation about this, helping the audience remember that despite all its faults, 'And Just Like That…' is part of the 'Sex and the City' universe. Charlotte and Harry later visit a doctor, who assures them that it is nothing to worry about. By the end of the episode, with Charlotte's active help, things get back to normal.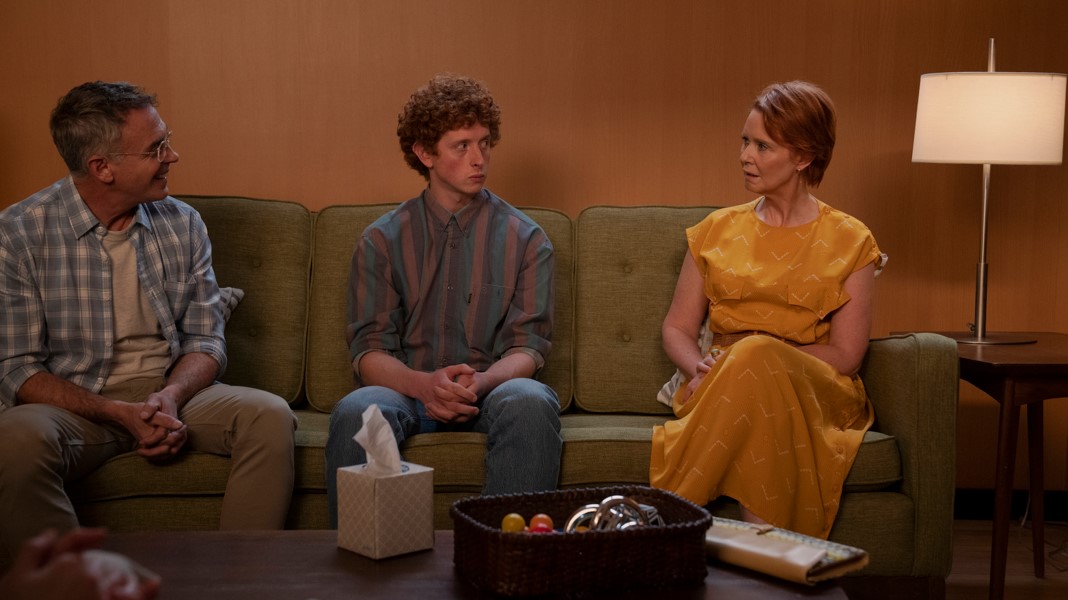 It appears that Brady has figured out that something is wrong with his parents, though it isn't that hard to do, as Steve (David Eigenberg) has installed a speed bag in the bedroom and keeps hitting it whenever he is home. Meanwhile, Miranda seems depressed since she has returned from Los Angeles. She stops herself from saying anything as Brady declares he wants to take a year off from college. By the end of the session with the therapist, there is progress between Harry and Miranda as well, as the former agrees to move out.
Miranda and Carrie visit Che's apartment to welcome them back in New York and discover that their husband, Lyle, is also there. After Carrie leaves, Miranda tries to go with the flow when an opportunity for a threesome with Che and Lyle arises, but her reservation soon becomes apparent, and she ends up hurting herself.
And Just Like That… Season 2 Episode 4 Ending: Does Carrie Get Enid to Plug Her Book? What Does Enid Want from Carrie in Return?
As Enid didn't write a blurb for her book, Carrie asks her to plug it in her writing, but the other woman refuses, claiming that she is afraid it will open a floodgate. Carrie later speaks to Seema about the encounter, who assures her that it's alright for some relationships to be transactional.
Carrie eventually attends Enid's launch party, where she spots Gloria Steinem and deduces that the other woman will be her co-contributor in Enid's magazine. Carrie feels elated about the prospect for a short period, but then she speaks to Enid and learns the truth.
Enid didn't invite her to the launch party to ask her to write in the magazine, she wants Carrie to donate $100,000. Enid seems to have little problem telling Carrie she wants money from her. She even brings up John's death, commenting on how Carrie's pockets have gotten bigger in recent times.
If Carrie hadn't had the conversation with Seema earlier, she probably would have felt insulted. But as she did, she responds to Enid with the latter's exact words, inferring that if she donates to Enid, a floodgate will open, and she will have to donate to everybody. Eventually, Carrie and Enid seem to come to a truce. Carrie agrees to donate the money, and Enid apparently agrees to plug Carrie's book.
Will Herbert Run for the Office of the City Comptroller?
With their children gone, Herbert and Lisa finally have time for themselves. Herbert, who is a banker, has been planning to contest for the position of City Comptroller but decides to back out in this episode realizing the toll it will take on Lisa. They have planned for the anniversary together. But as it turns out, Herbert forgets to send the invitations, so only the people he and Lisa invited in person show up. As for Lisa, she forgets to order dessert.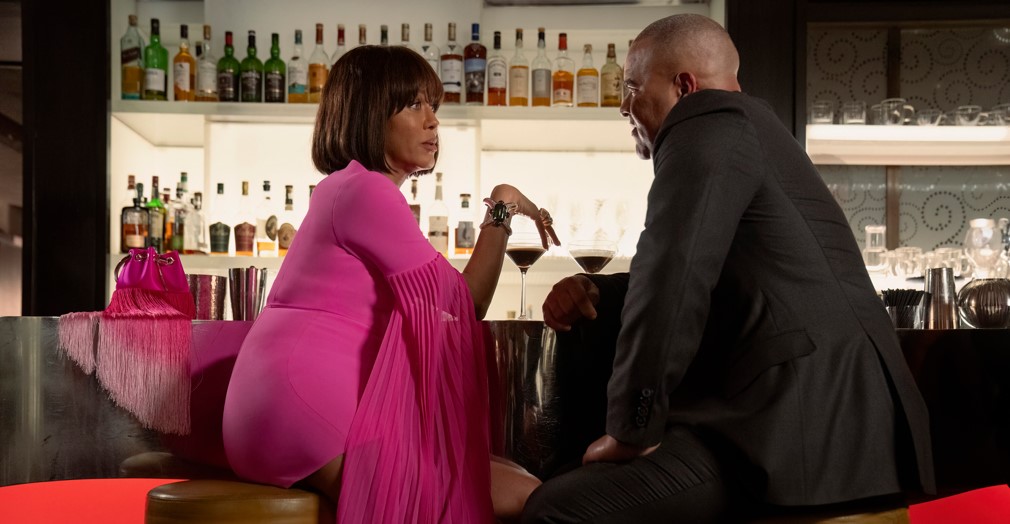 Herbert and Lisa's biggest critics, her father and his mother, respectively, are at the party, and they don't miss the chance to criticize their intended targets. As her playwright and author of a father eviscerates Herbert's professional life, which he declares is completely devoted at the altar of profit, Lisa comes to her husband's defense, claiming that he will run for the office of the City Comptroller, surprising even Herbert.
Read More: And Just Like That… Season 2 Episode 3 Recap and Ending, Explained