'Angel Beats' is an anime that blends many different genres like comedy, action, adventure, 'slice of life', and also a little bit of romance. But at the core, it is solely a full-fledged dark mystery anime that could scare the hell out of you. It reminds of you of 'The Maze Runner', where teenage characters find themselves in a scenario they know nothing about. But as the story starts to unfold, you and the characters together unravel the mysteries of the world they live in. This right here proves to be the biggest strength of the anime. It constantly puts forward the most creative new ideas that keep you engaged throughout the show. The world that is gradually built upon goes really deep and unveils itself in a way that keeps you excited about what will happen next.
But with 13 episodes and so much revealing going on throughout the show, all of it becomes very chaotic. Now the chaos may not necessarily be a negative for the anime because at times, it's the chaos that help you understand the characters on a deeper level. But contrary to that, the anime just jumps from one plot twist to another with no time for you to breathe. I guess the 13 episode format just turned out to be a bad idea because, as creative as most of the ideas presented to us may seem, most of them just feel out-of-place and rushed. The cast is great but the pacing affects their performances and all of them appear to be disconnected from what they are trying to portray in the show. This is the reason why it lacks the "oomph!" factor to it. 'Angel Beats' has some serious potential, but it just fails to stand out because of all the rushing.
Teenage years are the most vulnerable years of our lives where we find ourselves swimming in pools of insecurities, fishing for acceptance. 'Angel Beats' is a grave reminder of those years and it portrays a darker side of it wherein the teenagers in the show find themselves in a situation where they completely let themselves go but are still kind of trapped in a way. There's a lot more that I would like to say about this side of the show but then I would be giving out too many spoilers; so perhaps an explainer would serve the purpose later. But as of now, it's enough to know that 'Angel Beats' is totally worth watching and its underlying dark themes can get extremely captivating.
I'm sure those who have seen 'Angel Beats' share the same opinion as me and they believe that the anime deserves a second chance to show its true potential. Well, for those of you who are still hoping for a new season, we might have some good news for you up ahead.
Angel Beats Season 2 Release Date: When will it premiere?
Angel Beats season 1 premiered on April 3, 2010 and ended its run on June 26, 2010. During this span, 13 episodes were released, with each one of them being 24 minutes long. As far as Season 2 is concerned, there were certain rumors that said it will be coming out in 2018 but clearly that never happened. It has almost been a decade now since the first season came out but there have been no confirmations regarding a new season till date. Apart from an OVA, there is nothing more to it as of now. Our best guess is that in the unlikely scenario of the anime getting renewed, Angel Beats season 2 release date could be sometime in 2021. We will update this section as soon as we hear more.
Angel Beats English Dub:
The English Dub of 'Angel Beats!' Season 1 is available on Hulu, which now almost has all the anime series that are licensed by Sentai Filmworks. You can also stream the English Dub of the same on Netflix.
Angel Beats Plot:
'Angel Beats' is an original anime series created by Jun Maeda and directed by Seiji Kishi. Unlike most other anime series, the manga adaptation of this one came out after the show was released. Jun Maeda created the manga only to cover certain elements of the plot that he could not really fit into the span of 13 episodes of the anime. Soon after its release, the show was widely appreciated and was also chosen as a recommended work by the Japan Media Arts Festival.
The anime revolves around a character named Otanashi, who awakens and discovers that he is deaf. A girl named Yuri comes by and tells him that they are actually in an afterlife and are already dead to the real world. Otanashi tries to remember who he was in his past life but he fails and is only able to recollect his first name. Otanashi, at first, finds himself in a state of panic but soon, he regains control and starts listening to what Yuri has to say. Yuri asks him to join her Shinda Sekai Sensen (also called the SSS), which an afterlife battlefront against another girl named Tenshi. She claims that Tenshi is evil and the only way they can end her is by waging a war against her.
Otanashi, barely convinced by her claims, decides to join the SSS. But soon after this, he realizes that he is strangely drawn towards Tenshi. This hints that she could have something to do with his past life. He struggles to regain the memories of his previous life but the more he does that, the more he is able to understand Tenshi and also how she may somehow be related to his past.
Angel Beats Characters:
Hideki Hinata
'Angel Beats' has a novel prequel that goes by the name 'Angel Beats-Track Zero' where Hideki Hinata is the protagonist. In the anime, he is a very relaxed popular kid of the school who is well known amongst the junior students for providing a helping hand to them whenever they are in need. During other times, he comes off as pervert and also brings in some comic relief through his slapstick humor. Hideki tends to go out of his way to protect his teammates and that is the reason why pretty much everyone considers him to be very reliable.
Yuri Nakamura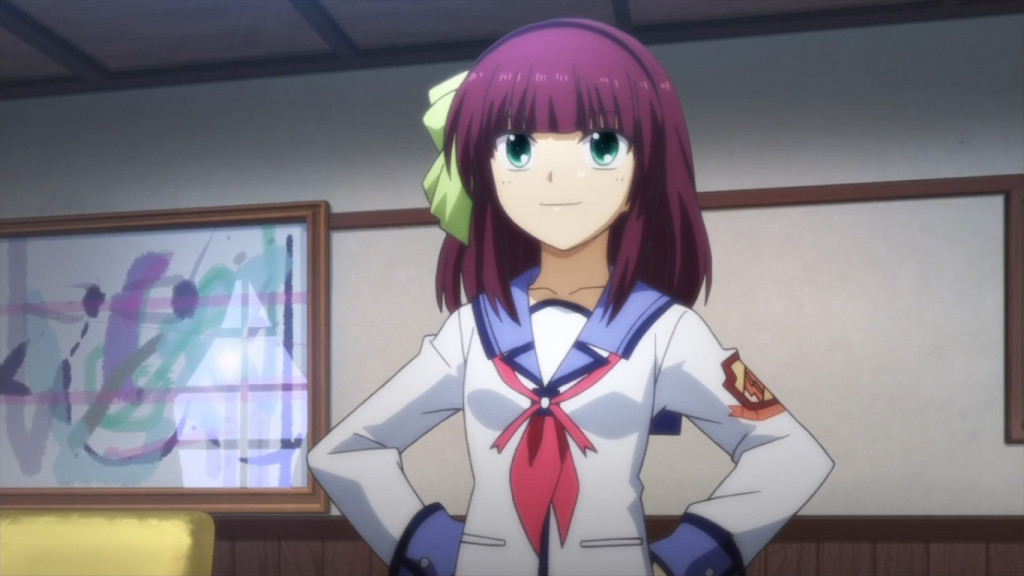 Yuri is one of the two main protagonists of the anime and has the personality of a leader. Even in the afterlife, she holds a strong sense of justice and believes in fighting off evil. She is the leader of the Shida Sekai Sensen, which is a rebellious battlefront that fights against gods who destined them to be where they are today. She reaches out to Hinata much before the Angel does and somehow manages to save him from getting destroyed in the hands of the god.
Yuzuru Otonashi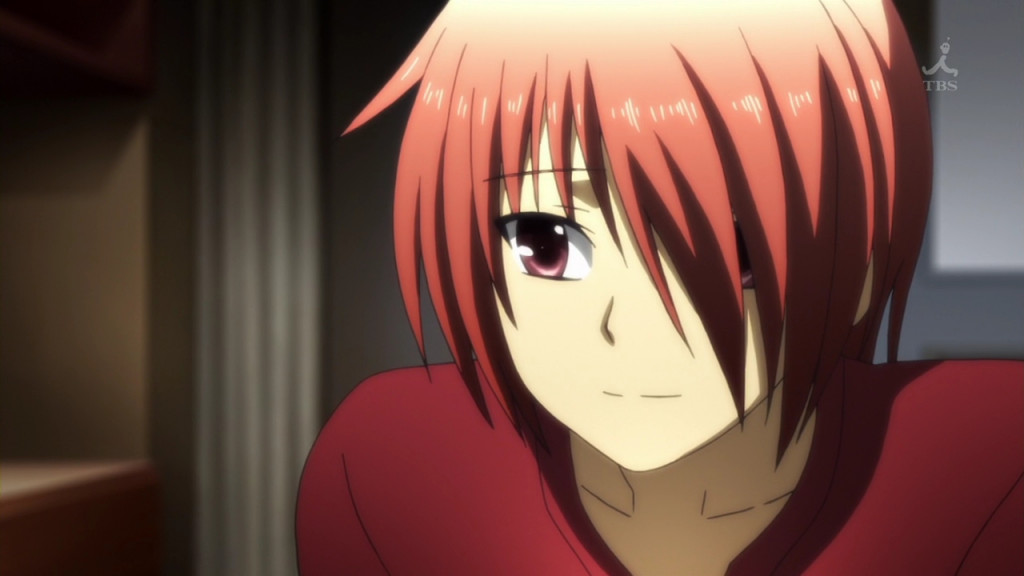 Otonashi is a young boy in his late teens who has red hair and burgundy eyes that go well with his hair. He arrives in the afterlife wearing a school uniform but has no memories of how he ended up there. Upon arrival, he is discovered by the SSS and also the angel but he chooses to stay with the SSS and seek refuge. While he stays there, he also tries to recall memories of his past. Otonashi is one of the smartest characters of the show and he later proves to be a great asset for the Battlefront when he helps them win a trial against the Angel. He later even inspires the whole group to change their ideologies and becomes a great influential figure. Otonashi here is the main protagonist of the first season of the anime.
Kanade Tachibana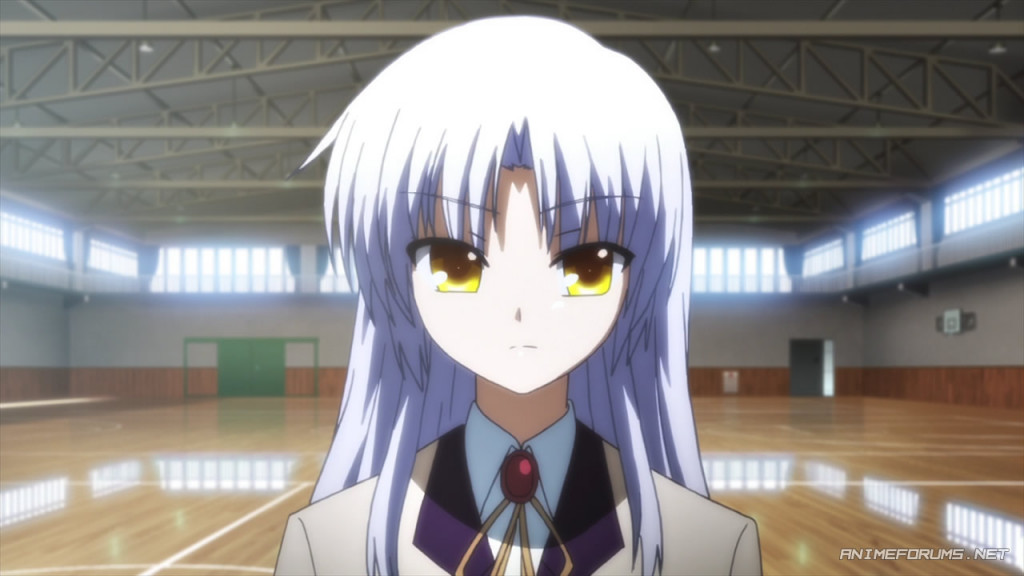 Kanade Tachibana is nicknamed as Tenshi by Yuri because she believes that Kanade is the representative of God. Tenshi, like her name suggests, is suspected to be an Angel who serves the god and keeps an eye on the after-life school for him. But she claims that she is no angel and refers to herself as the Student Council President whose role is to look after the whole afterlife process. Tenshi is Yuri's main rival and both remain in a constant state of war throughout the anime. Otonashi always feels a weird sense of connection with her that he is never fully able to understand, but all of it is revealed at the end of the show. The moment when Otonashi finds out the truth about Kanade is one of the craziest reveals you'll come across in the history of anime.
Read More in Anime Preview: Naruto Season 6 | One Punch Man Season 2