Bravo TV's 'Love Without Borders' is a dating reality show for singles who are open to the idea of finding love overseas and settling down in a foreign country. Aaron Motacek and Mael Lucas are on board with the idea and have decided to give their companionship a chance on the first season. For the most part, their time together hasn't been oh-so-romantic! But will the duo find a way to make the best of this once-in-a-lifetime opportunity or return disappointed?
Mael and Aaron's Love Without Borders Journey
Aaron is an optometrist and full-stack developer from Fargo, North Dakota, who's flown all the way to France to meet Mael, a Parisian masseuse. In the first episode, we see Aaron breaking the news to his family about leaving the country to find the match set up for him. During his trip, he seemed all excited and expected someone masculine and broody like Chris Hemsworth. The first time they met, Mael came out with an umbrella because it was raining. According to Aaron, they introduced themselves and entered the French man's apartment, which was too tiny for him.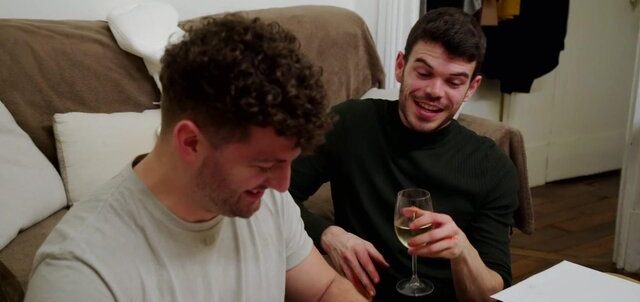 Aaron was taller than the bed and complained about the size of everything. They talked about briefs and boxers and later visited the Lock Bridge on the Seine River in Paris. Mael suggested they put a lock on, but Aaron thought it was extra because they weren't committed yet. In episode 4, when Mael left his house to run errands, Aaron expressed his issues, but it did seem like he was attracted to the masseuse. Soon, they went on a romantic date, and Aaron gave him some flowers.
The duo had a vulnerable moment when they shared their "coming out" stories and how their families reacted. There's even a cute and funny instance where Mael expressed how we loved the food, and Aaron said it tasted like cheesecake. So, he was offended by that harmless comment, but somewhere he hinted that he was falling for the American. The two did not get physical because Aaron wanted to explore the emotional aspect of the relationship. However, in episode 5, Mael worked up his magical fingers to massage Aaron, but it only ended with some coffee and cake.
However, they seemingly hooked up in the next episode and took a trip to Mael's family home. In the car, they played a fun game of answering beauty pageant questions, and Mael asked, "Where do you see yourself in the next five years? He gave an in-detailed response about how he doesn't want to keep working as an optometrist. However, he did not mention anything about relationships, and Mael pointed that out. Aaron responded, "I don't really know. It's hard to, like, put that into vision." Mael noted that during the confessional, he spoke about wanting to be with someone who's committed and into him.
Aaron also let his partner's family know that the two were not romantically involved. At their family home, he slept on the couch, and when asked about the reason. He said he wasn't good at sleeping with other people in the bed. According to Aaron, he expected to see sparks flying everywhere and wanted everything to fall into place as soon as he met Mael. The latter brought up the 5-year plan once again and questioned why he was in the process when he wasn't even ready. However, Aaron thought this wasn't a confrontation. He felt like this information was being used against him.
By the end of the episode, Mael outright tells Aaron that he doesn't need to be here if he is not interested because he wants to protect his heart. The relationship expert and host, Erica, asked them not to quit on each other just yet, and the duo hit the reset button and gave their connection a second chance. Their romance slowly started to pick up pace after Aaron planned a beautiful date on Mael's birthday.
The Fargo, North Dakota, native and the French man went to the winery, had champagne, and Aaron tried to have a heart-to-heart conversation, but Mael seemed too intoxicated, which aggravated him. On new year's eve, Mael wanted Aaron to kiss him, but he did not reciprocate those feelings. So, after all this mayhem, what has the duo decided upon?
Are Mael and Aaron Together?
No, Aaron and Mael are not together. It seems that there are way too many reasons behind the same. For starters, Aaron's demeanor on the show hinted that he wants someone who emanates masculine energy and looks like the Hemsworth brothers. However, Mael is a soft and cute ball of sunshine, the polar opposite of what Aaron desires. Their fans believe that Mael came off too strong with the whole Lock Bridge thing, and his partner on the show didn't seem ready for any of it! All in all, the duo had multiple heartfelt conversations on the show, but the physical chemistry appeared dead.
Furthermore, Aaron also omitted relationships in his 5 years plan, sending out another indication that he might not be ready for commitment. The audience found all of that extremely confusing and wondered why was he even on the show. The fans have pointed out too many instances from the episodes which suggest that Mael is right for questioning and wanting to safeguard his feelings. No matter how relentlessly they try, something always went wrong in the end.
As far as their current standing is concerned, none of them posted anything about each other on Instagram, but they follow each other, so at least they are on good terms. If all works in their favor and the duo opens their hearts to give their connection another shot, a healthy relationship might be in the cards. But as of now, unless the two confirm otherwise, all the factors point to the possibility that Aaron and Mael are likely not together. Whatever the outcome, we wish both of them all the happiness and success in the world!
Read More: Are Shreyas and Gurleen From Love Without Borders Still Together?