The third episode of HBO's post-apocalyptic action drama series 'The Last of Us' is almost entirely devoted to two relatively minor characters: Bill (Nick Offerman) and Frank (Murray Bartlett). Despite the small roles they are bound to play in the series' overall narrative, their story makes episode 3 one of the finest hours of television. It is poignant, wistful, and tragic, and it is also remarkably fulfilling. If you are wondering whether Frank and Bill are gay in the show and the 2013 Naughty Dog video game it is based on, we got you covered. SPOILERS AHEAD.
Are Bill and Frank Gay in The Last of Us?
In the show, we see Survivalist Bill encountering artist Frank on the outskirts of his property and sharing a meal with him. This is the first time Bill has seen another person since all his neighbors were taken away by the military at the start of the outbreak in 2003. And Frank was forced to flee the Baltimore quarantine zone after it was destroyed. He and nine other people set out for Boston, and he was the only person to reach Bill's property.
It gradually becomes apparent to the men that they both are gay. They spend the night together, and as the episode progresses, that night becomes years. The two build a life together. In 2010, they meet Joel and Tess, who become their smuggling associates. When 2023 rolls in, Frank is struggling with an unidentified neurodegenerative disease. He asks for Bill's help with his suicide. Instead, Bill puts enough pills "to kill a horse" in their wine and dies along with Frank. Joel and Ellie reach their home a few days later and find the letter Bill left for whoever would come along (he knew it would likely be Joel).
As Frank and Bill come from very different worlds, their sexual orientation manifests differently. It is quite apparent that Frank was openly gay in the world before the outbreak, whereas Bill had never been with a man before Frank. "Frank's an out and proud gay man, but Bill is Bill," Peter Hoar, the director of the episode, told Variety. "I think we can debate on what his identified sexuality could be forever, because it isn't simple."
In the game, Bill refers to Frank as his "partner," though Bill's sexuality and the exact nature of their relationship are not explicitly mentioned. Frank is already gone when we meet Bill for the first time in the game. Neil Druckmann, series co-creator and video game co-director, wrote Bill and Frank's relationship as romantic because he thought the desertion would have a bigger impact if the dynamic were romantic than anything else. He let W. Earl Brown, the voice actor who portrays Bill in the game, interpret Bill's sexual orientation, and Brown's depiction does carry a romantic connotation when it comes to Frank. Unlike the show counterpart, Bill is still alive in the games.
What Is Bill and Frank's Relationship?
In the game, Frank leaves the home he shares with Bill but becomes infected shortly after. Before he hangs himself to death, he pens a bitter letter addressed to his former partner. "I want you to know I hated your guts," Frank writes. "I grew tired of this s****y town and of your set-in-your-ways attitude. I wanted more from life than this and you could never get that. … I guess you were right. Trying to leave this town will kill me. Still better than spending another day with you."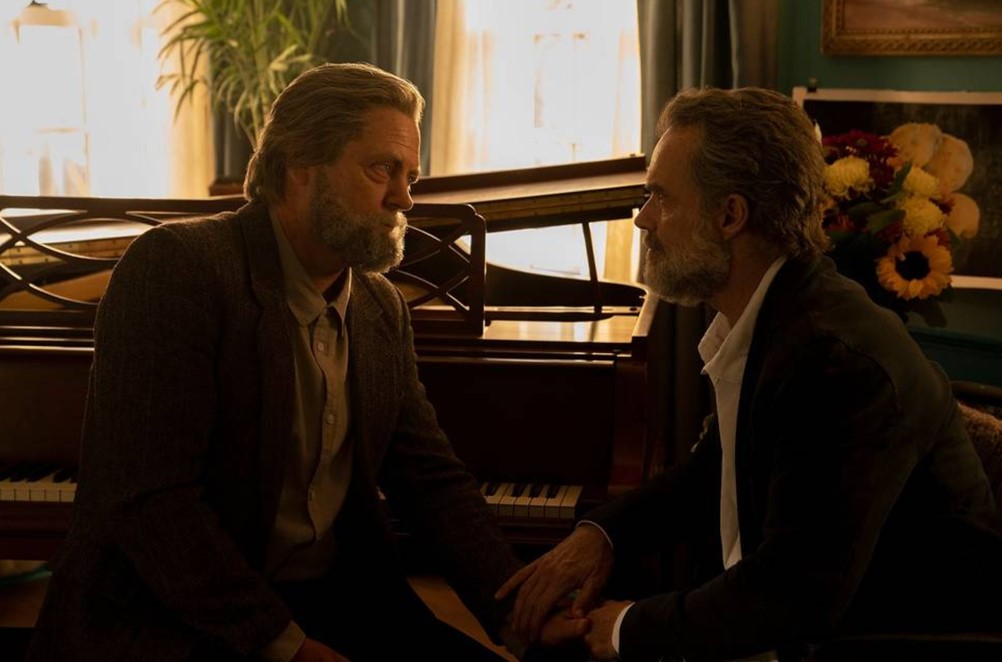 According to Druckmann, his co-creator, Craig Mazin, came up with the idea to change Bill and Frank's story. "Craig had some crazy ideas about what we should do with these two characters," he told Variety. "As soon as he pitched them, I fell in love. It was just beautiful. It felt it was a worthwhile change because of what we were getting in return."
Bartlett and Offerman agree that the changes are preferable to how things are in the game. According to Mazin, there is a universality in the story of Bill and Frank, and the viewers — no matter who they are and whatever their sexual orientation is — will find it relatable. "Even though I'm not a middle-aged, married gay man, I'm a middle-aged, married man," he stated. "And I wanted to tell a story about the length of commitment and the kind of love that happens after time, real time. That is a relationship that you don't see portrayed much. And I think it ought to be."