Hosted by Ingrid Guimarães, Amazon Prime's 'Written in the Stars,' AKA 'Match nas Estrelas,' has become a favorite of those who love astrology and romance. The Brazilian dating show has allowed many people to find their perfect match, including Camila Miranda, who met Marcelo Zarantonelli through this social experiment. Given the sweet nature of their relationship that we were able to witness, it is not a shock that people are curious if the two are still dating, and we are here to explore the same!
Camila Miranda and Marcelo Zarantonelli's Written in the Stars Journey
Camila Miranda, a Sagittarius, met Marcelo Zarantonelli, an Aries, for the first time through the Amazon Prime reality show. The latter was hesitant about how his star sign would be received given how some people have negative connotations attached to the same, but Camila was certainly not one of those. In fact, she pointed out that an Aries and a Sagittarius actually tend to be quite compatible. This conversation slowly led them to discover their mutual interests, like sports, leaving Marcelo pleasantly surprised.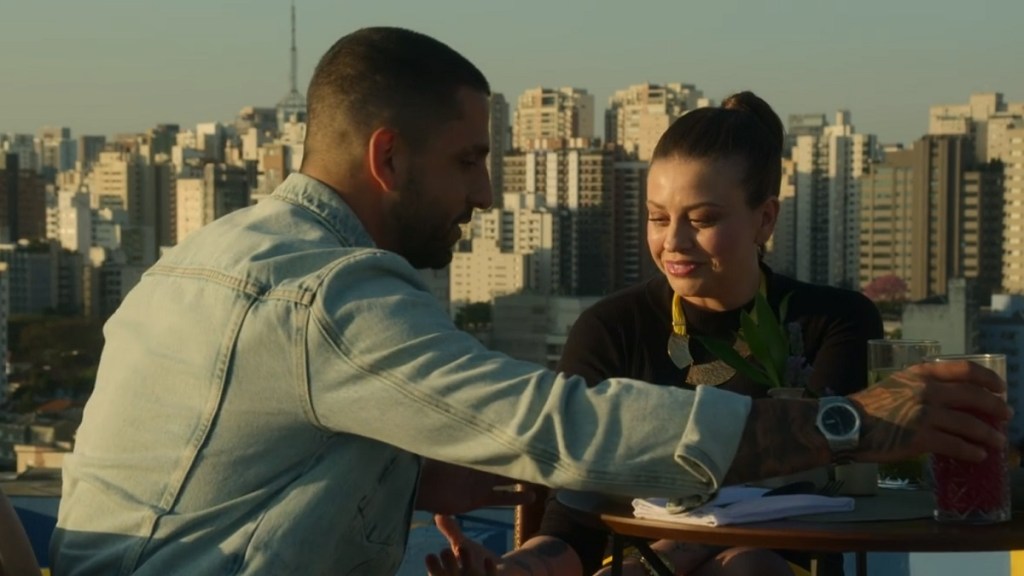 As Camila and Marcelo continued to talk, they started to discuss their love for adventurous activities, what they had done in the past, and what they would like to do in the future. They even seemed to have the same ideals when it came to happiness, with both of them agreeing that they would prefer to live a happy life without any luxury than live a miserable one with all the amenities. Given just how well Camila and Marcelo meshed, their first kiss was a tender moment that viewers could not help but cheer for.
After going on her four dates, it was time for Camila to make her decision. She first had to eliminate her least favorite of the suitors, for which she chose Rodrigo Fernandes. Out of her top three picks, Marcelo Correa was eliminated as he was the least compatible with Camila when it came to astrology. Ultimately, she had to make a decision between Marcelo Zarantonelli and Lucas Moitinho, with whom she had a respective compatibility of 93% and 71%. It did not surprise many when Camila chose to be with Marcelo, given how much she seemed to care for him.
Are Camila Miranda and Marcelo Zarantonelli Still Together?
As of writing, Camila Miranda and Marcelo Zarantonelli have not shared any updates regarding their relationship. With the obvious chemistry displayed between the two during the production of the Amazon Prime show, fans are quite optimistic that they may have explored their connection further. The fact that they follow each other on Instagram also seems like a positive indication of a possible continuation of a romantic bond between them.
However, since neither Camila nor Marcel has given any definite indications about being in a relationship with each other, a definitive statement regarding the same is hard to make. Nevertheless, we are glad that the two at least have an amicable connection and seem genuinely excited about having been part of the reality series. We wish them both the best in life and hope to see them succeed in the future.
Read More: Are Diego Pedrosa and Nata From Written in the Stars Still Together?