Madelyn Cline has become a popular name in the television industry since her brilliant performance as Sarah Cameron in Netflix's 'Outer Banks.' Her tremendous talent commandeered the attention of fans and critics alike. Even before starring in 'Outer Banks,' Madelyn had quite a few roles in movies and TV shows to her credit, including Chloe in the 2018 movie 'Boy Erased,' Jessica in the TV-Show 'The Originals,' and even an appearance in 'Stranger Things' as Tina.
Madelyn met her 'Outer Banks' co-actor, Chase Stokes while working on the TV show. Their on-screen chemistry was undeniable, and soon, dating rumors began surrounding the reel pair. Rising to fame through his role of John B in 'Outer Banks,' Chase is also known for his performance as Graham in 'Daytime Divas,' Finn in 'The First,' and Reed in 'Stranger Things.' After weeks of speculation from their fans, Chase and Madelyn confirmed their relationship in June 2020. Now that it has been over a year, fans have been clamoring to know whether the two are still together. Let's find out, shall we?
Chase Stokes and Madelyn Cline's Journey Together
When fans first noticed the on-screen chemistry between Chase and Madelyn, speculations and rumors about them being together in real life started doing the rounds. The rumors were further strengthened when the two were spotted in the same room during an online interview. However, later, Madelyn mentioned that she and Chase, along with the rest of the 'Outer Banks' cast members, were quarantining together. The speculations, though, refused to die down. Finally, in June 2020, through an adorable post on Instagram showcasing a beach date, the two confirmed that they were dating.
In the following months, Chase and Madelyn often mentioned each other on their social media posts. Madelyn even celebrated Chase's 28th birthday by sharing pictures of her boyfriend on her Instagram account. Their chemistry became even more evident when they appeared in the music video of the remixed version of the iconic Donna Summer's classic song 'Hot Stuff' by Kygo in September 2020. Throughout their relationship, the couple never shied away from the public but rather took pride in confessing their love on social media.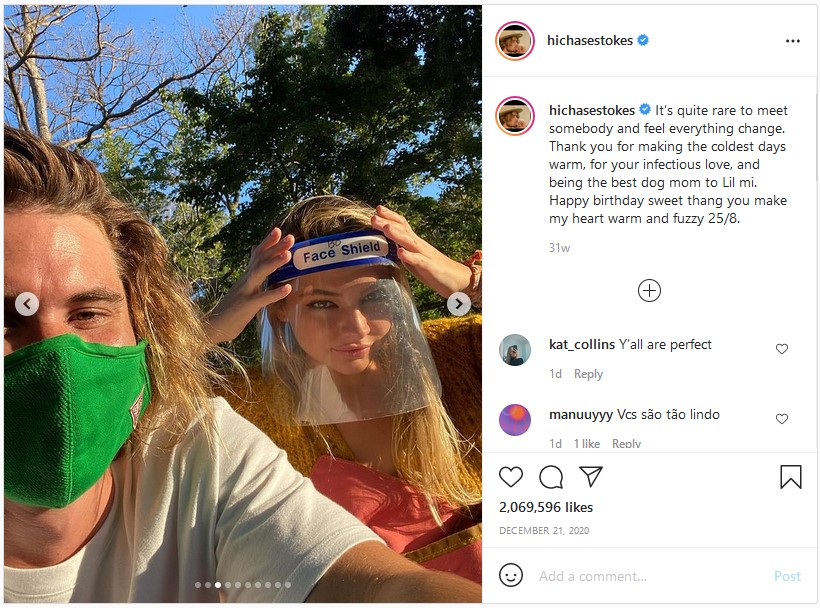 During an interview, Madelyn even confirmed that she was in love with Chase and appeared blissfully happy with him. The couple revealed how the Covid-19 lockdown helped them realize their feelings better, as earlier, the pressure of working on the sets of 'Outer Banks' had taken over their lives. The lockdown brought things into perspective as Chase said, "It wasn't until after that until we started to kind of get into the lockdown where we were like, 'Is there something here or am I crazy?' That's sort of where it bloomed from there."
In April 2021, the couple took to Instagram to celebrate their 1st anniversary (pictured above) through loving and heart-touching posts. Chase and Madelyn even made headlines in May 2021 when they kissed each other on stage while attending MTV's 'Movie & TV Awards.'
Are Chase Stokes and Madelyn Cline Still Together?
Yes, Chase and Madelyn are still going strong and appear to be very much in love. Chase Stokes mentioned how their relationship turned out to be highly successful because it stemmed from their workplace. The two remain each other's biggest support and constantly challenge one another on set. Talking about it, Chase revealed, "We'll be scene partners and take care of each other when it's an emotional moment."
The actor further added, "But it doesn't mean that if I don't believe you, that I'm not going to call you out and she holds me to the same standard." Chase also mentioned that a proper work-life balance meant that they become different people once out of their characters, which has helped them remain happy both on-screen and in real life. The couple takes immense pleasure in watching each other grow, and it is honestly wonderful to see how they support each other on their way to the top.
Chase and Madelyn have also reached the stage where their personal and professional lives complement each other, driving them towards tremendous success. At present, the two are very open about their relationship and have mentioned how grateful they are to be with each other. We wish the beautiful couple all the happiness as they keep mesmerizing us with their brilliant performances on-screen.