Netflix's 'Selling Sunset' is an interesting reality show that follows several real estate agents from the Oppenheim group going about their daily lives. With cameras documenting the cast's every move, we witness how they simultaneously deal with demanding clients while balancing their personal and professional commitments. Furthermore, the show adds a sprinkling of romance and drama, which makes things interesting.
Season 6 of 'Selling Sunset' chronicles a developing altercation between agents Chelsea Lazkani and Bre Tiesi. While the latter is a mother to a 9-month-old child, whom she shares with TV Host Nick Cannon, her co-worker believes that her relationship with her baby daddy is unhealthy. Naturally, the spat ultimately led to trouble in the workplace, with a few other agents also trying to act as mediators. Nevertheless, with the cameras now turned away, let's find out if Chelsea and Bre are still friends, shall we?
Chelsea and Bre's Selling Sunset Journey
While Chelsea has been a regular at the Oppenheim group since 'Selling Sunset' season 5, Bre is a newcomer who started her journey in season 6. Interestingly, readers might remember Chelsea's relationship with former cast member Christine Quinn and how she caught quite a bit of flak for it. However, things seemingly quietened down after Christine left the Oppenheim Group, and Chelsea's co-workers even warmed up to her cheerful and lively presence.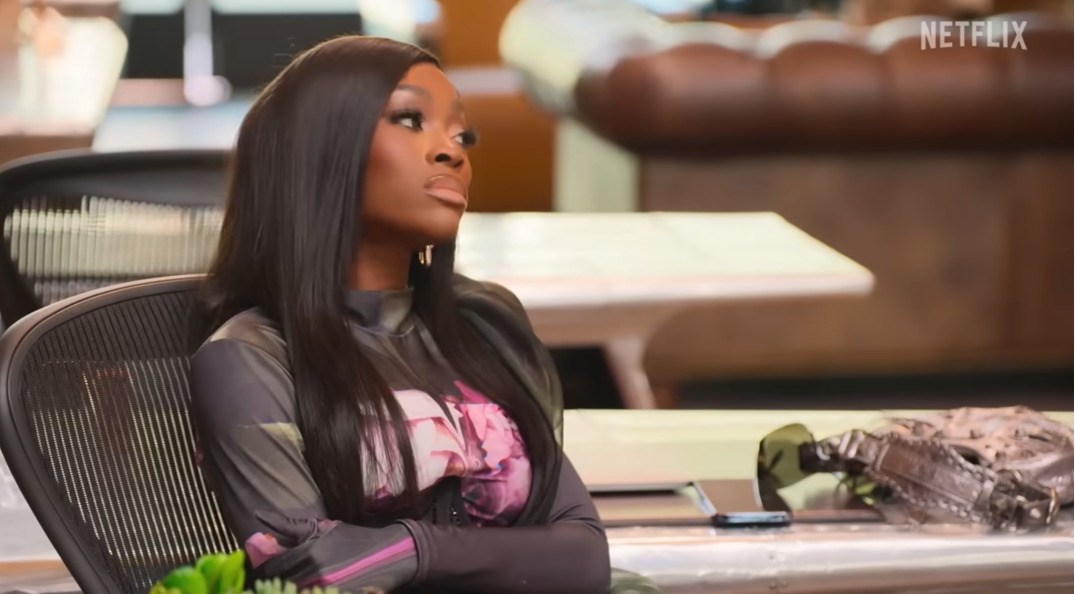 On the other hand, readers will be interested to know that Bre is a former model and reality star who transitioned into the real estate industry shortly before the pandemic. However, she gained an immense amount of experience during her short tenure as a real estate agent and even had several multi-million dollar deals under her belt before joining the Oppenheim group. Additionally, Bre addressed concerns about her fitting into the elite real estate agency by saying, "I've just grown up in the industry. I'm a people person. I can fit in any situation, and I can be in any room. So I'm not intimidated at all. I think It'll be interesting to see who I gravitate towards."
On the show, Bre mentioned that she is a mother to her 9-month-old son, Legendary Love, whom she shares with Nick Cannon. She even appeared to love motherhood, as the real estate agent enjoyed her time with her son and wore his name on a necklace around her neck. Yet, things appeared to be going great until Bre mentioned that her baby daddy had fathered eleven other children from his other relationships. Even though she did not care much about Nick's past or his other children, her co-worker, Chelsea Lazani, pointed out how such a relationship can feel off-putting from a Christian standpoint.
Interestingly, Chelsea and Bre's altercation began during a team meeting early into season 6, when the new mother revealed that she had a bit of bad history with one of the former's closest friends. Bre even called Chelsea out for bringing that friend to a party and claimed she did so to rattle the new hire. Chelsea immediately denied having such an intention, and she was also surprised at how Bre brought up a personal grudge during a work meeting. Besides, she claimed that her colleague's constant accusations were hampering her work, especially in a professional setting.
Are Chelsea Lazkani and Bre Tiesi Still Friends?
After quite a bit of back and forth, Bre eventually decided to face the situation and address her issues with Chelsea. She even defended her relationship during the conversation and insisted that while she loved being a mother to her son, Nick Cannon's personal life was his own business, and she had no qualms about his previous relationships. In fact, during the show, Bre even asked her co-workers not to meddle in her love life. She said, "Who I have children with is my business. I don't need a judge and a jury." Even though Chelsea later mentioned that she often got "triggered" by things she could not understand or agree with, the two seemed ready to put their differences aside out of professional courtesy.
Both Chelsea and Bre lead independent lives and are happy in their relationships. While Chelsea, a mother of two, is in a happy marriage with Jeff Lazkani, Bre has embraced motherhood and loves sharing the memories she makes with her little one. Yet, despite working at the same real estate agency, the two do not feature on each other's social media accounts and rarely interact in public. Thus, considering how Chelsea refused to understand Bre's point of view on the show and her uneasiness with her co-worker's love life, we can assume that the two aren't friends but merely maintain a polite relationship as of the time of writing.