Although Netflix's 'Selling Sunset' thrives off of its cast members' cattiness, drama, and infighting, one of its most intriguing aspects is also the portrayal of their surprisingly stable relationships. Amongst them is actually the lasting, loving marriage between Chelsea (née Adefioye) and Jeffrey "Jeff" Lazkani, which in itself means a lot to her considering her own broken home upbringing. So now, if you simply wish to learn more about them — with a particular focus on their experiences together, their growing family, as well as their current standing — we've got the details for you.
Chelsea and Jeff Lazkani's Journey
It was in 2015 when Northwest London native Chelsea arrived in Los Angeles, California, for a much-needed vacation upon completing her studies, only to never really return in the name of love. After all, this University of Buckingham Business Economics (2011-2013) plus University of Dundee International Oil & Gas Management (2014-2015) graduate met Jeff in less than two weeks. The truth is their first interaction was through Tinder, and they have a clear 11-year age gap, but they were still able to build an undeniable, unwavering connection thanks to their shared values.
Therefore, Chelsea decided it would make sense for her to stay back and focus on establishing a stable life in California, which in her own words, turned out to be the best decision she ever made. That's because it enabled her to not just explore a real affinity with Icon Media Direct executive Jeff but also dabble in corporate business analysis before pursuing her passion for luxury real estate. She thus worked hard to get her license, yet what actually initially made her relocation all worth it was tying the knot with her long-term partner in a beautifully intimate ceremony on August 12, 2017.
We say "initially" because Chelsea and Jeff have since welcomed two adorable children into their lives, meaning they're the ones to now serve as the motivation behind their every choice and effort. The former gave birth to their son Maddox Ali Lavon Lazkani in January 2019, followed by their daughter Melia Iman Lazkani in November 2020 — both of whom are the apple of their parents' eyes. The couple has hence been doing everything in their power to build a steady life for their family, which is why the matriarch even took some time off from work prior to joining The OGroup in 2021.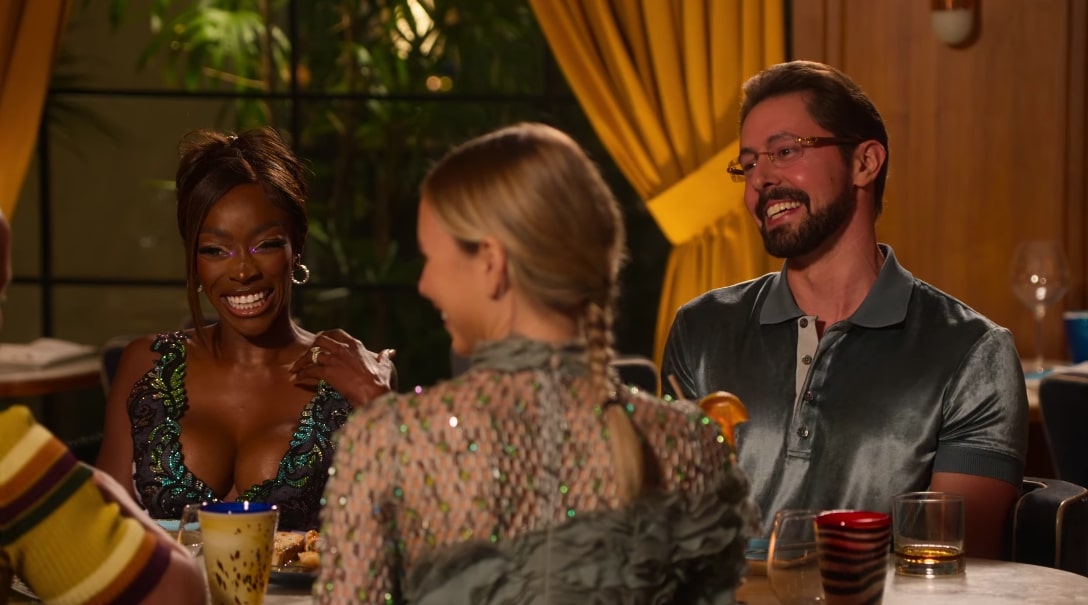 With this said, it's imperative to note Chelsea was only able to step back into the real estate game because she knew for a fact that Jeff would be standing right beside her at every step of the way. He'd already been doing so for years, but it became evident in seasons 5 and 6 of the series through his supportive words in times of trouble, his help at home, as well as his efforts with her career. He and OGroup's President Jason Oppenheim actually go way back, but he has never once directly interfered in any matter; instead, he has merely served as a familiar, friendly face whenever required.
Are Chelsea and Jeff Lazkani Still Together?
Yes, of course, Chelsea and Jeff are still blissfully married, and it appears as if their secret is to always maintain an open line of communication and spend quality time together, no matter what. In fact, the realtor's social media page indicates the couple goes out on romantic dates nearly every month and even manages to make time for family vacations in order to strengthen their bond. They essentially prove that relationships require constant active measures, but they're happy to go with the process as it fills their life with affection, care, devotion, and kindness in every sense of the term.
In short, as also evidenced by the way Chelsea doesn't shy away from showing off their tight-knit family on social media, she and entrepreneurial Jeff seem to be doing better than ever these days. As if that's not enough, she often even refers to her husband as "baby," "mine," "my world," "the man that I love with all my heart," "all time favorite," and "Habibi," amongst much more, in her adorable Instagram captions. Though, as for Jeff, he prefers to keep his distance from the limelight — his profile is set to private.
Read More: Are Mary Fitzgerald and Romain Bonnet Still Married?