'Deep Fake Love,' AKA 'Falso Amor,' is a Spanish reality show by Netflix that uses the Deep Fake technology to test the trust of the participating couples. The task itself is far from simple, and only those who can distinguish truth from fiction and lay claim to the title of Victor. The very first season of the show saw many romantic pairs struggling to cope with the challenge, including Gabriela Fdez de Bobadilla and Ángel Santiago. Their story within the series was certainly one-of-a-kind, making many in the public curious about whether the two are still in a relationship, and we are here to explore the same!
Gabriela and Ángel's Deep Fake Love Journey
Having been together for five years, Gabriela and Ángel entered the Netflix show in order to test the strength of their relationship. Though both feared that their significant others might find someone to connect with, they decided to keep trusting their partners. However, things took an interesting turn after the two were separated as they started gravitating toward some of the participating singles.
Talking about Gabriela, she found both Carlos and Torres attractive but seemed more focused on the latter. However, she realized that Aida Vila's interest in Torres might be a huge obstacle if she wanted to pursue him. Though Aida maintained that she was not romantically interested in Torres, any sort of closeness between him and Gabriela upset her, which, in turn, frustrated the latter. In the other villa, Ángel grew closer and closer to Zara, with him inviting her to his bedroom and making out.
After the second White Room experience, Gabriela was furious regarding the clip which showcased Ángel kissing Zara. Meanwhile, Ángel felt guilty and was not happy with the growing closeness between his girlfriend and Torres, even commenting that she might be better off with Carlos. Not long afterward, Gabriela got the opportunity to talk to Angel through a television without any audio, and she was more than clear about how much his actions had hurt her.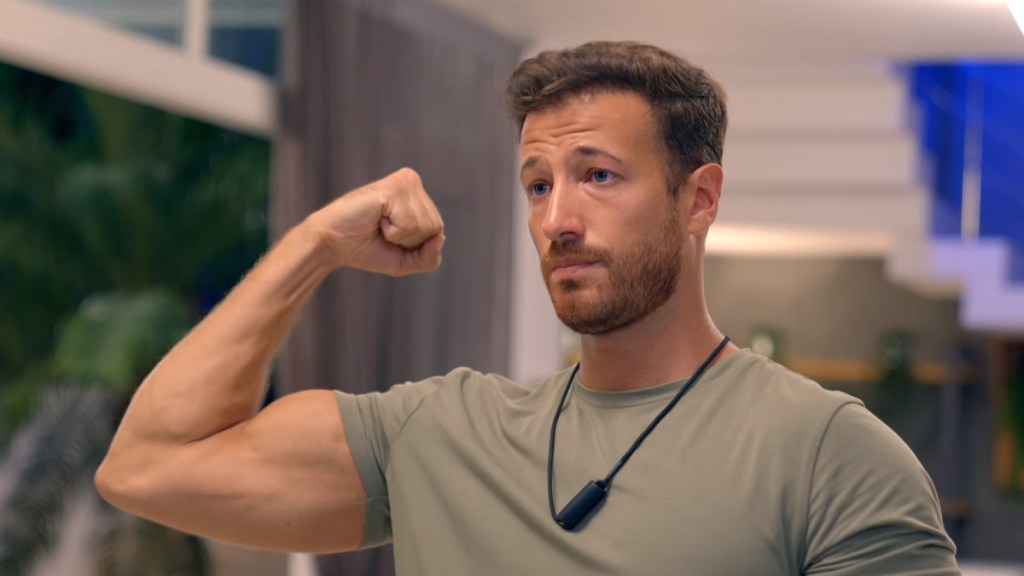 Realizing that her partner might not be as trustworthy as she had thought, Gabriela decided to pursue her interest in Carlos, and the two ended up kissing. Meanwhile, Ángel only continued to grow more intimate with Zara, even discussing the possibility of a future outside the show. He maintained that he was hurt by Gabriela's increasing closeness with Carlos but was unsure what to think given his own actions.
Are Gabriela and Ángel Still Together?
The reunion between Gabriela and Ángel was far from a happy one, as both of them were unhappy with the actions of their respective partners. That being said, the former was visibly more upset with her partner and even got up to leave after seeing Zara and Ángel kissing on the latter's bed. The details of the same being true deeply hurt her, though Ángel maintained that it all meant nothing to him. When the time came, Ángel declared that he felt their love was true though Gabirlea disagreed, pressing the fake button.
Despite their separation, Gabriela and Ángel were among the three couples who won the competition, something they did seem happy about. Presently, neither has shared any updates regarding their romantic lives. Though both reality TV stars are primarily absent from each other's social media, they have not entirely disappeared from each other's online lives.
Considering the previous point and the fact that Gabriela and Ángel still follow each other on Instagram, it is possible that they might, as of writing, be on at least amicable terms. We wish them the very best in their lives and hope that both of them are able to find what they desire both in their personal and professional lives.
Read More: Are Paula and Javi From Deep Fake Love Still Together?