Redefining spaces that are most pivotal to homeowners, Keith Bynum and Evan Thomas, undertake numerous challenges on HGTV'S 'Bargain Block.' Yet another home improvement show encapsulating the essence of renovation, interior and design, the reality television show features Detroit-based couple Keith and Evan on a path to rejuvenate Detroit's properties along with realtor Shea Hicks-Whitfield. From dealing with enclosed and tight places to ruthless yards, Keith and Evan use their skills to revitalize each part of the house. In addition to their work, their journey as a couple also keeps audiences enthralled. So, if you're also wondering if the two are still together, look no further because we've got all the answers right here!
Keith and Evan's HGTV Journey
When Keith and Evan met in 2013, little did they anticipate the journey they would take. After finding each other on a dating website called Match.com, Keith and Evan decided to take a chance on each other. Upon realizing their similar interests and affection, Keith and Evan became official and dated for years to come. At the time, Keith had a woodworking business wherein he would make farmhouse tables and sell them to customers on Craigslist. After the duo moved in together, they decided to redo their house in a feat to create a space that would be essentially true to their personalities. Ultimately, the first job the couple took on as renovators was their own home.
However, tired of the real estate market in Denver, the couple decided to take a plunge and moved to Detroit in 2017. In addition to taking a leap of faith in their careers, the couple also took their relationship to the next level and decided to get engaged. Within a year, their venture, Nine Furniture and Design, accrued the attention of TV producers, and the couple made their debut by building a tiny house for HGTV'S 'Tiny Paradise.' After that, Keith and Evan also made a sizzle reel for the network and the couple officially got picked for their show, 'Bargain Block.'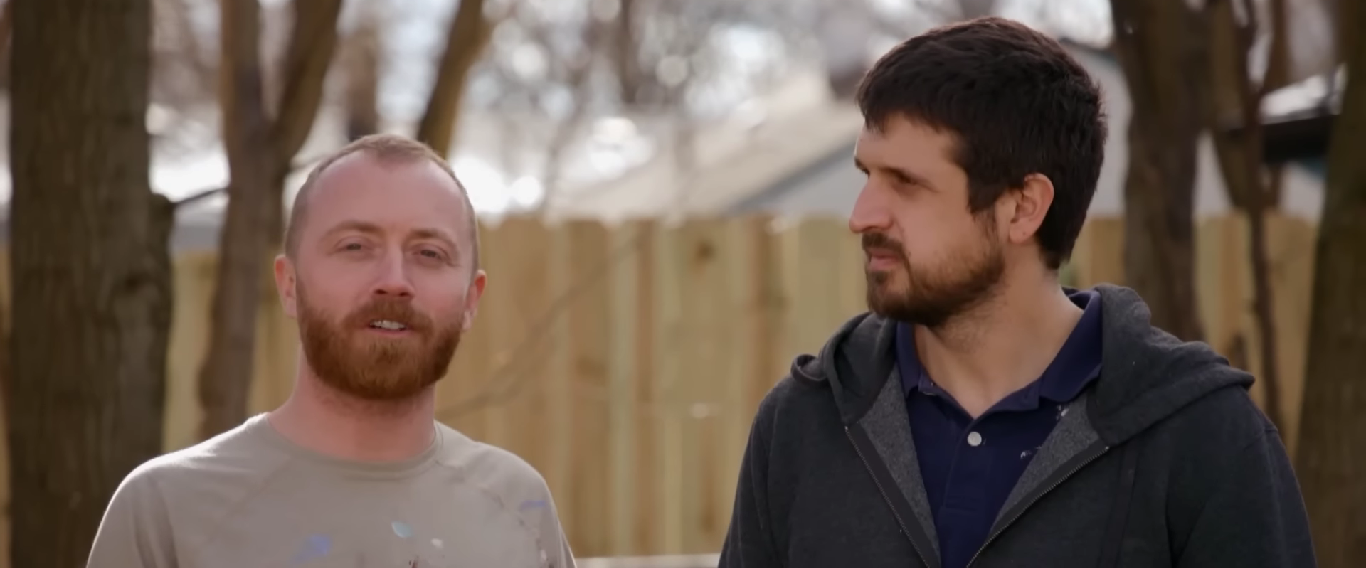 Since 2021, the couple, along with renowned realtor Shea Hicks-Whitfield has taken Detroit by storm and worked on a number of projects. Their exceptional work has also earned them a nomination for GLAAD media awards. With nearly fifty houses done for television, Keith and Evan work tirelessly to deliver results. However, the couple has been engaged for five years, leaving many to speculate if the wedding is still in the cards for the HGTV stars.
Are Keith and Evan Still Together?
Yes, Keith and Evan are still together. Even though the duo are yet to tie the knot, they still enjoy each other's company and continue to succeed as individuals too. Not just this, the couple has recently celebrated their tenth anniversary. After a decade of companionship and love, Keith and Evan aren't looking to fastrack their nuptials. Moreover, with a packed schedule that keeps them busy renovating and flipping houses, the HGTV stars find it exceptionally hard to find enough time for wedding planning. As such, even though the stars want to walk down the aisle, their work keeps them exceptionally booked.
So, even though Keith and Evan's engagement continues to prolong, it is apparent that the partners are still in love and continue to make progress toward wedding planning. Not just this, in an interview with Celebrity Page, Keith joked that if they were in the state of Texas, and by extension, the South, the duo would be married under common law since they've been together for more than seven years! Moreover, the couple does not wish to have a wedding as an afterthought and wants to devote extra time and effort to its planning.
While work and renovation continue to take a pivotal spot in their lives, Keith and Evan also take time for each other. The couple regularly takes on different outdoor and indoor activities to keep themselves connected. Keith and Evan share numerous phases of domestic bliss, from hiking to visiting friends and even having a simple night at home to cook. So, in addition to their booming business and role on HGTV, Keith and Evan continue to progress as partners and individuals. Naturally, we hope that the duo continues to create more milestones in the future!
Read More: Are HGTV's Christina and Joshua Hall Still Together?