Bravo's 'Vanderpump Rules' follows the lives of Lisa Vanderpump's staff as they carry out their duties and generate interpersonal drama in her high-end restaurants and bars. The reality series is a spin-off of 'The Real Housewives of Beverly Hills' and is quite successful due to all the drama and controversies. Season 4 remarked on the beginning of a relationship between Kristen Doute and Brian Carter, who prefers to go by Carter. After everything that unfolded on the show, viewers are still curious about the current status of their relationship. If you also want to know the aftermath of their partnership, we've got you covered.
Kristen and Carter's Vanderpump Rules Journey
When first introduced on the show, Kristen Doute was working as a server at SUR, whereas Brian Carter was still looking for opportunities. Their relationship was relatively new in season 4, wherein the two faced some troubles because Kristen was still trying to move on from her ex, Tom Sandoval. Despite the arguments and bickering, the two decided to continue their relationship well into the upcoming seasons.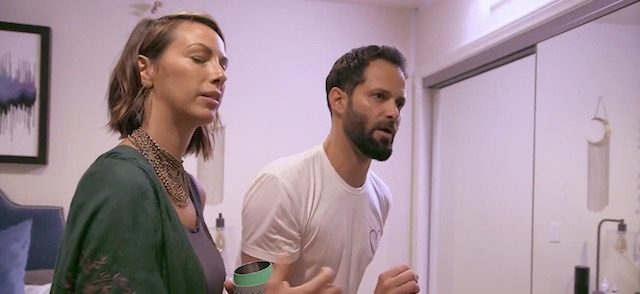 In season 5, the conversation turned toward Carter's unemployment and Kristen's friends being worried that he was taking advantage of her. But she dismissed the gossip and spoke highly of Carter; she expressed how he contributed to their relationship in other ways and how he was always supportive of her. Even in season 6, Kristen's friends complained about how her partnership with Carter was impacting other areas of her life, but once again, she stood by her boyfriend.
However, things started piling up, and Kristen was no longer okay with the lack of his financial contribution to their romantic relationship. So, by the end of season 7, they broke up, and in the next season, they continued to be close friends. Their three-year-long journey as a couple came to an end in 2019, but there have been speculations about where they stand now. Did they rekindle their spark or are have they gone on their separate ways forever?
Are Kristen and Carter Still Together?
No, Kristen and Carter are no longer together. The two never reconciled post their breakup in 2019. In March 2020, she made her relationship with Alex Menache public during an Instagram live session. Alex is a house flipper, and the duo seemed perfect for each other. But sadly, the pair split up after two years of dating in June 2022.
As of now, Kristen is dating Luke Broderick, her podcast's co-host, whom she met at a wedding. The two are known for interesting banter and flirting on their podcast titled, 'Sex, Love, and What Else Matters.' On the podcast, Kristen once revealed, "Right after we met at the wedding, or, like, hung out at the wedding, we had sex." The pair also enjoys outdoor activities, like playing golf together, and overall seem to have a healthy relationship. Moreover, she is also a co-founder of a wine brand named Witches of Weho and is doing amazing on the career front.
Carter was celebrating the joy of becoming an uncle in July 2022 when his sister gave birth to a beautiful baby girl. He is now pursuing professional photography and has some impressive portraits on his Instagram profile. In addition to that, he is also in a relationship with Christina Beardi, and both of them are pet parents to their little dog, named Rigatoni.
So, it is clear that Kristen and Carter have no intentions of getting back together. They are both happy with their significant others and are leading a life of fulfillment and peace. We wish to see their individual success and hope they keep accomplishing great feats in their careers.
Read More: Are James and Ally From Vanderpump Rules Still Together?