While there's no denying dating is complicated, it's also an unmatched experience owing to the way it brings forth a sense of self, authenticity, emotionality, as well as vulnerability at every turn. That's honestly why reality productions like 'Single's Inferno' have been all the rage globally over the past few years, with the prime example being Lee So-E and Kim Se-Jun's stint in season 2. So now, if you wish to learn more about this particular couple — with a focus on both their time together in the original series and their current standing — we've got the essential details for you.
Lee So-E and Kim Se-Jun's Single's Inferno Journey
Although Se-Jun stepped foot into "Inferno" mid-way through the experiment, his candid as well as slightly goofy personality immediately made him a fan favorite despite his intimidating stature. This only expanded once he expressed interest in lovable So-E, especially since she had already had a difficult time due to her unrequited feelings turned tentative friendship with Jo Yoong-Jae. The truth is, in his own words, his ideal type is "someone who's very nice and bubbly. I tend to open up a lot quicker to people like that," making it near impossible for him not to be drawn to her.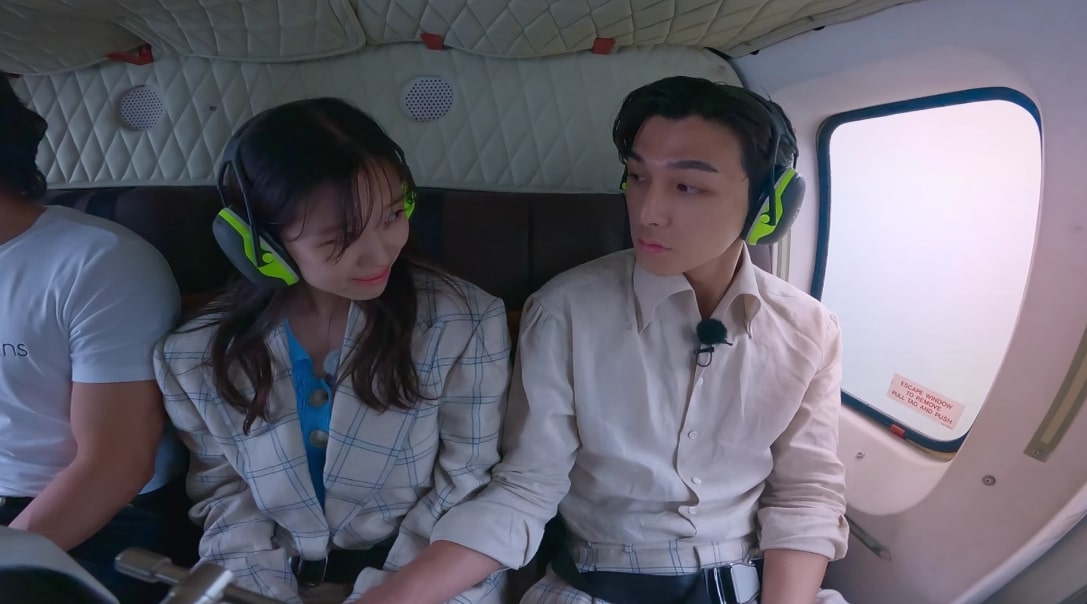 There was a moment Se-Jun even expressed he often prefers women with sharp physical features to match his own, yet the fact So-E is the complete, utter opposite did not bother him one bit. In reality, her soft smile actually melted him whenever she was around, which all started with her simply ensuring he felt welcome, comfortable, and included on his first day by initiating small talk. She was just taking care of him without expecting anything in return because that is precisely who she is, but her efforts impressed him to such an extent he could not get her out of his mind.
Therefore, upon learning So-E wasn't involved with anyone during a one-on-one conversation the following morning, Se-Jun decided to pursue her as carefully, honestly, and openly as possible. It was frankly a shock to everyone when he thus asked her to "Paradise," but things soon became evident as their ensuing chemistry was unmatched — there was no pressure, just excitement. The fact he gave her his jacket, naturally held her hand throughout their helicopter ride, as well as made sure she felt at ease at every step further strengthened this new bond between them.
However, it was the way So-E and Se-Jun were able to sincerely talk about anything or everything without there being any judgment from the other side that made their night together stand out. Moreover, as seen above, unreleased footage of their date showcases they actually did much more than merely eat, discuss So-E's time in "Inferno," and share their ages/jobs/passions; they had fun! It hence comes as no surprise they returned with massive smiles on their faces and her feeling appreciative even though he'd asked her not to say thank you and only follow her heart.
Are Lee So-E and Kim Se-Jun Still Together?
There was a brief period where it seemed like So-E and Se-Jun were not as close as believed because she took Kim Han-Bin to "Paradise" upon getting an opportunity, but that's not the case. The latter was and still is one of her closest platonic friends, plus her admirer was genuinely happy she chose someone she could have a great time with rather than simply reciprocating his actions. The duo even spoke about this later on, and he clarified he didn't care as long as she made the decision based on what she truly desired — though he didn't shy away from expressing his feelings either.
The only thing to consistently matter to Se-Jun was So-E's happiness, and he simply hoped she found it with him, which is why he unsurprisingly picked her for the final decision as well. "I keep having you on my mind," he said, reiterating everything he'd implied before. "And I feel kind of nervous whenever you're out of my sight. I chose you because I couldn't deny I have feelings for you." That's when the fact he never once pressured her into anything, all the while managing to be protective and care for her, became undeniably imperative, driving So-E to choose him too.
Therefore, considering their entire stint, along with how they were always so physically and mentally at ease around one another, it's highly likely that So-E and Kim Se-Jun are still together. The truth is neither the aspiring actress nor the Ascottage luxury tailor has revealed their exact relationship status as of writing, so we're going to remain optimistic until they state otherwise. After all, their charm, connection, as well as positivity were such that even if they're not romantically involved anymore, they would most probably still be great friends.
Read More: Are Choi Seo-Eun and Jo Yoong-Jae From Single's Inferno Still Together?