Marriage may be the end goal of a relationship, but that does not mean that everybody thinks the same. However, tying the knot is sure to be laborious if one person does not want to walk down the aisle. In Netflix's 'The Ultimatum: France,' several couples participate for a simple reason, either they must get married or go on their separate paths. The experiment is undoubtedly challenging and allows the cast members to see what they might be missing out on by either getting married or not going through with a wedding.
The French reality series' first season featured many couples we could not help but root for. This included Sarah Andrea and André Fouquet, eager to resolve the one thorn in their otherwise happy relationship. Albeit, reaching a consensus was far from easy and left many wondering whether or not the pair could keep their relationship intact. Well, we are here to tell you what we know about your favorite duo!
Sarah and André The Ultimatum: France's Journey
While Sarah and André claimed they were very much in love and had no significant issues in their two years of togetherness, one problem brought them to the Netflix show. 23-year-old André was eager to get married to the woman he considered the love of his life. He explained that living with a woman without getting married was unacceptable. Apparently, his love for Sarah motivated him to break apart from traditions, yet he felt they were ready to take the next step and should tie the knot.
On the other hand, Sarah did not want to get married and was scared of being committed to anyone with such surety. This led André to issue an ultimatum to the 26-year-old beautician. Either they should get married, or he would be breaking up. As part of the experiment, both had to choose a test partner, leading André to pair up with Lina, whereas Sarah decided to spend three weeks with Théo Borghino.
Both Sarah and André could establish a friendly connection with their respective partners. However, they would still have their adopted dog, Naya move from one place to another during the experiment. During his visit to Sarah's living space to pick up Naya, André did not get to meet his girlfriend and was instead greeted by Théo. While talking to him, the former realized they were participating in multiple activities like surfing and that Théo liked to roam around the house without a shirt. This prompted André to ask the other man to limit his physical interactions with Sarah.
As she continued to live with Théo, Sarah realized that she could talk about her emotional issues with him in a way she had never discussed them with André. She stated that it might be because he seemed to understand her problems, but she never got that feeling from her boyfriend. Nevertheless, she did learn much about herself during this time and was slowly coming around to the idea of getting married.
Upon their reunion, André told Sarah that he was frustrated that she and Théo participated in physically forward activities, though his partner explained that they never did anything "crazy." This was not the end, as he was upset that he and Sarah had rarely partaken in such activities. Though André's jealousy heavily upset his girlfriend, the duo talked about their issues and moved past them. In fact, the former even took Sarah to enjoy ice skating.
On the day of the ultimatum, André proposed to Sarah while the two talked about their feelings for each other. Unfortunately, Sarah said she couldn't do it, prompting him to drop the ring where he was and leave. As he walked away, Sarah shared with the viewers that the question had caught her off-guard as she was still talking about what was on her mind. Scared of losing him, Sarah picked up the ring and chased him down to his car.
After André exited the vehicle, Sarah explained that her fears took over when he asked her to get married. Regardless, she did not want to lose him as she loved him very much. André got down on his knee and, once again, asked the big question. This time, the beautician agreed to the proposal. The cast members of season 1 of the Netflix series reunited two months after the ultimatum day. It was here that Sarah and André shared that they were still happily engaged and were planning on getting married next year. Before tying the knot, they wanted to be fully prepared for the next step of their life and live together to see how things turned out.
Are Sarah and André Still Together?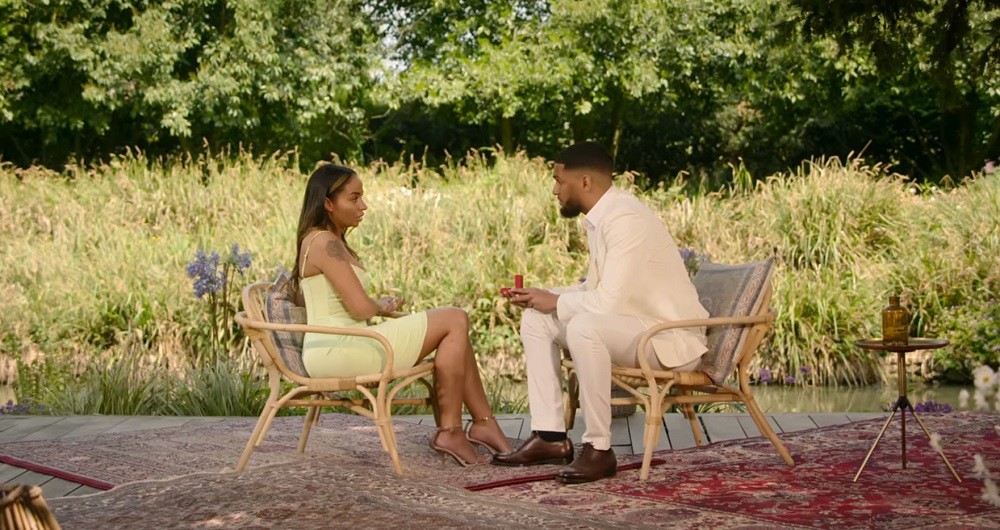 As of writing, neither Sarah nor André have shared any further updates regarding their relationship status. That said, we believe they are looking forward to getting married and hoping for a happy future. The duo seems to prefer to keep their personal lives private and have not been public about the details of their life. Presently, André is Sales Advisor for Ford Motors in Paris, France, while Sarah is still part of the beauty industry. The couple is based in Paris and has gained much love from their admirers.
Read More: Are Romane and Théo From The Ultimatum: France Still Together?