Netflix's 'Love Is Blind: Brazil,' AKA 'Casamento às Cegas: Brasil,' is a beloved dating reality series belonging to the 'Love is Blind' franchise. Like any loyal fan of the riveting production, it's hard for us not to root for the various couples formed during the events that unfold as a part of this social dating experiment. After all, who doesn't like the notion of falling in love with someone for their inner beauty alone?
In fact, the recently released second season of this series featured many such romantic couples who piqued the curiosity of the public owing to their honesty as well as vulnerability. This includes the pair of Thamara Terez and Alisson Hentges, whose chemistry was also off the charts. Naturally, their admirers are eager to know if the on-screen duo is still together, and we are here to explore the same!
Thamara and Alisson's Love is Blind: Brazil Journey
At the age of 30, Thamara Terez entered the second installment of the beloved reality show in hopes of finding her perfect partner. She actually explained that her previous two relationships ended due to infidelities from her partners' side, which was obviously hurtful as well as disrespectful. She then added that her ideal man would thus be someone who treats her like a goddess and always puts her first. Not willing to let any chance to find her true love go by, Thamara decided to give her potential romantic suitors a fair shot in the pods.
Thanks to her charming personality, Thamara was able to earn a significant number of admirers, which actually did not sit well with some. In the male living quarters, whether she was playing the field or just being genuine became a point of conversation on day one itself. However, Thiago Andreotti later decided to confront her and even went as far as to call her a player, which deeply hurt the Rio de Janeiro advocate. Upon returning to the quarters, he then proudly admitted to what he'd just done, only to infuriate Alisson Hentges since she wasn't there to defend herself.
Ever since he first talked to Thamara, Alisson had been falling for her deeply, and she seemed to reciprocate the feelings. Hearing Thiago's comments hence made him extremely angry, driving him to even accused his fellow cast members of being disrespectful and making assumptions for no good reason. Then, during their next date, he made sure to tell his potential match how he found the snide comments about her nothing but distasteful. This obviously soothed Thamara as she had genuinely been worried that he might have similar thoughts as Thiago.
Over the next few dates, Thamara and Alisson got to each other on an even deeper level, and the 27-year-old production administrator also opened up about being adopted as a young boy itself. It thus came as no surprise when the second episode of 'Love is Blind: Brazil' season 2 illustrated Alisson's moving proposal to Thamara and the couple's eventual meet-up. After the blind dating round of the show was finished, they headed to a luxurious resort in the Amazon rainforest in hopes of exploring the physical nature of their relationship and getting to know each other better.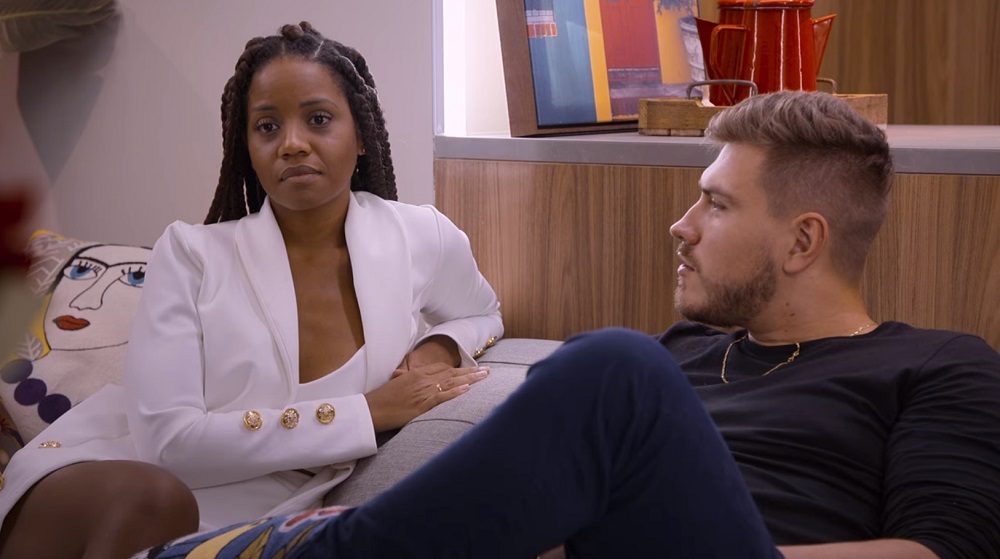 Upon returning to the real world, Alisson made a startling discovery about his wife-to-be. Apparently, Thamara had been engaged to another man shortly before her time on the show. However, she had broken off the betrothal and decided to join the experiment. Her ex had sent her multiple messages asking about her whereabouts, which seemed to irk Alisson. Thamara assured him that she would clear things out gradually.
It did not help that Thamara's family was also unaware of her being a part of the Netflix series and seemed to still be friendly with her ex. Though initially reluctant, her family members soon grew to like Alisson after meeting him. Thamara herself cleared things with her ex over social media and told him that she was engaged. Shortly before their wedding day, Thamara threw Alisson a surprise birthday party that delighted the birthday boy. Needless to say, he was quite happy about his choice of partner.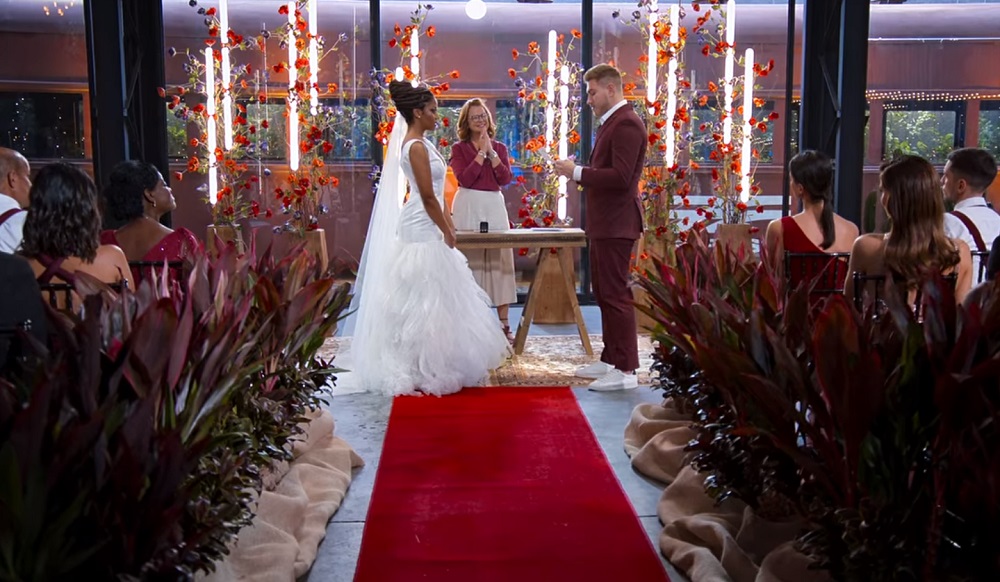 Through their shared love for gossip, among other things, Thamara and Alisson kept getting closer, though the bride-to-be could not help but ponder over the differences between her and her fiancé. When the time came for the two to get married, Alisson was very empathetic about saying "yes." However, when Thamara was asked to give her answer, she started to share her thoughts that highlighted how different the two were and how crazy it would be if they got married, leading many to believe that she would say "no." However, Thamara insisted that "crazy" was exactly what she wanted. Needless to say, her agreement to the marriage came as a massive relief to everyone, including the groom and those attending the event.
Are Thamara Térez and Alisson Hentges Still Together?
As of writing, Thamara and Alisson are indeed still married to each other. Given their easy chemistry and physical attraction, we believe that their bond is sure to be thriving. Even Thamara's heartstopping speech before agreeing to the marriage was a sign of exactly how comfortable the two are with each other. Their mutual respect for each other is perhaps one of the strongest foundations for their marriage, followed closely by their mutual love for gossip. After all, eagle-eyed viewers must have surely noticed the passion with which Alisson defended his soon-to-be betrothed's honor from other male contestants. It seems like Alisson has moved to Rio de Janeiro, Brazil, in order to be with his wife.
Read More: Are Vanessa and Tiago From Love is Blind Brazil Still Together?