Amazon Prime's 'Written in the Stars,' AKA 'Match nas Estrelas,' is perfect for fans of astrology and romance, given how well the Brazilian reality show combines the two. Hosted by Ingrid Guimarães, the show features a person of a specific sign each day who meets potential suitors and tries to find their perfect match. It is through this process that Vinícius Sasaki met Christiane Ohnmatch, leaving fans wondering if the two are still together. Well, we are here to explore the same!
Vinícius Sasaki and Christiane Ohnmatch's Written in the Stars Journey
Vinícius Sasaki appeared in the Amazon Prime dating show as a proud Aries with determination to find his match. His date with fellow-fire signed Christiane Ohnmatch did not have the best start. After Vinícius got to know that she was a Leo, he made a comment about how he thought that people of that specific sign were a bit stubborn, leading to a friendly banter. However, things soon took a turn as they started to talk about their interests.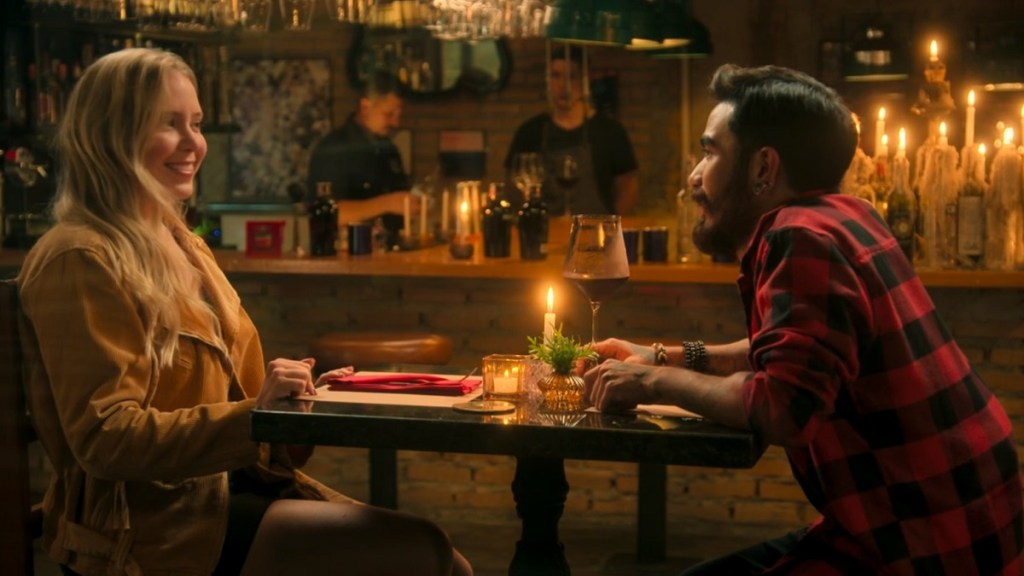 In fact, Christiane even shared how she could talk without opening her mouth, which fascinated Vinícius. Slowly but surely, they got to know each other more and more. In order to move things along, Ingrid Guimarães asked them to play a game involving drinks so that their conversation could flow a bit more smoothly. Eventually, Christiane ended up kissing Vinícius lightly on the lips, and she claimed that she had only given him a peck as he had also been on three other dates.
Finally, the time came for Vinícius to eliminate one of his four suitors, and he decided to let Gabi Cavalcanti go. This was followed by a synastry session with astrologist Papisa, where she talked about Vinícius' astrological compatibility with his four suitors. Based on the same, Leticía Pessoa was also eliminated as she was the least astrologically compatible with Vinícius. It was now time for the Aries to choose between Christiane and Anna Carolina Santini, with whom he had a compatibility of 94% and 80%, respectively. Given his positive interactions with Christiane and his high compatibility, Vinícius chose to follow the stars and be with the lady in question.
Are Vinícius Sasaki and Christiane Ohnmatch Still Together?
As of writing, Vinícius Sasaki and Christiane Ohnmatch have not shared any updates about whether or not they are still dating each other. The former seems to be thriving in his life and can often be spotted at the gym, trying to maintain his physique. The "old-school" man is also involved in ventures like Reino Da Pimenta and Loko de Rua. Additionally, his love for motorcycles and classic cars is one that is hard to miss. However, neither he nor Christiane have shared much about their dating lives. We are hopeful that, no matter the situation, they are happy with their romantic choices.
Read More: Are Marcus Rabelo and Lucila Melgueiro From Written in the Stars Still Together?