Eliminating past grudges and facilitating a new romance, six divorced couples head to a remote villa in Costa Rica to have another chance at love. USA Network's unique dating reality television show follows twelve individuals whose personal history with their ex doesn't stop them from romancing other divorcees. While some have arrived to rekindle past flames with their lovers, others have come solely to explore and date.
'The Bachelorette' alums JoJo Fletcher and Jordan Rodgers serve as the hosts and expedite the dynamics between prospective couples. As individuals navigate complex emotions and feelings for each other, they find that closure may not come as easy. With lies, deceit, and secrets in the mix, 'The Big D' features a mix of drama and romance. Ariel Lyndsey and Blair Delgado are one of the couples whose nuptials ended in divorce. If you're also curious to learn more about them, look no further because we've got all the answers right here!
Ariel Lyndsey and Blair Delgado's Background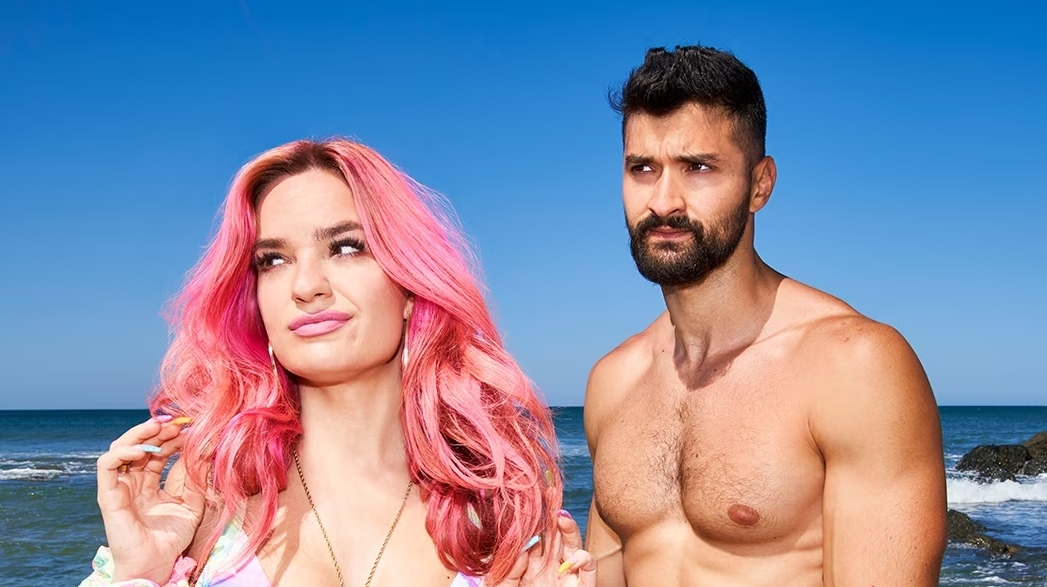 With the better part of their youth spent in Clearwater, Florida, Ariel and Blair grew up in the same hometown. Similarly, the two also received their early education in Clearwater. Having met each other while they were relatively young, Ariel and Blair grew quite close. However, despite the bliss they experienced in the early days, other factors heavily weighed in on their relationship, leading to complications. More problems followed when Blair decided to stay in Clearwater, and Ariel decided to move to Los Angeles to exponentiate her career and expand her horizons.
Ariel Lyndsey and Blair Delgado's Profession
Over the years, Ariel and Blair have steadily grown in their respective profession. While Blair has climbed the corporate ladder, Ariel has also worked to expand her presence on social media. Blair joined KnowBe4, a computer and security company, in May 2019. In his time at the company, Blair has worked as a Tech Touch Customer Success Manager, a Channel Customer Success Manager and an Enterprise Customer Success Manager.
Blair now holds the position of Senior Enterprise Customer Success Manager at the same company in Clearwater, Florida. On the other hand, Ariel began her journey on social media when she and Blair were still married. With over 40,000 followers on Instagram, Airl has used her skills as a dancer and artistic abilities to make a name on different online media channels.
Similarly, her TikTok account has over a million followers. Additionally, Ariel is also a sneaker artist and customizes sneakers for a wide range of clientele. As a gamer, she regularly holds live streams on Twitch as well. As an online creator, Ariel uses her reach to educate other creators as well. As such, she has her own social media workshop where she teaches novice creators how to manage and monetize social media.
Are Ariel Lyndsey and Blair Delgado Dating Anyone?
Even though the two married within months of dating each other, their relationship changed when Ariel started working. Four years into their marriage, Ariel and Blair's interpersonal issues became glaringly visible, and the two felt that necessary actions had to be taken. While Blair was unfaithful to Ariel and had cheated on her, he also credited their estrangement to Ariel's focus on social media.
As the distance between the two increased, Blair sought comfort elsewhere, and ultimately, the two decided to divorce after four and a half years of marriage. However, even though the two parted ways due to unsuitable circumstances, Ariel has continued to hold out hope for rekindling. The same does not go for Blair, who has moved on and hopes to find someone else.
As of now, it seems that both Ariel and Blair are taking time to focus on themselves instead of seeking romantic companionship. Ariel is continuing down her path as a content creator, and Blair is also creating milestones in his line of work. While Blair describes himself as a globe trotter and traveller, Ariel likes spending time with her friends and trying new things.
Blair likes to keep his life under wraps and doesn't disclose his relationships to the public. Similarly, Ariel does not showcase her romantic interests on social media as well. So, as far as we can tell, the duo is currently single and focused on themselves. Nonetheless, we wish them the best and hope they achieve all their personal and professional goals!
Read More: Gillian Messina and David Novello From The Big D: Everything We Know