The world of film and television is often graced by rising stars whose talent shines brightly, capturing the hearts of viewers and leaving a lasting impression. One such rising star is Asa Germann, who has recently made waves with his portrayal of Sam Riordan in the Amazon Prime Video series, 'Gen V.'
This American superhero television series, developed as a spin-off of 'The Boys,' has taken audiences by storm, offering a fresh perspective on the superhero genre. Join us as we unravel the enigmatic Asa Germann and unveil everything that makes him a star on the rise.
Asa Germann's Background
Asa Germann, born in December 1997, is a young and promising actor who has been making a name for himself in the entertainment industry. Hailing from a family with a strong presence in Hollywood, Asa's parents, Greg Germann and Christine Mourad, are renowned figures in the world of acting. Greg Germann, a stage-trained actor, gained recognition for his roles in notable productions, including 'Ally McBeal' (1997-2002), where he played the character of Richard Fish, and various films such as 'Miss Firecracker' (1989) and 'Once Around' (1991).
Christine Mourad, on the other hand, has also left her mark in the industry with appearances in projects like 'Friends with Money' and 'Freeway.' Growing up in such an illustrious environment, it's no surprise that Asa was drawn to the world of acting.
Asa's early life and high school years are not extensively documented, but it's evident that he comes from a family deeply rooted in the entertainment business. Both of his parents have made significant contributions to the world of film and television, setting a solid foundation for their son's own journey in the industry.
Asa Germann's Profession
Asa's career in the entertainment industry began to take shape in the early 2020s. He made his debut with a short film titled 'Two Little Boys' in 2020, showcasing his budding talent as an actor. This marked the beginning of what would become a promising career in film and television.
In 2021, Asa continued to make strides in the industry with his appearance in the short film 'Caviar,' further cementing his presence as a rising star. However, it was in 2022 that he truly made a splash, landing a brief role in the Netflix biographical drama television miniseries, 'Dahmer – Monster: The Jeffrey Dahmer Story,' where he portrays the character of a blonde jogger.
Nevertheless, it was his role in the highly anticipated Amazon Prime Video series, 'Gen V,' that catapulted Asa into the spotlight. In 'Gen V,' he takes on the character of Sam Riordan, a young supe with extraordinary abilities, including super strength and invulnerability. Sam, however, is not without his struggles, as he battles hallucinations that blur the line between reality and fiction. Asa's portrayal of this complex character has earned him acclaim and recognition within the industry.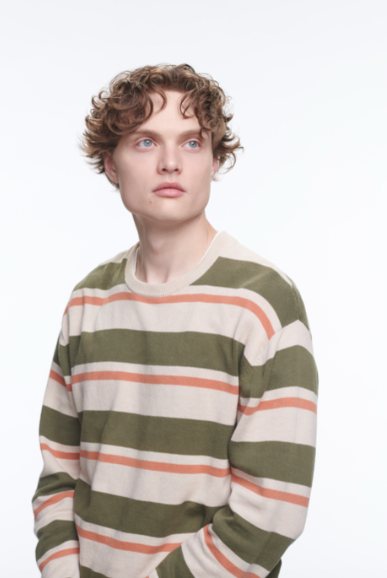 Exploring the physical demands of his role in an interview with Collider, Germann shared, "Stunt training is crazy… I am not, despite maybe me looking like I could be athletic, I'm like the least coordinated person on the planet. It's been really challenging." He further added, "We have a great, great team of stunt people here who are really legitimately training us. I've never done a project where you literally are playing like a badass superhero that needs to know how to mess a bunch of people up in a short period of time."
After his training, Asa believes that he has turned into someone who should not be messed with. He is excited to intimidate some of his bigger friends with his stunt skills. Without going into details, he said, "Just watch out, you know who you are."
Asa Germann's Girlfriend
In addition to his budding career, Asa also has a steady dating life. He has been in a long-term relationship with his girlfriend, Marilyn Morris, for about five years. Their enduring connection speaks volumes about their bond and shared experiences. Asa and Marilyn's relationship is a heartwarming example of love and support, with the couple standing by each other's side as they navigate the demands of the entertainment industry. Their journey together has undoubtedly played a role in shaping Asa's career and personal growth.
Asa Germann's ascent in the world of entertainment is a testament to his talent, determination, and the strong foundation provided by his family's legacy in Hollywood. With standout performances in multiple shorts and the TV series 'Gen V,' he has proven himself as a versatile actor capable of tackling complex roles. He is not just an actor; he's a rising star, a dedicated partner, and a talent to watch in the ever-evolving landscape of film and television. With his career on the rise and his personal life flourishing, he is poised for a bright future, and we can't wait to see what he'll conquer next in the world of entertainment.