Before we even begin this discussion, I want you to take two minutes, recall Fred Rogers, and think of one better actor to play him in a biopic than Tom Hanks himself. In a rare case of pitch-perfect, tone-true casting, Hanks IS Mr. Rogers, the American TV icon from the long running kids show, 'Mr. Rogers' Neighborhood'. What I mean to imply is this: anybody could have put on the cardigan and the blue sneakers and the all overcoming smile. We live in a time when CGI is used to digitally de-age actors, make younger ones look older, and make two actors look-alike (looking at you, Looper). But to inherently embody the very warmth and niceness that made Fred Rogers, well, Fred Rogers, is something only Tom Hanks could have pulled off, precisely because he is those things. So much so, that in a parallel universe, it could be Fred Rogers playing Tom Hanks in a biopic and the acclaim and acceptance would be just as easy.
Coming to the film itself, film enthusiasts wait with baited breaths for this inbetweener of a period that regular cinema goers usually regard as the long lull between the noise of the summer blockbuster season and the haste of the holiday season. This is when studios release films to appeal to their more discerning, adult audience, and if you have access to the various film festivals that happen during these months, you are in for a field day at the cinemas.
A Beautiful Day In The Neighborhood Plot: What Is It About?
That the film is a quasi-narrative biopic of Fred Roger's life and his philosophies should be a no brainer by now. More so, for fans of the TV icon, 2018 and 2019 are bound to be particularly great. 'Won't You Be My Neighbor', a documentary encompassing the same subject matter released last year to universal acclaim, multiple awards and great public reaction, testament to the film's massive $22 Million haul at the box office, making it the single highest grossing documentary feature ever. Such is the personality of Mr. Rogers, and the positive impact he has left on thousands of lives. There is little reason to believe that the film, 'A Beautiful Day In The Neighborhood' won't be repeating the same success, already sitting high up in our list of predictions, and a number of other awards and predictions pundits.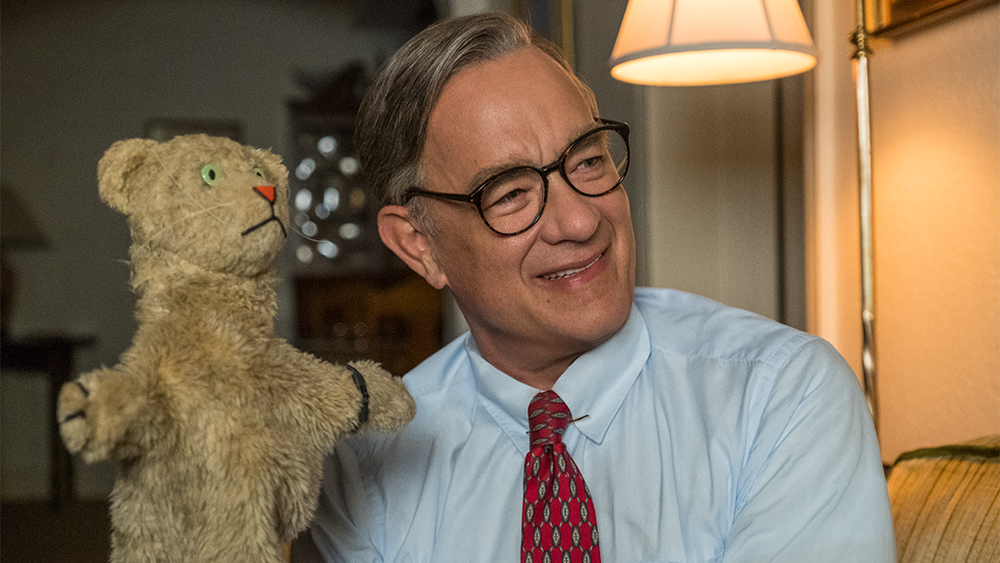 While the documentary followed a pretty straightforward narrative, the film borrows its plot from 1998 Esquire Profile on Fred Rogers by journalist Tom Junod, titled 'Can You Say….Hero?', In the film though, Junod has been renamed Lloyd Vogel, an award-winning but cynical journalist who begrudgingly accepts an assignment to do the profile on Rogers. The encounter with Rogers, as stated by the journalist himself, is said to have changed his perspective on life. That is what the film will document: the interview that transformed the cynical journalist in Vogel, after the initial warming up to Rogers. And while this is viewed from a storytelling standpoint, we obviously get a lot of footage recreated from the show, with Tom Hanks and Rogers, just as the trailer depicts. There are shots of the show's sets where he conducts the interviews, Mr. Rogers' home even, and a handful of local cafeterias.
What we also know is that the plot will also squarely emphasise on Vogel's personal life, including his family and his battle to overcome his cynicism and broken view of the world, which his interactions with Fred Rogers help him overcome, naturally. For instance, the final segment of the trailer with Mr. Rogers in the subway, while everyone starts singing the show's theme song, is something I already know will be my most fond remembrance from the film. This is a man who through the simple nature of his deeds, kindness and overwhelming positivity, inspired people to just be nice to other people around them, and to tell everyone that they, indeed, were "precious". There is perhaps no better time for the film to release than the current day and age, and perhaps no time where a man like him was more sorely needed.
A Beautiful Day In The Neighborhood Cast: Who Is In It?
I opened my write-up with the very fact, announcing that Tom Hanks is the perfect embodiment of Mr. Rogers for me. There perhaps is no other actor I see fitter than Hanks himself to play the role, and do justice to it. There is an incredible legacy at display here, and with it, Hanks' own legacy as an actor and a good person. It's a casting match made in the high heavens. Nothing but positivity for this.
Joining him would be Matthew Rhys as journalist Lloyd Vogel, based on Tom Junod. Rhys, fresh off his Emmy win for Best Actor for the final season of 'The Americans' looks in terrific form here, emoting diametrically opposite to Hanks' overcoming positivity as the character. Along with the two, Susan Kelechi Watson as Andrea Vogel (based on Janet Junod), Lloyd's wife, Chris Cooper as Jerry Vogel (based on Lou Junod), Lloyd's father, Enrico Colantoni as Bill Isler, President & CEO of Family Communications, Maryann Plunkett as Joanne Rogers, Fred's wife, Tammy Blanchard as Lorraine, Lloyd's sister and Todd's wife, Wendy Makkena as Dorothy, Jerry's girlfriend, Sakina Jaffrey as Ellen, Lloyd's editor, Carmen Cusack as Margy, a producer of Mister Rogers' Neighborhood, Noah Harpster as Todd, Lorraine's husband and Lloyd's brother-in-law, and Maddie Corman as Betty Aberlin, an actress starring as Lady Aberlin on 'Mister Rogers' Neighborhood' will be joining the cast.
A Beautiful Day In The Neighborhood Crew: Who Is Behind It?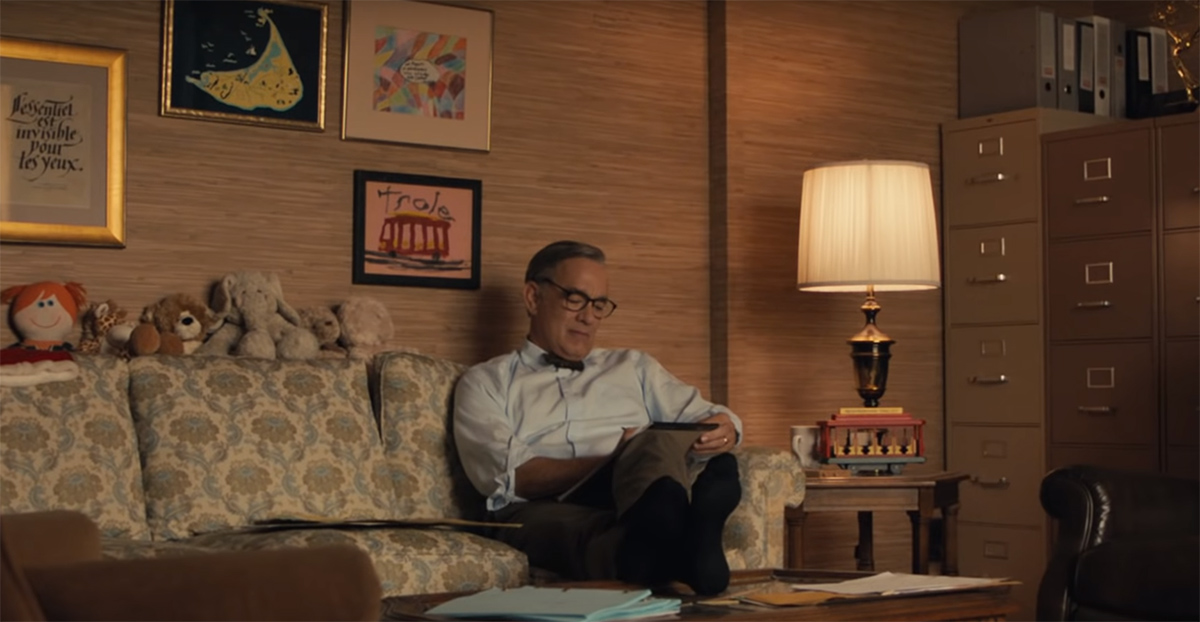 Following last year's forgery dramedy, 'Can You ever Forgive Me?', 'A Beautiful Day in The Neighborhood' is going to be Marielle Heller's next directorial venture after the significant noise that the former made over at the ceremony earlier this year. The screenplay has been penned by Micah Fitzerman-Blue and Noah Harpster, to be produced by Sony Pictures' Columbia Tristar division.
A Beautiful Day In The Neighborhood Release Date: When Will It Premiere?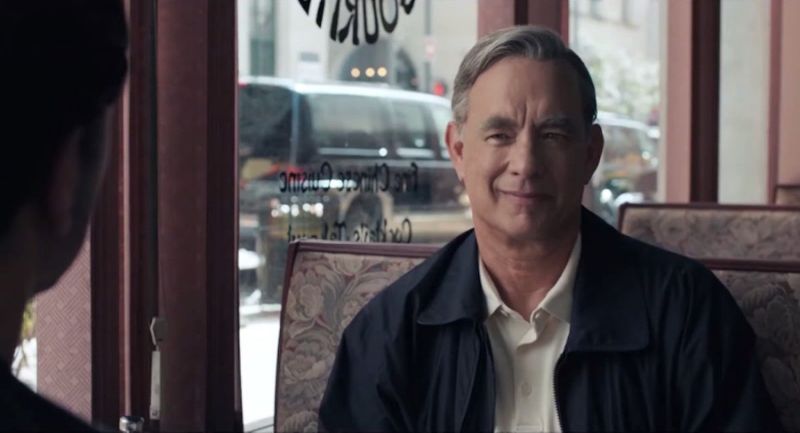 The film is all set to premiere at the Toronto International Film Festival this week, so be sure to check back for our exclusive review of the film. 'A Beautiful Day In The Neighborhood' is scheduled to be widely released to the public on November 22, 2019, Thanksgiving weekend. Couldn't have thought of a more perfect date.
A Beautiful Day In The Neighborhood Trailer
Hello Neighbor! Fair warning: This trailer is known to cause steel-nerved viewers to melt down into pools of wholesomeness.
Read More in Previews: The Irishman | Marriage Story