Every aspect, every facet of this once in a lifetime production screams epic proportions. For cineastes and cinephiles, this is going to be a carnival when it comes out, and just by the looks of it is already looking to grab a lot of the eyeballs when it comes to award circuits, being a frontrunner in our Oscar predictions for next year too. For one, Martin Scorsese is directing the film, which has been a dream project of sorts for him, announced even before his last film, 'Silence' released in 2016. Second, the cast that Scorsese has managed to assemble for this production is a chunk of the Hollywood walk of fame itself. There is little reason even the average movie-goer won't be excited for this one, but that's not all the why 'The Irishman' has been doing the rounds in film and media circles.
The film has managed to stay in deep within current media and pop culture, even apart from its otherwise enviable production hype, by virtue of its production and distribution fiasco. Close to even five years ago, not a single living soul could have predicted that we would live to see a day where a major production of such gigantic proportions would see a direct-to-streaming release, leave alone one directed by the stalwart of stalwarts, Martin Scorsese. But then again, this is Netflix we are talking about. The game changer itself. Moving on, from Scorsese's vision, to the novel (and in essence the true story that inspired both), to budget hikes and shifts in patronage, here is everything we know about Scorsese's 'The Irishman'.
The Irishman Plot: What is it about?
'The Irishman' is based on the novel 'I Heard You Paint Houses' by Charles Brandt, and follows the life and events as recounted by Frank 'The Irishman' Sheeran. Sheeran was an American Labour Union Official who was later accused of being involved in corrupting the practices of the Union and being involved with the Bufalino crime family, an Italian American crime syndicate that operated out of Northeastern Pennsylvania. Sheeran was also a renowned hitman working from the family, and the film appears to be a first-hand account of this man, and his life and times with the mob in particular.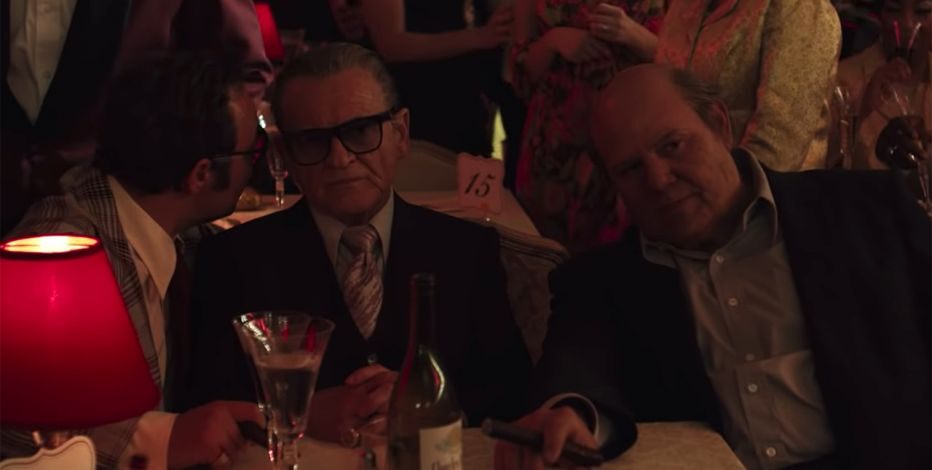 More particularly, the film will focus on the disappearance of Jimmy Hoffa, leader of the Labour Union, the International Brotherhood of Teamsters, and the role that Frank Sheeran played in it. It is a particularly peculiar yet interesting story, since reports from the time state that Hoffa "vanished" mysteriously while he was on his way to a meeting with two other Mafia leaders. Hoffa himself was accused of organised crime, bribery and fraud and served multiple terms for the same, until he was legally declared dead in 1982, seven years after his disappearance in 1975, after the police and investigating authorities failed to gather any concrete evidence on his remains or on possible perpetrators.
However, the book that the film is based on, 'I Heard You Paint Houses' claims that Frank Sheeran confessed to assassinating Jimmy Hoffa by shooting him twice behind the right ear in a house in Detroit, which is where the book derives its title from. There are several other accounts of the same, and while the validity of claims is still to be vetted, I'll have you know that the case, and its uncanny resolution is still a major source of speculation and rumours in that part of the world, which is also the note I believe the film will end on.
Having a brief look at the plot would simply tell you how this non-fictional account, as recounted by Frank Sheeran himself, is classic fodder for a Scorsese film. 'The Irishman' has therefore been rightly touted as Scorsese's return to familiar territory, to the land of organised crime and mob culture in the Americas. Two of his best and most iconic films to date, 'Goodfellas' and 'Casino' stem from the same territory, and you know as well as I do, there are few in Hollywood currently who could lay claim to the subject matter with as much ease as Scorsese himself.
The Irishman Cast: Who is in It?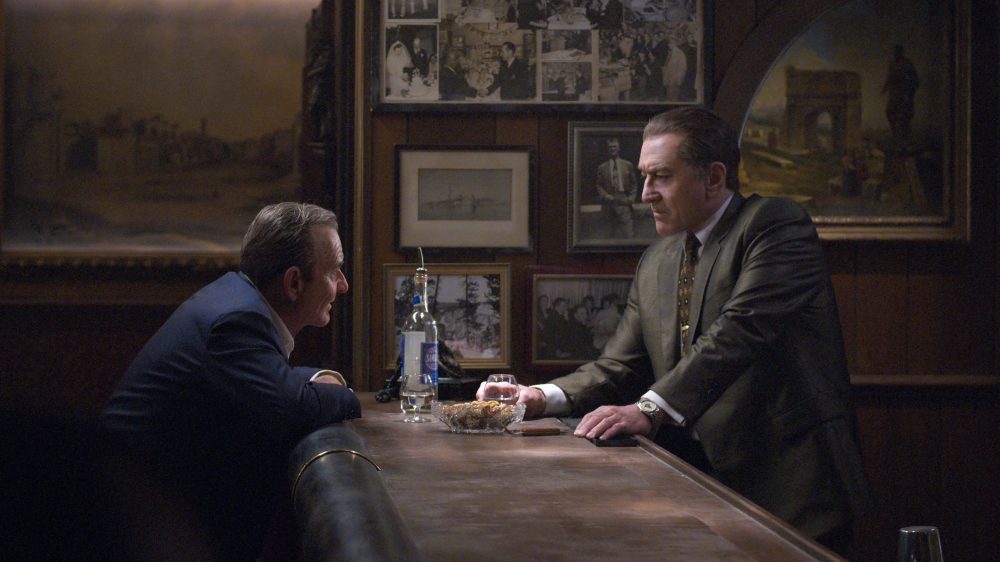 'The Irishman' unites Martin Scorsese with his long-time collaborator and aide, Robert De Niro, who will be teaming up with the director for a ninth time, portraying Frank 'The Irishman' Sheeran. Al Pacino plays Jimmy Hoffa, and this will be his first collaboration with the director, and fourth with De Niro. Also joining the cast is the eccentric Joe Pesci who I am most excited to watch. Pesci was convinced by Scorsese to come out of retirement to portray Russell Bufalino. Since the film will mostly be played in flashback, the three actors, along with several others that are part of the cast will be digitally de-aged to look close to thirty years old.
Apart from the three, Harvey Keitel as Angelo Bruno, Bobby Cannavale as Felix "Skinny Razor" DiTullio, Anna Paquin as Peggy Sheeran, Stephen Graham as Anthony "Tony Pro" Provenzano, Kathrine Narducci as Carrie Bufalino, Domenick Lombardozzi as Anthony "Fat Tony" Salerno, Sebastian Maniscalco as Joe "Crazy Joe" Gallo, and Ray Romano as Bill Bufalino will be joining the cast.
The Irishman Crew: Who is behind it?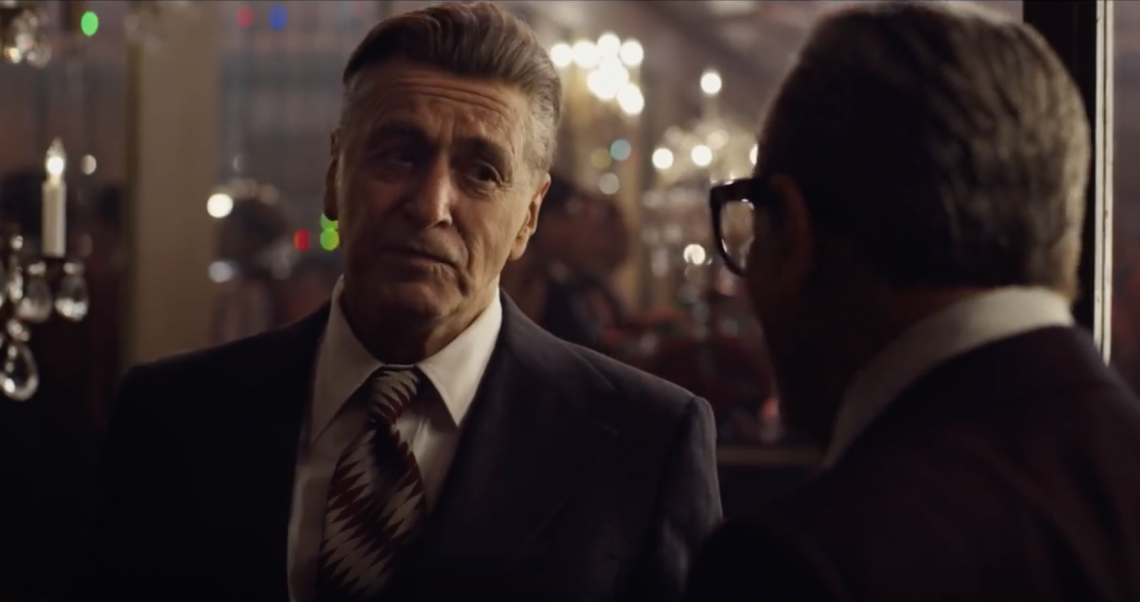 Needless to say, the director of the film, Martin Scorsese is indubitably the biggest catch of the film, so I am not going to spend time on reiterating that. As stated earlier, 'The Irishman' has been a long awaited project for Scorsese, being in the works for as long as 2014. Academy Award winner Steven Zaillian, who has earlier collaborated with Spielberg on 'Schindler's List' and Scorsese on 'Gangs of New York' will be penning the screenplay.
When is The Irishman coming to Netflix?
The film will open the New York Film Festival on September 27, 2019, and is scheduled for a limited theatrical release for 1st November 2019. However, 'The Irishman' is primarily a Netflix production and will be available for digital streaming on November 27, 2019. Notably, this is the biggest production Netflix has put forth until now and among the costliest for Scorsese as well.
The streaming giant has reportedly spent a total of close to $300 Million on the film, including the film's already steep production cost of $159 Million, following its Mexican producers Fábrica de Cine and domestic distributors, Paramount, dropped out due to the inflation in cost, a large portion of which was spent on digitally de-aging the actors in the film who appear up to thirty years younger in the film. However, given the huge draw that 'Roma' was last year, also being Netflix's first taste at Oscar success, it seems like the execs over at Netflix have bet on the right bird.
The Irishman Trailer
"Hiya Frank, this is Jimmy Hoffa. I heard you paint houses".
"Yes, I do sir".
I am just going to leave it at that. Take my money already!
Read More in Movie Previews: No Time to Die