Disney movies by extended definition are today, synonymous with quality family cinema, and are able to appeal to an entire spectrum of audience across the globe, by virtue of generally amiable content and fairly consistent quality. What started as one man's dream of changing the animation and cartoon industry forever has today become the single largest entertainment conglomerate in the world, co-owning or distributing some of the highest grossing properties including Pixar animation studios, Marvel Studios, Lucasfilm, and through a recent multi billion dollar merger, some production units of 21st Century Fox as well. There was little to no competition when it came to what the Walt Disney Film Company produced under its banner for many, many years, and given its current crusade of aggressive business expansion and property acquisition, even a David vs Goliath situation would seem highly unlikely, with Warner Bros. being the only other significant popular film production and distribution company.
However, film commerce for some other day. For now, we wish to draw your attention to the Disney movies that came out this year. The one marked distinction this year from Disney's stable compared to previous years is the greater number of live action films that were only partly animated, and even though the total settles to be only six (the list only includes movies directly produced by Disney, and not the ones solely distributed by Disney, including the Star Wars and MCU films), no less than half of them turned out to be duds, and that is not a term I would use very often to describe a Disney movie.
2019, however, does look better with 'Toy Story' touted to return with its fourth offering, and bigger and better things in store for both the MCU and Star Wars saga, but until then, we reminisce on the year that has gone by in film. Here is the list of all Disney produced movies released in 2018, ranked.
6. A Wrinkle in Time
It is no secret by now, well-known by both adults and even children alike. Disney movies are agreeably and increasingly formulaic in their approach, and despite that, they are revisited year after year and enjoy huge footfalls at the theatres exactly because of that, the comfort of familiar territory in fairy tales and cartoons. Years pass whence something truly groundbreaking along the lines of 'Inside Out' comes out from the Disney house of production, but despite that, it is safe to assume that Disney movies, however formulaic, are supposedly fun family fares, giving us the gorgeous animation or special effects with a laugh or two and a hearty message.
'A Wrinkle in Time' changed that notion after a long, long time. Certainly one of the worst reviewed movies of the year, and for Disney ever, 'A Wrinkle in Time' is based on the classic 1962 astral traveling novel, but fails to recreate the magic that the novel encapsulates. Yes, the film does have its heart in the right place in certain short segments, but that's about it. The visuals are dazzling, but over-imaginative to the point of exhaustion, implying that the 'Disney' imagination is afloat and well, albeit misplaced. 'A Wrinkle in Time' had the potential to be one of the better ones this year, and not going to lie, some of the promos did have me believe something remotely similar. However, major deviations from the source material and less than interesting pit stops in the refined script hurt any chances the film had.
Read More: Best True Story Movies of 2018
5. The Nutcracker and the Four Realms
Adding to the increasingly mediocre slate of Disney offerings this year, 'The Nutcracker and the Four Realms' falls prey to everything that plagues the previous entrant on this list, the first and foremost one being deviations from and unnecessary modifications to the source material. Here, the source material is a short story and an impressively performed ballet. There is not a shred of doubt that the cast of 'Nutcracker' including the likes of Keira Knightley, Helen Mirren, Morgan Freeman and Mackenzie Foy (who plays the main role here) are immensely talented and names to reckon with. The characteristic special effects and background score are there too.
None of that, however, saves this movie from inherent doom on account of the film being almost nothing like the original 'Nutcracker'. There is a severe lack of dance sequences and song that makes the ballet such an enriching experience, and the film comes off as a knock off Narnia or 'Alice in Wonderland' like adventure on that front. Even solely as an adventure film, 'Nutcracker' seems uninspired and something you have seen already. The special effects might keep the kids glued for its runtime, but for what it is, I wouldn't have minded giving it a miss.
Read More: Best Horror Movies of 2018
4. Bao
A cute little animated short accompanying the release of 'Incredibles 2' earlier this year, 'Bao' is multilayered in its approach and heart rendering, with its narrative drawing different interpretations from different viewers. Quite frankly, it is a surprising feat that the short film achieved this level of discussion and could incite the reactions that it did from the audience before the 'main event' within its eight minute runtime. Normally, I would not include an animated short film in this list of Disney features, but 'Bao' was something else, something different.
Directed by Domee Shi, the brilliant storyboard artist behind 'Incredibles 2', 'Inside Out', and 'Toy Story 4' under the Pixar Animation Studios banner, 'Bao' is an amazing achievement in family storytelling, especially given the constrictive time frame. That by no means is a compromise on the quality of animation that is expectedly top-notch and very signatory of Pixar. Sure, on the surface, it touches upon the empty nest syndrome, that most parents, notably mothers experience as their children grow up. But for those willing to dig deeper into this short film, especially the audience on the eastern face of the globe, the experience might turn out to be something special and immensely deep. Don't miss it.
Read More: Best Netflix Shows of 2018
3. Christopher Robin
Surprisingly one of the most affecting films this year, 'Christopher Robin' gave me pause as an adult doing things in life that any other regular adult would do, and that is a rare feat for a Disney movie. The plot of 'Christopher Robin' and the themes it deals with are decidedly meant for a more mature audience, ones that can actually relate to the moribund nature of the titular character's life, the lament, and above all, why it is important to keep the child in you live. All of them sensitive and pining topics in a regular adult's life, but touched upon almost magically by this film.
Disney films have recently observed a trend of live action reboots of their animated classics, what with the correct tools and progressive technology available, with 'The Jungle Book' and 'The Beauty and the Beast' being the latest released ones, and The Lion King and Dumbo lined up for next year. 'Christopher Robin' is agreeably Disney's attempt in the same direction to harvest the heavy nostalgia for A.A. Milne's supremely popular and adorable characters. The entire gang is present: Winnie the Pooh, Tigger, Piglet, Eeyore, Rabbit and Roo, and their camaraderie and continuous silly humor form the better bits of thee film. However, the film belongs to Ewan McGregor's 'Christopher Robin' reuniting with his childhood mates and rediscovering his sense of imagination in the process. Simple yet heartfelt, this is trademark Disney, yet feels different in a good way.
Read More: Best HBO Shows of 2018
2. Ralph Breaks the Internet
The most recent entrant on this list, 'Ralph Breaks the Internet' is a worthy sequel to 'Wreck it Ralph', a film that despite being among the pantheon of Disney animated features, holds its own on account of its warm homage to fans of videogames the world over. This time around, while video-games are still an important focal point, the film broadens its horizons to focus more on the role consumerism and technology play in our lives, and how we may ultimately be bound to it, by using the internet as a rather excellent medium, in ways that this year's amazing 'Ready Player One' did, or even 'Wall-E' to an extent, many years ago.
Like the previous one, this one too is replete with cameos by and pop culture references to some of Disney's most famous characters including Mickey Mouse, Dumbo, Cinderella, Snow White, Rapunzel, Baymax, Tinker Bell, Jasmine, Grumpy and other non-Disney videogame properties including Pacman and Sonic the Hedgehog. The animation is colorful, lively, and really adds life to an already enlivened script elevated by excellent voice acting. There will be little pockets of tranquility when 'Ralph Breaks the Internet' gives you moments of pause along the fun-filled ride that it is. A perfect film for the Thanksgiving weekend.
Read More: Best Vampire Movies of 2018
1. Incredibles 2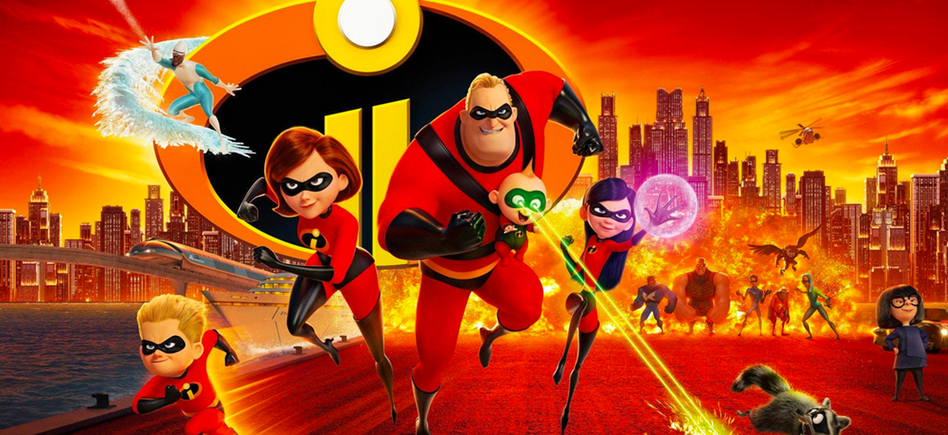 Riding high on the nostalgia wave, 'Incredibles 2' took the box office by storm when it released this year, with old and new fans of the original queuing up in anticipation ever since the first teaser poster was released. Such was the pull of the first one. However, to regard it as a success solely because the first one was, like many of the critics today have done, would almost be criminal. I agree that the sequel rarely quite manages to reach the dizzying heights of the first, which it unfortunately was expected to, in-keeping with the 'legacy'. To give it fair credit, it certainly does in parts, however rare, especially in the animation and action departments. But even in what it is, 'Incredibles 2' is supremely entertaining.
However, I set up all this banter as groundwork for telling you the one reason you should definitely watch the film, even preferably so than the first one, and that is Jack. Every scene starring the scene stealer super baby will have you in splits, that is a guarantee. 'Incredibles 2' is exhilarating, quality fun with doses of humour and gorgeous animation. Fourteen years in the making, it may or may not be the film you were waiting for, but is certainly the best Disney had to offer this year, and with Pixar helming it, there is little else that is left to be desired.
Read More: Best Reviewed Movies of 2018