Oftentimes, it so happens that even after deciding to watch a movie and spend some quality time with family, the right movie isn't found. All that we end up doing is scrolling through the list of movies across OTT platforms, waiting for that one movie that everyone will like to show up, which doesn't always happen. We understand the importance of family and that spending time with them is paramount to you. This is why we bring you a list of the best family movies available for streaming on Paramount+. Now, you just have to take your pick, click on play, and enjoy these gems with your family!
10. The Spiderwick Chronicles (2008)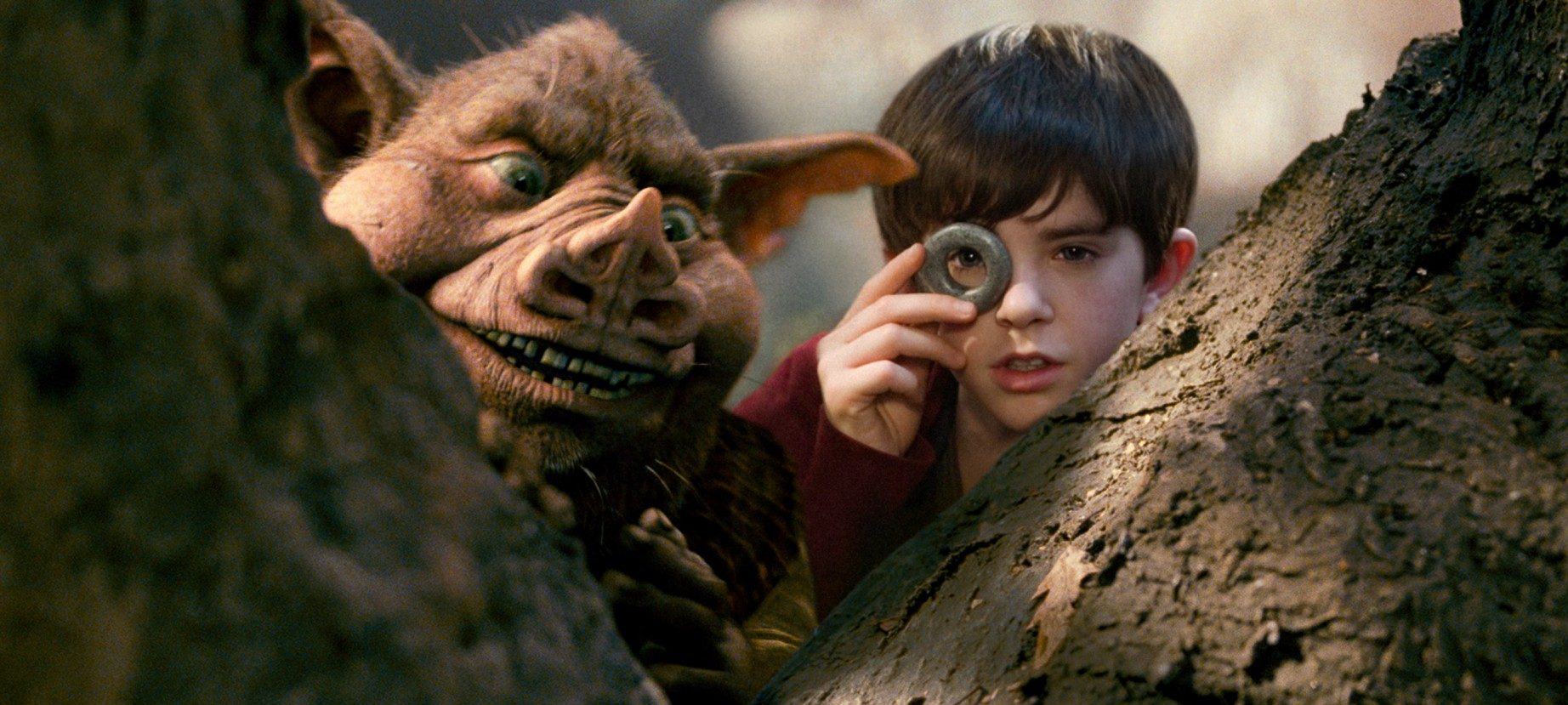 'The Spiderwick Chronicles' proves that you never know what's waiting for you in your new house's attic or the repaired wall that sounds hollow. For all we know, it can be a book that allows you to see magical creatures that you thought never existed. This is exactly what happens to young Jared (Freddie Highmore), who has just moved into his new home, the Spiderwick estate, with his twin brother Simon, sister Mallory (Sarah Bolger), and divorced mother Helen (Mary-Louise Parker). Jared finds his uncle Arthur Spiderwick's research work compiled in the form of a book that is a "field guide to the fantastical world."
Reading the book exposes him to the fantastical creatures living inside the estate as well as in the woods surrounding it. Jared, along with his siblings, are thus pulled into an adventure of a lifetime as they try to keep the book away from the ogre Mulgarath (voice of Nick Nolte), who will stop at nothing to get it and gain control of the magical world. Directed by Mark Waters, what sets 'The Spiderwick Chronicles' apart from the rest of the movies in this list is magic. So, if you or your kid loves magic and 'Harry Potter' (assuming they have seen it), you can go for this one right here.
9. Clifford The Big Red Dog (2021)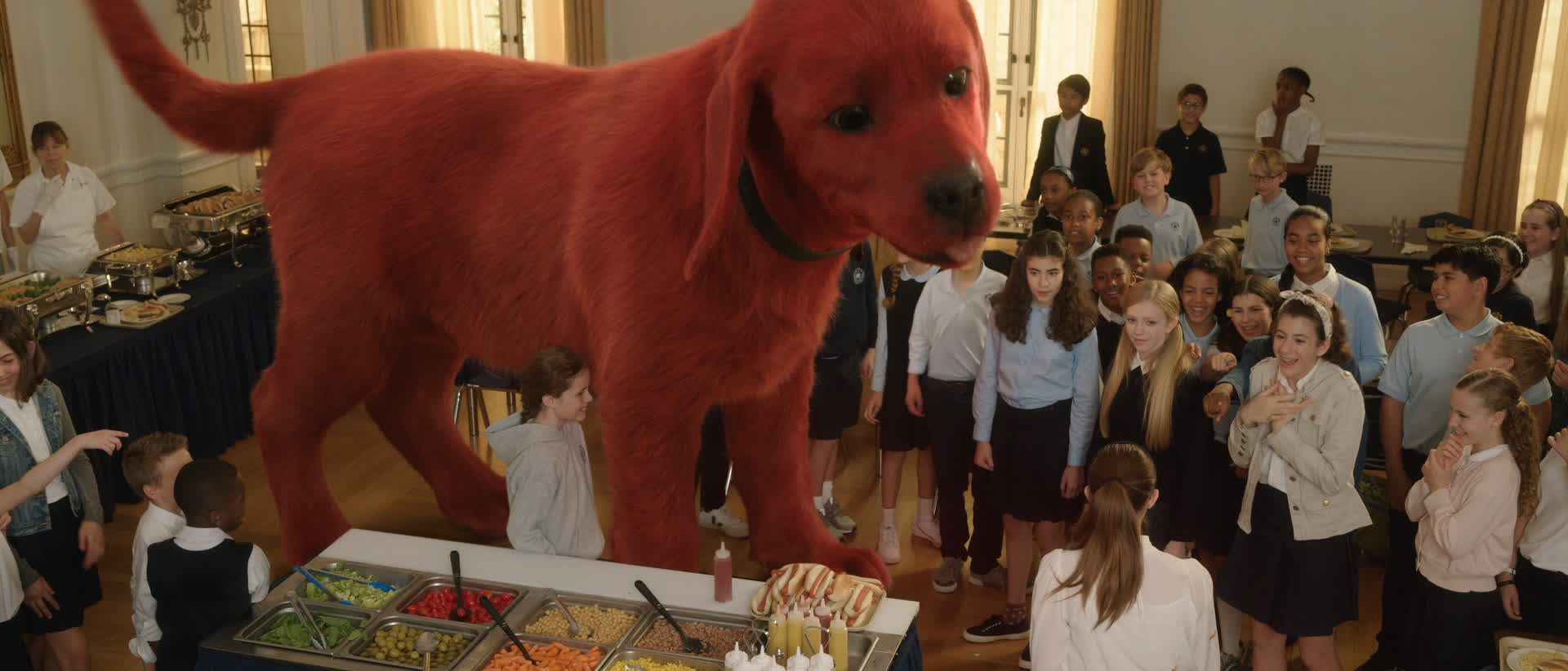 There is hardly anyone who wouldn't want to see a dog movie, especially when the dog in the movie is almost the size of the house where it lives. Right? Clifford is literally a "big red" Vizsla who grows in size based on how much his owner loves him. In the movie, he is brought home by middle schooler Emily Elizabeth (Darby Camp), who is a misfit at school and finds her only true friend in Clifford. However, as their love grows, greed grows somewhere else too. Clifford soon grabs the attention of a genetic company that wants to increase the size of animals and wants to run tests on Clifford.
Whether Emily and her uncle Casey (Jack Whitehall) are able to keep Clifford safe as he transforms the lives of those around him is what the movie is about. Directed by Walt Becker, the movie is based on the children's book series of the same name by Norman Bridwell, first published in 1963. More than anything else, Clifford's growth corresponding to the love he receives symbolizes how love helps love grow. You can stream the movie here.
8. The Addams Family (2019)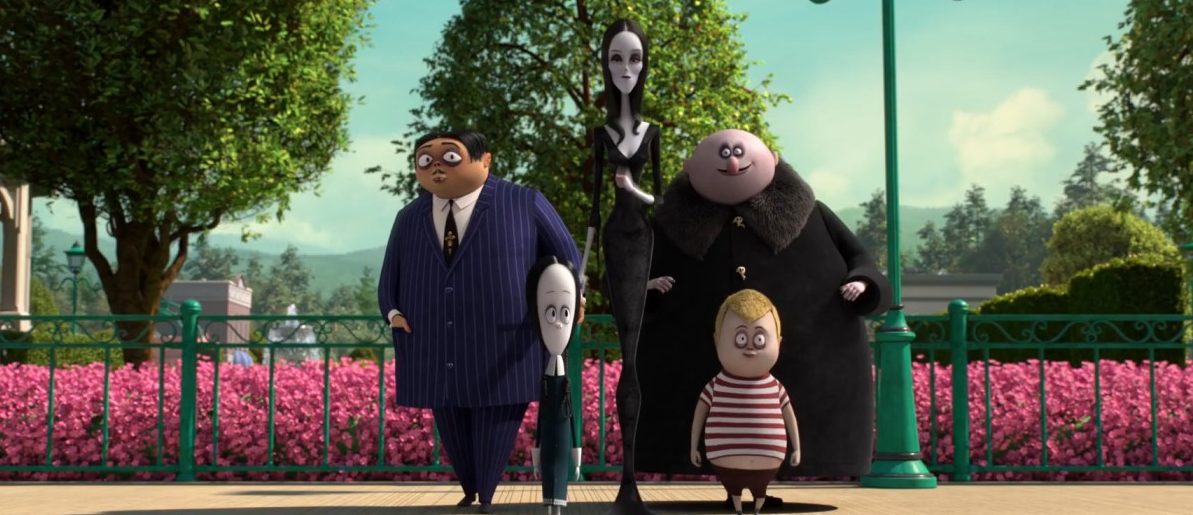 Talking about family time, is there anything better than watching a happy family? Not really. Considering each of us finds our families weird in their own sweet ways, 'The Addams Family' serves as an apt family movie that everyone will enjoy. Based on the popular macabre characters created by cartoonist Charles Addams and first published in 1938 in The New Yorker, the animated movie is directed by Conrad Vernon and Greg Tiernan. The movie deals with the conflict between the Addams family and a reality TV host named Margaux Needler, who wants to rid the town of the Addams mansion so that she can build a new planned community.
The family members include Gomez and Morticia Addams, their daughter Wednesday and son Pugsley, Gomez's older brother Fester, Gomez's mother Grandmama aka Eudora Addams, the family butler Lurch, and Thing (a disembodied hand). There is also Pugsley's pet octopus, Aristotle, Morticia's pet lion, Kitty Kat, and Gomez's Cousin Itt, who is very short and covered in hair from top to bottom. The voice cast includes Oscar Isaac as Gomez, Charlize Theron as Morticia, Chloë Grace Moretz as Wednesday, Finn Wolfhard as Pugsley, and Nick Kroll as Fester. Owing to its success, the characters have been adapted for various other mediums, including movies, TV shows, games, comic books, and merchandise. You can stream 'The Addams Family' here.
7. Sonic the Hedgehog (2020)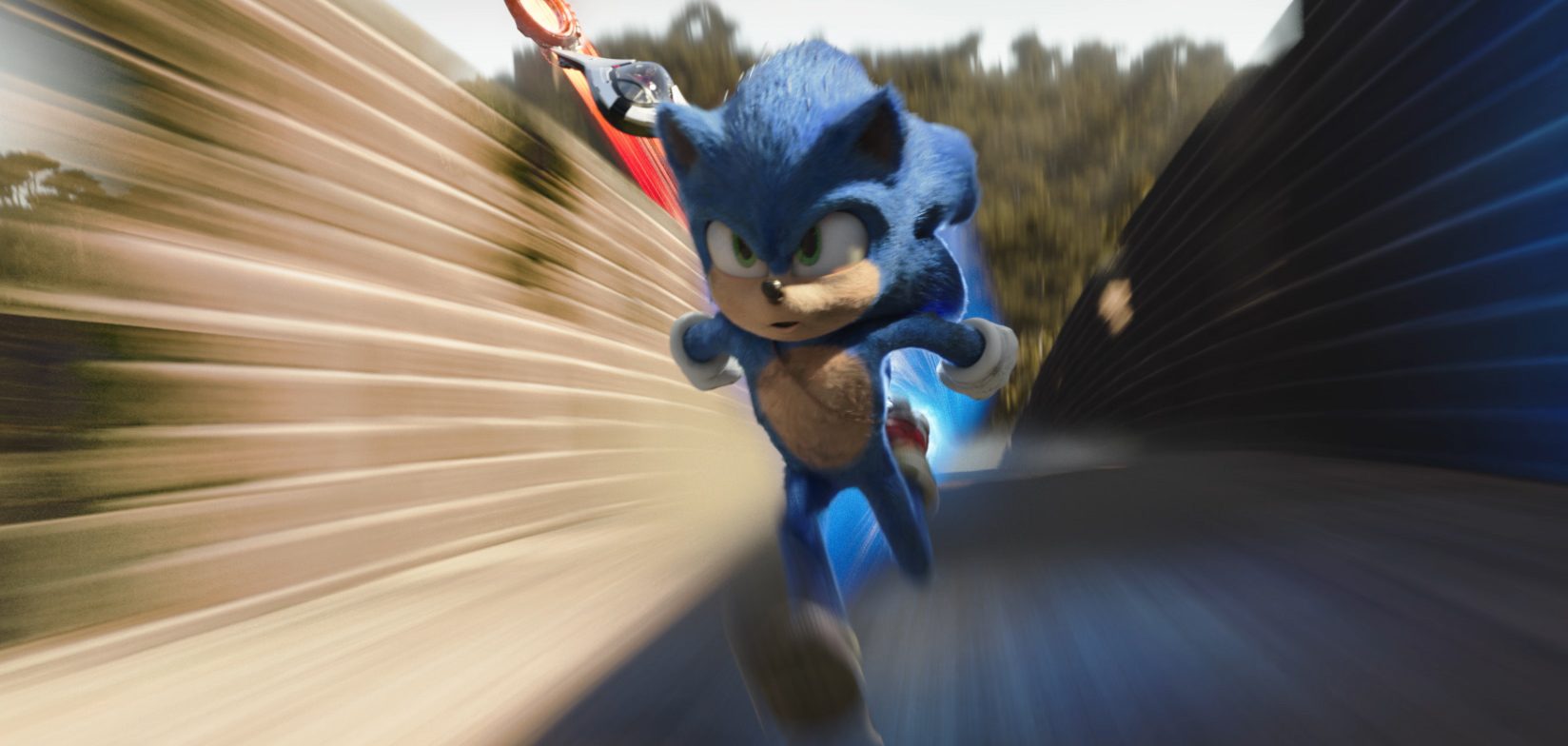 Based on the popular video game character Sonic, 'Sonic the Hedgehog' brings Sonic (voice of Ben Schwartz), the supersonic fast blue anthropomorphic hedgehog, to Earth after he escapes from those who want to harness his powers. However, he faces the same fate here as an evil scientist, Dr. Robotnik (Jim Carrey), who wants to use Sonic's powers to power his army of drones and robots and give shape to his dream of world domination. Aided by a human friend cum Sheriff, Tom Wachowski (James Marsden), Sonic will have to leave Earth, and the only way to do that is to find the rings he lost.
These rings allow him to open portals to different worlds. How he and Wachowski survive Robotnik and whether they are able to find the rings is what the CGI/live-action movie chronicles. While the Jeff Fowler directorial will be more effective for those who have played the game and are accustomed to the character and its different facets, the movie is an enjoyable one even for those who do not know the character and serves as a great introduction for Sonic. You can stream the movie here.
6. Indiana Jones: Raiders of the Lost Ark (1981)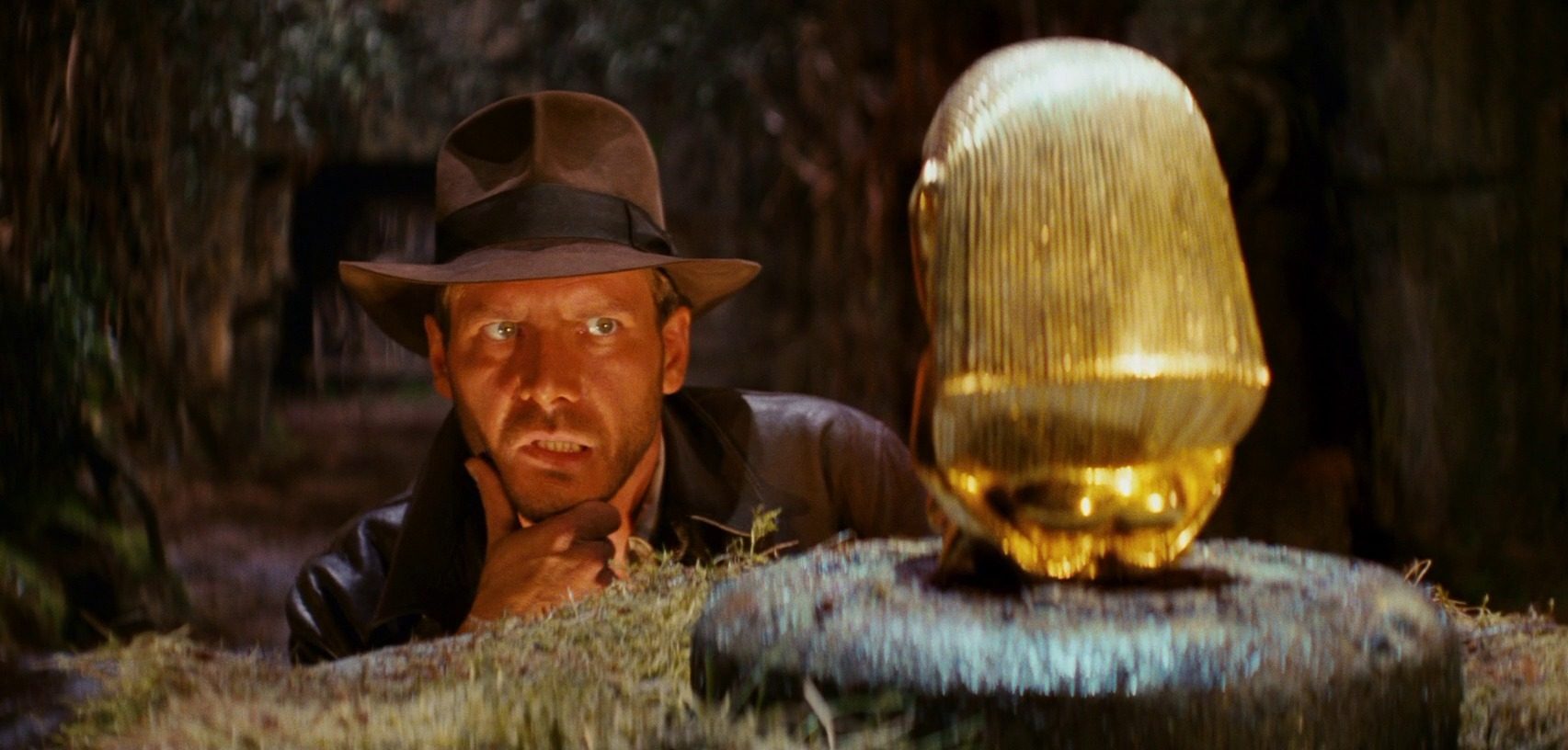 The first film in the Indiana Jones franchise, 'Raiders of the Lost Ark,' is directed by Steven Spielberg and based on a story by George Lucas and Philip Kaufman (writer/director, 'The Wanderers' (1979)). The idea first came to Lucas, who developed it with Kaufman in the 1970s, but it paused when Lucas shifted his concentration to 'Star Wars,' which was released in 1977. After 'Star Wars' was released, Lucas introduced the idea to Spielberg, and the two brainstormed on the stunts and the sets.
Then, they reached out to Lawrence Kasdan, who co-wrote 'The Empire Strikes Back' (1980), for the screenplay. The story of 'Raiders of the Lost Ark' introduces us to archaeologist Indiana Jones, a character immortalized by Harrison Ford, who goes up against the Nazis to find the Ark of the Covenant, an artifact that can turn any army undefeatable, and prevent it from falling into the Nazis' hands. A true-to-form action-adventure movie, this movie offers an exciting family binge-watch time. You may do so right here.
5. Teenage Mutant Ninja Turtles: Mutant Mayhem (2023)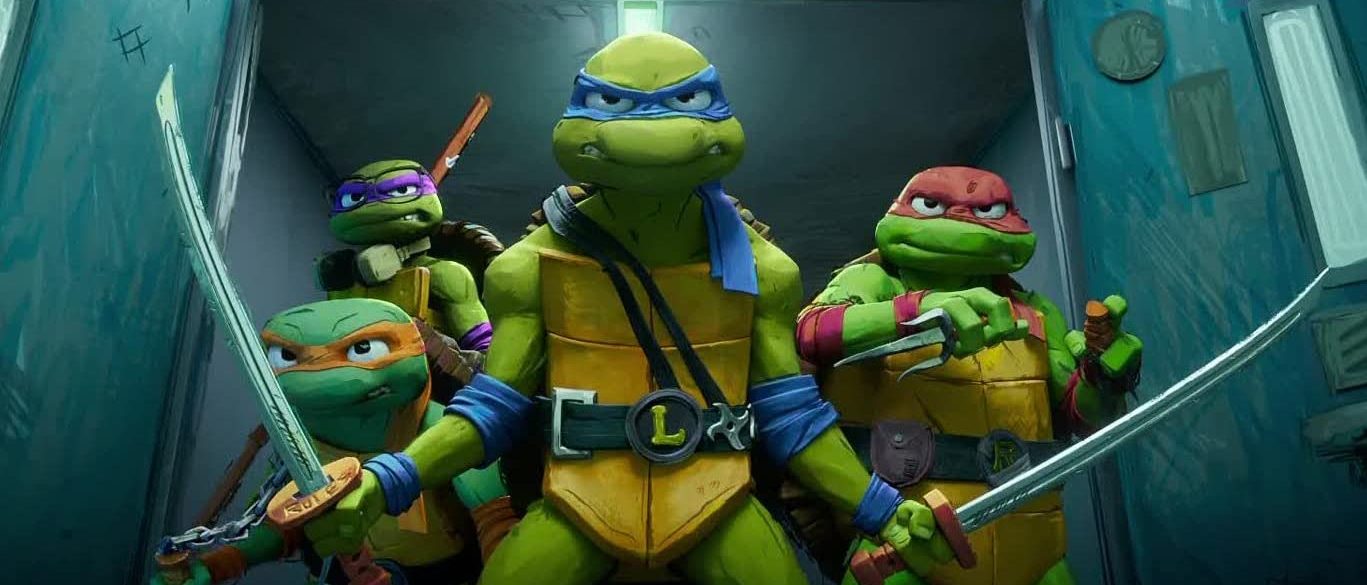 'Teenage Mutant Ninja Turtles: Mutant Mayhem' is the latest movie on this list. While many of us will already know the four turtles who were brought up by a ninja rat in the sewers, there are many who may not be familiar with them. Teenage Mutant Ninja Turtles are a group of four turtles, Michelangelo, Leonardo, Raphael, and Donatello, who are very well-trained in ninjutsu. Despite growing up in the sewers, they long for human interaction against their master Splinter's orders. What made these creatures sentient was a mutagen that fell into the New York City sewers.
The animated movie (7th theatrical release of the TMNT franchise) is directed by Jeff Rowe, who co-wrote the screenplay with Seth Rogen along with Evan Goldberg, Dan Hernandez, and Benji Samit. It shows how the turtles try to merge with the New Yorkers and make themselves feel accepted, but to do that, they will have to face a bunch of mutants bent on eradicating humans. The voice cast includes Shamon Brown Jr. as Michelangelo, Nicolas Cantu as Leonardo, Brady Noon as Raphael, Micah Abbey as Donatello, and Jackie Chan as Splinter. If you have kids who are more into action stuff, this movie will serve as a great watch that you can experience here.
4. Charlotte's Web (2006)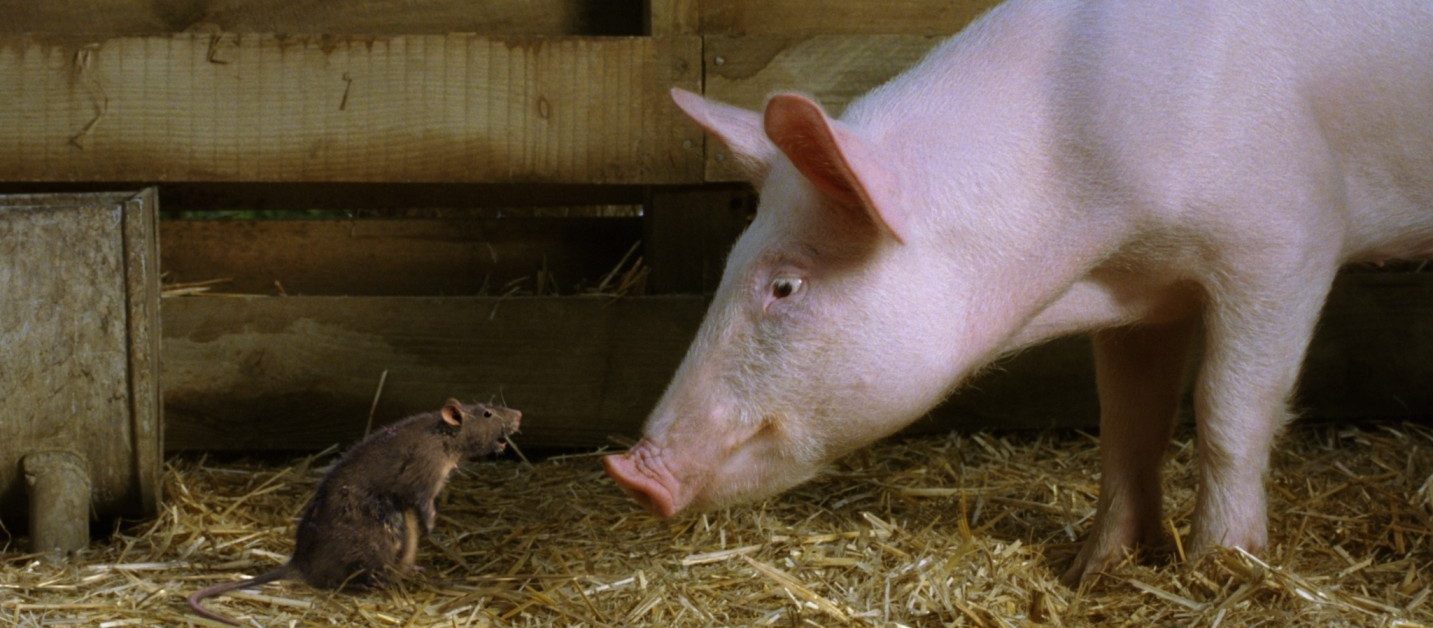 If anything, 'Charlotte's Web' will make you wish you could talk to animals. The movie is a CGI/live-action remake of the 1973 animated movie that itself is based on the popular E.B. White children's novel of the same name that was first published in 1952. It tells the story of Wilbur (Dominic Scott Kay), a little pig, who is left at a barn by Fern (Dakota Fanning), the daughter of a farmer on whose farm it was born. She didn't want her father to kill Wilbur and thus brought him there. At the farm, Wilbur finds out from the rest of the animals, including cows (Reba McEntire, Kathy Bates), sheep (John Cleese and Brian Stepanek among others), geese (Oprah Winfrey, Cedric the Entertainer), a horse (Robert Redford), a rat (Steve Buscemi) and a spider Charlotte (Julia Roberts), that he will end up as someone's supper before winter comes.
So, while he brings the whole farm together as one happy family, Charlotte decides to help Wilbur avoid his impending death by spinning the words "some pig" using her web. This is so that the owner of the barn doesn't kill Wilber. How the events unfold themselves as we see the animals interact with each other and chalk out a plan to help Wilber make the movie worth every minute of its 1 hour 37 minutes runtime. The voice cast of this Gary Winick directorial breathes magic into the already beautiful storyline, giving the viewers a wholesome experience. You can check out 'Charlotte's Web' here.
3. Lemony Snicket's A Series Of Unfortunate Events (2004)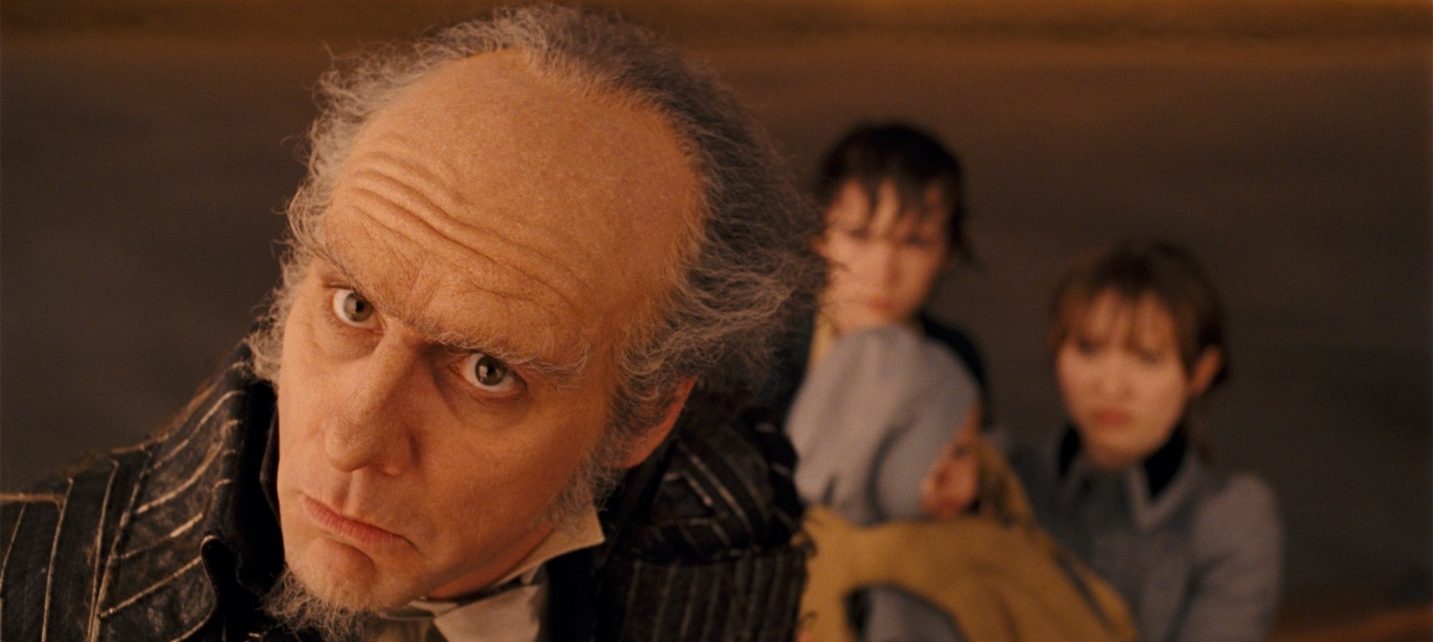 The description of fun would be incomplete without the mention of a movie featuring Jim Carrey. And 'Lemony Snicket's A Series Of Unfortunate Events' is one of the top contenders for that position. Directed by Brad Silberling, the movie tells the story of the young Baudelaire siblings, 14-year-old Violet (Emily Browning), 12-year-old Klaus (Liam Aiken), and their baby sister Sunny. After a fire burns down their mansion, the orphaned kids arrive at their distant relative Count Olaf's (Carrey) place.
Olaf, a stage actor, is a wicked, scheme-plotting, hideous fellow who wants to inherit the wealth that Violet is supposed to inherit. What follows are the different ways in which Olaf tries to get his hands on the inheritance, including a play that will make him little Violet's legal husband and, therefore, make him access the inheritance. And thanks to Carrey's craft, we have a ball throughout. Alongside those mentioned, the cast also includes Meryl Streep as the kids' aunt Josephine and Jude Law as Lemony Snicket, the guy who narrates the story. You can check out the film here.
2. Rango (2011)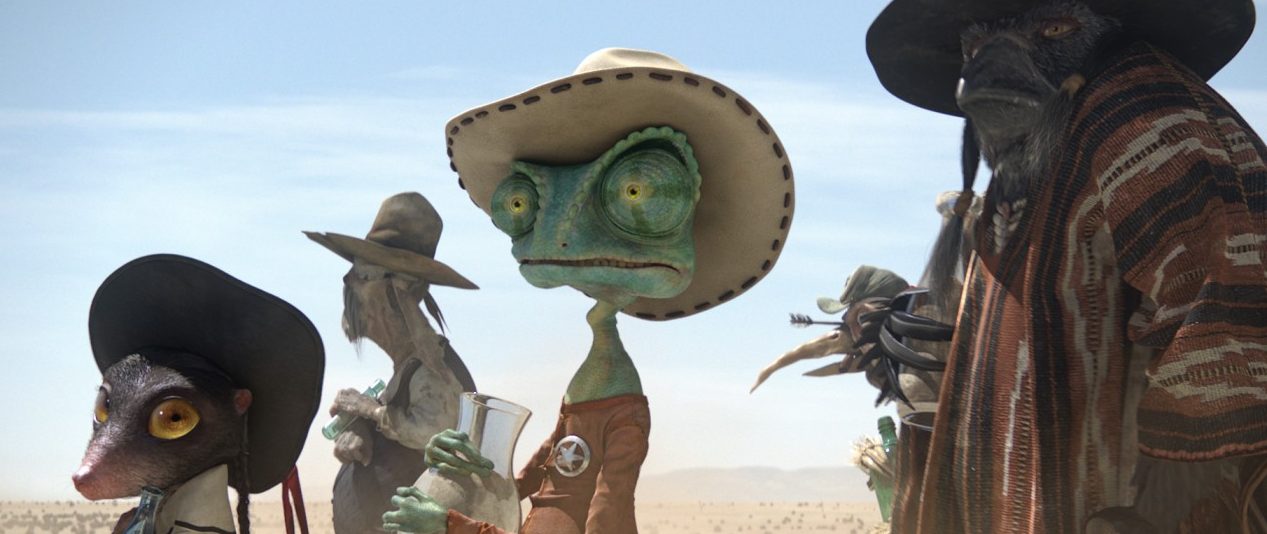 If there is ever an animal counterpart of Johnny Depp to be made, it should be a chameleon. Period. The way Depp has breathed life into the character of Rango, a pet chameleon who ends up in the Western town of Dirt, cannot be overstated. Directed by Gore Verbinski, the movie shows how Rango, using his passion for acting, convinces the Dirt folk (desert animals) about his shooting skills and is made the new sheriff of the water-deprived town after inadvertently killing a hawk that had been terrorizing the town.
Now, it is up to him to figure out a way to bring water to the parched land of Dirt and quench the thirst of all. His investigation uncovers a huge conspiracy that makes the movie akin to real life while keeping the movie with humor and entertainment. Alongside Depp, the cast of 'Rango' includes Gore Verbinski, Abigail Breslin, Bill Nighy, Alfred Molina, Isla Fisher, and Timothy Olyphant. Feel free to check out the movie here.
1. The Adventures of Tintin (2011)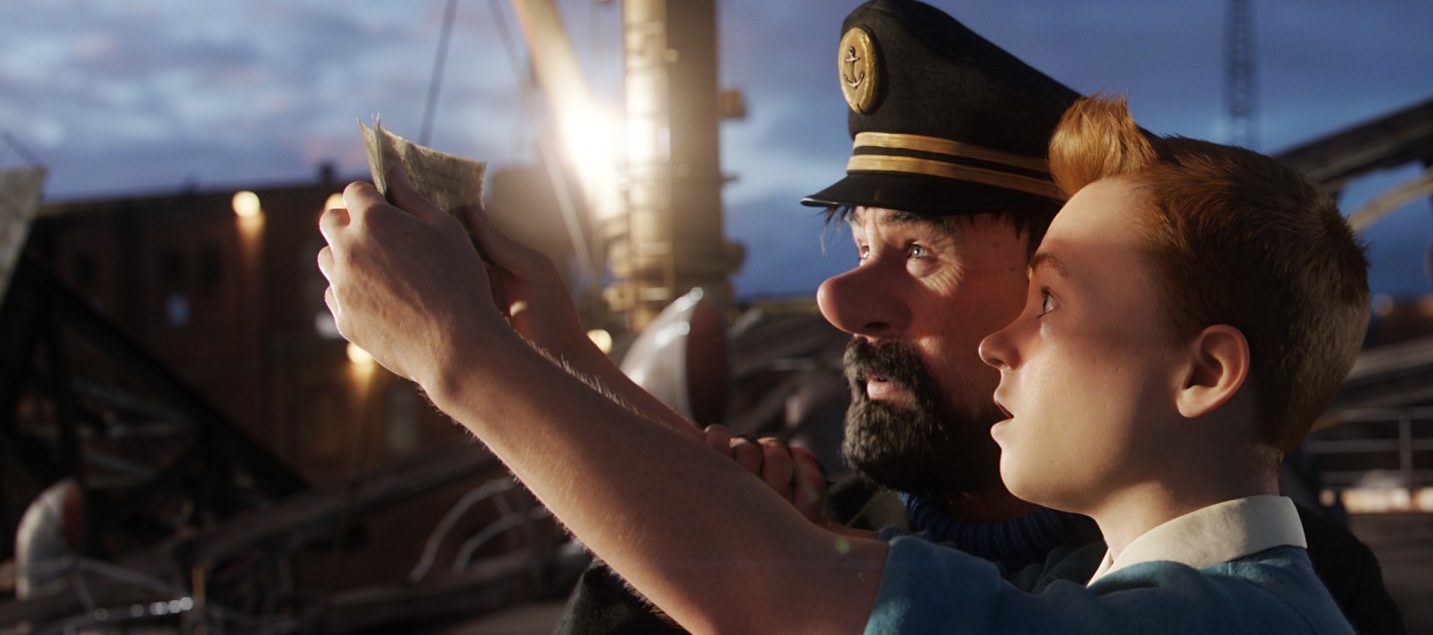 Director Steven Spielberg and Georges Prosper Remi, aka Herge, the creator of Tintin, were admirers of each other works. And while 'The Adventures of Tintin' came out in 2011, Spielberg bought its rights back in 1983 after Herge's death the same year. What's unfortunate is that the two guys were due for a meeting that didn't happen as Herge passed away. However, Spielberg took his time but ensured that the author's gift to mankind, in the form of the young sleuth and his pet dog, who first appeared in a supplement of the Belgian newspaper Le Vingtième Siècle in January 1929, whose stories the world would read for generations to come, received deserved justice on the big screen.
'The Adventures of Tintin' released to positive response, especially due to the way it remained faithful to the character designs and many accolades. For those who have read the Tintin stories, the movie brings together three of them, namely 'The Crab with the Golden Claws' (1941), 'The Secret of the Unicorn' (1943), and 'Red Rackham's Treasure' (1944). The voice cast includes Jamie Bell as Tintin, Andy Serkis as Captain Haddock, Daniel Craig as Red Rackham, Simon Pegg, and Nick Frost as Inspectors Thompson and Thomson, respectively. You can watch the movie here.
Read More: Best Animated Movies