Starring Saturday Night Live's Pete Davidson, 'Big Time Adolescence' revolves around a charismatic college dropout who takes a 16-year-old virgin boy under his shadow and then walks him down on a destructive path. Despite being Davidson's first film, 'Big Time Adolescence' has received quite an impressive critical response. According to some early reviews of the film, it is a great watch because of the freshness that it manages to bring to the screen with the incredible performances of its cast and Jason Orley's direction.
Speaking of which, apart from Pete Davidson in the lead, the film's cast also includes Colson Baker (better known as "Machine Gun Kelly"), Syndey Sweeney ('The Handmaid's Tale'), Emily Arlook, Thomas Barbusca, Oona Lawrence, and Jon Cryer ('Two and a Half Men'). If you haven't seen the film yet, go check it out on Hulu right away. And if you have already watched it, you must be wondering where its filming took place. Well, to know more about all the locations where it was filmed, read on further.
Big Time Adolescence Filming Locations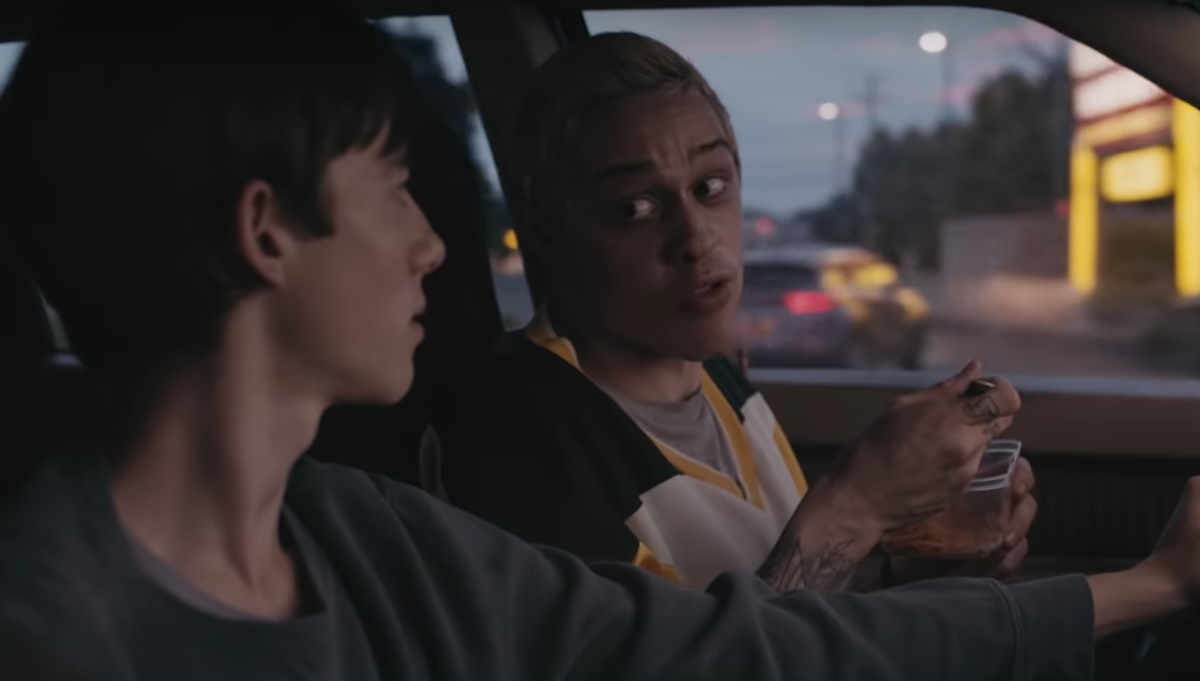 'Big Time Adolescence' first premiered at the Sundance Film Festival on January 28, 2019. Soon after this, Hulu acquired its distribution rights for $4 million. It has been directed and written by Jason Orley and the production companies behind the film are American High, LD Entertainment, and MXN Entertainment. The principal photography of 'Big Time Adolescence' began in July 2018 in Syracuse, New York. Apart from that, the production of the film took place in a few other locations of New York, including Manlius and Liverpool.
Syracuse, New York
According to the official website of Syracuse, Pete Davidson was spotted at a local mall and grocery store with his fiancè Ariana Grande. Other sources also suggest that its filming was specifically carried out in and around Central New York, including locations like Sylvan Beach Amusement Park, Palace Theater in Eastwood, the Sound Garden record store in downtown Syracuse, and Syracuse Studios in Liverpool which was earlier the A.V. Zogg Middle School. One of the producers of the film, Jeremy Garelick, posted a few pictures from the sets of the film on his official Instagram. Check it out below:
Jeremy Garelick, known for his work in 'The Wedding Ringer' and 'The Hangover', is the one who first decided to transform A.V. Zogg Middle School into a fulltime movie studio. Inspired by John Hughes' coming-of-age films, Jeremy Garlick now uses this studio for shooting his own high school-set comedies under the production company American High. Apart from that, the location is also used as a film school for aspiring filmmakers and actors.
Here's another picture posted by him from the sets of the movie:
Before the filming of the movie was initiated, Ariana Grande and Pete Davidson were also seen around Upstate New York, at a Subway restaurant in the Southern Tier town of Kirkwood. According to fans who spotted them there, they were only passing through the Binghamton area while making their way to Syracuse. Many fans later spotted the couple at Allentown Wegmans and even posted about it on social media. Check out the posts below:
MY FRIEND JUST MET ARIANA AT WEGMANS BRB WHILE I GO CRY

— meg (@torontobiebr) July 15, 2018
Pete Davidson, who is also the executive producer of the film, has earned a lot of praise for his role in the movie and several critics are now also comparing him with Matthew McConaughey's "Wooderson" in 'Dazed & Confused.' After the film's success, the actor posted a picture on his Instagram with co-star Griffin Gluck. Check it out below:
Read More: Best Comedy Movies on Hulu