The pleasures of indulgence and the hangover post that have always been one of the favourites of stoners and filmmakers alike. For ages, and across cultures, hangovers have intrigued us as to what happens to us during the limbo, when we tend to not care a damn about anything except for ourselves. 'The Hangover (2009)' was many of the firsts which tickled our funny bone on the very subject and yet, wasn't the last. The humour resulting in forgetfulness and the ensuing comedy of errors is rare yet enjoyable.
Movies like 'The Hangover' are the ones that revolve around a bunch of misfits, people who hate one another but are still friends, one fat guy with a beard, movies dealing with memory loss or with a morally upright guy trying to fix things. Sometimes, the humour and the pun is derived from an upcoming wedding setup or a party that's been planned, involving drugs, sultry women, infant sporting sunglasses, vacationing at exotic places, or missing people. With this list, we bring to you some rib-tickling, thoroughly enjoyable movies similar to 'The Hangover' and who knows you may not want to miss the movie trilogy yet again. Psst…Seth Rogen features in almost all of them. Here is the list of movies similar to The Hangover that are our recommendations. You can watch some of these movies like The Hangover on Netflix, Hulu or Amazon Prime.
16. Rough Night (2017)
Though 'Rough Night' has its own similarities with 'The Hangover', there are very stark differences too, which makes it far less hyped and one of the most overrated movies of the previous year. The movie features a girls' night out gone awry, with a dead male-stripper, a bunch of thugs disguising as the police and a kidnapping-like situation in the end. More or less, though it carries the vibes of 'The Hangover', the difference lies in the female leads, the closure in the end, and Scarlett Johansson. Watch it only for her, and only if you can!
Read More: Best Comedy Movies of All Time
15. Dude, Where's my Car? (2000)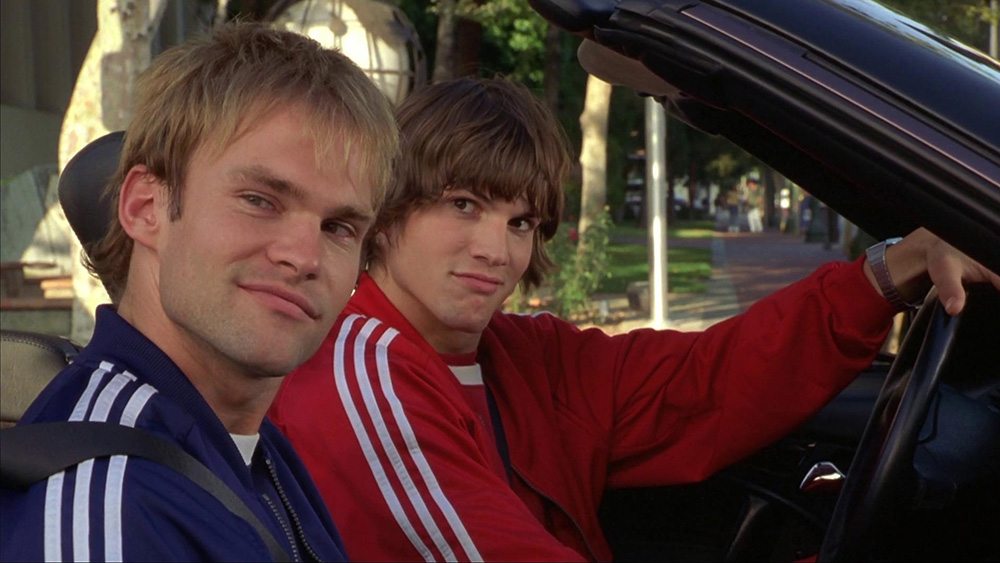 Calling 'Dude, Where's My Car?' a yesteryear cult movie and a predecessor of 'The Hangover' won't be a folly. Incidentally, one of the scenes features the protagonists waking up without any memory of the recent events, in the middle of nowhere, with unattended voice messages, and a missing car reminds us of 'The Hangover' in every sense. As the name suggests, the entire span of the movie is with the duo looking for their car, amid references to UFOs, aliens, weird puzzles, funny-looking dogs, and drunken dilemmas. 'Dude, Where's My Car?' gives a feel of a TV series more than a movie, perhaps either due to Ashton Kutcher's presence in it or the fact that we've been used to seeing him in various sitcoms or perhaps the movie as a whole is extremely overrated. Calling it a mess, yet an enjoyable but forgettable mess won't be wrong.
Read More: Funniest Comedies of All Time
14. Joshy (2016)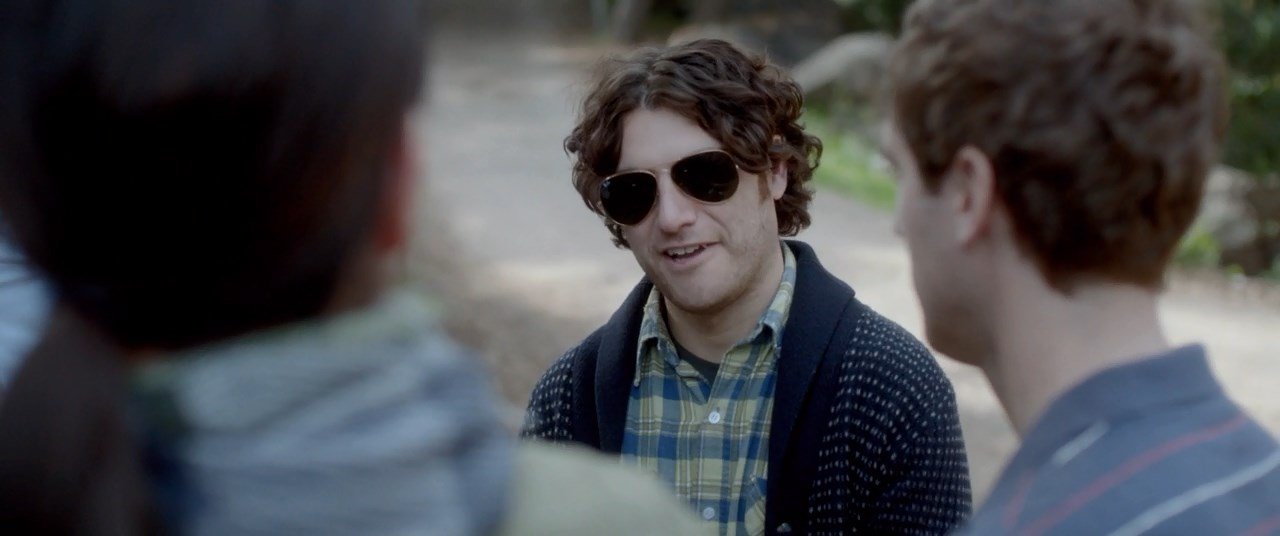 I guess 'Joshy' is one of the closest cousins of 'The Hangover', albeit with an underrated star cast and performances, both of which mostly went unnoticed. The movie encircles the life of Josh, who is on a delayed weekend bachelor party trip to a ranch, along with his group of four. As the story progresses and grim details are discovered about each of their lives, drugs and booze pour in, amid sex workers, Josh's dead fiance's parents, emotional confessions, and a lot of funny moments. 'Joshy' is like a toned-down version of 'The Hangover', plus more number of friends minus Zach Galifianakis.
Read More: Most Erotic Movies of All Time
13. Hall Pass (2011)
Featuring Owen Wilson, 'Hall Pass' is another tongue in cheek humour with two husbands who've been given a free pass by their wives for a week – to do whatever they want. As predictable as it gets, the husband-wife quarrels for the couples (and now the single husbands for a week) are to be quenched by having sexual encounters, something that's the reason behind the Hall Pass. Rick and Fred's bromance to down memory lane back to their bachelor days, along with their wives Grace and Maggie, who too want to be free birdies for a while is an enjoyable affair. There are moments of fun, albeit limited and shallow. 'Hall Pass' entertains in parts, yet few familiar faces and the uniqueness are winners.
Read More: Best Dark Comedy Movies of All Time
12. 21 & Over (2013)
'21 & Over' is like 'The Hangover' on so many levels – the drunken chaos, delirium, a severe blowout before a major event, crazy night-outs with friends, and sexual innuendos. Though the star-cast could've been better and even the storyline too, the performances take over the plot in the later part of the film. Overall, even though the film falls flat and has no depth or character development whatsoever, the story of Chang, Miller, and Casey is somewhat of an enjoyable affair. Watch it at your own risk – too many expectations may drown you.
Read More: Most Underrated Comedy Movies of All Time
11. Bad Moms (2016)
With 'Bad Moms' we're talking about a stunner and a Box Office blockbuster. With a sequel 'Bad Moms Christmas' and with a stellar cast of the likes of Mila Kunis, Kristen Bell, Kathryn Hahn to name a few, 'Bad Moms' revolves around a bunch of three moms who have been overburdened with their mundane routines and decide to take a break, with a night full of self-indulgence and splurging. While bachelorette parties and silly happenstances popping out of hangovers are dimes a dozen in many movies, what's different and a little disappointing about the movie is the underutilized star cast and also the unexplored storyline, with many loose ends. 'Bad Moms' is a stunner in terms of its humour and pun, whilst it fails in the conclusion and mostly sums up to nothing. Only Mila Kunis seems to carry the burden of the entire movie on her shoulders.
Read More: Movies Like Stuck in Love
10. Last Vegas (2013)
Perhaps the only movie in its "niche" segment, 'Last Vegas' surrounds a group of four elderly friends – Billy, Archie, Sam, and Paddy who are on their "last" trip to the Vegas, as Billy has decided to end his decades-long bachelorhood and get married. If nothing, the movie can be easily called as another render of 'The Hangover' redone with the old-timers. Apparently, Vegas is not what it used to be, which tests their patience and their bonds of friendship with each other. Enjoyable, yet a bit of a drag, given we've watched 'The Hangover' multiple times, this Vegas' affair is a one-time watch.
Read More: Best Comedy Movies of 2017
9. The Night Before (2015)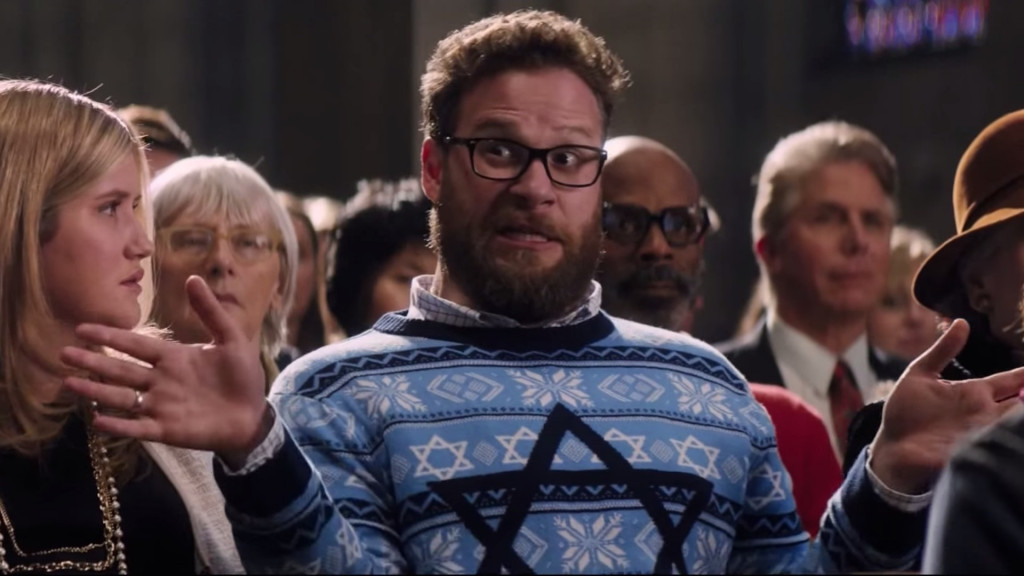 Surrounding 'Nutcracker Ball' – an off the league party and three friends who were trying to explore and exploit their ways out of it, 'The Night Before' gets funnier with each passing moment. Perhaps one of the best comedies made around Christmas Parties, drugs, and over-complicated grown-ups, 'The Night Before' also brings forth Joseph Gordon-Levitt and Seth Rogen in leading roles, with Anthony Mackie among others. This R-rated comedy is possibly the best parting kiss between the trio of three friends who have been partying every Christmas in a memorable way and everything that could possibly go wrong with their last one. Watch it before the Night ends.
Read More: Best Comedy Movies of 2015
8. Get Him to The Greek (2010)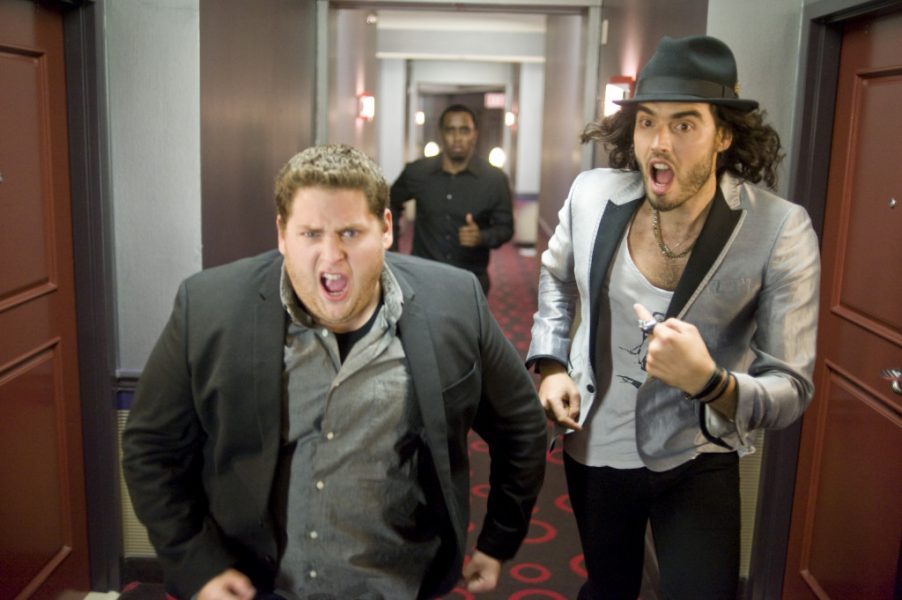 Officially a spin-off of 'Forgetting Sarah Marshall', 'Get Him to The Greek' is primarily an out and out Russell Brand's show with him reprising his role of a rebellious rock-star Aldous Snow whose career is apparently on a decline post his stint with his ex that was Sarah Marshall (Kristen Bell). Notably, Bell also has reprised her role in this movie by giving a cameo. Aaron (Jonah Hill) who works at a record company is entrusted with the task of giving Aldous one last break at performing something worthwhile by escorting the latter to LA, only to fall into the trap of drugs, attempted threesomes and what not. Ultimately, Aldous' goal of performing at the Greek Theatre is realised, which is when the bromance between Aldous and Aaron starts brimming. The performances and the slapstick funny moments are plenty and they won't let you take a nap during the film even if you want to.
Read More: Best Comedy Films of 2016
7. EuroTrip (2004)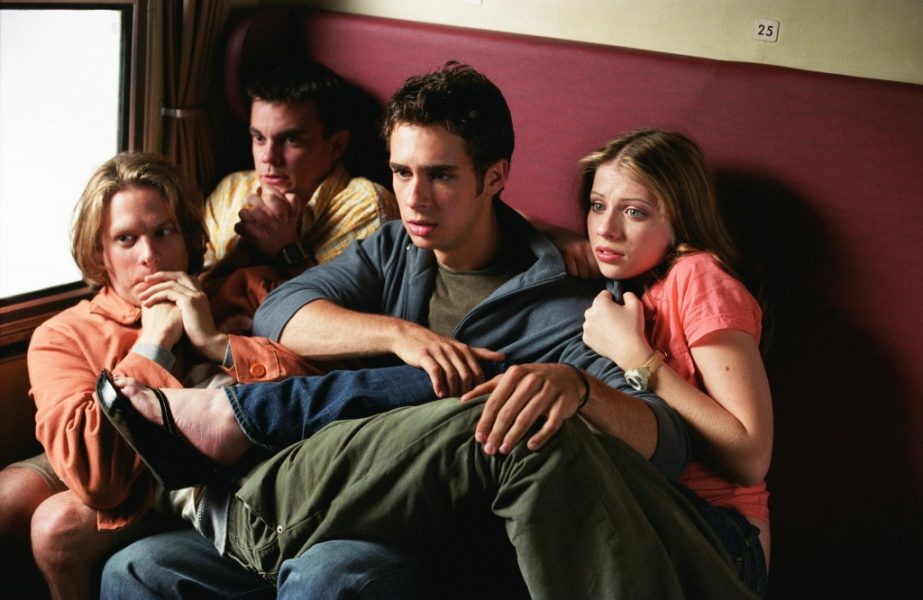 The teenage cocktail comedy which we might have watched at least a million times, 'EuroTrip' needs no introduction among the bunch of movies with similarities to 'The Hangover' or 'American Pie' series. Despite all the sexual innuendos, overdone nudity or the uneven storyline, 'EuroTrip' has known to become one of the most "sought after" movie for all the reasons – good or bad. The movie encircles the lives of a bunch of teenagers who are on their trip to Europe in search of one of their pen friends and find themselves in soup every other moment. Funny with a plethora of embarrassing moments, yet silly and inexplicable in its own way, 'EuroTrip' is so bad that it is good.
Read More: Best Funny Family Movies of All Time
6. Due Date (2010)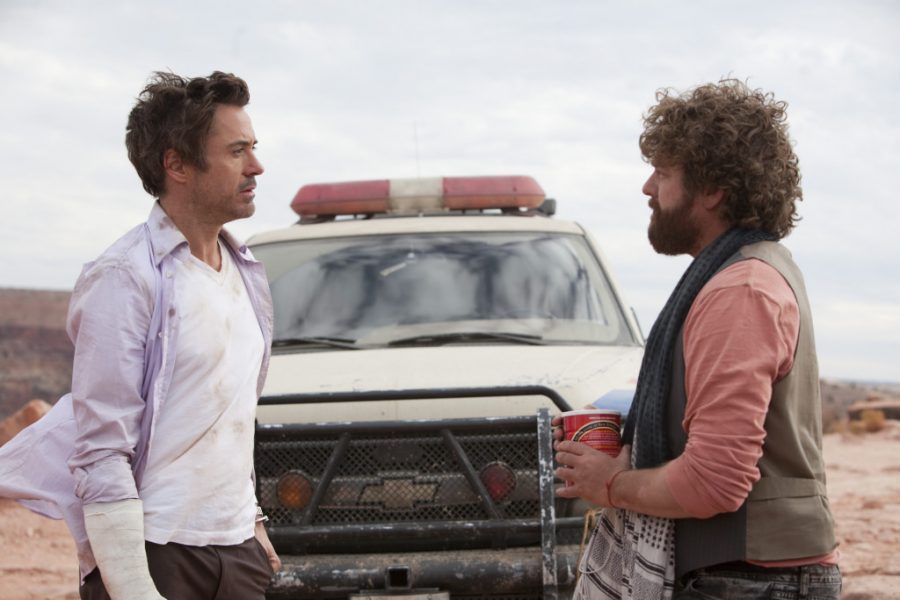 The frustration combined with a series of misinterpretations and bad luck lead Peter Highman miss his flight and being added to the no-fly list, just because he was using his phone prior to a take-off and one of his "friends" that was Ethan Tremblay makes him use the word "bomb" real loud. While Peter wants to reach LA before his wife Sara delivers their baby, Ethan agrees to take him on a crazy drive across half the country, only to end up losing and gaining Peter's "friendship" all the way and in the meantime, making some worthwhile confessions too. Perhaps one of the funniest movies of its time, thanks to Zach Galifianakis' impeccable timing and RDJ's flawless performance, 'Due Date' cannot be missed or delayed. Go watch it, now!
Read More: Movies Like 27 Dresses
5. This is the End (2013)
Fearless and bold are the words apt enough to describe this exceedingly funny movie, wherein many leading actors are seen playing themselves in the aftermath of a party followed by an apocalyptic "end of the world" happenstance. Comprising James Franco, Seth Rogen, Emma Watson, Jay Baruchel, Jonah Hill et al in a crowded party at Franco's house, the aftermath includes a killer earthquake, when everyone's survival instinct kicks in, and time is the ultimate test for them amongst a scarcity of resources. Stoned celebs, booze, breaking things, delirium, and mild profanity form the core of the film. And adding Channing Tatum to the mix makes it even sexier. More than one merely watching it, 'This is the End' is only the beginning of a scintillating experience.
Read More: Best Comedy Movies of the 1990s
4. Pineapple Express (2008)
Another team-up of Seth Rogen and James Franco in a movie belonging to a similar sub-genre, 'Pineapple Express' moves a few notches higher with respect to its violence, crime, and drugs graph. Dale Delton is a stoner who, while on a trail of high-potency marijuana known as Pineapple Express, witnesses a murder and the whole story goes back to him trying to get away from hot pursuits and crooked cops and crazy drug lords. Incidentally, the drug dealer who sells Pineapple Express to Dale Denton is Saul Silver, played by James Franco. Fun Fact – Pineapple Express is the real strain of cannabis, just like the "roofies" from 'The Hangover' that cause memory loss, albeit temporarily. One helluva ride, 'Pineapple Express' could be one of the underrated movies with a brilliant script and equally stellar performances.
Read More: Best Comedy Movies of 2014
3. Knocked Up (2007)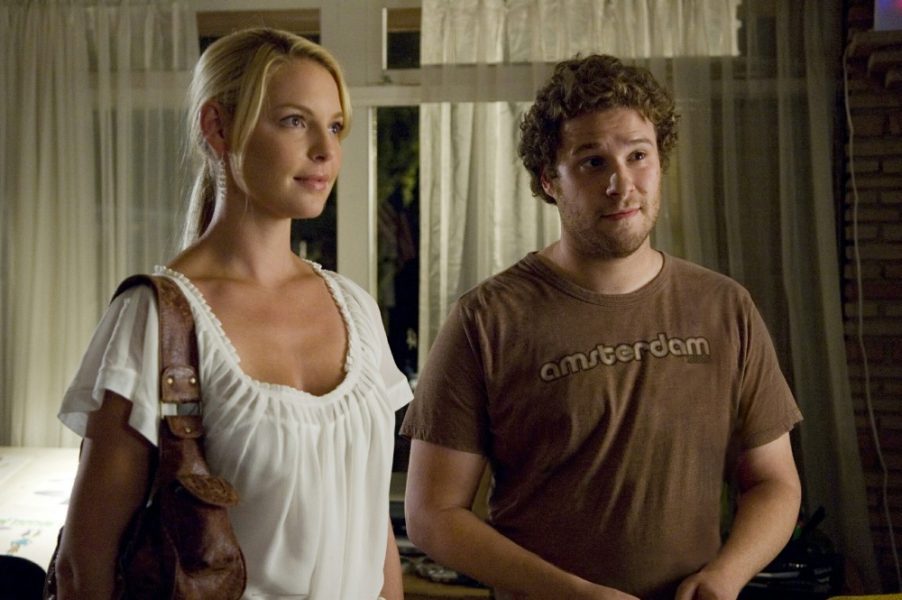 Yet another Judd Apatow's venture which features Seth Rogen and James Franco, along with Jason Segel and Paul Rudd among others, 'Knocked Up' is over the top and unexpectedly funny with a coherent storyline, and yet with a very predictable ending. Seth Rogen as Ben Stone leads a sedentary life, when, upon having a one-night-stand with Alison and getting her pregnant, his life takes a U-turn and so does Alison's. What follows is a love-hate relationship between the two as Alison decides upon keeping the baby, while Ben has a crazy road trip with Alison's sister Debbie's husband Pete (Paul Rudd). 'Knocked Up' is an absolute winner in terms of its performances and script alike, again with Seth Rogen as a stoner nailing in his class act. This will definitely get you knocked up without any drugs.
Read More: Movies Like Triangle
2. We're the Millers (2013)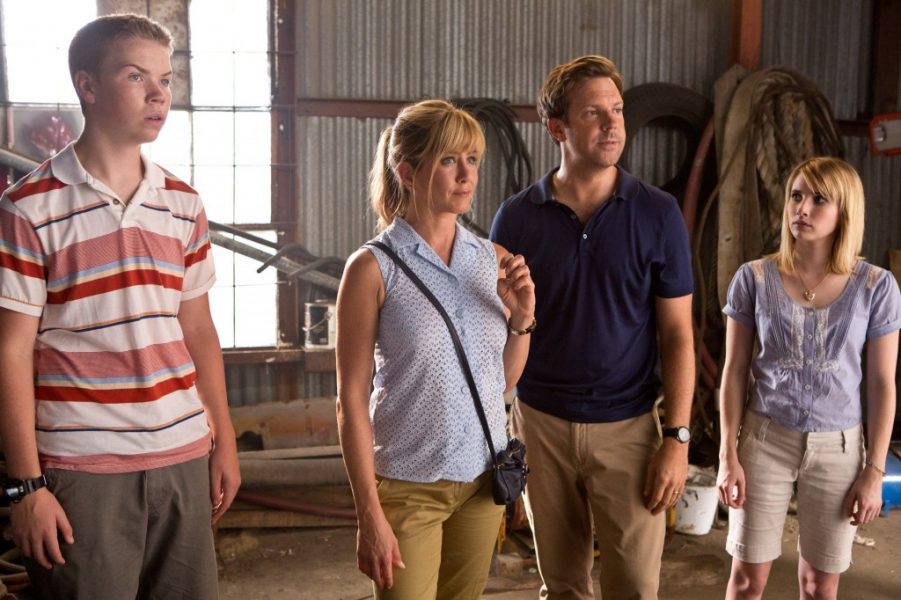 For David Clark a.k.a. David Miller, googling the difference between a drug dealer and a drug smuggler doesn't turn out to be a happy affair, neither does his and his "family's" transformation in being one. He decides to take up the big assignment from his overseeing drug lord by agreeing to "smuggle" drugs out of Mexico in a caravan, alongside a fake family, the Millers – comprising Sarah Miller – a small-time and now jobless stripper as his wife, Kenny, David's neighbour as his "acting" son, and Casey, a runaway girl as his "acting" daughter. The initial friction, along with Jeniffer Aniston's sultriness, and the misunderstandings form a subtle comedy of errors that's thoroughly enjoyable. And moreover, the closure and the rib-tickling dialogues are not to be missed. Easily the best movie performance of Jason Sudeikis.
Read More: Movies Like Lost In Translation
1. Superbad (2007)
Perhaps Judd Apatow's best work till date and the numero uno of movies with drunk kids, drugs, booze, and anticipatory sex,yet with everything bombing miserably towards the end, starring Jonah Hill and Michael Cera, 'Superbad' is the classic example of wannabes and friends and their attempts at having a booze-soaked night with the girls they like. It goes without saying that Jonah Hill, since forever, has excelled at his comic punches and his impeccable timings, which is also evident from his performance in the film. And Michael Cera fits in his role as any teenager would, albeit in a monotonous way. The duo gets in trouble with the police as the movie progresses and plans of having uninitiated sex seemingly goes awry, eventually ending up in their reconciliation. 'Superbad' could perhaps be the most practical of all the high-school afterparty and friendship movies out there and the funny moments add to its fervour.
Read More: Movies Like Horrible Bosses