Love is very complex in all its forms. "Stuck in Love" explains such complexity through the Borgens. William, an acclaimed writer, his ex-wife Erica and their teenage children slowly realize that romance, friendship, and family are not easy to conciliate. This movie tells a tale of family, of finding and losing love, how an ending can be the beginning of something new. Written and directed by Josh Boone, this film manages to surprise many even today due to its masterful cinematography, indie look, and authenticity. We have tried to come up with a list of some great films similar to Stuck in Love that are our recommendations. If you are interested, you might be able to stream some of these movies like Stuck in Love on Netflix or Amazon Prime or even Hulu.
14. Valentine's Day (2010)
Valentine's day can be really tricky. Couples and singles have a lot of expectations around the 14th of February. In "Valentine's Day" we follow a group of people who live in Los Angeles trying to survive around this time of the year. Jessica Alba, Jessica Biel, Bradley Cope and Anne Hathaway are just some of the fantastic actors that belong to this big and amazing cast. Besides having great chemistry, the cast does a great job portraying real-life situations. Furthermore, the movie has a strong direction, a hint of unpredictability and good dialogue (with some good one-liners). All of this makes "Valentine's Day" a movie you should watch sooner rather than later.
Read More: Movies Like Die Hard
13. Adult World (2013)
Amy is a naïve college graduate who believes she will be a great poet. However, she has to accept a job in a shop while she pursues a mentorship with a reclusive and famous writer. Starring Emma Roberts, Evan Peters, and John Cusack, "Adult World" is an independent film well worth a watch. It is a coming of age story very well done, from the acting to the direction. Heartwarming, beautifully tender and delightful.
Read More: Movies Like Jack Reacher
12. Men, Women & Children (2014)
This movie follows a group of teenagers and their parents that are trying to navigate life. It is a reflection of how the internet has changed the way we live, from our communication, relationships to how we see ourselves and others. The film looks at several social issues such as video game culture, infidelity, eating disorders, and fame. No one is or was immune to the change the internet, smartphones and even computers brought to our society. "Men, Women and Children" has a strong script that follows the struggles of each family through a unique and entertaining way. Written and directed by Jason Reitman and featuring an amazing cast, this is a must watch if you enjoyed "Stuck In Love".
Read More: Movies Like Nightcrawler
11. He's Just Not That into You (2009)
Set in Baltimore, this drama follows five women and four men that try to figure what love and romance. This is a movie about what love really is, finding Mr. Right and building a life together. "He's Just Not That into You" is a chick flick kind of movie that is charming, clever and funny. With relatable and realistic dialogue and a talented cast, you should watch this one if you enjoyed "Stuck in Love".
Read More: Best Movies Similar to 'Mean Girls'
10. Perks of Being a Wallflower (2012)
Based on the novel written by Stephen Chbosky, this film follows 15-year-old Charlie (Logan Lerman), an outsider, coping with first love (Emma Watson), the suicide of his best friend, and his own mental illness while struggling to find his place in high school. "The Perks Of Being A Wallflower "may not be the most faithful adaptation but the spirit of the story is still there, therefore doing great justice to the book. Besides the amazing performances by the whole cast, this film also has a powerful dialogue that is very honest and realistic. Although the directing is nothing extraordinary, the music score is filled with well-known songs that will make you want to sing (and cry) while watching the movie.
Read More: Movies Like Tangled
9. Love and Other Drugs (2010)
Maggie (Hathaway) is a free spirit who won't let anyone tie her down. But then she meets Jamie (Gyllenhaal). Maggie and Jamie's evolving relationship takes them both by surprise, as they find themselves facing many adversities and challenges. Although the plot is not innovative or original, director Edward Zwick still managed to create a great movie with a good message. With the support of the two main actors (who actually were nominated for best performances in the 2011's Golden Globes), "Love and Other Drugs" is a good drama about growing together and leading with difficult choices.
Read More: Movies Like Boyhood
8. Crazy Stupid Love (2011)
Cal (Steve Carell) and Emily (Julianne Moore) have a perfect life together. At least until Emily asks for a divorce. Now Cal has to learn how to be single again with the help of his bachelor friend Jacob Palmer (Ryan Gosling). Although Cal's life is the main story, the movie also focuses on the romantic lives of other secondary characters. Directors Glenn Ficarra and John Requa created a movie with tremendous heart and charisma that will stay on your mind for some time. Although the overall message may be one to debate, it doesn't really matter because it is worth the ride.
Read More: Movies Like Mission Impossible
7. The Kings of Summer (2013)
Directed by Jordan Vogt-Roberts, "The Kings of Summer" is an adventure comedy that follows three teenage friends tired of being controlled by their parents and responsibilities. Together, they declare independence, by deciding to build a house in the woods and living off the land. With the right amount of comedy and emotion, "The Kings of Summer" is a sweet and independent coming of age movie with a great storyline. What makes the movie great is the likable cast that acts in a very natural way.
Read More: Movies Like Nerve
6. Now is Good (2012)
Tessa Scott is a young girl diagnosed with leukemia. After she finds out she is probably not going to survive, she compiles a list of things she'd like to do before passing away. The first item of the list is losing her virginity.
"Now is Good" is a drama about living every moment and loving every minute. Adapted by director and screenwriter Ol Parker, this is a moving movie that will surprise you due to the fantastic performance of actress Dakota Fanning. The young actress built a sensitive and realistic portrayal of a teen diagnosed with leukemia. With a brilliant cast and great direction, "Now is Good" is an underrated film that you should watch.
Read More: Best Movies Similar to 'Perks of Being Wall Flower'
5. About Time (2013)
Twenty-one-year-old Tim discovers he can travel in time and change what happens and has happened in his own life. His decision to make his world a better place by getting a girlfriend turns out to have unexpected consequences. Directed and written by Richard Curtis, "About Time" a witty, intelligent, charming, sweet film with surprising depth and heart. Besides focusing on the time-traveling plot, it also focuses on the father-son relationship between Tim and his dad and the romantic relationship between Tim and Mary. It stars Rachel McAdams and Domhnall Gleeson.
Read More: Movies Like Shutter Island
4. Love Actually (2003)
In this movie, we follow the lives of eight couples and their daily lives. Set in the month before Christmas in London, "Love Actually" is all about falling in love and out of love, meeting the right people or making mistakes. Emma Thompson, Liam Neeson, Colin Firth, Keira Knightly and Martin Freeman are just some of the many wonderful actors that brought this movie to life. Although this romantic comedy has a great storyline, the movie would not be the same without this strong and talented cast. "Love Actually" is the perfect movie to relax and watch with your loved ones.
Read More: Movies Like Zodiac
3. The Spectacular Now (2013)
Sutter Keely lives in the now: he is a charming and self-possessed high school senior with no plans for the future. But after being dumped by his girlfriend, Sutter gets drunk and wakes up on a lawn with Aimee Finecky hovering over him. She's different: the "nice girl" who reads science fiction and doesn't have a boyfriend. Despite their differences, they are somehow drawn to each other. "The Spectacular Now" is a great teen drama that portrays teens as complex and intelligent human beings. Although it may seem too slow for some people, it is a great film that does not focus on stereotypes or cheap tricks. It stars Milles Teller, Shailene Woodley, and Brie Larson.
Read More: Movies Like Mamma Mia!
2. The First Time (2012)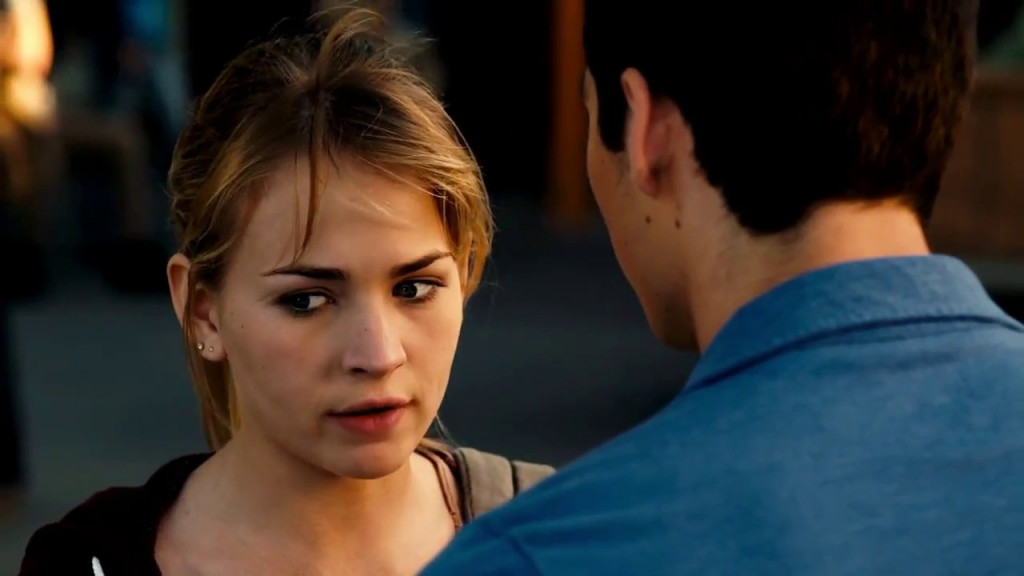 One night at a friend's house party, a confident teen, Dave (Dylan O'Brien), meets an artistic girl named Aubrey (Britt Robertson). "The First Time" is the story of how they fall in love with each other over one weekend. It is a tale of first love and how confusing it is to experience love for the first time. Besides having witty dialogues and decent acting, this movie has a phenomenal soundtrack, each song is able to shine at the right moment. That is why this movie resonates with so many people around the world.
Read More: Movies Like Love Simon
1. Love, Rosie (2014)
Rosie and Alex know each other since they were 5 years old, and they have been friends ever since. "Love, Rosie" is a modern movie about true love, missed opportunities and making the right choices. It will make you believe that anything is possible and that you should never lose hope. Lily Collins and Sam Claflin play Rosie and Alex in such a charming way, it is impossible not to empathize with them. Hopeless romantics, realists and pessimists will all love the incredible story portrayed in "Love, Rosie".
Read More: Best Movies Similar to 'The Spectacular Now'