The comedy of the 1990s was unprecedented not just in its sheer scale, but also the creative themes of the movies. It ranged from simple and direct slapstick to as surrealist and abstract as can be. Actors like Jim Carrey, Robin Williams, and Bill Murray enriched this genre with their impeccable comic timing and spontaneity.
It was a decade that created cults and classics out of several movies. These films are still entertaining the present generation and shall do so for the years to come. Here is the list of top comedy films of the 90s that will surely give you a time of your lives.
13. City Slickers (1991)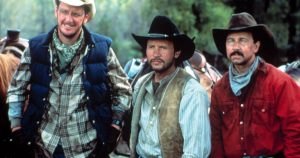 Three married friends experience dullness in their lives. To find an end to their midlife crises and get their smiles back, these three urban men set out on a journey across the South Western on a cattle drive. Their journey is fraught with adventures and misadventures. So, this is a comedy Western with Billy Crystal in the lead. In the wake of reigniting their masculinity, these men try to pretend like the 'rurals' and when confronted with the real ones, get outwitted by them.
Read More: Best Comedy Movies of All Time
12. Office Space (1999)
A thankless job and a monotonous routine make a group of colleagues finds novels solutions to the problem. Exhausted by the mindless protocols, they decide to casually disregard every regulation and code to get fired. Despite repeated attempts, they find no success. Ultimately they decide to install a virus in the office computer system. This movie resonates with all our lives, and every one of us can relate with the aspiration for a better life.
Read More: Funniest Comedies of All Time
11. Clerks (1994)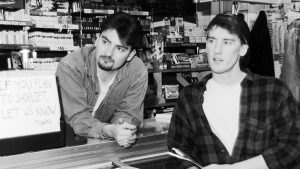 Director Kevin Smith puts the most dreary and ignorable profession as the central theme of a comedy movie. An immodest, episodically structured realistic film is driven more by its dialogues than by the plot. These retail clerks chat, make fun of the customers, discuss movies and enjoy their 'boring' lives. This movie was shot in black and white, amateurish style, whose potential was realized and appreciated by the critics.
Read More: Most Erotic Movies of All Time
10. Home Alone (1991)
Almost every 90s kid has grown up watching this Christman film. An eight-year-old boy gets mistakenly left behind by his family that's going to Paris for a vacation. Although, in the beginning, he's chuffed to bits to take charge of the house, things become tricky when thieves enter his house. He gives them a tough fight and outwits them by unleashing his troublemaking self. This Chris Columbus film created a star out of Macaulay Culkin who went on to do many such roles for the years to come.
Read More: Best Dark Comedy Movies of All Time
9. Liar Liar (1997)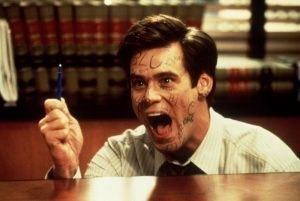 An unscrupulous compulsive liar builds his career as a successful lawyer on the basis of his lies. His life turns upside down when his son wishes to create an honest man out of him. He cannot stop himself from blurting out the truth, and the situation goes out of his hand. Jim Carrey and the 90s was the perfect combination that brought a laughter ride almost every year of the decade for the audience to have a great time.
Read More: Most Underrated Comedy Movies of All Time
8. Groundhog Day (1993)
An insolent, brash weather reporter (Bill Murray) travels from Pittsburg to Punxsutawney, Pennsylvania to cover the groundhog day. He has unfounded contempt of the place, its festivities, and its people. He half-heartedly covers the report and makes plans to leave the place next day itself. But, wakes up to find that he has been stuck in a time loop and relives the same day over and over again. He lives each and every moment like there's no tomorrow (quite literally). in the process, developing respect for life, people, and love in his life.
Read More: Comedy Movies 2016
7. Dumb and Dumber (1994)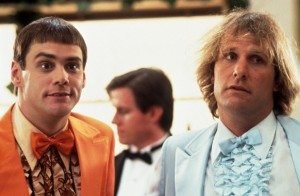 This slapstick comedy rollercoaster has acquired a cult status. Two dumb-witted but gullible friends stumble upon a briefcase with ransom money. They Commence on a journey fraught with misadventures and mayhem. Although, a story about two intellectually challenged chaps, this riotous comedy is witty, tightly written, and excellently executed by Jim Carry and Jeff Daniels. Even the over-the-top visuals, the peculiar rib-tickling look of the main characters, the costumes and the dog-shaped car contribute enormously.
Read More: Best Comedy Movies of 2017
6. Ed Wood (1994)
It's a Tim Burton movie with Johnny Depp as the controversial Ed Wood. That's a reason enough for not giving this masterpiece a miss. This biopic of a director known for making low-budget, sci-fi, sexploitation, pulp fictions is as eccentric, funny and celebrates the life of Ed Wood. His rise up the ladder of success in the face of criticism, his affairs, and his popularity is given a new life by this black and white film that has a life of its own. It hauntingly reminisces about his movies and his much talked bout personal life and direction style.
Read More: Best Comedy Movies of 2015
5. My Cousin Vinny (1992)
Billy and Stan are falsely accused of a murder. Billy calls in distant cousin Vinny, a brash, inexperienced and ignorant attorney to defend him. This courtroom comedy is a laugh ride. It was critically acclaimed for its depiction of the courtroom, and an unconventional comic timing by Joe Pesci and Marisa Tomei. Tomei also won an Academy Award for Best Actress in a Supporting Role for playing Lisa, Vinny's girlfriend. The lurid and swanky caricatures coupled with a smart and witty screenplay amalgamate to create a classic comedy.
Read More: Best Comedy Films of 2016
4. Mrs. Doubtfire (1993)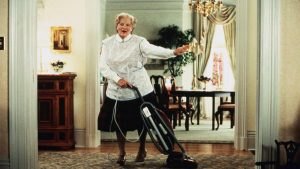 Daniel is a divorced voice actor, who strives to put his family back together, for which he must disguise himself as an unrecognizable housekeeper. He becomes a Scottish old woman with the help of prosthetic make-up, to win the hearts of his children and wife. The family becomes fond of this new member, while Daniel struggles to not let his true self come in the open. With a stellar cast of Robin Williams, Sally Field and Pierce Brosnan, this Chris Columbus movie is funny and sensitive.
Read More: Best Funny Family Movies of All Time
3. As Good As It Gets (1997)
This is the most recent film to have backed both, the Academy Awards for Actor and Actress in a Leading Role. it's an endearing tale of an unlikely friendship between a misanthrope best-selling novelist, his gay neighbour, and a waitress. While one has a character flaw, the other two are struggling in their lives. While the waitress has an ailing son to tend to, the neighbour gets all bruised-up in a robbery. They pool in their flaws and misgivings to form an unusual relationship that's full of laughs, love and tenderness.
Read More: Best Comedy Movies of 2014
2. There's Something About Mary (1998)
Following their success from 'Dumb and Dumber', the Farrelly brothers made a film that's blend of fun, love and confusion. The film got critical and commercial acclaim, winning itself several awards and nominations. In 'There's Something About Mary', we start with a failed prom date between Ted (Ben Stiller) and Mary (Cameron Diaz) and end with how Ted has to weave through the web of lies made by Tucker (Lee Evans) and Pat (Matt Dillon), who Ted had hired earlier to pursue Mary and who, in turn, had fallen for her. The film compels you to laugh and keeps you enthused about what would happen next, thus making itself worth a watch.
Read More: Best Comedy Movies of All Time
1. The Big Lebowski (1998)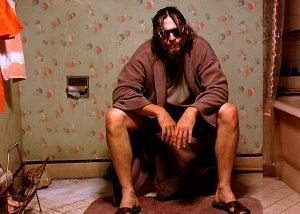 The Dude shall bestow upon you the greatest present of comedy in a finely directed film by The Greatest- The Coen Brothers. It has quirky characters, interesting screenplay, and surreal dream sequences. 'The Dude' Lebowski is the most chill slacker in the town who enjoys his time at the bowling alley. He is mistaken for the millionaire Lebowski by two goons who pee on his rug.
While trying to recompense his rug from the wealthy fellow, he entwines himself in the kidnapping case. Jeff Bridges remains his true relaxed self while playing the role of an unemployed Dude (Lebowski). John Goodman plays his temperamental friend, who is a Vietnam veteran. Julianne Moore is the mysterious daughter of the old millionaire Lebowski. This movie has become a cult favorite.
Read More: Comedy Movies 2015