Some anime are deep and leave a heavy impact on you that changes the way you see the world. But then there are also other anime that are so ridiculous and cringey, you can't help but enjoy them for some very strange reason. From the beginning itself, 'Blend S' very well establishes that it is going to offer a lot of fun to its viewers. The personalities of each character are goofy in the most different ways and clearly, every aspect of it has been designed for the sole purpose of making the viewers laugh. Honestly, every single thing has been highly exaggerated and is over the top but the best part about the anime is its level of self-awareness.
Another aspect of the storyline that caught me by surprise is how smoothly everything is delivered. Even though it follows a 12-episode format, not even once does it rush through the plot. It feels like every single episode has a connection with the previous ones and all of it is delivered with the utmost satisfaction. Many viewers point fingers towards its dead plot but I personally feel that it does really well with what it had to work with. I do agree that it lacks a well-defined plot but what else can one expect from a slice-of-life comedy anime? Sometimes, all you need to do is appreciate the fact that something very refreshing is being served on the plate with a genre that has become very repetitive over the years.
'Blend S' never boasts of an intricate plot and never promises that it's going to offer anything more than silly comedy. And frankly, it doesn't even need all of that in order to be successful. It's the kind of show you start watching with no expectations at all but then you end up enjoying it more than you had ever imagined. Even the animation is surprisingly good because A-1 Pictures has never really done much of this genre before. The false personalities of the characters that have been portrayed in the form of parodies are clearly visible and even the mannerisms and designs of the leads have been done almost perfectly.
It might look like 'Blend S' hasn't put too many efforts into anything and has taken an easier route towards popularity. But if you think about it, many anime try to build an intricate plot with interesting and unique characters. While some of these do succeed, most of them are not able to live up to the standards of the "slice of life" genre. 'Blend S' is in no way spectacular, but it's the kind of show that you can sit back, relax and watch while enjoying some lighthearted comedy. And that itself is enough to make it a pretty good anime.
Blend S Season 2 Release Date: When will it premiere?
'Blend S' season 1 premiered on October 8, 2017 and came to an end on December 24, 2017. The first season of the anime only covers two volumes of the manga and as of now, the manga has a total of 5 published volumes. The manga is still ongoing and even the show has gained enough popularity to get a new season.
While there have been no confirmations from the studio's end yet, it is very likely that there will be a season 2 in the coming years. The first season was very well accepted by the anime community and making season 2 can clearly be commercially beneficial for the creators. So there's no reason why they would hold themselves back from creating a new one. The only concern is that almost all studios are caught up with many upcoming projects for the year 2019 and that's the reason why we will have to wait for a while to receive any confirmation. But we are confident that 'Blend S' season 2 release date could fall sometime before 2021.
Blend S English Dub:
You can stream 'Blend S' on Crunchyroll with its original Japanese audio and English subtitles.
Blend S Plot:
'Blend S' revolves around the life of a 16-year-old girl named Maika Sakuranomiya, who is desperate to get a part-time job. She really wants to start saving money now, so that she can later study abroad but every time she applies for a job, her application gets rejected. Her applications are all fine but the only problem is her picture where she has this weird, menacing look. Every single time she smiles, she unintentionally tends to make a very weird face, which is actually the opposite of her otherwise cheerful personality.
After many failed interviews, Sakuranomiya tries her hand at the unique Cafe Stile where the servers are supposed to interact with their customers while role-playing all kinds of characters. The store manager of this Cafe, whose name is Dino, instantly falls for her and offers her the job. The role that she has to play here is that of a sadistic person which she knows she can pull off really well. Though she is a little clumsy in the beginning, she manages to successfully serve some of her masochistic customers by applying her new brutal persona. Once she starts to get a hang of it, she decides to use her unique weirdness and also displays cruelty, which in turn makes her a prominent member at the cafe.
Blend S Characters:
Maika Sakuranomiya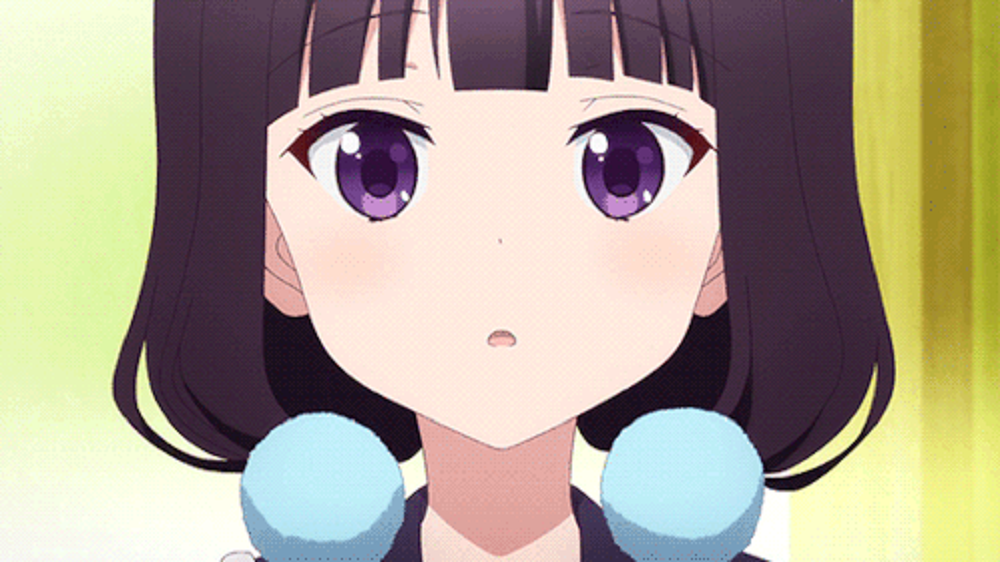 Maika is the main protagonist of the show. She is a very cheerful person in general, but every time she tries to smile in front of the camera, her face forms a very weird sadistic expression. While everyone else rejects her job application because of her sadistic look in the picture, a store manager named Dino sees potential in her and hires her as the barbarous server. She is asked to treat her customers badly but despite that, she often feels guilty for being rude to her customers. She has always dreamt of visiting foreign countries and dreams of studying overseas.
However, Maika knows that her family may not really support this decision because of their orthodox mentalities. So now, she is saving all her part-time job money so that later she can use it for studying abroad. Maika has purple eyes and natural black hair that is tied up in two low-lying twin tails. She has a very sweet personality and she cares about everyone around her. She hates being rude to people, but now, that is what she's getting paid for.
Kaho Hinata
Kaho is also a waitress at Dino's Cafe and has to play the role of tsundere. She has an average height with blue eyes and long blond hair that she ties up into two twin tails. She is quite well known for being really attractive and having a nice figure. This often makes other girls jealous when they are around her as she gets all the attention. Though her role play version at the cafe is that of tsundere, in real life, she is completely the opposite of that.
Kaho is a relaxed, kind and friendly person who enjoys the company of others. Often, when she overhears her customers talking about video games, she feels the need to join them and talk all about it but she can't risk losing her job, so she controls this feeling. Her love for video games is beyond anything else and that's also one big reason why she is the second most popular waitress at the Cafe. She gets scared very easily, especially when she's left alone in the dark.
Dino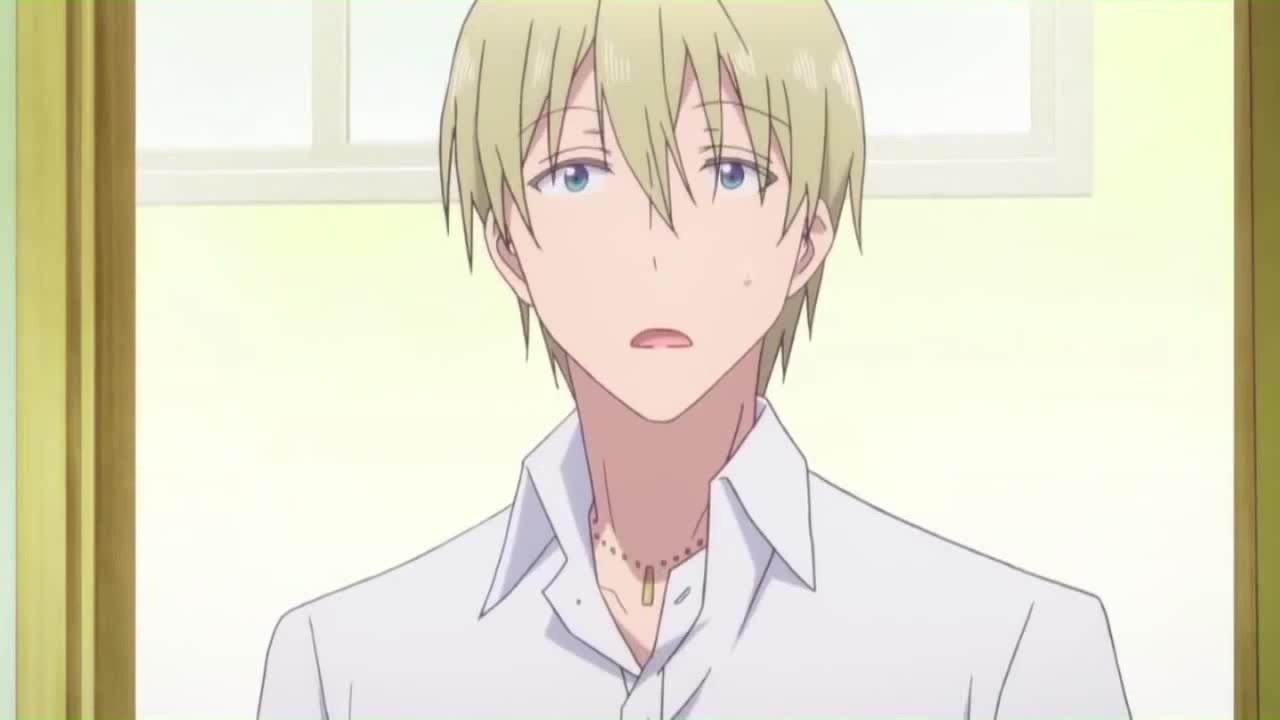 Dino is a 26-year-old Italian chef who also manages the Stile Cafe. He has a thing for cute anime girls and their figurines and he also stays up late at night to watch his favorite anime shows. Every time he gets really excited, his nose starts bleeding. This happens quite a lot when he's all into watching his favorite anime. He has a fetish for black haired Japanese girls and that's the reason why as soon he sets his eyes on Maika for the first time, he develops a huge crush on her. He is even very open about how much he admires her but Maika still remains oblivious to his feelings for her.
Dino doesn't look all that bad either and many girls find him cute because of his well-groomed look with his blond hair. He has pale skin, blue eyes, and perfect eyebrows. He lives right above the Cafe and apart from being a chief and a manager, he also enjoys taking pictures of things that he really admires. From the beginning itself, it is shown that Dino is really into Maika. When he finds out that there may be a possibility of her dating someone else, he feels really sad about it. Later, he claims that he will never give up on her. Even though he's really into her, he somehow fails to express how he truly feels about her.
Read More in Anime Preview: Kyoukai no Kanata Season 2 | Neon Genesis Evangelion Season 2