While watching a professional wrestling match is certainly a thrilling experience, its excitement only increases with impeccable commentary, as showcased by the Lead Announcer of Ohio Valley Wrestling (OVW). We are, of course, talking about none other than Bryan Kennison, whose contribution and dedication to the company are certainly evident to see in Netflix's 'Wrestlers.' Naturally, people are quite curious about what he is up to these days, and we are here to explore the same!
Who is Bryan Kennison?
A Kentucky native, Bryan has long been a fan of wrestling whose entry into the actual industry is nothing short of magical. Initially, he and Steve Johnson, his co-commentator, had a small-scale podcast dedicated to wrestling. He ended up hosting Allen Ray Sarven/Al Snow, the CEO of OVW, as his guest on one occasion and could not help but volunteer to be a part of OVW if Al needed any help. To this, the OVW executive agreed easily and invited them to television.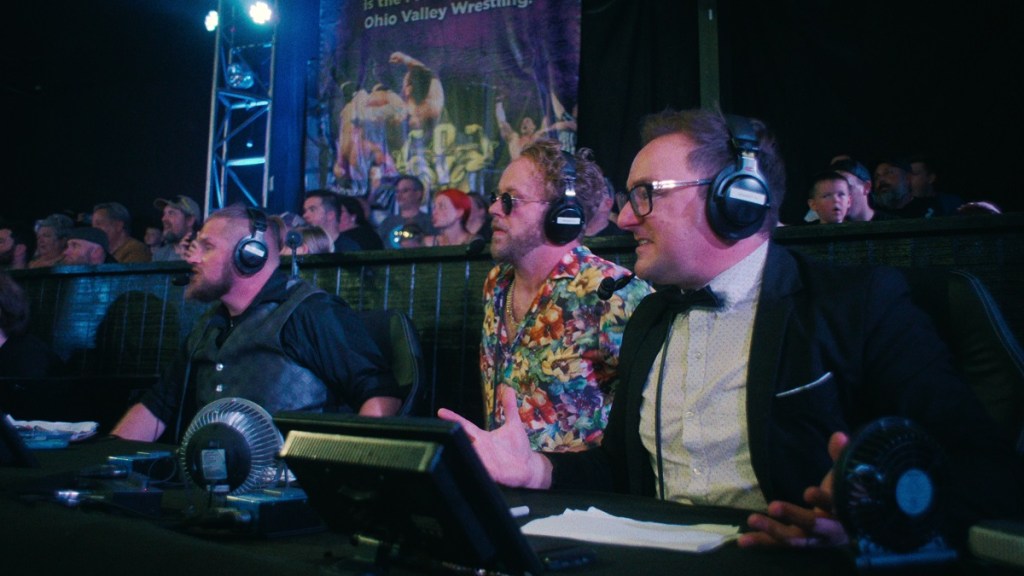 As Bryan recalled on the show, when he and Steve went to OVW to help, Al handed them a camera and asked them to start shooting, marking the beginning of their journey with the esteemed wrestling organization. A University of Louisville graduate, Bryan has been a Producer/Promotions Manager for OVW since January 2019. Even today, he often works as the cameraman to film behind-the-set scenes like the one between Maria James and HollyHood Haley J that was seen in the Netflix series.
Bryan became the Lead Host and Commentator of OVW in January 2020, a position he is quite proud of. Tagged as one of the most "unique" backstage interviewers in the history of "OVW," his ascension to become the "Voice of OVW" has certainly been interesting. During his time on the Netflix show's first season, the new owner, Matt Jones, had warned Bryan that should there not be enough revenue generated from the company by the end of August 2022 due to lack of viewership, his job might be in danger. This made the commentator extremely anxious, given his respect and love for OVW. He continued to promote OVW as much as possible, even hanging up posters in local areas and thinking of new ideas. In the end, his job was not only secure, but he also earned much praise from others.
Where is Bryan Kennison Now?
As of writing, Bryan is quite happy with the opportunities that he has gained from OVW. The commentator has his own fan following, and he even has his own line of merchandise on Pro Wrestling Tees. Additionally, he has a Cameo account and is now often featured as a guest in different podcasts, an evident role reversal from his past years. Presently, he seems content with his work and has undoubtedly been excited about his Netflix debut.
Talking about his personal life, Bryan is happily married to Ashley Kennison, and their bond is quite endearing. They enjoy spending time in each other's company and are never shy about sharing pictures of their vacations with their fans. Bryan is also quite close to his son, Xhayden, whose custody he shares with his son's mother. In turn, Xhayden also seems to have a good bond with Bryan and Ashley, which makes the OVW commentator immensely happy. Additionally, Bryan has a beagle named Leedsavelt, whom he loves very much, though he is, at the same time, also allergic to him. We wish him the very best in life and hope to see him succeed even more in the future.
Read More: Jake Lawless: Where is the OVW Wrestler Now?