Adapted from Konami's video game that goes by the same name, 'Castlevania' captures the very essence of the good old vampire anime like 'Hellsing' and 'Trinity Blood' that brimmed with deep folklore, dark humor and of course, bloodshed. What started off with just a four-episode run has now turned into one of the best animated shows that Netflix has to offer. For the ones who are familiar with the games, the show hits you with the right amount of nostalgia and even for the uninitiated, it offers a lot more than would expect from its short runtime.
Now that its third season is underway and it's been quite some time since its first season premiered, you might want to look back at some of its pivotal moments just to make sure that you're well versed with its storyline. So here is everything you need to know about its first season before you venture further into the series.
Dracula's Revenge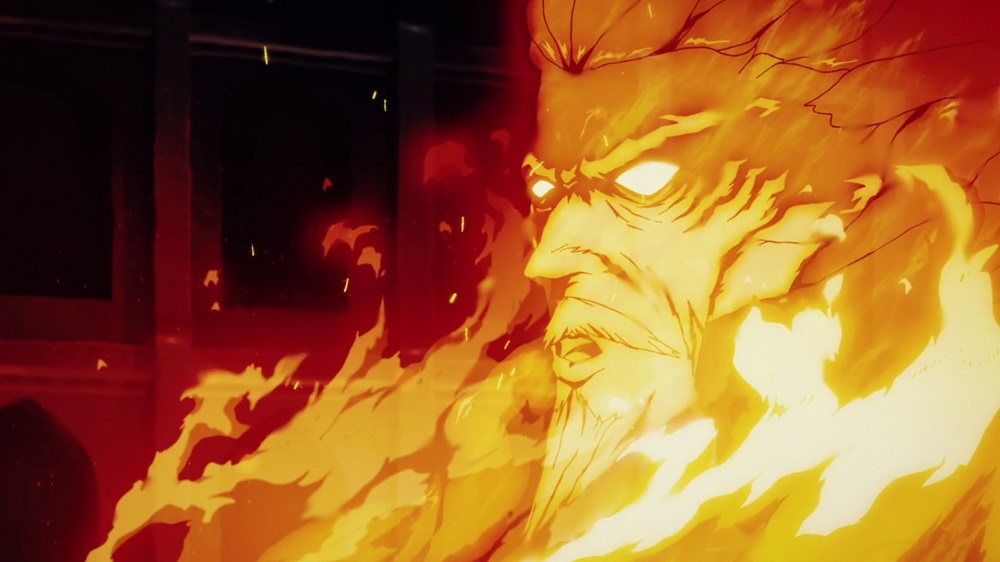 In 1455 Wallachia, a woman named Lisa seeks answers to questions the world isn't prepared for. She arrives at the dark mansion of the mysterious Vlad Țepeș and aspires to know everything that he can teach her about "science." This sparks a relationship between the two and they soon end up getting married.
Twenty years down the lane, in the town of Târgoviște, ignorant masses of people who are blinded by their own faith, are led into believing that she's a witch. She is burned alive and that's when Vlad appears in front of the masses and vows that in one year's time, he'll unleash hell upon them. As he promised, exactly after a year, Vlad returns with an army of demonic beasts that rain over the town like a thunderstorm, destroying everything that crosses their path.
Trevor Belmont—A Ray of Hope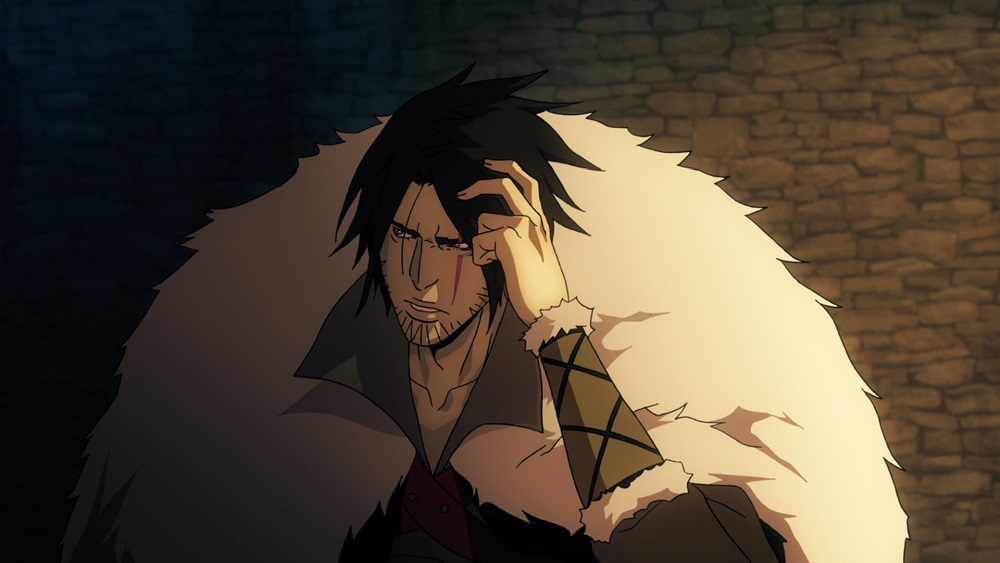 Meanwhile, somewhere in the city of Gresit, the son of the noble monster-slaying family, Trevor Belmont, wraps his drunk around a local bar while overhearing locals cursing and blaming his family for the recent demonic attacks. Doing his best to stay out of trouble, he manages to get himself out of there and ends up running into other magic users known as Speakers who, like him, are being blamed for Dracula's fury.
Determined to get them out of there safely, he makes a deal with the Elder Speaker: if he's able to bring the body of his missing granddaughter from the dark catacombs of the town, they'll comply with his request and leave before dawn. The Elder agrees and Trevor embarks on a quest to find his granddaughter, who went out looking for a legendary hero known as the "sleeping soldier."
Sypha—The Witch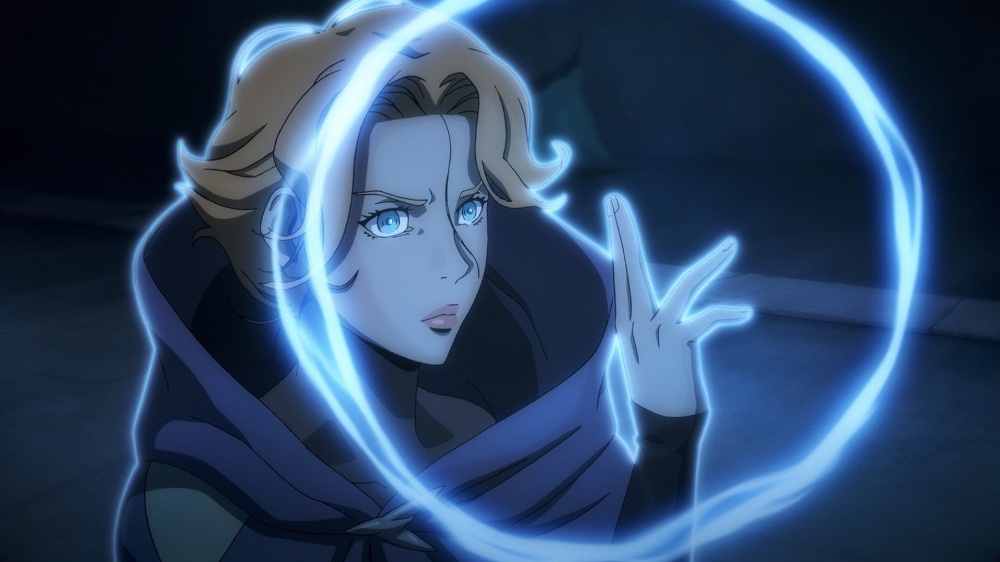 As Trevor delves deep into these catacombs, he notices that they have stark similarities with what he thinks he knows of the devices in Dracula's castle. As he ventures further, he finds photorealistic stone sculptures and that's when a cyclops attacks him. With ease, he defeats the one-eyed monster and rescues the Elder's granddaughter, Sypha Belnades. Unfortunately for him, even after returning her to her grandfather, the Speakers refuse to leave town. The local bishop even offers Trevor the opportunity to leave town before sundown and let the locals deal with the Speakers, but he chooses to stay. He hides the Speakers in Cyclops' cave and takes on the angry mob all by himself.
Alucard—The Sleeping Soldier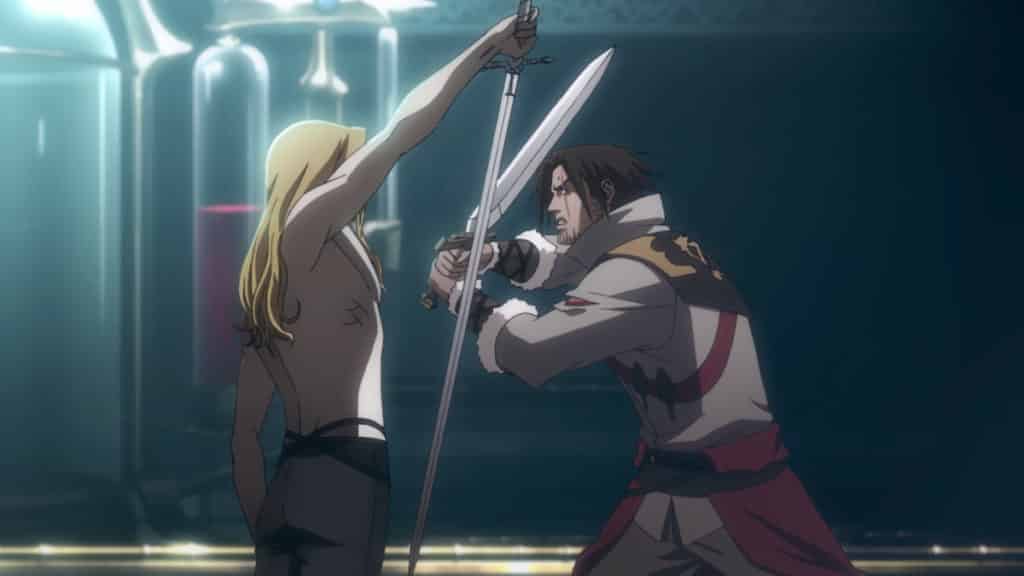 The sun sinks below the horizon and with it, comes a darkness that carries the ghastly demons of hell. The bishop is mercilessly killed and while Trevor tries to escape from there, Sypha arrives to help him using her own magical abilities. The two of them help the locals establish some defense against the demons but somewhere between this fight, the ground underneath them suddenly breaks open and they find themselves in the secret catacombs buried underneath the city.
This is where they meet Adrian, also previously referred to as the "sleeping soldier", who reveals to them that he spent a year healing himself after trying to fight his own father, Dracula. Claiming to be Alucard, Adrian starts battling Trevor but soon realizes his true resolve and agrees to join forces with him and Sypha. With this, the three of them set out to challenge the Dracula and finally bring an end to his madness.
Read More: Shows Like Castlevania