Animation is one of the best inventions to have happened in the world of audio-visual medium. With the arrival of animation, the scope of the medium immediately broadened by leaps and bounds. However, with the increase in use of animation to tell stories for children, the form has remained constricted in its scope for a long time. It took us quite a few years to realize that animation can be used to tell stories which can be deeply political, philosophical, or socially relevant.
It was only after 'The Simpsons' premiered in 1989 that the whole world took notice of the power of animation in telling stories that adults can relate to. And since then, there has been no looking back. Interestingly, it was also the time when graphic novels for adults started becoming popular. And together, these two similar-yet-different expressions led to the creation of some astounding pieces of art in the late 20th and the 21st century. Adult animated shows are now aplenty on television. These shows mainly act as a sharp critique of the mechanized, consumerist, and depraved modern lifestyle. With all that said, here's the list of really good adult animated shows on Netflix that are available to stream right now:
10. Futurama (1999-2013)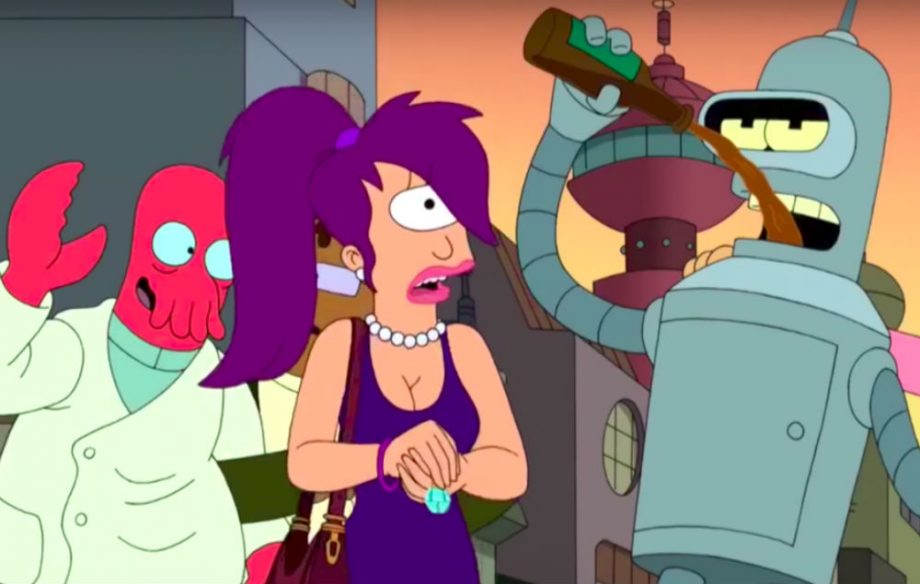 'Futurama' is the brainchild of Matt Groening, who is also the creator of 'The Simpsons'. The series is a science fiction sitcom, with its events starting from the year 2999. The central character of 'Futurama' is Philip J. Fry, a man who was cryogenically frozen just when 1999 was about to end. He is only woken up in the 31st century when the world has radically changed. Now he delivers pizzas for an intergalactic pizza chain. The story is set in New York of the future which has been built upon the present-day New York. Modern-day problems in society like substance abuse, global warming, and corruption are exaggerated in this world. Religion is one of the major themes in this futuristic society. While the old-world religions have merged into one, newer religions like Oprahism and Robotology have come to take their places. 'Futurama' shows us how religion is created by society itself to serve its own purposes, and how religion might undergo changes in order to suit modern-day problems.
9. Neo Yokio (2017-2018)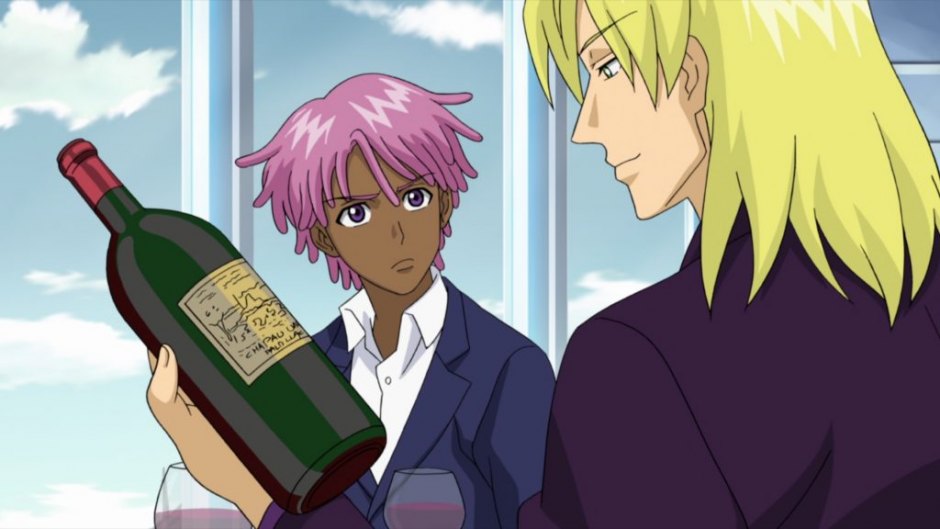 Lead vocalist of the band Vampire Weekend, Ezra Koening, is the creator of this animated series. 'Neo Yokio' is New York in an alternate universe where magic and capitalism go hand-in-hand. During the 19th century of this alternate timeline, magicians helped protect the city from demons, and since then have seen swift upward mobility in their social ranking. The series revolves around one such magician (now known as 'Magistroctrats'), Kaz Kaan, a well-regarded fashionisto in the city leading quite a decadent life. Most of the characters are very concerned about their social stature, the garments they wear, or the parties they attend. One fashion blogger, Helena, who is at first quite enamored with this world, later gets disillusioned and becomes its harsh, anti-capitalistic critic. The series itself takes a similar stance and attacks the baseless, consumerist culture which has become the order of the day in the current scheme of things.
8. Paradise PD (2018-)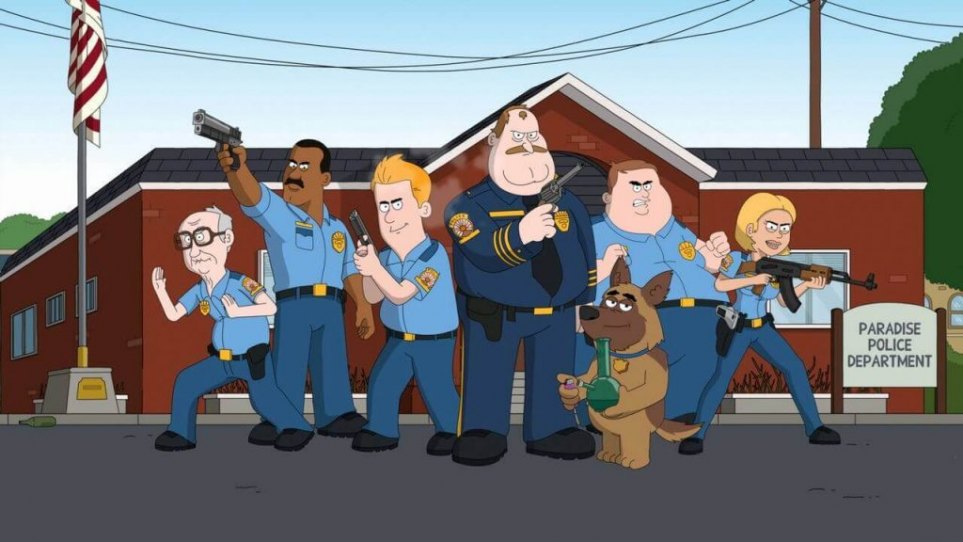 This series centers around a highly corrupt, inefficient police department. 'Paradise PD' is a parody of the many police procedural shows that we see on television every day. All of these shows follow a police department which is quite adept at performing their jobs, sometimes even pulling off heroic deeds to save the people in trouble. 'Paradise PD' takes a complete 180-degree shift, and is about incompetence, cowardice, and corruption.
The show follows a character called Kevin Crawford whose ambition was to always join the police force. But his father, chief of Paradise PD Randall Crawford, whom David shoots in the testicles in the very first episode, is not that supportive of his son's career choice. All the police officers who work for Paradise PD are disturbed in some way or another. They are unnecessarily violent, misogynistic, and rather selfish to go out and try to help others. Moreover, the only female officer in the team sexually harasses a fellow officer. Paradise PD even has a dog which is addicted to the drugs he is meant to guard. Depravity is the hallmark of this series. All the characters are examples of a modern, decaying society which lacks any ethical or moral integrity.
7. Archer (2009-)
If you have enjoyed watching or reading stories about spies, but are tired of the usual plot elements associated with such tales, 'Archer' might just be the perfect show for you. The series is based on the working lives of the employees of International Secret Intelligence Service (ISIS) headed by Malory Archer. The protagonist of the series is Malory's son Sterling Archer, whose character is somewhat modeled on James Bond. Sterling is a womanizer and a narcissist, but quite efficient at his job.
Interestingly enough, just like most James Bond films, every season of 'Archer' happens during a Cold War-esque time, without going into clear details about the actual time period. The settings of the series also keep changing. One season occurs in the 1940s' noirish Los Angeles, while one occurs in a futuristic world. The equations among the characters remain the same despite the setting of a story. The best thing about 'Archer' is that each of the characters is meticulously written with his/her own style of dialogue. Meta-humor is quite commonly used in the series and it is also filled with pop culture references.
6. Big Mouth (2017-)

Set in the suburbs of New York, 'Big Mouth' follows a group of students in the 7th grade who are just having their puberty and are discovering themselves through their sexual urges and masturbation. Shoulder angels play an important role in each of their lives. These shoulder angels are known as Hormone Monsters as they're the ones who cause hormone surges in these children. The awkwardness that comes with pubescence is wonderfully captured in the series through the well-written characters and dialogue. 'Big Mouth' captures a point of time in everybody's life when confusion and a sense of change make it difficult to relate to the world around us.
5. Super Drags (2018)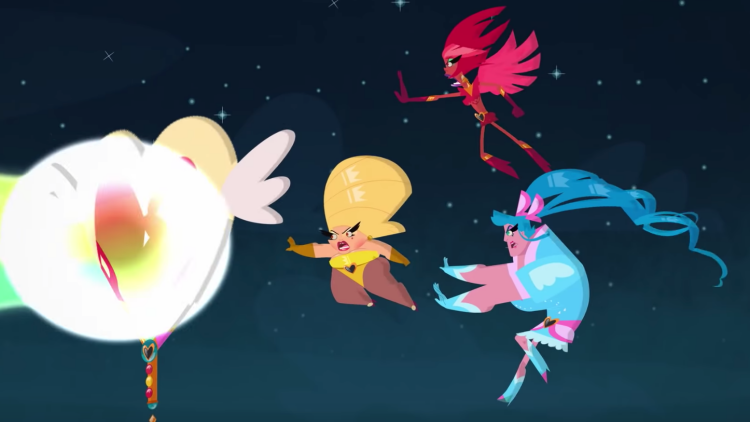 'Super Drags' is the story of three gay departmental store employees who also lead dual lives as drag queen superheroes who protect the LGBT community from any threat whatsoever. This Brazilian series is a Netflix original created by Anderson Mahanski, Fernando Mendonça, and Paulo Lescaut. 'Super Drags' received a lot of flak from the mainstream media immediately after its release because of its humor, which is laced with overt masculinity and rape jokes. It was also criticized for objectifying men. However, it must be admitted that 'Super Drags' is a show which definitely pushes the boundaries of what animated shows can achieve. It does question stereotypes and urges us to take pride in our own selves and treat our so-called shortcomings as superpowers.
Read More: Best Vampire Shows on Netflix
4. Love, Death & Robots (2019-)
If you are a follower of newer achievements in animation and want to see innovative work in the field, 'Love, Death & Robots' is the series you should watch. Each episode tells a different story, but with a common underlying theme of a retro-futuristic cyberpunk universe where either technology or apocalypse has taken over. Interestingly, each of these shorts is made in a different style of animation, which gives the series a look and appeal we are yet to witness in any other animated show or film. Violence and gore is a mainstay of this anthology series. If you really want to explore the art of animation at its finest, this is the show to go for.
Read More: Best Original Shows on Netflix
3. BoJack Horseman (2014-)
One of the most popular adult animated series of recent years, 'Bojack Horseman' is a Netflix original which centers around its titular anthropomorphic horse, a has-been TV star who is now at the lowest point in his career. The series kicks off at a point of time when Bojack shows an interest in revealing details of his life to his fans through an autobiography. Constantly drinking his life away, BoJack is the perfect nihilist. He goes through trauma, depression, borderline alcoholism, and always acts as the foil to what we consider socially and professionally responsible life. The show goes to great lengths to discuss philosophical questions about celebrity, stardom, and the Hollywood lifestyle.
Read More: Best Teen Shows on Netflix
2. The Cleveland Show (2009-2013)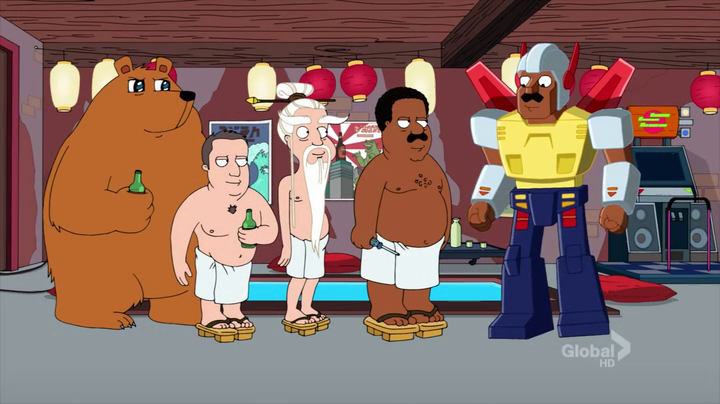 Seth MacFarlane is the creator of this sitcom which is a spin-off of his most famous creation, 'Family Guy'. The central character of 'The Cleveland Show' is Cleveland Brown, a regular guy living in Stoolbend, Va. Cleveland desperately wants to rekindle his romantic relationship with Donna, a girl he had a huge crush on during their school days. However, Cleveland does have a family of his own, which consists of his wife Donna Tubbs, and step-children Rallo and Roberta. While Roberta is quite a flirtatious young lady, Rallo, despite being only five years old, has an unnatural liking for women. Despite the humor being strong, 'The Cleveland Show' lacks originality, as much of its content is taken from 'Family Guy'. The central character, however, is fascinating enough for you to watch the entire series.
Read More: Best Medical Shows on Netflix
1. F is For Family (2015-)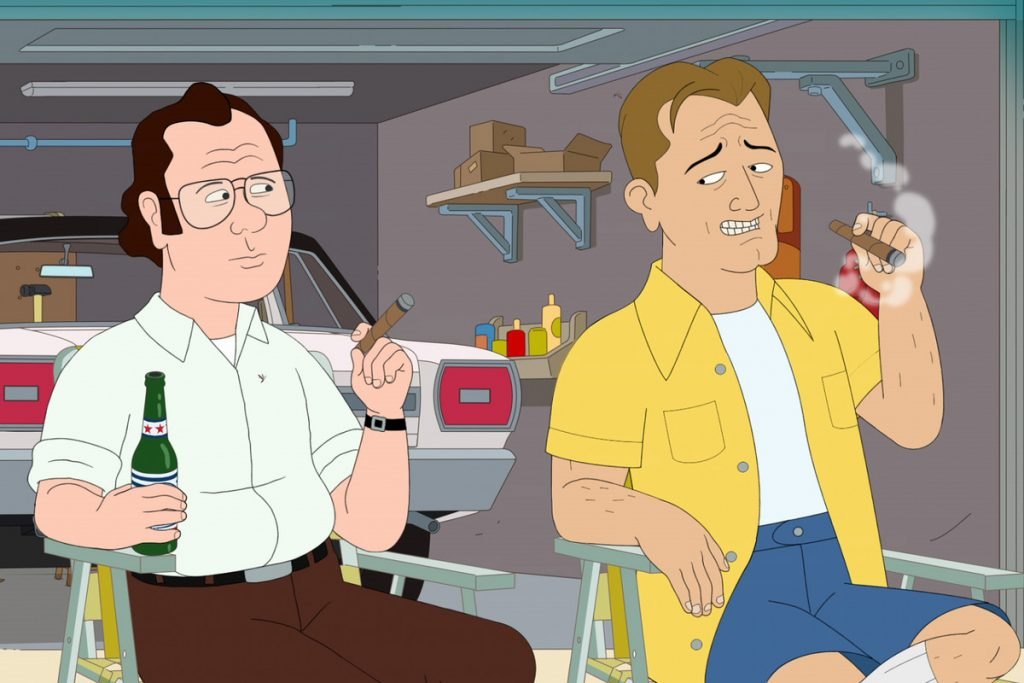 If you've enjoyed the nostalgic throwback of 'Once Upon A Time In Hollywood', then this is a series you will absolutely love. The brainchild of stand-up comedian Bill Burr, 'F Is For Family' is a series that centers around a dysfunctional Irish-American family. Francis X. "Frank" Murphy is the patriarch of the family. He is a war veteran who is quite disillusioned with his current life. Frank indulges in the use of profanity. He hates his job, but still has to carry on doing it in order to feed his family. Moreover, his wife is never happy and always wishes to be a much better version of herself. Frank's son is an angst-ridden teen who finds solace in rock music. The series is set in the 1970s and is a complete throwback to the era where sex, drugs, & rock-n-roll ruled the roost. The show extensively pays homage to the music and culture of the period.
Read More: Best Crime Shows on Netflix