Shows like Big Mouth are fun. Apart from being over the top funny and sleazy, they can provide a cathartic release of pent-up emotions surrounding sexual desires. It also helps confused teenagers to have a better understanding of the nature of attraction, their sexuality and moreover, about themselves. So if you love this Netflix show we highly recommend you to watch these similar TV series below as well. You can watch several of these TV shows like 'Big Mouth' on Netflix, Amazon Prime Video or in Hulu.
14. Bordertown (2016)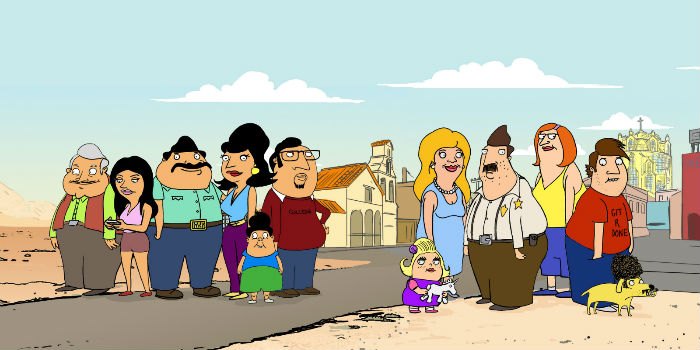 Netflix's adult animated comedy 'Bordertown' was driven by 'Family Guy' veterans Seth MacFarlane and Mark Hentemann and followed two families living in a desert town of USA and Mexico border. As expected the values and lifestyle of two culturally and ethnically different families stand in contrast to each other thereby providing the main selling point of the show. It satirizes the middle-class family existence while divulging into crass dialogues and sensitive narratives. It's a pity that the show got canceled after one season but the premise is too interesting to avoid the show.
Read More: TV Shows Like Mindhunter
13. Everything Sucks (2018)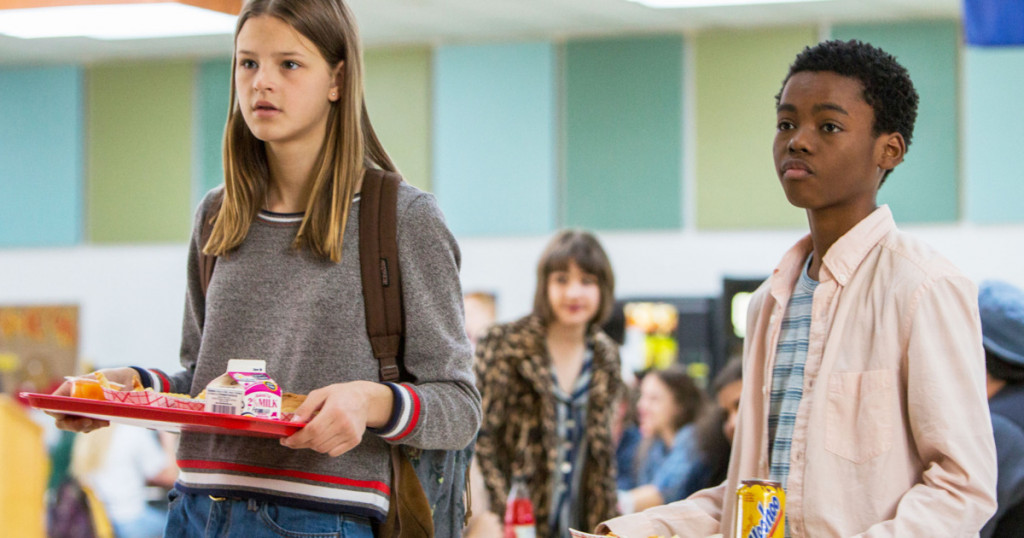 'Everything Sucks' is comedy series parodying the teen culture of the 90s. It focuses on the town of Boring, Oregon where the teenagers attend the Boring High School. The show features vibrant people of Boring High School's A/V club and Drama club. By the turn of events, the lives of these kids get entangled with each other when the two clubs decide to make a movie together. Things get complicated as few members develop feelings for each other while few start identifying their sexuality. In order to make the movie, VHS tapes of the parents' high school days are obtained and parents too get emotionally mixed with each other. The show is beautiful, funny, full of warmth with a tinge of nostalgia.
Read More: TV Shows Like Pretty Little Liars
12. Archer (2009-)

'Archer' is a great adult animated sitcom featuring an intriguing plot. Eight dysfunctional secret agents are thrown into the mix as they grapple with the obnoxious nature of each other while struggling to maintain the demands of their job. It takes reference and then parodies many pop culture icons and worldwide events. The show features a wide array of characters including a narcissistic womanizer, a homosexual bomb specialist, morally grey doctor, mild-mannered agent and an emotionally indifferent mother. It contains ludicrous plots and missions but mostly the emotional crisis between the agents of the agency is highlighted in the show.
Read More: TV Shows Like Archer
11. F is for Family (2015-)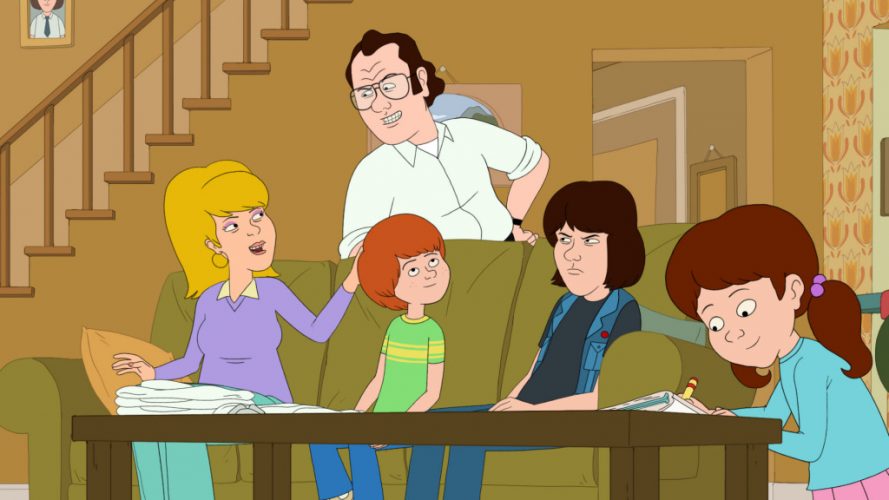 In 'F is for Family' we follow the Murphy family of 1970s. Based on real life comic Bill Burr who also serves as the co-creator and executive producer of the show, it depicts all things 1970s. Frank Murphy is a short-tempered foul-mouthed veteran working on a job at airport he hates only to provide for his family. His wife Sue Murphy tries hard to control the household of three children, one child is obsessed with rock-n-roll while the rest two are as different as they get. It transports us back to a time where things were simple, featuring all the typical 70s elements that made it special all the while providing a big fat dose of nostalgia.
Read More: TV Shows Like On My Block
10.
Bob's Burgers (2011-)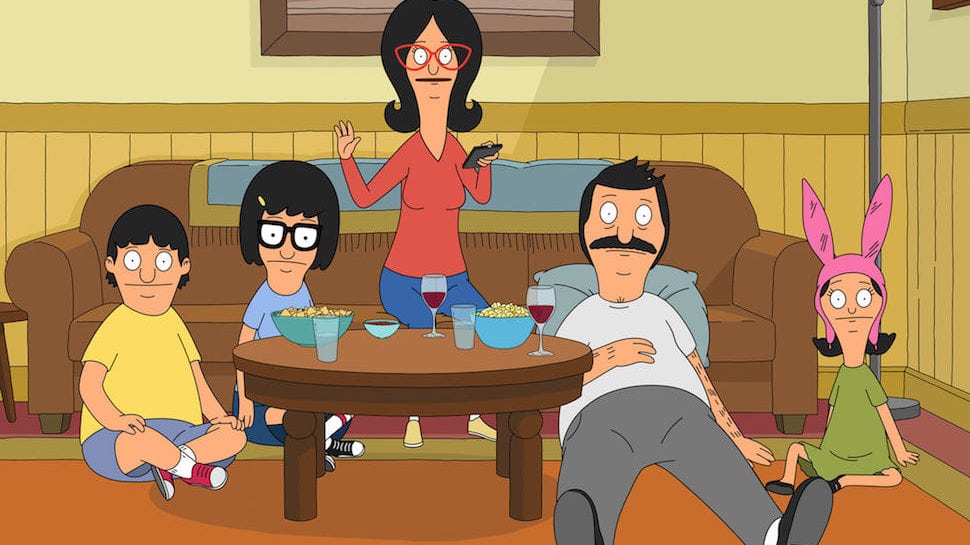 Fox's 'Bob's Burgers' centers around the Belcher family who run the family restaurant named 'Bob's Burgers' in a two-story building where the upper floor serves as the apartment for the family. The series started on a slow note when the reviews were not too favorable. 'Bob's Burger' had been deemed as an inferior show banking on the vulgarity quotient of 'Family Guy' but with subsequent seasons it turned on its head. It's currently one of most famous adult comedy sitcom with well-reviewed seasons.
Read More: TV Shows Like Westworld
9. South Park (1997-)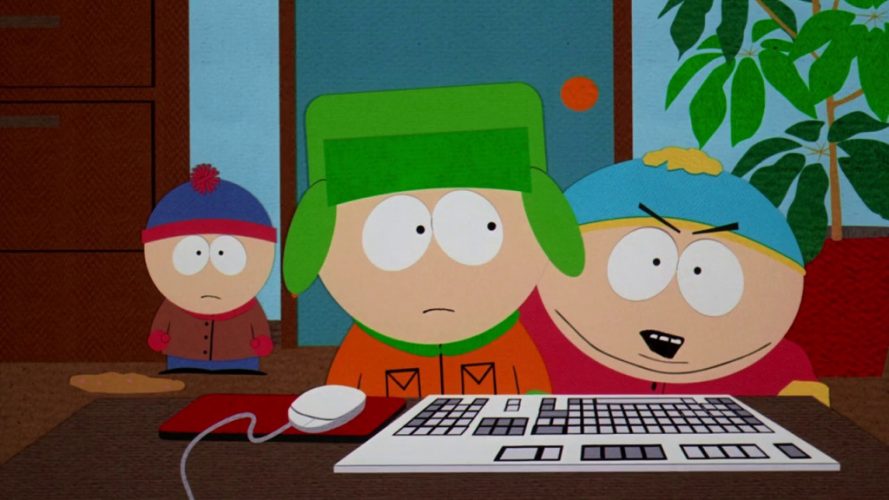 Another long running adult animated show, 'South Park' draws many of its contents from real life events and references. This way if handling the show has worked as 'South Park' is one of the most enjoyable show out there. The show never misses to parody itself with its hilarious intro disclaimer. It features four young boys including an average American fourth grader, satirical portrayal of a Jew, an obnoxious and amoral boy and a mild natured kid. The show consists of crass language, important social narratives but everything is done from the point of view of a group of young boys.
Read More: TV Shows Like Maniac
8.
Family Guy (1999-)
'Family Guy' is one of the most longest running and famous shows in the list and it has its virtues to be so. Based in fictional Quahog, Rhode Island, we follow the family of the Griffins. The father in the family is a middle-class fumbling man who has his heart in the right place, the mother is a pretty, stay-in-home mom. Among the children, we have a bullied and often neglected daughter, a son who is just a younger and overweight version of his dad, an infant kid with ambivalent sexual orientation and villainy mannerisms and a sophisticated, martini drinking pet dog with a British accent who satirizes the activities of the family. The show has become iconic and its mature content has made it a strong show to watch.
Read More: TV Shows Like Ozark
7. Some Girls (2012-2014)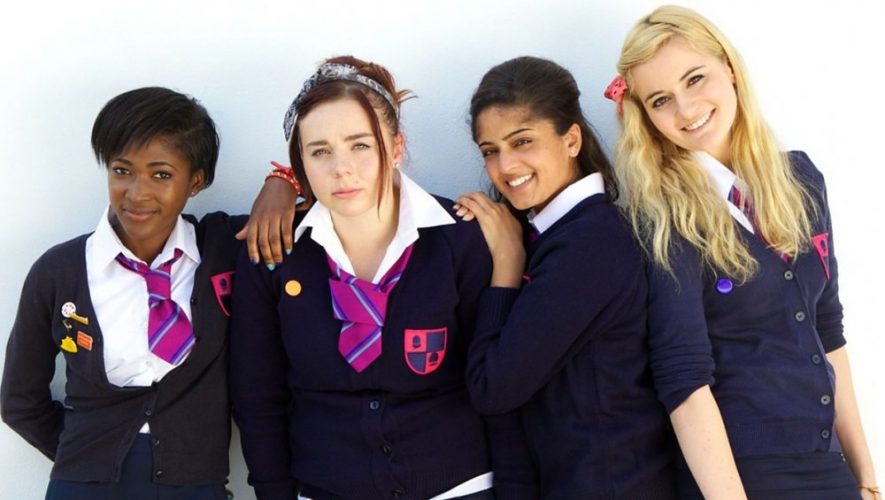 BBC's 'Some Girls' is exactly what it seems. It is a show focussing on the day-to-day lives of four 16 years-old teenagers. Viva Bennett, Amber Dean, Holli Vavasour and Saz Kaur struggle with their personal relationships, their romantic inclinations, and career choices while still enjoying the perks of being teenagers. The series was lauded for its refreshing take on the preoccupation of teenage girls. The series also drew attention for its surprisingly diverse leading cast.
Read More: TV Shows Like Lost
6. The End of the F***ing World (2017-)
'The End of the F***ing World' is a British dark comedy series revolving around two rebellious teenagers. The show draws inspiration from Charles Forsman's graphic novel by the same name. It was aired internationally by Netflix in early 2018. The show features James, 17-year-old-old boy who believes himself to be a psychopath and Alyssa who is a cheeky classmate of James. After being tired of killing animals, James decides to try his luck with humans and Alyssa becomes his target. Sensing an adventure Alyssa agrees to run away on a road trip with him where James waits for an opportunity to kill her. After a series of unfortunate events, they start to grow emotions for each other making the show more complex.
Read More: TV Shows Like Power
5. The Inbetweeners (2008-2010)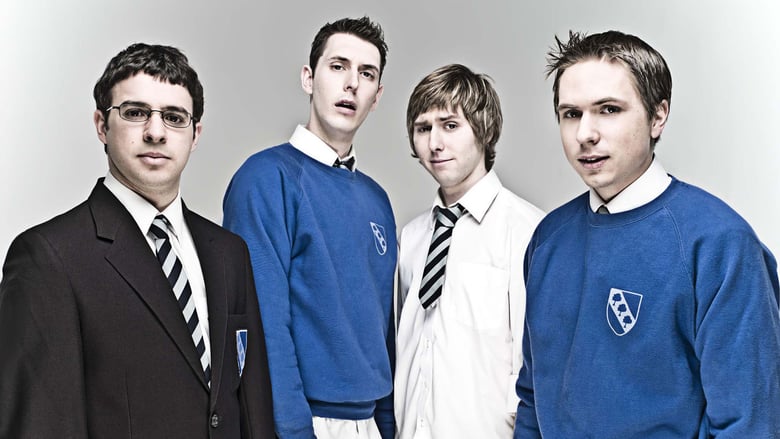 Another quality sitcom from Britain, 'The Inbetweeners' follows four young boys in the latter stage of school life. Will McKenzie, Simon Cooper, Jay Cartwright and Neil Sutherland fight their personal struggle including a divorce of parents, meek attitude and homophobic taunts. They all try to indulge in heavy drinking, forbidden adventures and sexual encounters but fail impeccably. The show delves deep into the confused state of young boys on the verge of becoming men with vibrant and idiosyncratic characters.
Read More: TV Shows Like Psych
4. Freaks and Geeks (1999-2000)
Now a cult classic, 'Freaks and Geeks' also acted as the launchpad for many of its stars including James Franco, Linda Cardellini, Seth Rogen and Jason Segel. The story follows Cardellini's character Lindsay Weir and her on screen brother Sam befriends a band of freaks in their new highschool, the William McKinley High School. Sam's friends conclude the geeks circle as they and the freaks (Daniel Desario, Ken Miller, Nick Andopolis, and Kim Kelly) undergo various misadventures. Lindsay tries to shape her academic career while her hanging out with freaks cause friction in her house. The geeks meanwhile discover a larger social structure outside of their comfort zone.
Read More: TV Shows Like Peaky Blinders
3. Kroll Show (2013-15)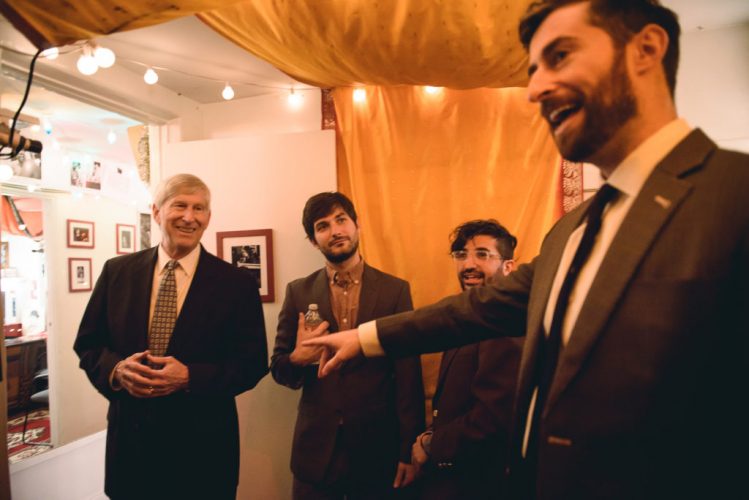 If you like 'Big Mouth' there's a chance that you'll feel right at home with 'Kroll Show'. Reason? Because Nick Kroll is one of the creators of 'Big Mouth' and as you've guessed, he headed 'Kroll Show'. 'Kro Show' is a sketch comedy show where the characters satirizes everything under the sun. The narrative style of the show is very unique as it parodies many elements of pop culture's favourite companies and shows and even itself. Each episodes features handheld cameras, choppy edits big texts and weird flashbacks. The show was good while it lasted.
Read More: TV Shows Like Shameless
2. Rick and Morty (2013-)
It wouldn't be too wrong if we say that 'Rick and Morty' is one of the best animated shows ever made. It's a sci-fi show that follows the adventures of Rick Sanchez and his grandson Morty Smith. Rick is an egotistical and idiosyncratic mad scientist whose iconoclastic nature contrasts with social conventions. Morty Smith is his 14 years old grandson who is meek and a little bit hesitant about everything. Needless to say, Morty acts as a foil to Rick's amorality. Together they verge on adventures defying time and space. All the members of the Smith family are part of the show and all them exist as different versions of themselves in different dimensions in the multiverse. The show is full of adult profanity, philosophical crisis and a solid presence of scientific references.
Read More: TV Shows Like Rick and Morty
1. Bojack Horseman (2014-)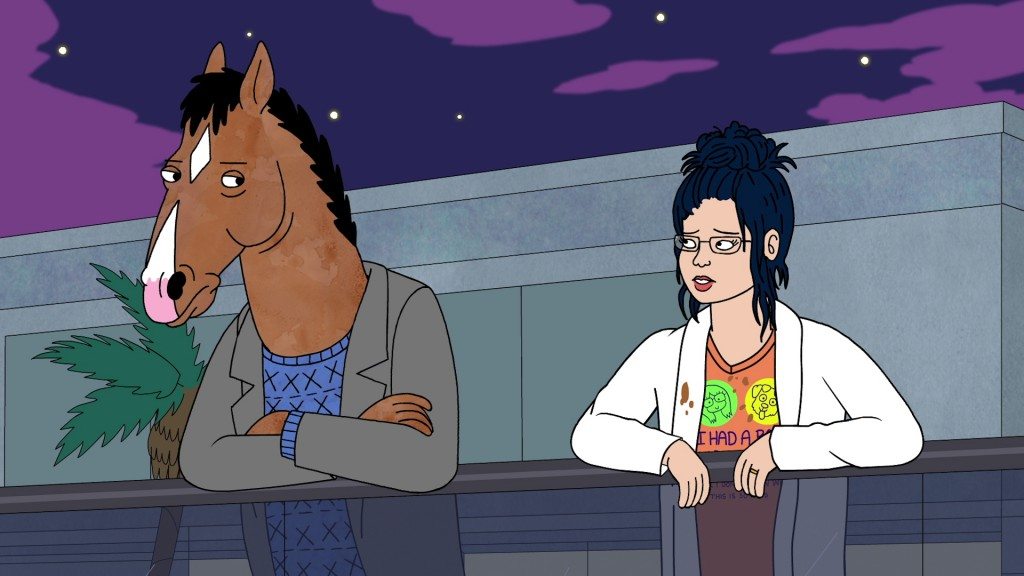 If you love 'Big Mouth' then you gotta watch Bojack Horseman. Period. It centers around the protagonist, a humanoid talking horse who was once a famous tv personality in the 90s only to be reduced to a pathetic self-hating, depressed loser. The show is very adult in its treatment of the absence of love, a nostalgia for fame and the absence of the will to move on. The obnoxious anti-hero Bojack, voiced by Will Arnett undergoes various emotional and social crisis due to his narcissistic attitude and other various characters of the show act as catalysts in the change and the lack of it in Bojack.
Read More: TV Shows Like Archer