'Rick and Morty' is one of the finest animated TV series. While it is animated, many misconstrue it as a show meant for kids. Honestly saying, I wouldn't even think of letting my kids watch this, solely for all the adult content. But 'Rick and Morty' is more than just a show with vulgar jokes. It's an innovation in terms of making a TV show. Its humour content is unique and the scientific world that it shows is both thrilling and dangerous. But Rick always comes around to save the day. The show also concentrates on a few human values. The best part about the series is how Rick is shown as an impeccable scientist while his grandson, Morty, happens to be just an ordinary school-going kid who is dragged into his grandpa's adventures.
Over the years, I have seen multiple American sitcoms that are thematically and stylistically similar to this incredibly entertaining show. But none exhibits the artistic freedom that 'Rick and Morty' does. Nevertheless, those series happen to be equally good and are, after all, animated comedy shows. With that said, here's the list of best series similar to 'Rick and Morty' that are our recommendations. You can watch several of these shows like 'Rick and Morty' on Netflix, Hulu or Amazon Prime.
20. Beavis and Butthead (1993-2011)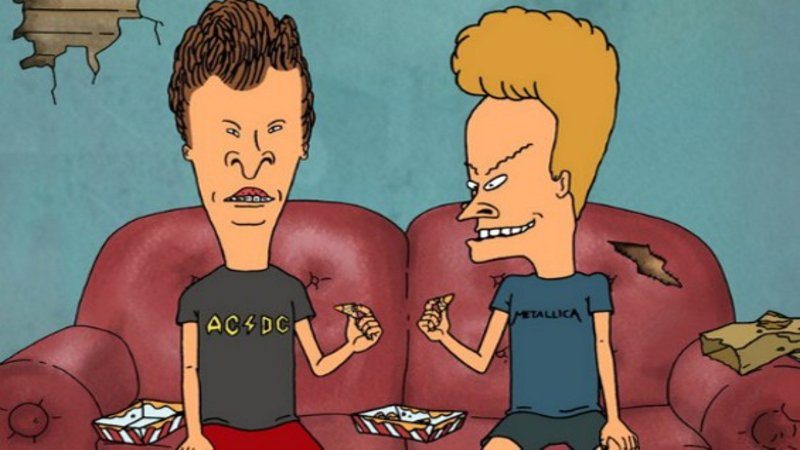 If you're looking for an animated series which can leave you in splits just like 'Rick and Morty', you can't afford to miss this legendary series called 'Beavis and Butthead'. Originally broadcasted on MTV, this series is a classic that every 90s kid would remember as being their respite from all the heavy book lifting. It follows two delinquent teenagers called Beavis and Butthead who, with no adult supervision whatsoever, manage to live their life on a regular and shall I say, a heavy dose of TV and music videos. For them, everything that follows their set of 'coolness' rules is cool; otherwise, it sucks. A simple, funny, and ultra-entertaining series, Beavis and Butthead is a perfect substitute for a series like 'Rick and Morty'.
19. Bad Cat (2016)
A Turkish film to begin with, 'Bad Cat' is centred around a foul-mouthed cat named Shero (stylized as Šero), who moves around with two friends, notably a seagull and a rat. As with any gang of outcasts, Šero and his team pursue all sorts of debauchery, crimes, and binge drinking on the streets of Istanbul. Their extravagance comes to a temporary halt when they cross their paths with humans, notably Cizer, the owner of a cat named Pirta, Šero's love interest. In yet another movie where animals walk, talk and behave like humans, the shenanigans of Šero and his ragtag group is worth a try.
18. Bob's Burgers (2011-Present)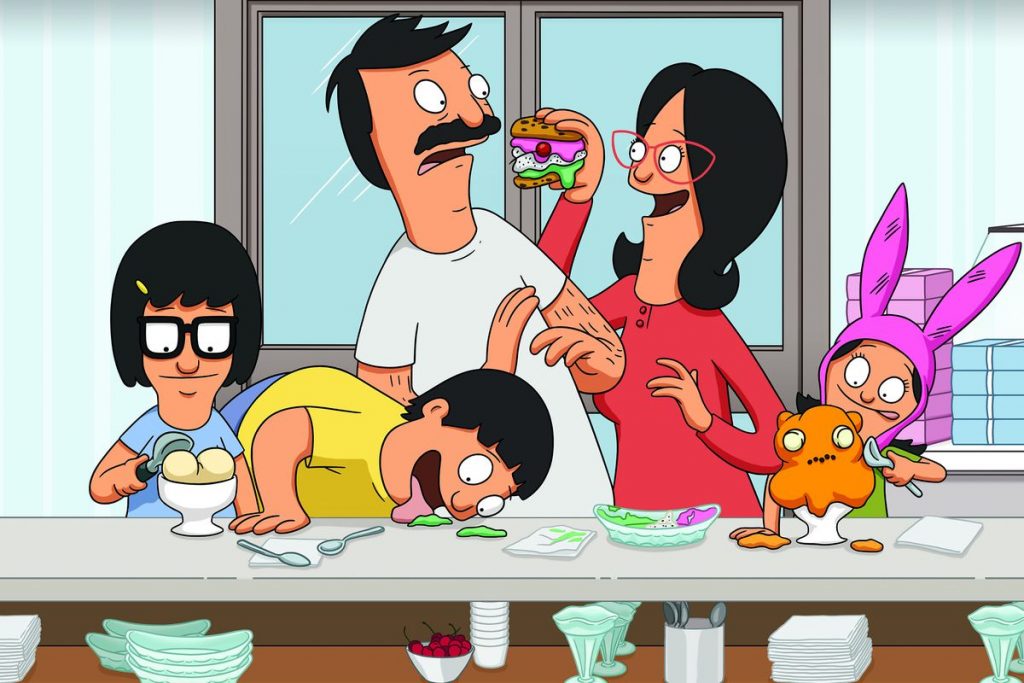 Fans of H. Jon Benjamin look no further because Bob's Burgers is here. Another one of Benjamin's brilliant portrayal of an animated character, Bob's Burgers follows the story of the Belcher family, (very aptly named) which owns a restaurant called Bob's Burgers. The burgers prepared by the owner Bob and his family are of the top grade and very tasty, but Bob's children seem to be of no help in making any sale to the customers. As a result, all customers flock to the competitors and Bob is left wondering if he should leave his family or kill them. A perfect combination of animated comedy and H. Jon Benjamin's cheekiness, this is Bob's Burgers. Eat away.
Read More: TV Shows Like 'Boardwalk Empire'
17. Invader Zim (2001-2006)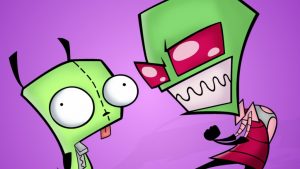 'Invader Zim' is one of the few shows that actually happen to share the villainy and space context as 'Rick and Morty'. Airing from 2001 to 2006 on Nickelodeon, it is an ideal meant-for-kids show and yet, has what one can call as pure evilness. Zim has to considered one of those very few characters whom you can't relate to and still happen to like. An Emmy Award-winning show, 'Invader Zim' has turned into a cult classic by now.
Read More: Shows Like 'New Girl'
16. Moonbeam City (2015)
A parody directed at 90s cop shows like 'Miami Vice', 'Moonbeam City' is about an irresponsible, stupid, and egotistic cop called Dazzle Novak (Rob Lowe). In his pride to become the best crime fighter in the city, Novak works with his polar opposite — the level-headed and logically competent Chrysalis (Kate Mara), who more often than not has to suffer the consequences of her partner's incompetence. Amidst the comedy filled encounters of this unlikely cop trying to take down his nemesis, watch a Xerox copy of Sterling Archer trying to prove why he is more stupid than his counterpart spy.
Read More: TV Shows Like 'Breaking Bad'
15. Appleseed (2004)
A manga-based post-apocalyptic animated movie, 'Appleseed' begins in the aftermath of a global third world war that has wiped out most of the earth's populace. Set in a city called Olympus, Knute is a warrior who now resides in a city of biomechanical clones called as Bioroids. Appleseed is essentially a cache of data that has information on swarming Bioroids that reside in Olympus. Apart from the governing factions, which include the Prime Minister, the General and the Council of Elders, Olympus is also troubled by belligerent factions led by Colonel Hades. The rest of the movie follows the conflict between the ruling and the opposing factions with Knute caught in the midst of all of them. 'Appleseed' received mixed reviews owing to its complex storyline and numerous characters, but it got a very positive response for its presentment and the animation.
14. Gravity Falls (2012-2016)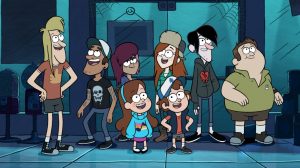 'Gravity Falls' in terms of its style and direction is quite similar to 'Invader Zim'. So much so that comparisons have been constantly made between the two shows. But I guess the reason why this show is wee-bit better is that it is more relatable to the audience. After all, Dipper and Mabel Pines are just two normal kids who happen to find themselves and their family in the middle of some supernatural incidents on their Summer vacation.
Read More: Shows Like Breaking Bad
13. Heavy Metal (1981)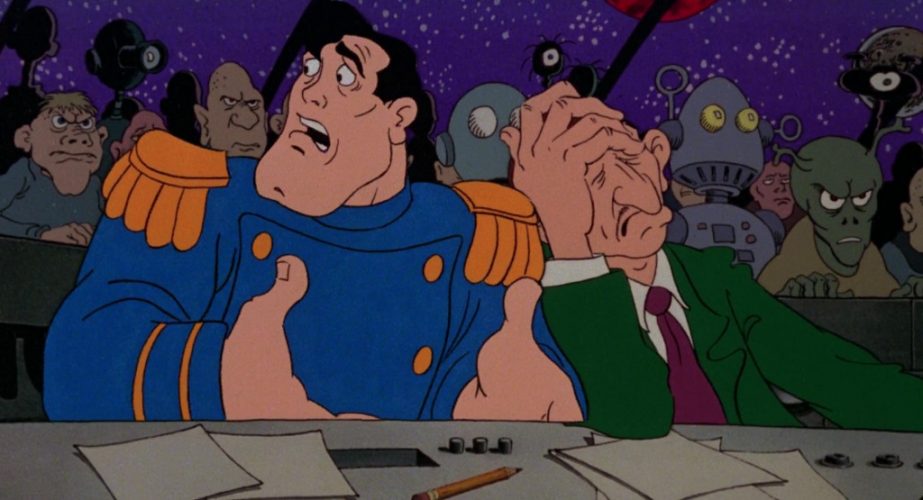 This anthology animated flick follows a glowing green orb which frightens a young girl with bizarre fantasy stories of horror and sensuality. The narrative is segregated into various stories which are based on several stories published in the Heavy Metal magazine. The film certainly looks dated at parts but comes off as an entertaining affair due to the score and atmospheric power. It features numerous scenes that are pretty explicit in its depiction of sexuality, violence and was worked upon by many animation houses on the various segments of the film.
Read More: Angelina Jolie Sexiest Scenes
12. Heavy Traffic (1973)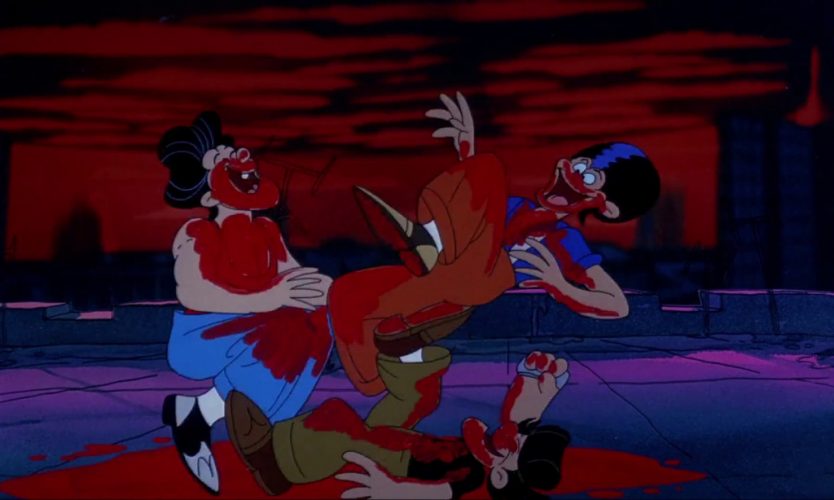 'Heavy Traffic' depicts the bizarre, surreal fantasies of a young cartoonist for whom the most eccentric, weird of characters serve as true inspiration for his art. Ralph Bakshi's authoritative control could be felt in every frame as he crafts something so wildly original, provocative and challenging yet incredibly personal and intimate without ever getting self-indulgent. The film at the time was given an X rating by the MPAA due to its visually explicit nature but was a massive critical success and is regarded as one of Ralph Bakshi's greatest works.
11. American Dad (2005-Present)
Focusing on the eccentric and cheeky lifestyle of CIA agent Stan Smith, 'American Dad' is an Emmy nominated adult-themed animated sitcom. With Seth Mcfarlane in the titular character, the series follows the life of Stan, a CIA agent who has to deal day-in-day-out with his weird family and the threats looming over the country. The relationship and dynamics between the different family members like his wife, their teenage daughter Hayley, a speaking goldfish, and a master of disguise alien give the series its unique entertainment quotient and cheeky humor.
Read More: TV Shows Like 'Friends'
10. Bravest Warriors (2009-Present)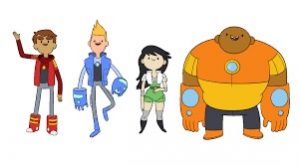 Created by the guy who made 'Adventure Time' (which I shall talk about later), 'Bravest Warriors' has its own resemblance to 'Rick and Morty' when it comes to using scientific concepts like the time warp. It follows four teenage heroes as they warp around the universe trying to save adorable aliens (and we know that aliens are adorable only in 'E.T.' and animated children's shows). That is why the show might be part of our childhood but not our present. Yet, it is a very entertaining show which shall keep you in front of the TV screens.
Read More: Shows Like 'One Tree Hill'
9. Archer (2009-present)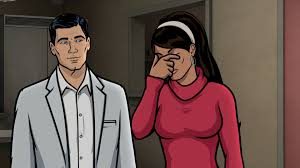 'Archer' has quite a different theme than 'Rick and Morty'. But its adult content and vulgar humour shall remind anyone of the way Rick talks in the show. Telling the story of eight dysfunctional secret agents (one of whom is named Archer), 'Archer' is one of the darkest animation sitcoms that I have ever seen and still, it somehow manages to be rib-tickling at the same time. The show has justifiably won a number of accolades over the years.
Read More: Shows Like Sons of Anarchy
8. The Cleveland Show (2009-2013)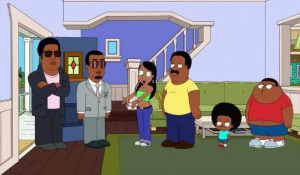 Originally developed as a spin-off to 'Family Guy', 'The Cleveland Show' formed an audience of its own while taking strong digs at the American culture. It delivers opinions on serious topics while making everyone laugh (which is what ensures that no one's sentiments will be hurt). Following two unconventional families in the Browns and the Tubbs, this show was part of the evening entertainment of a majority of the American audience for its revealing content.
Read More: Shows Like 'Boardwalk Empire'
7. Dexter's Laboratory (1996-1999, 2001-2003)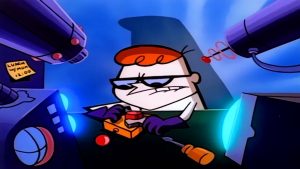 I love 'Dexter's Laboratory', aka 'Dexter's Lab', because it's filled with science. And then, it reminds you a lot of how you used to argue with your siblings in your childhood. That is how it becomes a memorable part in the life of every kid who was born in the 90s. Needless to say, it is also one of the reasons why Cartoon Network remains the favourite channel to watch cartoons on.
Read More: Shows Like The Office
6. BoJack Horseman (2014-Present)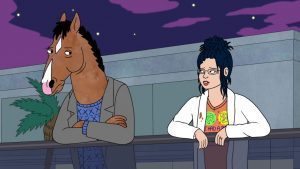 Airing parallelly with 'Rick and Morty', 'BoJack Horseman' is bereft of anything scientific but every remaining aspect of it is same as 'Rick and Morty'. What makes it stand out is that it lacks humour but compensates on that front by digging on various controversial issues pertaining to the world. Also, the characters are very lively and you get a lot of Rick in the show. There is heavy competition between the two shows and both happen to cut each other's viewers, which doesn't sound like a great marketing strategy. But it does mean a lot of entertainment for us, the viewers.
Read More: Shows Like 'House MD'
5. The Big Bang Theory (2007-Present)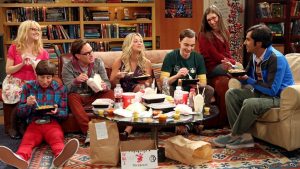 I do realize that 'The Big Bang Theory' is not an animated sitcom. But where it coincides with 'Rick and Morty' is the theme — i.e. science — and how the lead characters from both the shows, Rick and Sheldon, consider themselves to be superior to ordinary humans. Plus, the humour and the character personalities are quite similar in both cases. In both the shows, there happen to characters with lack of scientific knowledge (Penny and Jerry). All in all, if there is one show that you should watch after 'Rick and Morty' to keep the fun rolling, it is this one.
Read More: Shows Like 'Game of Thrones'
4. Phineas and Ferb (2007-2015)
Phineas and Ferb were two of my favourite cartoon characters in my childhood. From as long as I can remember, they have impressed me with their architectural marvels, all of which seem to happen in their backyard. I particularly love the part where their sister Candace brings their parents to see these inventions and they just somehow vanish before they arrive. Like Poof!!! Yet, Perry The Platypus and his sweet rivalry with Dr. Doofenshmirtz (long name) have to be the highlights of the show.
Read More: Shows Like 'Dexter'
3. Family Guy (1999-Present)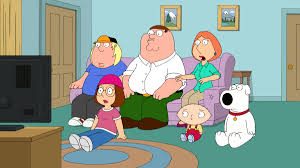 Considering what 'Family Guy' has to offer in terms of themes and plot (which is nothing out-of-the-ordinary), you may wonder why it is this high on the list. The reason why this show happens to be at no. 3 and one of the longest running American sitcoms is that its content is extremely relatable. I mean, the whole show is just about the ordinary family Griffins and their talking dog Brian. Yet, the humour makes it so addictive and entertaining.
Read More: Shows Like 'Arrow'
2. Adventure Time (2010-Present)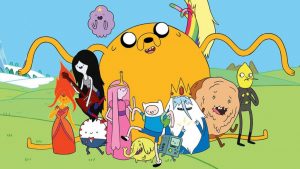 Pendleton Ward is a genius. He created two amazing animated TV shows which made it to this list. The whole idea of a human having an adoptive brother dog who can change size and shape at will is what makes this show one of the best ever. 'Adventure Time' derives inspiration from many places like the highly popular fantasy game 'Dungeons and Dragons'. It is literally impossible to count the amount of appreciation and accolades this show has received till date for its unique plot and humour.
Read More: Shows Like 'Suits'
1. The Simpsons (1989-Present)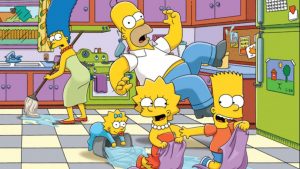 So here's another show surrounding an ordinary family; only that the Simpsons seem to be ordinary from the outside while actually they are a bunch of wild folks. Memes have been made. Homer's 'The End is Near' poster has been used at numerous places. The longest running American primetime sitcom ever, 'The Simpsons' has a whole lot of madness and plenty of reasons to laugh. Ask me how it is common to 'Rick and Morty'? Well, where else can you find such high levels of madness and adventures? If you are done watching 'Rick and Morty', 'The Simpsons' has to be your follow-up binge-watch.
Read More: Shows Like 'Suits'