'Neo Yokio' is created by Ezra Koenig, the lead singer of the band Vampire Weekend. Apart from this, there are many other renowned artists involved in the show, like Jaden Smith and Dev Hynes. Even the voice cast of the anime includes some of the most well-known names in Hollywood. When it comes to its storyboard artists, it involves Kazuhiro Furuhashi, who is known for directing some classic anime hits like 'Hunter X Hunter' and 'Dororo'. Clearly, a whole lot of talent is involved behind this anime and yet, it fails to have an impact on the most regular anime viewers. Apart from its generic overarching storyline, it tries its best to touch upon various underlying themes such as fashion, philosophy and even literature. But even with such high ambitions, it often falls flat and does not even come close to being enlightening.
The best way to approach 'Neo Yokio' would be by not getting too carried away by all the people involved in it and not expecting too much out of it just because it has a great cast. Only then, as a viewer, one can experience all the uniqueness that it offers. Overall, it comes nowhere close to being a great anime and at times, even fails to be average. But it surely is something that you can briefly go through at 4 AM when you have nothing else to do, only to enjoy its stunning aesthetics. It is definitely something you might have never seen before, despite its cliches and most of all, it just has 7 episodes as of now; so it's not like you're making too much of an investment in it. Speaking of the episodes, there might be more of it in the coming future. To know more about it, read further.
Neo Yokio Season 2 Release Date: When will it premiere?
'Neo Yokio' Season 1, which consists of 6 episodes, was premiered on September 22, 2017. This was then followed by a Christmas Special titled 'Neo Yokio: Pink Christmas', which was released on December 7, 2018. Most fans loved the style of the show and also the concepts that it brings forth to the table, but somehow, the way these concepts are executed just doesn't connect too well with the viewers.
Regarding season 2, there are a whole lot of people who would still love to watch the adventures of their favorite "Magistocrat" all over again. But then, there's also a huge chunk of the population that is not willing to stand even one more episode of the show. Considering the mixed response towards the show, it seems very less likely that Netflix would now think of a new season. But what's really strange is the fact that the Christmas Special Episode has actually been labeled as "Season 2-Episode 1". Could this be a hint that there could be more of it? Or is Season 2 of the show nothing but a Special OVA?
Ezra Koenig, the creator of the anime, announced on an episode of his radio show that "Neo is not dead". He made this statement back in February 2018, which was much before the Special was released and right after the release of the first season. So we can't really tell if he was only talking about the one-episode Christmas Special or his statement was actually hinting towards further development of the anime in the future. Any which way, if there is 'Neo Yokio' season 2, it should be out by the mid of 2020. If that does not happen, then we might have to drop our hopes on this one.
Neo Yokio English Dub:
The best thing about 'Neo Yokio' is that it's an American-Japanese co-produced anime and its original version is in English itself. So you don't have to go around looking for an English Dubbed version of the show. Just tune in to your Netflix and start watching.
Neo Yokio Plot:
On the outside, Neo Yokio is nothing but the "greatest city in the world" but if you look deeper, you'll see that it is New York in an alternate timeline. This city is now run by Magicians who brought it back up from the ashes after destroying all the demons who were once determined to bring it to absolute ruins. This has allowed these Magicians to gain a reputable position in the higher echelons of the society and now, they are referred to as the "Magistocrats". This is where the main protagonist, Kaz Kaan (Jaden Smith), comes into the picture. He is another one of those wealthy spoilt Magistocrats who is accompanied by his mecha butler Charles (Jude Law) on his demon-slaying adventures. All of these demon-destroying duties that he is involved in are handled by his Aunt Agatha (Susan Sarandon).
Kaz Kaan is still in the haze of pity and self-loathing after his recent break-up with a girl named Cathy (Alexa Chung). But now, all he wants to do is to spend all of his time with two of his really close friends — Lexy and Gottlieb. Meanwhile, Arcangelo (Jason Schwartzman), who is another spoilt rich descendant of the most notable people in the city, is constantly trying to compete with Kaz to gain the top spot on the Bachelor's List. This list is basically a public billboard that announces the names of all the eligible bachelors in the city and pretty much every man wants to be on top of it.
All this is something that Kaz experiences pretty much every single day, but things take a mysterious turn when he reunites with an old fashion blogger friend named blogger Helena St. Tessero (Tavi Gevisson). This re-acquaintance sets in motion a series of events that makes Kaz question everything he thinks that he knows about his city.
Neo Yokio Characters:
Kaz Kaan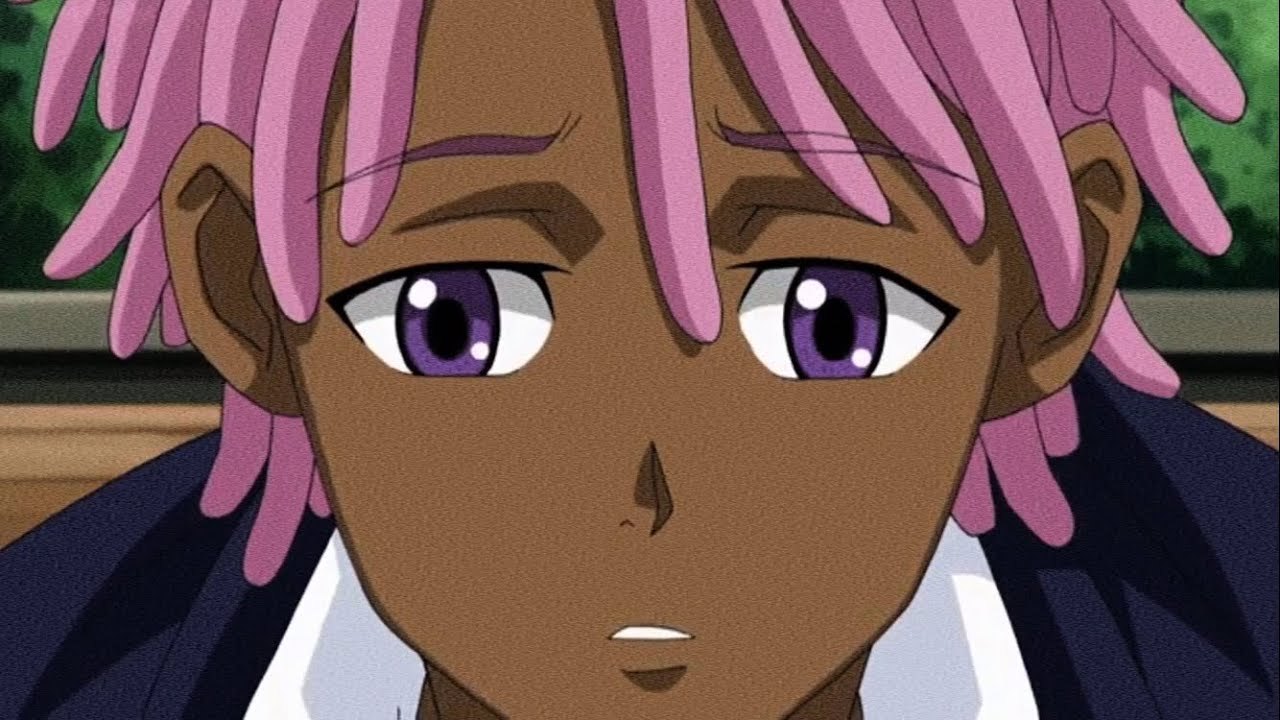 Kaz Kaan is an Eligible Bachelor who often makes it to the top of the Bachelor List of Neo Yokio. He is also a very wealthy Magistrocrat who slays demon with his Butler named Charles. With his dark skin, pink dreadlocks and purple looking eyes, he often stands out because of his appearance. He is a very elegant man who believes in expressing his opinion at all times. He cares a lot about his own fashion and grooming and can be seen in new eloquent clothing every time he's on to something important.
Charles
Charles is a huge Mecha-Butler who belongs to Kaz Kaan and often helps him with his demon-slaying mission. He is a giant humanoid-like creature that has green eyes and huge red square on its forehead.
Helena St. Tessero
Helena is another main protagonist of the show, who was once a well-known fashion blogger. After an exorcism is performed on her, she completely changes and becomes very cynical and depressed about life. Her complexion is extremely pale and she has blue hair with dead violet eyes.
Aunt Agatha
Aunt Agatha is more like Kan Kaan's manager who assists him with his job as a demon-slayer. She is cold-hearted and does not care about anything except for money and the status of her family. Kaz is not a big fan of all the demon hunting missions she sends him on, but being her only close relative, he never really defies her and treats her with a lot of respect.
Read More in Anime Preview: Sankarea Season 2 | Net juu no Susume Season 2