'Sankarea' is like getting punched in the gut again and again while asking yourself "why am I letting this happen to myself?" You keep asking yourself that question and yet you make no attempts to stop because there is something oddly satisfying about it. While watching 'Sankarea', more than once I questioned what was I watching and why on Earth was I watching something so weird. It definitely proves to be a big step out of one's comfort zone as it constantly throws one odd situation after another. Every time I notice that an anime has been tagged as "Ecchi" on MAL, it turns out to be an instant turn off for me and 'Sankarea' was no different. But as soon as I started watching it, it proved to be something much more than what I had expected it to be.
The story of the anime is actually quite interesting and gets you hooked on to it from the first episode itself. It somehow balances out the right amount of comedy along with Ecchi without going overboard with either of the two. The storyline is so full of bizarre surprises, you can't help but wonder what exactly could happen next. Despite its 12-episode format, the pacing of the anime is rather slow and takes its own time to unfold. This makes it very easy to follow and also allows you to connect with the characters. Speaking of characters, a kind of darkness starts to unfold as the backgrounds of the main characters are introduced through flashbacks. The chemistry between all of them is just great and overall, the anime really shines, if character development is something that you seek.
Considering that Studio Deen was involved with the animation, my expectations were really very low. But after watching a few episodes, I wouldn't say that I was impressed but I wasn't too disappointed either. The art isn't all that fancy but is good enough to get you through the entire season. And everyone knows that bad art is something that can be overlooked if other aspects of an anime are great. Take 'Gurren Lagann' for example: the music side of it is not genius in any way, like 'Samurai Champloo', but somehow it just seems to fit in. So overall, the soundtrack isn't something that deserves a Grammy but is quite enjoyable and does make certain scenes better.
In conclusion, 'Sankarea' is no way amongst the best anime out there but it's certainly enjoyable when you've got some free time on your hands. For those who enjoy ecchi anime that have a streak of emotions and comedy, 'Sankarea' is a perfect choice. Even others, like me, who are not big fans of ecchi, can definitely enjoy this if you don't expect too much out of it. Also, the fact that it managed to surprise me so much just makes me wonder what it can do if it reaches its full potential.
Sankarea Season 2 Release Date: When will it premiere?
'Sankarea' season 1 was premiered on April 6, 2012 and went on till June 29, 2012. This was followed by a "special" 13th episode that was released on November 30, 2012. Sadly after this, it's been close to seven years now since its initial release and there has been no news about a new season. The "special" does end with a cliffhanger that hints towards a new season but strangely, there has been no word regarding a continuation.
Even the manga came to an end soon after the anime and the show pretty much covers all the volumes of the source material. As of now, it seems very less likely that there will ever be a new season of the show. In the unlikely scenario of the anime getting renewed, our best guess is that 'Sankarea' season 2 release date could be sometime in 2021. If you love the anime, you can always start reading the manga, which apparently has more details that are skipped in the anime.
Sankarea English Dub:
The English Dub of 'Sankarea' is available on Funimation and Amazon Prime.
Sankarea Plot:
Out of all the weird obsessions that people have in the world, Chihiro Furuya, has an obsession with zombie girls. Ever since he was a kid, he has always wanted to date an undead girl and he spends a lot of his time just fantasizing about it. One day, when his cat Baabu gets run over, he decides to bring him back to life using a resurrection potion. While he's at his mission of making the perfect potion, he runs into a girl named Rea who yells inside a well every single day about her oppressive life. She asks him to persevere with his attempt to resurrect his cat.
The day finally arrives when Chihiro is able to successfully make the potion using some poisonous flowers that he finds in Rea's garden. Rea drinks the portion hoping that it will kill her and help her escape her miserable life. But instead, when she is later killed in a fatal car accident, she magically comes back to life as the effects of the potion still linger. Now Rea has to adapt to her new zombie lifestyle with the help of Chihiro.
All his life, Chihiro wanted to be with a zombie girl but now that his dream has finally come true, he realizes that being with a zombie is not all sunshine and rainbows. As Rea tries to get used to her new undead self, Chihiro learns to deal with her weird zombie cravings and also all the other consequences of her transformation.
The 13th "special" episode dives deeper into the adventures of the two teenagers as they try to deal with Chihiro's new transformation. It also focuses on how Chihiro's cat, Baabu, tries to deal with his own transformation when it gets drawn to another cat that is not a zombie.
Sankarea Characters:
Chihiro Furaya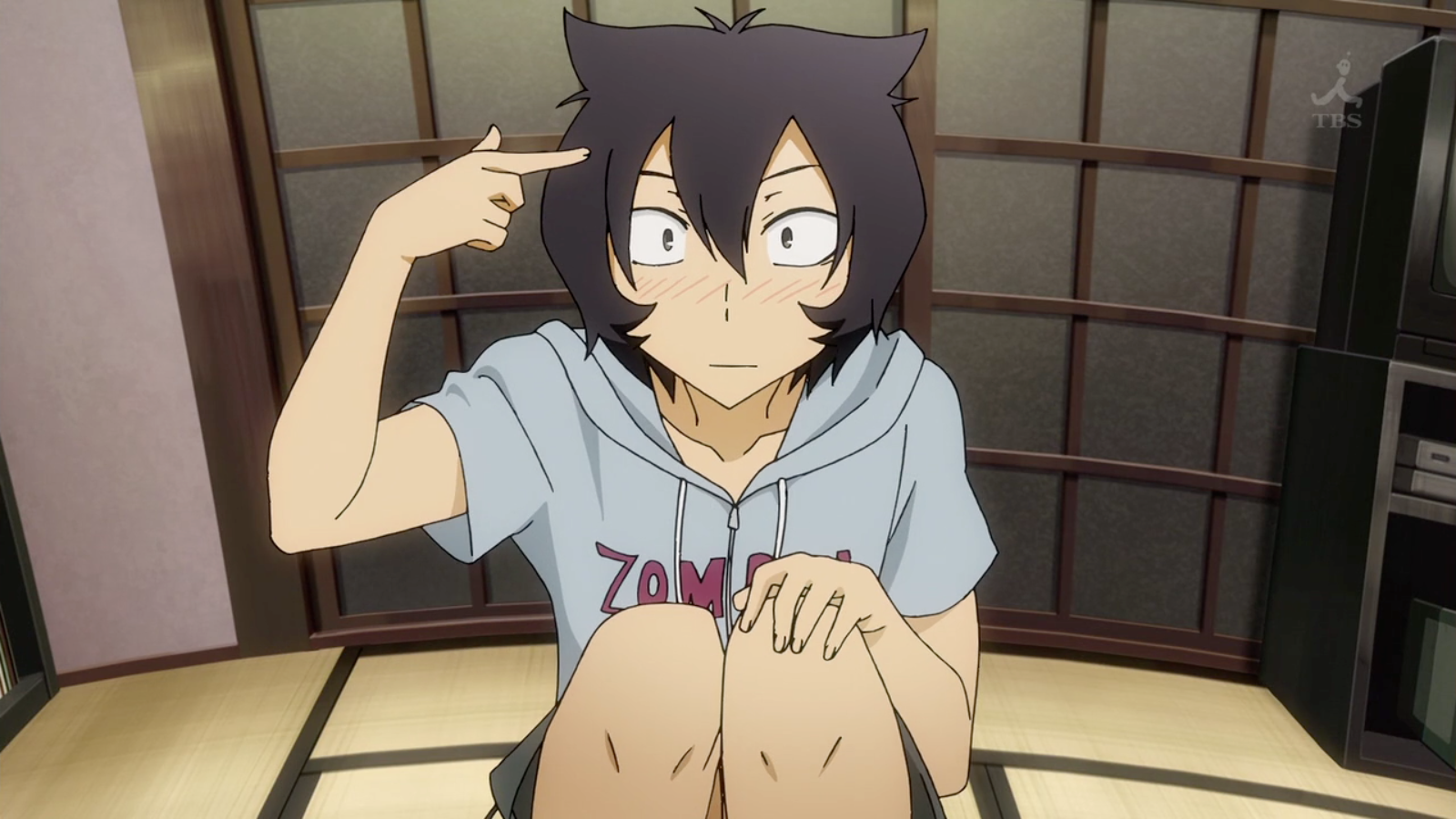 Chihiro Furuya is the main protagonist of the anime, who has had a zombie fetish since he was a kid. When he finds out that his cat is dead, he decides to use an old manuscript that holds the information required for making a "resurrection potion", to bring his cat back to life. When it comes to his appearance, his skin is a weird shade of light olive and his black hair wraps around his face making the structure of a cat's face. He has droopy eyes and after using huge portions of zombie poison, he loses some vision in one of his eyes.
Personality wise, he is very laid back and avoids doing any kind of work. But after Rea moves in with him and his family, to his family's surprise, he becomes more serious about life and shows more dedication towards everything he does. He is willing to do pretty much anything to expand his knowledge about zombies and fulfill his fetish towards them. But despite his love for creatures that would scare the hell out of anyone else, he is not much of a brave person and often freaks out when he is left alone in haunted places.
Rea Sanka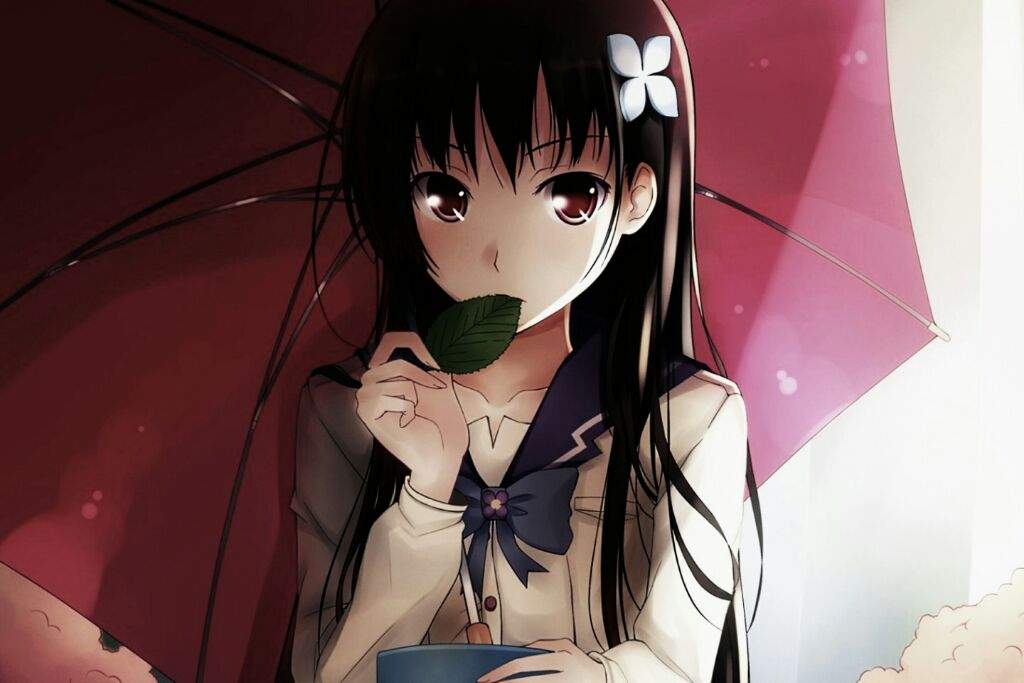 Rea is the female lead of the series who lost her biological mother right after she was born. She drinks up Chihiro's "resurrection potion" in the hope that it will kill her but later, it brings her back from the dead when she actually dies in an accident. After transforming into a zombie, her skin turns completely pale and her eyes turn crimson red. According to the boys of Shiyou High School, she is very attractive and has the most beautiful eyes.
Rea is a very friendly and polite person but because of her sheltered and restricted upbringing, she often feels awkward in social situations. All she wants is a peaceful life where she can live happily with her friends and family. She firmly believes that she would rather be dead than having to live a life that is not fulfilling.
Read More in Anime Preview: Trigun Season 2 | Clannad Season 3