To be honest, comedy has never really been a strong suit for the anime medium, especially if you consider its success in the West. It is mostly because of the vast cultural differences and also because the comedy in anime, a lot of the times, solely relies on parody. While these parodies may be appealing to a Japanese audience, they often come off with no reference to the Western viewers. Then there are other comedy shows that are just downright ridiculous and that's how they try to make you laugh. These shows can be enjoyable to a certain extent but their level of entertainment is confined only to all the lameness in their jokes without any character development or a well-defined plot.
One department where anime has been a complete lackluster is the situational comedy genre. More often than not, studios restrict themselves by confining their premise around a high-school setup which is understandable, considering their viewer demographic. But because of this, there hasn't really been a change in the type of comedy being presented in these settings. Pretty much every single joke that can come out of it has now been covered and this has led to extreme use of fan-service, which is often downright annoying.
But there is still some hope and there are a few anime series, even now, that break these conventions and come off as hilarious not just in Japan but in the West as well. Yes, of course, 'Gintama' is one of these. The strong suit of 'Gintama' that has turned it into the popular anime that it is today, is its quality comedy content. There are aspects to it that are very similar to other typical shows of this genre, but often, many situations in the anime just catch you off guard with its slapstick approach towards even the most normal situations. The comedy is mostly driven by the characters and the delivery is so good that you might start believing that they are actually full-time comedians.
More than anything else, 'Gintama' will be very appealing to shounen fans, not just because it has the typical elements of a shounen series but also because it portrays relatable parodies of other shounen shows like 'One Piece' and 'Naruto'. I wouldn't even go ahead and say that it's the best anime ever made because it certainly is in a completely different league of its own. The broad aspects of comedy that it uses have never been seen before and comparing it with other "masterpieces" would just be unfair because of how unique it is. My advice to anyone who starts watching 'Gintama' now would be that if you are not exactly hooked on to the show after the first few episodes, then try being a little patient; it will all eventually pay off.
Gintama Season 12 Release Date: When will it premiere?
'Gintama' season 1 premiered on April 4, 2006 and till date has close to 367 episodes, the last of which was premiered on October 7, 2018. 'Gintama' is the kind of anime that will probably never come to an end. With almost every season, it seems like they are going to give it a proper closure but they keep coming up with new ones right after a season ends. And yet again, 'Gintama' will be back very soon this year, which has been confirmed by its new teaser that was released earlier this year. You can watch the teaser on Youtube. Expect 'Gintama' season 12 to release sometime in July or August, 2019.
Gintama English Dub:
The English Dub of 'Gintama' is available on Funimation, Crunchyroll, and Hulu.
Gintama Plot:
'Gintama' centers around a world where alien species known as "The Amanto" have invaded feudal Japan. These alien species have placed a ban on the use of swords and now, all the Samurai who once existed are treated with disrespect. While most other Samurai have given up on who they once were, Gintoki Sakata is one man who still knows that deep inside, he will always be a badass sword slinging Samurai.
Gintoki works as a yorozuya and has an obsession with sweets, because of which no one could really tell that he has the heart of a samurai. But he is a lot more than what people see in him from his outside appearance. In his "house of 10,000 businesses" line of work, he is accompanied by three other characters, one of which is an oversized dog. But life as an errand boy is not as easy as it seems and their odd-jobs often lead them into the most hilarious situations where they have run-ins with cops and assassins. As serious as the plot of the anime might sound, everything unfolds in a way that will leave you rolling on the floor and laughing.
Gintama Characters:
Gintoki Sakata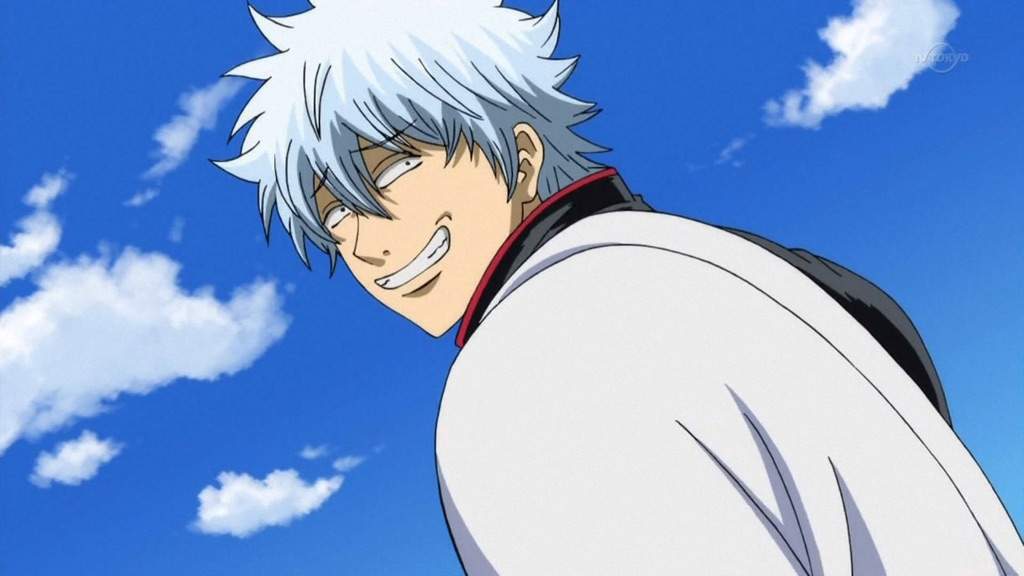 Gintoki Sakata is the main protagonist of 'Gintama', who is a highly skilled Samurai. In his past, he even fought during the Joui War, where he earned the title of "the white demon" for his extraordinary sword slinging skills. A big chunk of his past remains unknown even now after 367 episodes of the anime. No one knows where he is from and no one has a clue who his parents were. The only thing that is known about him is that he was once called the "Corpse-Eating Demon" by people from nearby villages because he was often seen searching for corpses in deserted battlefields.
Gintoki learned most of his swordsmanship from Shouyou's school that was named Shoka Sonjuku. Shoka taught him for free because he saw something in the child version of Gintoki. Gintoki has silvery-blue messy hair that often turns into an afro kind of state when exposed to heat. He is usually seen in a yukata that has a bluish swirl pattern on it but during winters, this changes to a thicker kimono. Gintoki, despite being a skilled samurai once, is now extremely lazy and his unwillingness to do nothing just makes his impoverished situation even worse. Because of his goofiness and lively nature, he has made some really loyal friends. From time to time, he even imparts wisdom to his friends when they need it the most.
Kagura
Kagura is one of the main female protagonists of the show and is known to be a part of the Yato Tribe. She has had a very rough childhood where she lived in a slum of a faraway planet. She has reddish brown hair and deep ocean blue eyes. She usually wears a red cheongsam with yellow borders and often carries a purple colored umbrella with her. She often claims that she hates violence but being the hot-headed person that she is, she often resorts to violence as soon as she senses any form of danger. Most of the times, she has a very ungraceful personality where she vomits or picks her nose in public. But there is also a gentle side to her where she loves being pampered. She even pretends that she does not care for the ones around her, when she actually does.
Shinpachi Shimura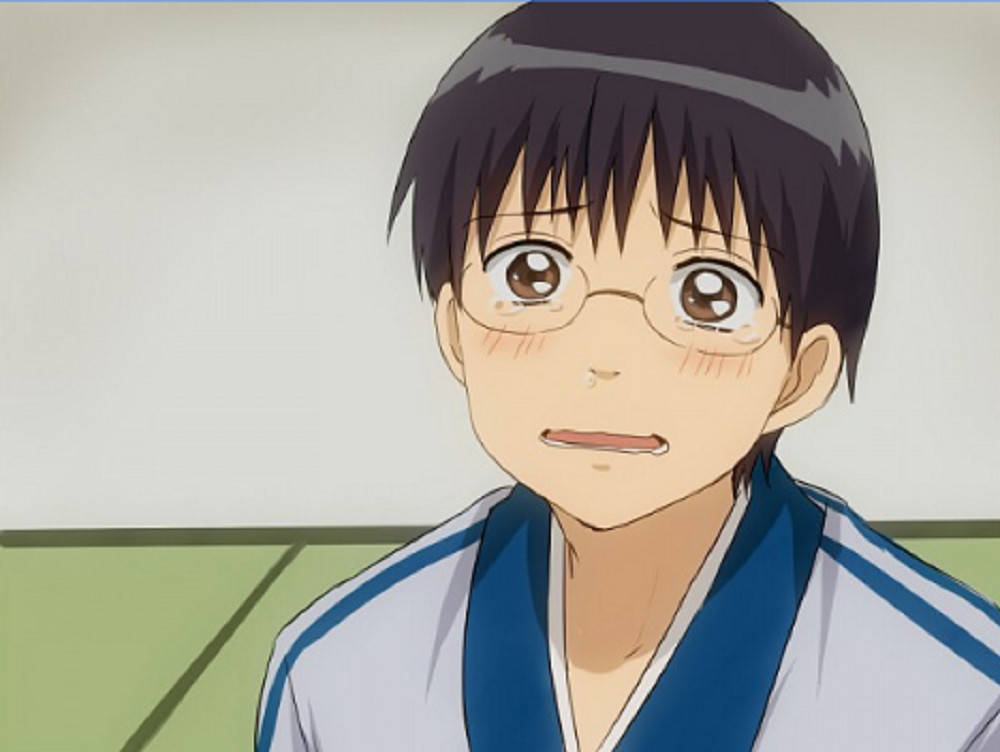 Shinpachi is a samurai in training and compared to all the other weird protagonists, he seems to be a bit normal. He even throws punchline after punchline on the weird antics of each of the characters to give them a reality check. He has black hair and brown eyes and is always seen with a pair of round glasses on. Many characters agree that his glasses add a lot of charm to his personality. He is often teased and bullied for his attachment with his sister but he still keeps a straight face and never really gets bothered. He is often called "domestic" because he saves left-overs and brings them home in Tupperware.
Read More in Anime Preview: K-On! Season 3 | Another Season 2